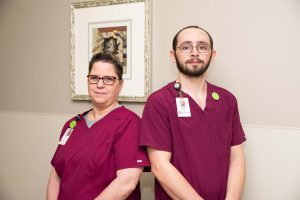 Jamestown  (JRMC) – Two Jamestown Regional Medical Center employees are among the first in the state to receive certification in cleaning and disinfection, waste handling, floor care and linen handling.
Linen Services Technician Anthony Gurrieri and Environmental & Linen Services Supervisor Corinna Rowell received the trainer accreditation for Certified Health Care Environmental Services Technicians (T-CHEST) in November. They will train staff in CHEST, which works to make a positive impact on infection rates, cost, and quality of care, patient experience and outcomes.
Association for Health Care Environment (AHE) offers this training each year. Gurrieri and Rowell are two of three T-CHEST trainers in North Dakota.