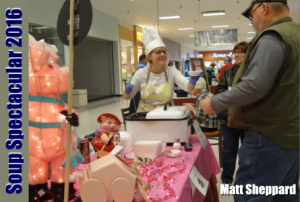 Update…
Jamestown  (CSi)  The Buffalo Mall's Soup Spectacular Cook-off held on March 7 raised $2,120 for the Home Delivered Meal program of James River Senior Center Inc. The total included $500 raised from the RSVP/Jamestown Volunteer Center bake sale held in conjunction with the Soup Spectacular Cook-off.
Seventeen business leaders and organizations participated including:
Those taking part were Alpha Opportunities, Babb's Coffee House, Bison 6 Cinema, Buffalo Mall, Community Garden Societies, Dakota Lawn Care, Dakota Store, eXp Realty, Eventide Senior Living Apartments, Gate City Bank, Home of Economy, James River Public Transit, James River Senior Citizens Inc., Jamestown Kiwanis, PATH ND, Stutsman County 4-H/Hippology Judging Team and Unison Bank.
Award winners:
The People's Choice award for the best tasting soup went to Unison Bank.
The Most Money Collected award went to Dakota Store.
The Best Decorated went to Jamestown Kiwanis.
The award for the Most Unique Soup was presented to Babb's Coffee House.
Previously…
Jamestown  (CSi)  Buffalo Mall merchants are sponsoring their Soup Spectacular Cook-off contest to raise funds for the James River Senior Center Home Delivered Meal Program,  Saturday, March, 7 2020 from 11:00am – 1:00pm in the Buffalo Mall common areas.
This is the 14th year for event.
On Tuesday's Wayne Byers Show on CSi Cable 2, Buffalo Mall Manager, Bev Dawson said, community business leaders and service clubs will enter their favorite soup, or chili.  The entry deadline in March 2.  Entries are free, with community business leaders, or organizations invited to participate.
For a $5.00 donation the public is invited to taste the soup or chili entries and cast their vote for
the best soup in Jamestown. Each additional vote is $1.  100% of the proceeds benefit the Home Delivered Meal Program.
Each participant will have a booth to promote their business or organization, and decorating the booth is encouraged.
At 1-p.m., awards will be presented for:
People's Choice of the Best Soup, as voted on.
Most Money Raised
Best Decorated Booth
Most Unique Soup
The last event winners were:
People's Choice:  Alpha Opportunities
Most Money Raised:  James River Senior Center
Best Decorated Booth:  Jamestown Community Gardens
Most Unique Soup:  Emma Rosie's Homecookin.
During the March 7 event, The Jamestown Volunteer Center is also having a huge Bake Sale, that also benefits the Home Delivered Meals Program.
James River Community and Senior Center, Office Manager, Rhonda Sahr added, in conjunction with the soup cook-off, the Jamestown Volunteer Center will host a benefit bake sale for the Home Delivered Meal Program.
Entertainment will be provided by R & C School of Rock.
She said for the Soup Spectacular Cook-off a special one way ride ticket to the Buffalo Mall will be offered for $1.50, through James River Transit.
Rhonda pointed out that last year, 16,904 meals were delivered, about 70 meals per day, seven days a week.  Those wishing to be a Volunteer Driver are encouraged to contact the James River Senior and Community Center.
She added that the Center has a café available Tuesday through Friday from 8-a.m., to 4:30-p.m., offering light meals to eat there or take out, including the newest item of Subs.  The cost varies depending on what is ordered off the menu.
Coming up on April 24 this year, is the Center's Spring Fling, featuring crafters and vendors, and more are welcome to participate.
Several raffle items will be drawn for, including a Carson Wentz autographed jersey.
A raffle ticket is $20 each, with proceeds also going to the Home Delivered Meals Program.
There will also be door prizes given away, with addition prizes accepted by calling the Center.