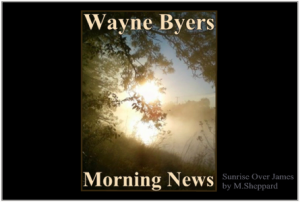 CSi Weather…
..WINTER STORM WATCH IN EFFECT FROM LATE TUESDAY NIGHT THROUGH
WEDNESDAY AFTERNOON…
The central Red River Valley to Valley City.
* WHAT…Blizzard conditions possible. Total snow accumulations of one to two inches possible. Winds could gust as high as 50 mph.
…WINTER WEATHER ADVISORY IN EFFECT FROM MIDNIGHT WEDNESDAY TO 6 PM CST WEDNESDAY…
Portions of south central and southeast North Dakota, including the Jamestown area.
* WHAT…Snow and blowing snow expected. Total snow accumulations
of one to two inches. Visibility reduced below one mile in areas
of blowing snow. Winds gusting as high as 45 mph.
Forecast…
REST OF TODAY…Mostly sunny. Highs around 30. Southwest winds 10 to
20 mph.
.TONIGHT…Cloudy. Chance of snow in the evening, then snow after
midnight. Patchy blowing and drifting snow after midnight. Snow
accumulation around 1 inch. Lows 5 to 10 above. Temperatures
rising into the lower 20s after midnight. Southwest winds 10 to
15 mph with gusts to around 35 mph. Chance of snow near 100 percent.
.WEDNESDAY…Cloudy with snow likely in the morning, then mostly
sunny in the afternoon. Patchy blowing and drifting snow in the
morning, then blowing and drifting snow in the afternoon. Windy,
colder. Snow accumulation around 1 inch. Storm total around
2 inches. Highs around 10. Temperatures falling into the upper
single digits in the afternoon. North winds 25 to 30 mph with
gusts to around 45 mph. Chance of snow 60 percent in the Jamestown area, 50 percent in the Valley City area. Wind chills around 35 below.
.WEDNESDAY NIGHT…Mostly clear. Patchy blowing and drifting snow
in the evening. Colder. Lows around 20 below. Northwest winds
5 to 15 mph. Gusts up to 35 mph in the evening.
.THURSDAY…Sunny. Highs near zero. West winds around 5 mph.
.THURSDAY NIGHT…Mostly clear. Lows around 10 below.
.FRIDAY…Partly sunny. Highs around 20.
.FRIDAY NIGHT…Mostly cloudy. Lows around 10.
.SATURDAY…Mostly sunny. Highs in the mid 20s.
.SATURDAY NIGHT…Increasing clouds. Lows 10 to 15.
.SUNDAY…Partly sunny. Highs in the upper 20s.
.SUNDAY NIGHT…Mostly cloudy. Lows 10 to 15.
.WASHINGTONS BIRTHDAY…Partly sunny. Highs in the mid 20s.
Wind chills will remain a concern north and east of the Missouri River through Thursday morning. The Arctic air mass will remain over the region through Thursday, and now appears slower to exit. This means frigid
daytime highs for Thursday, mainly in the single digits above zero
with a chance at getting into the teens in far western North Dakota.
Mild Pacific air will quickly push into the region Thursday night into Friday, bringing temperatures back to near to perhaps even above normal.
Jamestown  (CSi)  As of Monday February 10, the 14th Polar Pig, Walk the Plank held on February 1, 2020  raised, $18,400, with the more donations to be tabulated into the total.
The funds are earmarked for the Jamestown Regional Medical Center, Hospice Program..
Recorded by CSi TV 10 The Replay Channel for later playback.
Jamestown    (CSi)  Buffalo Mall merchants are sponsoring their Soup Spectacular Cook-off contest to raise funds for the James River Senior Center Home Delivered
Meal Program, on  Saturday, March 7, from 11:00am – 1:00pm in the Buffalo Mall common areas.
Community business leaders and service clubs will enter their favorite soup.
For $5.00 the public is invited to taste the soup entries and cast their vote for
the best soup in Jamestown. 100% of the proceeds benefit the Home
Delivered Meal Program.
In conjunction with the soup cook-off, the Jamestown Volunteer Center will
host a benefit bake sale for the Home Delivered Meal Program.
Entertainment will be provided by R & C School of Rock.
BISMARCK, N.D. (AP) — North Dakota's insurance commissioner has ordered an air ambulance network to stop selling subscriptions to North Dakotans. Insurance Commissioner Jon Godfread issued a cease and desist order Monday against AirMedCare Network. Godfread alleges the network of affiliated air ambulance providers is selling air ambulance subscriptions to North Dakotans in violation of a 2017 state law. The commissioner says North Dakota banned the sale of these subscription plans because they've been shown to be predatory. But AirMedCare contends it stopped selling the memberships in North Dakota in 2017 when the law went into effect but that its memberships are advertised on Facebook and online.
BISMARCK, N.D. (AP) — A federal judge has rejected a request by the state of North Dakota to dismiss a tribal lawsuit challenging North Dakota's voter ID law. U.S. District Judge Daniel Hovland ruled Monday that the Spirit Lake Nation and the Standing Rock Sioux, as well as six individual Native American plaintiffs, have a right to challenge the state's requirement that voters have ID with a provable street address. The Bismarck Tribune reports that North Dakota Secretary of State Al Jaeger declined comment on the ruling.
BISMARCK, N.D. (AP) — The North Dakota Pardon Advisory Board is seeking more applicants under its new policy wiping criminal records clean for people with low-level marijuana convictions. Republican Gov. Doug Burgum pardoned 16 qualified offenders in January under the marijuana policy adopted last year. The Bismarck Tribune reports that 37-year-old Craig Bjorland says he was thrilled to receive his pardon by mail months after applying for it. North Dakota Attorney General Wayne Stenehjem estimates that as many as 175,000 cases could be eligible under the policy. The board will reconvene April 14 to consider the second round of applications.
(AP)  A group seeking to amend North Dakota's Constitution to legalize recreational marijuana is now aiming for the November ballot. Petitions with enough qualified signatures would have been due Monday at the secretary of state's office for the measure to be part of the June statewide primary. But an organizer tells The Bismarck Tribune the ND for Freedom of Cannabis Act group is still collecting signatures and is now aiming for the Nov. 3 general election. She says the group initially was aiming for the June primary to "avoid any confusion" with a similar measure to legalize marijuana potentially being on the same ballot.
Update…
MANDAN, N.D. (AP) — Mandan police have released the name of a 36-year-old man who died after fighting officers following a traffic stop over the weekend. The man is identified as John Michael Prudente Jr. of Mandan. An autopsy was being conducted Monday morning. Police say Prudente drove away as two officers were talking to him after a traffic stop in Mandan on Saturday evening. After he pulled into a driveway, police say Prudente began fighting with the officers and was handcuffed. Police say he became limp and unresponsive, and died at a hospital. The North Dakota Bureau of Criminal Investigation continues to investigate.
BILLINGS, Mont. (AP) — U.S. officials say oil production from federally-managed lands and waters topped a record 1 billion barrels last year. That's up more than 13 percent from 2018 as shorter permitting times and technological advances drive development in new areas. The Associated Press obtained the figures in advance of a planned Tuesday announcement by the Department of Interior. Critics charge that the gains being made by energy companies come at the expense of the environment, with fewer safeguards to protect the land and wildlife from harm. Oil production royalties collected by the government increased to $7.5 billion in 2019.
In sports…
Jamestown  (CSi)  The Jamestown City Park Board has approved the  planning and soliciting bids for the construction of a $2.3 million splash deck.
The deck will be located next to the Two Rivers Activity Center  (TRAC). Meidinger Splash Park is named in honor of Shirley Meidinger, making  the lead donation for the project in November 2018.
Interstate Engineering,  Project Engineer Travis Dillman says, the $2.3 million cost was a preliminary estimate for a base project.
Bidding will include alternate items estimated at $300,000 more, that could be added to the project if additional fundraising efforts are successful.
Jamestown Parks and Recreation, Director, Doug Hogan says, so far $1.6 million in donations have been raised.  Also received is a $500,000 grant from the North Dakota Land and Water Conservation Fund bringing  the available resources for the project to $2.1 million at this time.
BOYS PREP BASKETBALL=
Bishop Ryan 51, Lewis and Clark-Berthold 32
Dunseith 83, Bottineau 68
Glenburn 65, Burke County 52
Hazen 96, Richardton-Taylor 59
Herreid/Selby Area, S.D. 67, Strasburg-Zeeland 66
Kenmare 58, Divide County 56
Lakota 68, Finley-Sharon/Hope-Page 49
Langdon-Edmore-Munich 70, Cavalier 45
Nedrose 62, Des Lacs-Burlington 59
Stanley 52, Mohall-Lansford-Sherwood 49
GIRLS PREP BASKETBALL=
Beach 58, Richardton-Taylor-Hebron 19
Carrington 53, Thompson 47
Central Cass 57, Oakes 51
Dakota Prairie 56, North Border 27
Drake-Anamoose 42, Turtle Lake-Mercer-McClusky 41
Edgeley-Kulm-Montpelier 57, Napoleon 40
Flasher 73, Washburn 43
Four Winds/Minnewaukan 75, Dunseith 43
Glenburn 55, Burke County 39
Grant County 69, Lemmon, S.D. 59
Hankinson 50, Milnor-North Sargent 41
Hazen 58, Center-Stanton 47
Hettinger/Scranton 66, Beulah 51
Hillsboro/Central Valley 44, Finley-Sharon/Hope-Page 37
Kindred 78, Enderlin 27
LaMoure-Litchville-Marion 59, Sargent Central 28
Langdon-Edmore-Munich 73, Midway-Minto 28
Larimore 42, Drayton/Valley-Edinburg 38, OT
May Port CG 39, Hatton-Northwood 37
Medina-Pingree-Buchanan 71, New Rockford-Sheyenne 43
Minot 53, Bismarck Legacy 52
New Salem-Almont 40, Max 28
Northern Cass 69, Oak Grove Lutheran 53
Ray 65, South Prairie 40
Richland 58, Maple Valley 32
Rolla 67, Midkota 62
St. John 70, Cavalier 67
Timber Lake, S.D. 55, Standing Rock 46
Tri-State 50, Lisbon 47
Westhope-Newburg 56, Surrey 43
NBA..
UNDATED (AP) — The Toronto Raptors have run their franchise-record winning streak to 15 games by outscoring the Minnesota Timberwolves.
OG Anunoby (an-oo-NAH'-bee) scored a career-high 25 points and matched his career high with 12 rebounds as the Raptors topped the Wolves, 137-126. Kyle Lowry provided 27 points and 11 assists after missing Saturday's win over Brooklyn because of whiplash.
Pascal Siakam (see-A'-kam) scored 14 of his 34 points in the fourth quarter to help Toronto close out the victory. Rondae Hollis-Jefferson had a season-high 21 and Fred VanVleet added 16 as the Raptors won their 16th straight home meeting with Minnesota.
D'Angelo Russell scored 22 points in his Minnesota debut, and Karl-Anthony Towns had 23 points to go with 10 rebounds.
Checking out Monday's other NBA action:
— Khris Middleton and Eric Bledsoe scored 28 points apiece to lead the Bucks past the Kings, 123-111. Milwaukee won its fifth in a row and improved to a league-best 46-7 despite playing without Giannis Antetokounmpo (YAH'-nihs an-teh-toh-KOON'-poh), who was home following the birth of his son.
— Rajon Rondo (RAH'-zhahn RAHN'-doh) provided 15 of his season-high 23 points in the second quarter of the Lakers' 125-100 thumping of the Suns. Anthony Davis added 25 points and 10 rebounds as Los Angeles cruised to its fourth victory in five games.
— Jamal Murray scored 14 of his 26 points in the fourth quarter to help the Nuggets rally from 23 down in a 127-120 verdict over the Spurs. Paul Millsap had 22 off the bench to help spark the comeback on his 35th birthday.
— Jimmy Butler had 21 points and 10 rebounds for the Heat in a 113-101 victory at Golden State. Butler was crisp after sitting out the previous two games with a right shoulder strain, delivering 13 points in the first half and shooting 9 of 15 overall as Miami stopped a three-game skid.
— Jordan Clarkson scored 25 points before fouling out in Utah's 123-119 victory against the Mavericks. Rudy Gobert (goh-BEHR') finished with 17 points and 16 boards, shooting 7-for-7 after making all eight attempts in Utah's home victory over Dallas last month.
— Spencer Dinwiddie capped his 21-point performance by nailing a 21-foot jumper with 5 seconds left to give the Nets a 106-105 victory over the Pacers. The lead changed hands three times in the final 27 seconds and wasn't decided until Malcolm Brogdon's 3-pointer at the buzzer came up short, sealing Indiana's sixth consecutive loss.
— The Magic knocked off the Hawks, 137-126 behind Nikola Vucevic (VOO'-seh-vihch), who had 24 points, nine rebounds and nine assists. Aaron Gordon finished with 26 points, Evan Fournier added 22 and Terrence Ross had 21 while Orlando was shooting 52.6% from the field, including a season-high 18 3-pointers.
— Miles Bridges contributed 18 points and the Hornets ended a five-game losing streak with an 87-76 victory over the Pistons. Malik Monk added 16 points for the Hornets, while Devonte' Graham had 14 points and 11 assists to help Charlotte overcome 37% shooting.
NBA-NEWS
Raptors president sued over scuffle
UNDATED (AP) — A law enforcement officer in California is suing the president of the Toronto Raptors over a scuffle following the team's NBA Finals victory over the Golden State Warriors last June.
Alameda County sheriff's deputy Alan Strickland claims in a federal lawsuit filed Friday that he stopped Masai Ujiri because he didn't provide the proper credential, leading to a shoving match that was partially captured on video. Strickland alleged Ujiri hit him "in the face and chest with both fists," tried to go around the deputy and repeatedly ignored orders to stop.
In other NBA news:
— The Suns have waived veteran guard Tyler Johnson, who is averaging a career-high 5.7 points in 31 games this season. The 27-year-old Johnson averaged 11.1 points per game last season after coming to the Suns from Miami. He was in the final season of a four-year deal that pays about $19 million this year.
T25 MEN'S BASKETBALL…
Duke downs FSU
UNDATED (AP) — Duke is 21-3 overall and 11-2 in the ACC after winning a top-10 matchup.
Tre Jones scored 13 points and the seventh-ranked Blue Devils overcame 21 turnovers to beat No. 8 Florida State, 70-65. Duke shot 45% from the field and was 7 of 17 from 3-point range in pulling within one game of Louisville for the conference lead.
Freshman Matthew Hurt also had a couple of big moments in the final seconds, going 4 for 4 at the line in the final 11.7 seconds to help the Blue Devils clinch the victory.
Trent Forrest finished with 18 points, nine rebounds and eight steals to lead the Seminoles, who shot just 38% in falling to 20-4.
Meanwhile, Baylor ran its winning streak to 21 games.
MaCio Teague scored 11 points and Devonte Bandoo added 10 as the top-ranked Bears defeated Texas, 52-45. Baylor improved to 22-1 overall and 11-0 in the Big 12, wresting control with a 13-0 push that put the Bears ahead 42-27 with 9:28 remaining.
The Bears' winning streak is one short of the conference record set by Kansas in 1997.
AP TOP 25 MEN'S BASKETBALL POLL
Baylor still No. 1; Michigan St. out
UNDATED (AP) — Baylor remains atop The Associated Press men's college basketball poll in a largely static week among in the top 10.
The Bears received 48 of 64 first-place votes from a media panel to stay at No. 1 for the fourth straight week. No. 2 Gonzaga had 15 first-place votes and No. 3 Kansas one. San Diego State and Louisville round out the top five and are followed by Dayton, Duke, Florida State, Maryland and Seton Hall. The Pirates are the lone newcomer in the top-10 after holding the No. 12 spot last week.
Preseason No. 1 Michigan State dropped out of the rankings from No. 16 following a three-game losing streak.
NFL NEWS
Chargers, Rivers part company
UNDATED (AP) — Philip Rivers has played his final down for the Los Angeles Chargers.
The team says Rivers will enter free agency and not return for the upcoming season, ending his 16-year run with the franchise. The fourth player taken in the 2004 NFL draft owns 30 franchise records and has thrown for over 4,000 yards in 11 of his last 12 seasons. Rivers has completed 64.7% of his passes for 59,271 yards, 397 touchdowns and 198 interceptions.
His 224 consecutive regular-season starts are second-most among quarterbacks in NFL history and his 123 wins are ninth.
In other NFL news:
— Ravens safety Chuck Clark has agreed to a three-year contract extension after starting a career-high 12 games and finishing with a team-best 68 tackles. Clark was taken in the sixth round of the 2017 draft and spent his first two NFL seasons playing on special teams, serving as backup on defense before enjoying a breakthrough year.
— A person familiar with the meeting says suspended Browns defensive end Myles Garrett has spoken with NFL Commissioner Roger Goodell about being reinstated. Garrett was banned indefinitely in November for pulling Pittsburgh quarterback Mason Rudolph's helmet off and striking him over the head with it during a game.
MLB NEWS
Dodgers complete Bosox deal as Angels swap falls through
UNDATED (AP) — Mookie Betts and David Price officially are members of the Los Angeles Dodgers.
The Red Sox and Dodgers have finalized the on-again, off-again deal that will send the AL MVP and AL Cy Young winner to the West Coast. The Red Sox will receive outfielder Alex Verdugo (vur-DOO'-goh) and two prospects: infielder Jeter Downs and catcher Connor Wong. According to a person with knowledge of the deal, Boston will send cash to the Dodgers, reportedly half of the $96 million owed to Price for the next three seasons.
The swap allows the Red Sox to drop more than $70 million in salary to get under baseball's collective bargaining tax threshold for 2020.
Meanwhile, the Angels say their proposed trade with the Dodgers is off.
Angels general manager Billy Eppler confirmed he won't be making a widely reported trade, although he didn't specify the deal or the players involved.
Multiple media outlets reported the Angels nearly acquired Dodgers outfielder Joc Pederson and right-hander Ross Stripling last week in a deal that would have sent infielder Luis Rengifo (rehn-HEE'-foh) to the Dodgers. The deal apparently fell apart as a side effect of the Dodgers' lengthy attempts to get outfielder Mookie Betts from the Boston Red Sox in a blockbuster trade.
In other baseball news:
— MLB is considering expanding the playoffs to nearly half the 30 teams and allowing higher-seeded wild-card teams to choose opponents. The playoffs would grow from 10 clubs to 14 under the plan, first reported Monday by the New York Post. There would be four wild cards in each league, up from two.
— The Diamondbacks have avoided salary arbitration with Nick Ahmed by working out a four-year, $32.5 million contract with the two-time Gold Glove shortstop. Ahmed hit a career-high .254 last season with 19 homers and 82 RBIs in 158 games. He won his Gold Gloves in each of the past two seasons.
— Athletics right-hander Daniel Mengden has undergone surgery on his pitching elbow. The A's say Mengden had arthroscopic surgery to shave a small spur off his elbow. Mengden was 5-2 with a save and a 4.83 ERA in 13 games over three stints with Oakland last year.
— Former major league pitcher Mike Bolsinger is suing the Astros for unspecified damages. He contends that the Astros' sign-stealing scheme contributed to a poor relief appearance in August 2017 that essentially ended his big-league career. He's also asking the Astros forfeit their nearly $31 million in postseason shares from their 2017 World Series title and donate the money to children's charities in Los Angeles and a fund for needy retired players.
NHL-SCHEDULE
Isles blank Ovi, beat Caps
UNDATED (AP) — The New York Islanders kept Alex Ovechkin (oh-VEHCH'-kihn) off the scoresheet while pulling within seven points of the first-place Washington Capitals in the NHL's Metropolitan Division.
The Isles earned a split of their four-game season series as Anthony Beauvillier (boh-VIH'-lee-ay) scored the first two goals in their 5-3 victory at Washington. Josh Bailey and Brock Nelson each had three assists for the Isles, who also got goals from Jordan Eberle, Leo Komarov and Jonathan Toews (tayvz).
The Islanders also left Ovechkin two goals shy of 700 for his career.
The Capitals have dropped two straight and four of their last six.
Elsewhere on NHL ice:
— Nikita Kucherov (KOO'-cheh-rahv) scored his second goal of the night at 31 seconds of overtime to send the Lightning to their seventh consecutive victory, 2-1 at Columbus. Elvis Merzlikins (murz-LEE'-kihnz) stopped 31 shots to help Tampa Bay climb within three points of Boston for the Atlantic Division lead.
— The Flyers are 6-1-1 in their last eight games after James van Riemsdyk (REEMZ'-dyk) had a goal and assist to lead their 4-1 victory over the Panthers. Travis Sanheim, Ivan Provorov and Claude Giroux also tallied to support Carter Hart, who stopped 30 shots in his return from injury.
— Elias (eh-LEE'-uhs) Pettersson and J.T. Miller had a goal and an assist apiece to back Jacob Markstrom's 36-save effort in the Canucks' 6-2 win over the Predators. Quinn Hughes had three assists to take over the lead in the rookie scoring race with 44 points.
— Milan Lucic (LOO'-cheech) and Tobias Rieder (REE'-dur) scored in a span of 34 seconds early in the first period before Matthew Tkachuk (kuh-CHUHK') added a highlight-reel tally in the third as part of the Flames' 6-2 romp over the Sharks. Zac Rinaldo, Mark Jankowski and Mikael Backlund also scored as Calgary earned its second straight win following a three-game losing streak.
— Jakob Chychrun (CHIHK'-rihn) scored a power-play goal with one minute left to complete the Coyotes comeback in a 3-2 victory at Montreal. Derek Stepan and Taylor Hall also scored for the Coyotes after the Canadiens took a 2-0 lead.
NHL-NEWS
Jackets lost Jones
UNDATED (AP) — The Columbus Blue Jackets' playoff push has taken a hit.
Jackets star defenseman Seth Jones has been sidelined indefinitely with an ankle injury. The team says Jones was injured in Saturday night's game loss to Colorado. The three-time All-Star has six goals and 24 assists this season while leading the club in ice time. Gabriel Carlsson was recalled from Cleveland of the AHL to take Jones' place.
In other NHL news:
— The Penguins have acquired veteran forward Jason Zucker from the Wild for forward Alex Galchenyuk (gal-CHEHN'-yuhk), defenseman prospect Calen Addison and a conditional 2020 first-round draft pick. The 28-year-old Zucker has 14 goals and 15 assists this season for Minnesota. Galchenyuk struggled to find a niche in Pittsburgh, managing just five goals and 12 assists in 45 games.
— Oilers defenseman Darnell Nurse has signed a two-year extension through the 2021-22 seasons. Nurse has been with the Edmonton organization since being taken seventh overall in the 2013 draft. He has four goals and 24 points with 44 penalty minutes in 55 games this season.
— The league remains reluctant to reverse course and compete at the 2022 Winter Games in Beijing. This despite new assurances from Olympic officials to lift various major stumbling blocks, which also have the backing of the league's players. NHL deputy commissioner Bill Daly significantly tamped down hopes of the world's best players returning to the Olympics for the first time since 2014. Daly described the talks as being "very preliminary" and says the NHL continues to believe the negatives outweigh the positives.
NCAA-LOBBYING
AP Exclusive: NCAA, allies spend nearly $1M on Capitol Hill
WASHINGTON (AP) — As Congress considers whether to allow college athletes to receive endorsement money, the NCAA and its allies spent nearly $1 million last year lobbying lawmakers to shape any reforms to the organization's liking.
The NCAA last fall said it would allow athletes to "benefit from the use of their name, image and likeness" and is crafting rules to put in place for its 1,100 member schools in coming months. But the organization has turned to Congress to step in as more and more states follow the lead of California, where a law set to take effect in 2023 clears the way for athletes to earn endorsement money.
The NCAA's pressure campaign comes as the Senate prepares for a committee hearing Tuesday on player compensation. The head of the National College Players Association says the NCAA is fighting to maintain the status quo.
In world and national news…
DIXVILLE NOTCH, N.H. (AP) — Former New York City Mayor Michael Bloomberg has won the votes of a tiny New Hampshire community that barely hung onto its tradition of being among the first to cast ballots in the presidential primary. Dixville Notch's five residents cast their ballots just after the stroke of midnight. Bloomberg received three write-in votes, one from a Republican and two from Democrats. The remaining votes went to Pete Buttigieg and Bernie Sanders. Polls were opening later Tuesday in the rest of the state, some starting at 6 a.m. The small community has been in the spotlight for nearly 60 years for casting votes just after midnight in the country's first presidential primary and in November general elections. Two other areas, Hart's Location and Millsfield, offer midnight voting in New Hampshire.
RAMALLAH, West Bank (AP) — Thousands of Palestinians are rallying in the West Bank to reject President Donald Trump's Mideast initiative and express support for the Palestinian leadership as it tries to gain backing at the U.N. Security Council for a resolution opposing the plan. Palestinian President Mahmoud Abbas plans to speak at the U.N. later Tuesday, but members will not be voting on a draft resolution. Palestinian officials denied the resolution had been pulled, but diplomats said many members, including European countries, rejected the language in a draft that had circulated. Trump's Mideast plan, announced at the White House last month, sides with Israel on virtually all the most contentious issues of the conflict.
s
GENEVA (AP) — The World Health Organization has convened a group of experts to fast-track promising tests, drugs and vaccines to help slow the outbreak of a new virus that recently emerged in China. The virus was only identified late last year in China and there are no licensed drugs or vaccines. WHO said there were still many unanswered but critical questions about the virus. Those include what animals it came from, how it's spread among people and how best to treat patients. Experts say it could be months or even years before any approved treatments or vaccines are developed.
BEIJING (AP) — China is denying involvement in any hacking activities after the United States indicted four members of the Chinese military for allegedly breaking into the computer networks of the Equifax credit reporting agency and stealing the personal information of tens of millions of people. The Justice Department accused Beijing on Monday of engineering one of the biggest hacks in history targeting consumer data. Foreign ministry spokesman Geng Shuang says China is committed to opposing and combating cyberattacks of any kind, and that its institutions never engage in cybertheft of trade secrets.
DENVER (AP) — The Trump administration is holding the first of two public hearings on a proposal to scale back a landmark environmental law. Activists say the administration is limiting the very public input that's long been guaranteed by the law known as the National Environmental Protection Act. Tuesday's hearing in Denver is the first since President Donald Trump proposed narrowing the scope of NEPA, which was signed by President Richard Nixon in 1970. Along with the Clean Air Act and Clean Water Act, NEPA spells out the nation's principal environmental protections.