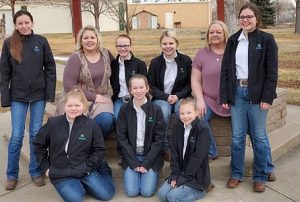 Jamestown ( NDSU Ext. Service)  The Stutsman County traveled to Rapid City, SD for the Black Hills Stock Show 4-H Youth Day Saturday February 1st.  Kendra Cleghorn of Jamestown, placed 1st individual in the Hippology contest, and the team of Cleghorn, Lexys Griffith and Haylee Widman placed 4th in the Senior division of the Hippology contest that   had 42 senior competitors and 11 teams.  The Junior Hippology contest had 9 teams and included our team of Morgan Baldwin, Sydney Davis, Tyra Kamoni-Hatch and Riley Widman.   The Equine Quiz Bowl contest had 14 teams with all ages together.  The team of Cleghorn, Davis, Kamoni-Hatch, Widman and Widman placed 3rd with Cleghorn getting 2nd place high point individual.  Stutsman County and two other North Dakota counties made the educational trip to the Black Hills Stock Show and these 4-H contests.  For more information on Hippology and 4-H in general, please contact the NDSU Extension Stutsman County office at 701-252-9030.
Pictured are the team and coaches
Back, l-r – Haylee Widman, Buchanan; Candy Hoggarth-Baldwin (coach), Jamestown; Tyra Kamoni-Hatch, Jamestown; Lexys Griffith, Buchanan; Cori Schlenker (coach), Pingree; & Kendra Cleghorn, Jamestown.
Front, l-r – Morgan Baldwin, Jamestown; Riley Widman & Sydney Davis, Buchanan