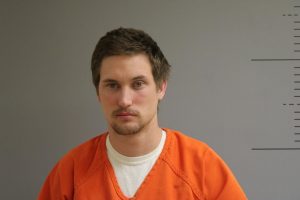 Jamestown  (CSi)  A 23 year old Jamestown man was arrested stemming from an incident in Northeast Jamestown just before 3-a.m. Tuesday.
Jamestown Police were called to a residence concerning a domestic incident, when the alleged victim said she was involved in an argument with the man, when leaving the residence.
The victim says  23 year old Corwin Deacon, allegedly pushed her  onto the bed and pinned her down, and allegedly hit her in the face with a closed fist and then purportedly started to strangle her.
He then allegedly threatened her with a knife telling police that she "feared for her life."
Officers observed a swelling on the top and bottom lips of the victim, and swelling below her left eye, along with marks consistent with strangulation.
After being arrested, Deacon was taken to the Stutsman County Correctional Center, where he is  being held on $4,000 bond.
Charges may include, domestic violence, serious bodily injury and domestic violence, and a possible subsequent offense.  Charges had not been formally lodged against him at last report.
His preliminary court hearing is set for March 11th.