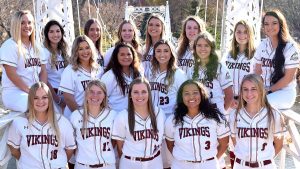 (VCSU)  The Valley City State softball team opens its season this weekend at the Presentation College Dome Classic in Aberdeen, S.D. The Vikings will play four games during the weekend with two games on Friday and two on Saturday. Live stats and video will be available for all games.
Valley City State takes on Dordt University on Friday at 10 a.m. and University of Jamestown at 12 p.m.
The Vikings are scheduled to take on No. 22 Morningside College on Saturday at 10 a.m. and Dakota Wesleyan University at 2 p.m.
Valley City State is ranked No. 10 in the Preseason NAIA Top 25 Coaches' Poll after finishing their 2019 campaign at the NAIA World Series. The Vikings graduated three seniors from last year's squad and will feature new coaches this year as Mark Mattson and Barbi Mattson take over the program.
Valley City State is coming off of a historic 2019 season after going 54-5 and setting the school record for wins in a season. The Vikings won the North Star Athletic Association Regular Season and Tournament championships, earning a spot in the NAIA National Tournament. The Vikings won their bracket in the opening round which allowed them to advance to the NAIA World Series for just the third time in school history. The Vikings broke more than a dozen team and individual records last seaso