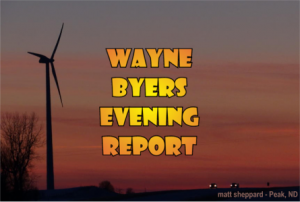 CSi Weather…
…WIND CHILL ADVISORY IN EFFECT FROM 6 PM THURSDAY EVENING TO 9 AM CST FRIDAY…
Rolette, Pierce, Wells, Foster, Kidder, Stutsman, Logan,
LaMoure, McIntosh and Dickey counties. Portions of northwest and west central Minnesota and
east North Dakota.
Very cold wind chills expected. Wind chills as low as 35 below zero.
* IMPACTS…The dangerously cold wind chills could cause frostbite
on exposed skin in as little as 10 minutes.
PRECAUTIONARY/PREPAREDNESS ACTIONS…
Use caution while traveling outside. Wear appropriate clothing, a
hat, and gloves.
Forecast….
.THURSDAY NIGHT…Clear. Lows around 10 below. South winds 10 to 15 mph. Wind chills around 30 below.
.FRIDAY…Sunny. Patchy blowing and drifting snow. Not as cold.
Highs in the upper 20s. South winds 15 to 20 mph. Lowest wind
chills around 25 below in the morning.
.FRIDAY NIGHT…Increasing clouds. Not as cold. Lows 15 to 20.
Southwest winds 10 to 15 mph shifting to the northwest after
midnight.
.SATURDAY…Mostly sunny. Highs in the upper 20s. West winds
10 to 15 mph.
.SATURDAY NIGHT…Mostly cloudy. Lows zero to 5 above.
.SUNDAY…Mostly cloudy. Highs 15 to 20.
.SUNDAY NIGHT…Cloudy with a 20 percent chance of snow. Lows
around 10.
.WASHINGTONS BIRTHDAY…Cloudy with a 20 percent chance of snow.
Highs 15 to 20.
.MONDAY NIGHT…Mostly cloudy. Lows near zero.
.TUESDAY…Mostly sunny. Highs around 10.
.TUESDAY NIGHT…Partly cloudy. Lows around 5 below.
.WEDNESDAY…Mostly sunny. Highs 15 to 20
A dramatic warmup across western North Dakota on Friday. Some patchy blowing snow across the James River Valley, where highs could reach the mid to upper 20s.
Scattered snow chances across the north and east Friday night. Only light snow amounts are expected.
The next chance for snow will be Sunday night through Monday night. Precipitation amounts again look light with this.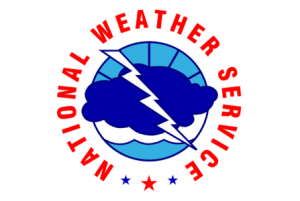 Bismarck  (NWS)  The National Weather Service on February 12, 2020 issued the update spring flood outlook information.
..Flood Outlook Highlights…
The likelihood of widespread spring flooding across western and central North Dakota has generally fallen over the past few weeks.
In short, all but the James River basin is at, or below, normal
risk levels. Water equivalent received since the January outlook
has been unremarkable. In fact, received moisture is probably less
than or equal to the sum of observed melt, evaporation, and
sublimation, especially along and west of the Highway 83 corridor.
In the James River Basin, flood risk in the very upper part of the basin near Harvey is probably the lowest and near normal. However, the risk of at least Minor flooding increases quickly as one gets closer to Pingree and Grace City.
Jamestown and Pipestem dams continue to have well above normal discharge and that is expected to continue until the commencement of the spring runoff.
Downstream of Jamestown, wet, frozen soils and an already above
normal Snow Water Equivalent (SWE) are enough to present widespread
flood concerns. Bear and Bonehill creek along with the Maple River
and essentially all other small streams have enough SWE to present
problems this spring.
Perhaps the one risk factor that is not working against the lower James River basin is that the early and heavy snowpack has kept frost depths to a minimum. Soils underneath the heaviest snowcover have been well insulated this winter and have the least frost depth, with some areas having unfrozen ground.
A gentle spring will greatly reduce runoff in areas with the
shallowest frost depths.
The Prairie Pothole region, including at least parts of Sheridan,
Wells, Kidder, Stutsman, Logan, McIntosh and Dickey counties have
enough SWE to suggest overland flooding will be a concern going
into spring.
Most small wetlands and ponds were filled by the wet fall and are going into spring with water levels that are near their normal summer time high water mark. Low lying roads next to some of these wetlands are at risk of extended closures this spring and summer.
The next outlook will be issued February 27.
Click here for additional information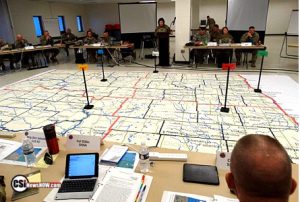 Jamestown  (CSi)  The Jamestown Civic Center was the location for the National Guard's  flood response training on Thursday.
Sgt 1st Class Chad Highlander, said, about 50 Soldiers and Airmen from the North Dakota National Guard will exercise command and control during the hypothetical flood response. Representatives of the North Dakota Department of Emergency Services (NDDES) are also participating to exercise the process of assigning response missions to the Guard. This ROC serves as a nexus for information sharing, personnel and equipment tracking during a flood response.
The National Guard's planning included where personnel would be stationed and management of  supplies and resources.
The training included the possible types of weather they may encounter in a flood fight.
GRAND FORKS, N.D. (AP) — National Weather Service officials say they are not ruling out the possibility of a top five flood in the Red River Valley, even though there have been no storms since mid-January. The area has seen below-average precipitation in the last four weeks and the forecast is favorable for at least the next two weeks. However, it has done little to change the rankings for one of the wettest fall and winter seasons on record, the weather service said. Fargo's totals since Sept. 1 fell from No. 2 to No. 3 all-time, but the Grand Forks area remains No. 1 historically for that period.
OMAHA, Neb. (AP) — The National Weather Service says there's an elevated flood risk along the eastern Missouri River basin this spring. That's because the soil remains wet and significant snow is on the ground in North Dakota and South Dakota. Communities along the lower Missouri River already were bracing for the prospect of more flooding this spring because many of their levees remain in poor shape after last year's massive flooding. Nearly everywhere that flooded last year in Nebraska, Iowa, Kansas and Missouri is at some risk to flood again because of the extensive damage to levees.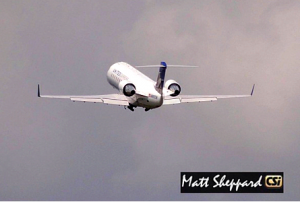 Bismarck  (CSi)  The North Dakota Aeronautics Commission has released the January 2020 airline boardings across the state.
The report says, Jamestown Boardings were put at 823 compared to 792 in January of 2019.
That's an increase of almost 4-percent.
BISMARCK, N.D. (Bismarck Tribune) — A North Dakota agency is seeking millions of dollars in payments for unpaid natural gas royalties from companies operating in the state's oil patch. The Bismarck Tribune reports that the Department of Trust Lands told operators in a letter this week that in light of a state Supreme Court ruling in favor of the state, they must pay money they had deducted from royalties owed to the agency for developing state-owned minerals. Ron Ness, who heads the North Dakota Petroleum Council, said the industry group's members are "disgusted" and "extremely angry" about the state's payment request.
BISMARCK, N.D. (AP) — North Dakota has reached a proposed settlement with American Indians who sued over the state's voter ID laws. The proposed federal consent decree announced jointly Thursday by tribal lawyers and the state comes after a federal judge ruled tribes have a right to challenge the state's requirement that voters have ID with a verified street address. Native Americans have argued that's a form of voter suppression. The proposed deal puts the burden on state to assign or verify street addresses for Native American voters, ensuring they will still be able to cast a ballot.
In sports…
Jamestown  (CSi)   The Jamestown Civic Center hosts the District 5 Girl's Basketball Tournament, with teams vying to go to the 2020 Region 3 Girl's Basketball Tournament, also in Jamestown.
The District 5 Tournament will be held Friday, Saturday and Monday, February 14,15, &17.
Friday's Schedule:
4:30-p.m., Game 1: Edgeley-Kulm-Montpelier vs Midkota
6-p.m., Game 2: LaMoure-Litchville-Marion vs Ellendale
7:30-p.m. Oakes vs. Barnes County North
Number One Seed Carrington draws the Bye
Admission is $7 for adults, $4 for students.
The Region 3 Tournament is scheduled February 24,25,27, at the Jamestown Civic Center
In world and national news…
CHARLESTON, W.Va. (AP) — A study from the Massachusetts Institute of Technology has found serious security concerns in a voting app used in elections in West Virginia, Denver, Oregon and Utah. The report on the Voatz app was released Thursday. It found that attackers could "alter, stop or expose how an individual has voted" and said the app's voter identification methods pose potential privacy issues. The Boston-based Voatz has disputed the research methods, issuing a statement that said the analysts used an old version of the app and accused them of acting in "bad faith." The company noted it hasn't had any reported issues in its counting of less than 600 votes.
WASHINGTON (AP) — Elizabeth Warren says she's raised about $6 million from online donors since last week's Iowa caucuses, fueled by people who want to see her stay in the Democratic presidential primary despite an underwhelming performance there and in New Hampshire. The Massachusetts senator tells The Associated Press on Thursday that she had spoken to some of her Senate colleagues about the state of the race. She says, "Right now, it's wide open." Warren finished third in Iowa and fourth in New Hampshire, raising questions about whether her fundraising may slip.
WASHINGTON (AP) — Pro-Donald Trump groups raised more than $60 million in January and have more than $200 million on hand for this year's general election. The Republican National Committee and the Trump campaign provided The Associated Press with the fundraising total for the first month of the election year, which included most of the Senate's impeachment trial. The two groups and two joint-fundraising committees have raised more than $525 million since 2019, shattering fundraising records. President Donald Trump's team has aimed to bring in $1 billion to support his reelection effort. Trump campaign manager Brad Parscale says, "This campaign is going to be unstoppable in 2020."
WASHINGTON (AP) — The Justice Department has added new criminal charges against Chinese tech giant Huawei and two of its U.S. subsidiaries. The U.S. is accusing the company in a plot to steal trade secrets. The company is also accused of installing surveillance equipment that enabled Iran to spy on protesters during 2009 anti-government demonstrations in Iran, and of doing business in North Korea despite U.S. sanctions there. The case comes as the Trump administration is raising national security concerns about Huawei, the world's largest telecommunications equipment manufacturer, and is lobbying Western allies against including the company in wireless, high-speed networks.
NEW YORK (AP) — Harvey Weinstein's lawyer is telling jurors that prosecutors in the rape case against him acted like moviemakers and portrayed a world where women aren't responsible for how they interact with men. Donna Rotunno said in a closing argument Thursday that Weinstein is innocent. She appealed to jurors to ignore outside forces and use what she called their "New York City common sense" in weighing a case seen as a watershed for the #MeToo movement. The jury is scheduled to hear the prosecution closings on Friday. Weinstein is charged with raping a woman in 2013 and forcibly performing oral sex on a different woman in 2006. Weinstein has maintained any sexual encounters were consensual.
COLUMBIA, S.C. (AP) — Authorities say a 6-year-old South Carolina girl who disappeared earlier in the week after getting off her school bus has been found dead and that a homicide investigation has begun. Police in Cayce announced at a news conference Thursday that a body of a man also was recently found in the neighborhood where the child, Faye Marie Swetlik, disappeared on Monday. Authorities didn't give any evidence linking the two deaths, but said there is no danger to the public. They also announced no arrests have been made in the girl's death. Cayce is a community near the South Carolina capital city of Columbia.