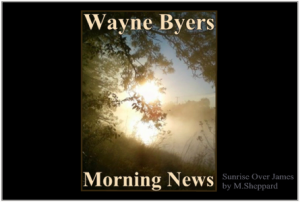 CSi Weather…
REST OF TODAY….Sunny. Patchy blowing and drifting snow. Highs in the mid 20s. Windy. South winds 20 to 30 mph.
.TONIGHT…Decreasing clouds. Not as cold. Lows 15 to 20. West
winds 10 to 15 mph.
.SATURDAY…Mostly sunny. Highs in the upper 20s. West winds
10 to 15 mph.
.SATURDAY NIGHT…Increasing clouds. Colder. Lows near zero.
Northwest winds 5 to 10 mph shifting to the northeast after
midnight.
.SUNDAY…Mostly cloudy. Highs around 15. Southeast winds 5 to
10 mph.
.SUNDAY NIGHT…Cloudy with a 20 percent chance of snow. Lows
around 10.
.WASHINGTONS BIRTHDAY…Cloudy with a 30 percent chance of snow.
Highs 15 to 20.
.MONDAY NIGHT…Mostly cloudy. Lows zero to 5 above.
.TUESDAY…Mostly sunny. Highs 10 to 15.
.TUESDAY NIGHT…Partly cloudy. Lows around 5 below.
.WEDNESDAY…Mostly sunny. Highs 15 to 20.
.WEDNESDAY NIGHT…Mostly clear. Lows 5 to 10 above.
.THURSDAY…Sunny. Highs in the lower 30s.
Several shortwaves track through the northern plains, from Saturday through Monday. Snow amounts are generally expected to be light, but several, and up to 3 inches of snow may be possible Sunday night into Monday across central North Dakota.
Otherwise, temperatures will see a general cool down by midweek,
followed by milder readings by Thursday into next weekend.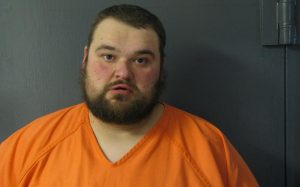 Valley City  A Valley City man was sentenced Thursday,  to 10 years in prison for trying to sexually assault two women at gunpoint at a bar.
28 year old  Zachary David Kline,  was ordered by Barnes County District Judge Jay Schmitz  to prison on a misdemeanor charge of possessing a gun in a bar and six felony charges: two counts of attempted gross sexual imposition, two counts of reckless endangerment and two counts of felonious restraint.
The victims told investigators Kline came into the Valley City bar around closing time on April 4, ordered drinks, then left for a few minutes, according to court documents.
Kline returned with a gun, pointed it at the women and told them to go in the back room and take off their clothes, court documents said. The women escaped from Kline, who was later arrested at a friend's house.
Kline previously pleaded guilty to the charges. He will get credit for having already served 315 days in custody. He must register as a sex offender.
Bismarck   (CSi)  The Historical Society of North Dakota has awarded $400,000 in Cultural Heritage Grants to distribute for the current biennium to 22 eligible organizations throughout the state.
Cultural Heritage Grants provide grant funding to nonprofit organizations including local museums, historical societies, and city, county and tribal governments. Eligible projects include capital improvements, exhibits, special projects or events, education activities, and collections.
Grants were awarded in the Jamestown area to:
Jamestown Tourism received $10,000 to catalog the collections at the former Frontier Village.
National Buffalo Museum in Jamestown received $36,000 to catalog the museum's collection.
Barnes County Historical Society in Valley City received $700 to purchase a new video camera.
McHenry County Historical Society in Towner received $30,000 for rehabilitation of the 1906 City Hall, future home of the McHenry County Western Museum.
McIntosh County Historical Society in Ashley received $8,997 for the re-shingling of the McIntosh County Heritage Center.
Update…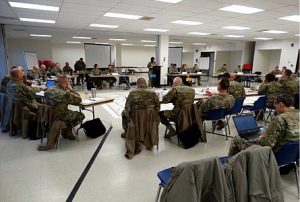 Jamestown  (CSi)  The Jamestown Civic Center was the location for the National Guard's  flood response training on Thursday.
Sgt 1st Class Chad Highlander, said, about 50 Soldiers and Airmen from the North Dakota National Guard will exercise command and control during the hypothetical flood response. Representatives of the North Dakota Department of Emergency Services (NDDES) are also participating to exercise the process of assigning response missions to the Guard. This ROC serves as a nexus for information sharing, personnel and equipment tracking during a flood response.
The National Guard's planning included where personnel would be stationed and management of  supplies and resources.
The training included the possible types of weather they may encounter in a flood fight.
Bismarck  (CSi)  The North Dakota Aeronautics Commission has released the January 2020 airline boardings across the state.
The report says, Jamestown Boardings were put at 823 compared to 792 in January of 2019.
That's an increase of almost 4-percent.
Bismarck  (NWS)  The National Weather Service on February 12, 2020 issued the update spring flood outlook information.
..Flood Outlook Highlights…
The likelihood of widespread spring flooding across western and
central North Dakota has generally fallen over the past few weeks.
In short, all but the James River basin is at, or below, normal
risk levels. Water equivalent received since the January outlook
has been unremarkable. In fact, received moisture is probably less
than or equal to the sum of observed melt, evaporation, and
sublimation, especially along and west of the Highway 83 corridor.
In the James River Basin, flood risk in the very upper part of the basin near Harvey is probably the lowest and near normal. However, the risk of at least Minor flooding increases quickly as one gets closer to Pingree and Grace City.
Jamestown and Pipestem dams continue to have well above normal discharge and that is expected to continue until the commencement of the spring runoff.
Downstream of Jamestown, wet, frozen soils and an already above
normal Snow Water Equivalent (SWE) are enough to present widespread
flood concerns. Bear and Bonehill creek along with the Maple River
and essentially all other small streams have enough SWE to present
problems this spring.
Perhaps the one risk factor that is not working against the lower James River basin is that the early and heavy snowpack has kept frost depths to a minimum. Soils underneath the heaviest snowcover have been well insulated this winter and have the least frost depth, with some areas having unfrozen ground.
A gentle spring will greatly reduce runoff in areas with the
shallowest frost depths.
The Prairie Pothole region, including at least parts of Sheridan,
Wells, Kidder, Stutsman, Logan, McIntosh and Dickey counties have
enough SWE to suggest overland flooding will be a concern going
into spring.
Most small wetlands and ponds were filled by the wet fall and are going into spring with water levels that are near their normal summer time high water mark. Low lying roads next to some of these wetlands are at risk of extended closures this spring and summer.
The next outlook will be issued February 27.
GRAND FORKS, N.D. (AP) — National Weather Service officials say they are not ruling out the possibility of a top five flood in the Red River Valley, in the spring of  2020, even though there have been no storms since mid-January. The area has seen below-average precipitation in the last four weeks and the forecast is favorable for at least the next two weeks. However, it has done little to change the rankings for one of the wettest fall and winter seasons on record, the weather service said. Fargo's totals since Sept. 1 fell from No. 2 to No. 3 all-time, but the Grand Forks area remains No. 1 historically for that period.
OMAHA, Neb. (AP) — The National Weather Service says there's an elevated flood risk along the eastern Missouri River basin this spring. That's because the soil remains wet and significant snow is on the ground in North Dakota and South Dakota. Communities along the lower Missouri River already were bracing for the prospect of more flooding this spring because many of their levees remain in poor shape after last year's massive flooding. Nearly everywhere that flooded last year in Nebraska, Iowa, Kansas and Missouri is at some risk to flood again because of the extensive damage to levees.
BISMARCK, N.D. (Bismarck Tribune) — A Bismarck woman wanted after failing to appear in court on felony child neglect charges has been arrested in South Dakota. Twenty-seven-year-old Dawn Morsette was arrested last June after her 7-month-old daughter went missing. The child was dropped off anonymously at Sanford Hospital after a search by family and law enforcement. A state warrant was issued after she failed to show up for a court hearing. The Bismarck Tribune reports that last month a federal warrant was issued for unlawful flight to avoid prosecution after electronic surveillance by federal agents showed Moresette was at a residence on the Rosebud Indian Reservation. She was arrested in Rosebud Feb. 6.
DICKINSON, N.D. (AP) — Authorities in western North Dakota have fatally shot an Idaho fugitive after a standoff. The U.S. Marshals Service says 25-year-old Dakota Lee Chlarson was shot by officers in Dickinson on Thursday after he charged at them with scissors. Chlarson was wanted for an armed robbery in Idaho. Marshals learned that Chlarson could be at a Dickinson apartment. A standoff began when authorities entered the apartment. Attempts to negotiate with Chlarson and use nonlethal devices were unsuccessful, so the Marshals Service says officers were forced to protect themselves when Chlarson charged at them. No officers were hurt.
BISMARCK, N.D. (AP) — A North Dakota agency is seeking millions of dollars in payments for unpaid natural gas royalties from companies operating in the state's oil patch. The Bismarck Tribune reports that the Department of Trust Lands told operators in a letter this week that in light of a state Supreme Court ruling in favor of the state, they must pay money they had deducted from royalties owed to the agency for developing state-owned minerals. Ron Ness, who heads the North Dakota Petroleum Council, said the industry group's members are "disgusted" and "extremely angry" about the state's payment request.
In sports…
Thursday High School Hockey
Fargo Davies 2, Grand Forks Red River 0
Mandan 7, Hazen/Beulah 1
Minot 5, Watford City 2
Thursday High School Basketball
BOY'S
Grand Forks Central 52, Valley City 51
Barnes County North 71, Warwick 66
Bismarck High 98, Bismarck St. Mary's 64
Edgeley-Kulm-Montpelier 65, Carrington 62, OT
Flasher 61, Lemmon, S.D. 49
Four Winds/Minnewaukan 77, Dunseith 57
Hillsboro/Central Valley 58, Grafton 54
Kidder County 66, New Salem-Almont 42
LaMoure-Litchville-Marion 56, Medina-Pingree-Buchanan 55
Langdon-Edmore-Munich 51, St. John 49
Midkota 54, Harvey-Wells County 53
New England 63, Killdeer 46
New Rockford-Sheyenne 88, Rolette-Wolford 47
North Border 81, Park River/Fordville Lankin 52
Oakes 77, Richland 62
Turtle Mountain 73, Watford City 67
Walhalla 81, Park River/Fordville Lankin 52
GIRLS PREP BASKETBALL=
Grand Forks Central 50, Valley City 48
Bismarck High 51, Bismarck St. Mary's 46
Devils Lake 65, Fargo North 23
Dickinson Trinity 57, Hazen 29
Finley-Sharon/Hope-Page 47, Griggs County Central 34
Glen Ullin-Hebron 54, Killdeer 36
Hettinger/Scranton 64, Mott-Regent 35
Kindred 67, Lisbon 44
New England 67, Beulah 61, 2OT
Northern Cass 69, Enderlin 48
Richland 59, Tri-State 43
Thompson 51, Midway-Minto 39
Watford City 65, Turtle Mountain 46
West Fargo 65, Sheyenne 55
Tioga 49, Ray 24
Barnes County North 71, Warwick 66
Bismarck High 98, Bismarck St. Mary's 64
Edgeley-Kulm-Montpelier 65, Carrington 62, OT
Flasher 61, Lemmon, S.D. 49
Four Winds/Minnewaukan 77, Dunseith 57
Hillsboro/Central Valley 58, Grafton 54
Kidder County 66, New Salem-Almont 42
LaMoure-Litchville-Marion 56, Medina-Pingree-Buchanan 55
Langdon-Edmore-Munich 51, St. John 49
Midkota 54, Harvey-Wells County 53
New England 63, Killdeer 46
New Rockford-Sheyenne 88, Rolette-Wolford 47
North Border 81, Park River/Fordville Lankin 52
Oakes 77, Richland 62
Turtle Mountain 73, Watford City 67
Walhalla 81, Park River/Fordville Lankin 52
Class B District 6=
First Round=
Linton-HMB 51, Napoleon/Gackle-Streeter 23
Strasburg-Zeeland 46, South Border 42
Class B District 10=
First Round=
Center-Stanton 47, Garrison 45
Underwood 71, Max 20
Washburn 39, Turtle Lake-Mercer-McClusky 28
Class B District 11=
First Round=
Bottineau 56, Towner-Granville-Upham 23
Velva 54, Nedrose 25
Westhope-Newburg 51, Drake-Anamoose 27
Class B District 12=
First Round=
Bishop Ryan 52, Des Lacs-Burlington 32
Glenburn 68, Surrey 48
Mohall-Lansford-Sherwood 62, South Prairie 21
Our Redeemer's 42, Lewis and Clark-Berthold 27
Class B District 15=
First Round=
Mandaree 63, North Shore Plaza 33
New Town 70, Alexander/Trinity Christian 38
Parshall 55, White Shield 24
Class B District 16=
First Round=
Divide County 48, Burke County 33
Stanley 47, Powers Lake 30
Jamestown  (CSi)   The Jamestown Civic Center hosts the District 5 Girl's Basketball Tournament, with teams vying to go to the 2020 Region 3 Girl's Basketball Tournament.
The District 5 Tournament will be held Friday, Saturday and Monday, February 14,15, &17.
Friday's Schedule:
4:30-p.m., Game 1: Edgeley-Kulm-Montpelier vs Midkota
6-p.m., Game 2: LaMoure-Litchville-Marion vs Ellendale
7:30-p.m. Oakes vs. Barnes County North
Number One Seed Carrington draws the Bye
SAT…Feb. 15
G4: Loser G2 vs. Loser G3, 4:30 p.m.
G5: Carrington (17-2) vs. Winner G1, 6 p.m.
G6: Winner G2 vs. Winner G3, 7:30 p.m.
MON…Feb. 17
Region 3 qualifier: Loser G1 vs. Loser G6, 4:30 p.m.
Region 3 qualifier: Winner G4 vs. Loser G5, 6 p.m.
Championship: Winner G5 vs. Winner G6, 7:30 p.m.
Admission is $7 for adults, $4 for students.
The Region 3 Tournament is scheduled February 24,25,27, at the Jamestown Civic Center.
VCSU Softball…
(VCSU)  The Valley City State softball team opens its season this weekend at the Presentation College Dome Classic in Aberdeen, S.D. The Vikings will play four games during the weekend with two games on Friday and two on Saturday. Live stats and video will be available for all games.
Valley City State takes on Dordt University on Friday at 10 a.m. and University of Jamestown at 12 p.m.
The Vikings are scheduled to take on No. 22 Morningside College on Saturday at 10 a.m. and Dakota Wesleyan University at 2 p.m.
NBA…
UNDATED (AP) — It took 58 minutes of basketball to decide the Boston Celtics' game against the visiting Los Angeles Clippers.
Jayson Tatum had 39 points and the Celtics pulled away in the second overtime to down the Clippers, 141-133.
Marcus Smart contributed 31 points and Gordon Hayward finished with 21 points and 13 rebounds. Tatum and Smart combined for 16 of Boston's 27 points in OT.
Kemba Walker added 19 points and nine rebounds in the Celtics' seventh straight home win and eighth in their last nine overall.
The Clippers played most of the game without Paul George, who left in the second quarter with a left hamstring strain. Lou Williams led Los Angeles with 35 points, while Kawhi Leonard had 28 points and 11 rebounds.
In other NBA action on the eve of the All-Star break:
— Danilo Gallinari scored 11 of his 29 points in the fourth quarter as the Thunder knocked off the Pelicans' 123-118. Chris Paul had 14 points and 12 assists for Oklahoma City, which blew a 13-point, third-quarter lead before rallying. Rookie Zion Williamson hit the 30-point mark for the second straight game, finishing with 32 for New Orleans.
NBA-NEWS
Clippers' George fined for criticizing refs
UNDATED (AP) — The NBA has fined Los Angeles Clippers forward Paul George $35,000 for critical comments toward the officiating after his team's loss to the Philadelphia 76ers on Tuesday.
George pointed out the Clippers were called for eight more fouls than Philadelphia in the 76ers' 110-103 win at home, referring to that disparity as "home-court cooking."
This is the fifth fine and stiffest financial penalty given to George for commenting on officials.
In other NBA news:
— Suns guard Devin Booker is headed to his first NBA All-Star Game, replacing injured Trail Blazers backcourt ace Damian Lillard. Booker was chosen by Commissioner Adam Silver after feeling snubbed by voters and coaches when he didn't make the original list for Sunday's game in Chicago. Lillard injured his groin on Wednesday night.
T25 MEN'S BASKETBALL…
Hoosiers down Hawkeyes
UNDATED (AP) — The Indiana Hoosiers have added to the Iowa Hawkeyes' recent basketball woes.
The Hoosiers had dropped four in a row before Devonte Green scored 18 of his 27 points in the first half of Indiana's 89-77 victory over No. 21 Iowa. Green nailed a season-high seven 3-pointers after Indiana entered the game averaging just 5.3 as a team.
Trayce Jackson had 17 points for the Hoosiers, who handed the Hawkeyes their third loss in five games since a five-game winning streak.
Iowa's Luka Garza scored 38 points, falling two short of the Assembly Hall single-game scoring record by an opponent.
In the other top-25 game of the day, Will Richardson scored 17 of his 21 points in the second half as 17th-ranked Oregon rallied past No. 16 Colorado, 68-60. The Ducks trailed by 12 early in the second half but went on a 10-0 run in the waning minutes to overtake the Buffaloes, leaving both teams in tie for the Pac-12 lead.
NCAA-SOUTH CAROLINA-BASKETBALL
NCAA finds serious infractions committed by Gamecocks
COLUMBIA, S.C. (AP) — South Carolina has become the latest school to receive an NCAA notice of allegations over the federal probe into college basketball.
Athletic director Ray Tanner says the school received the notice about a violation alleged to have been committed by former assistant coach Lamont Evans, who worked for coach Frank Martin for four seasons from 2015-16.
The NCAA has categorized the infraction as Level I, the most serious of its violations and what it calls a "severe breach of conduct."
Evans moved on to Oklahoma State and has admitted to accepting $22,000 in bribes as a college assistant to connect players with runner Christian Dawkins and others hoping to represent them after college. Evans was sentenced this past June to three months in prison.
MLB-NEWS
Astros' Bregman, Altuve apologize for sign-stealing scheme
UNDATED (AP) — Houston Astros infielders Alex Bregman and José Altuve (al-TOO'-vay) have apologized on behalf of the ballclub for its sign-stealing scheme that was investigated and punished by Major League Baseball.
Bregman said at a news conference Thursday that he is "really sorry." Altuve said there was a full team meeting Wednesday to discuss what happened.
Astros owner Jim Crane raised eyebrows when he said: "Our opinion is that this didn't impact the game. We had a good team. We won the World Series. And we'll leave it at that."
MLB didn't punish any players for the cheating and Crane said the team wouldn't, either. However, former Houston outfielder Carlos Beltran was forced out of his new job as manager of the Mets following his role in the sign-stealing process.
Commissioner Rob Manfred disciplined the Astros after he found the team broke rules by using electronics to steal signs during its run to the 2017 World Series championship and again in the 2018 season.
In other MLB news:
— Diamondbacks right-handed pitcher Mike Leake has a fracture on his non-throwing wrist but still hopes to be ready for the beginning of the regular season. The 32-year-old Leake had an MRI on Wednesday and said it revealed an old fracture that was aggravated by a fall while he was chasing his dog.
— Major league teams improved to 5-1 in salary arbitration this year when the Red Sox beat pitcher Eduardo Rodríguez Thursday. He will earn $8.3 million rather than his request for $8,975,000. The right-hander was a career-best 19-6 with a 3.81 ERA in 34 starts last season, when he made $4,325,000.
— Boston manager Ron Roenicke (REHN'-ih-kee) says injured second baseman Dustin Pedroia won't report to spring training with the rest of the position players next week. Pedroia has played in just nine games the last two seasons while trying to recover from an injury he sustained in May of 2017 when Baltimore's Manny Machado slid spikes-high into his knee.
— The Dodgers have agreed to pay pitcher Kenta Maeda's (mah-EH'-dah) a $1 million assignment bonus as part of his trade to the Twins. Los Angeles also agreed to pay the Twins $3 million to cover part of Maeda's salary and reimburse Minnesota for up to $7 million of his earned bonuses, according to information obtained by The Associated Press.
— Right-handed pitcher Taijuan Walker says he is fully recovered and excited to be back with his original team, the Seattle Mariners. Walker has appeared in only four games since undergoing Tommy John surgery in April 2018 and a shoulder injury last May.
— Free agent outfielder Jarrod Dyson has finalized a $2 million deal with the Pirates. Dyson hit .230 with seven home runs and 27 RBIs in 130 games with the Diamondbacks last season.
— Right-hander Brad Boxberger and utilityman Sean Rodriguez have agreed to terms on minor league deals with the Marlins that include invitations to spring training. Boxberger went 1-3 with a 5.40 ERA for the Royals last year. Rodriguez batted .223 in 76 games for the 2019 Phillies.
NHL..
UNDATED (AP)  — Mika Zibanejad (zih-BAN'-ih-jad) scored the tying goal with 66 seconds in regulation before adding a shootout goal in the Rangers' 4-3 comeback against the Wild. Minnesota enjoyed a 3-1 lead until Pavel Buchnevich (booch-NEH'-vihch) tallied midway through the third period.
Yanni Gourde (YAH'-nee gohrd) has scored again after going 35 consecutive games without a goal.
Gourde has a two-game goal streak after providing a short-handed tally in the Tampa Bay Lightning's ninth straight win, 3-1 over the Edmonton Oilers. The goal broke a 1-1 tie in the second period and sent the Bolts to their 10th consecutive home win.
Andrei Vasilevskiy (va-sih-LEHV'-skee) stopped 29 shots and improved to 18-0-2 in his past 20 starts. Pat Maroon and Cedric Paquette also scored for the Lightning, who won despite playing without top two scorers Steven Stamkos and Nikita Kucherov.
Elsewhere on NHL ice:
— Third-period goals by Tom Wilson and TJ Oshie (OH'-shee) gave the Capitals a 3-2 win over the Avalanche, ending Colorado's five-game winning streak. Oshie scored the tiebreaker with 2:04 remaining, but Washington left wing Alex Ovechkin (oh-VEHCH'-kihn) was held off the scoresheet and remains two shy of 700 goals for his career. The Caps stopped a two-game slide and moved five points ahead of Pittsburgh for the Metropolitan Division lead.
— Jonathan Marchesault (MAHR'-sheh-soh) scored 2 ½ minutes into overtime as the Golden Knights overcame Zach Sanford's four-goal performance to beat the Blues, 6-5. Max Pacioretty (pash-uh-REH'-tee) had a two-goal performance and Alex Tuch (tuhk) tied it with 4:40 remaining in regulation to help Vegas halt a two-game skid.
— Craig Smith scored three times and Juuse Saros (YOO'-see SAH'-rohs) made 31 saves as the Predators blanked the Islanders, 5-0. Rocco Grimaldi had a goal and an assist to back Saros, who earned its second shutout of the season and ninth of his career.
— The Flyers rolled to a 6-2 win over the Panthers as James van Riemsdyk (REEMZ'-dyk) had a goal and two assists. Carter Hart made 26 saves for his first road win in eight games, helping Philadelphia improve to 9-3-1 in its last 13 games.
— Tyler Seguin (SAY'-gihn) snapped a 17-game goal drought and Ben Bishop made 27 saves in the Stars' 3-2 victory over the Maple Leafs. Denis Gurianov (gur-ee-AH'-nahv) and Radek Faksa (FAK'-sah) also scored to help Dallas earn its third straight win.
— Victor Olofsson's second goal of the night was the game-winner as the Sabres downed the Blue Jackets, 4-3 in overtime. Jack Eichel (EYE'-kul) ended his five-game goal drought and had two assists after Columbus took a 2-0 lead.
— Mikael Backlund and Oliver Kylington scored 1:29 apart while the Flames erupted for four goals in the first period of a 6-0 rout of the rout of the Ducks. Backlund and Mark Jankowski each had two goals and Cam Talbot stopped 44 shots in his first shutout of the season and 21st of his career.
— Wayne Simmonds provided two goals while the Devils scored four times in a four-minute span of the third period to beat the Red Wings, 4-1. Andy Greene and Jesper Bratt also tallied to support Mackenzie Blackwood, who made 25 saves in winning for the fourth time in five games.
— Vladislav Namestnikov (nah-MEHST'-nih-kahf), Nick Paul and Brady Tkachuk furnished the Senators' goals in a 3-2 victory against the Coyotes. Marcus Hogberg handled 32 shots as Ottawa dealt Arizona to its ninth loss in 11 games.
NASCAR-DUEL RACES
Logano, Byron take duel races
DAYTONA BEACH, Fla. (AP) — Joey Logano and William Byron won the qualifying races that set the field for the Daytona 500.
The victory in the first 150-mile race Thursday night earned Logano a spot in the second row for NASCAR's season-opening Cup race. Logano also won the opening duel race last February.
Byron will join Logano in the second row. They'll be behind pole-sitter Ricky Stenhouse Jr. and teammate Alex Bowman, who earned the front row in time trials at Daytona International Speedway.
Reed Sorenson and Timmy Hill qualified for Sunday's race, beating out three drivers for the final two available spots.
TRUMP-DAYTONA 500
Trump to attend Daytona 500
WASHINGTON (AP) — A White House spokesman has confirmed that President Donald Trump will attend NASCAR's season-opening Daytona 500. He is scheduled to spend part of the Presidents Day weekend at his private club in Palm Beach, Florida.
The President will serve as grand marshal and give the command for drivers to start their engines. He's the first sitting president since George W. Bush in 2004 to attend the race.
The Federal Aviation Administration issued a flight restriction for Sunday. The U.S. Secret Service also tweeted to fans that drones are prohibited within 30 miles of the race in Daytona Beach, a restriction put in place for presidential visits.
PGA-RIVIERA
Kuchar leads at Riviera
LOS ANGELES (AP) — Matt Kuchar (KOO'-chur) is the leader through one round of the Genesis Invitational at Riviera Country Club in Los Angeles.
Kuchar birdied his first two holes and never let up until in a 7-under 64 that gave him a three-stroke lead.
Russell Henley, Wyndham Clark, Kyoung-Hoon Lee, Harold Varner III and Adam Schenk are tied for second at 4 under.
Rory McIlroy, Patrick Cantlay, Jason Day and Bryson DeChambeau are in the mix at 3 under.
Tiger Woods eagled his first hole and added two birdies on his opening front nine, but he closed with a bogey to fall to 2 under.
TOKYO OLYMPICS-VIRUS
Tokyo, IOC officials reiterate that the Olympics are on
TOKYO (AP) — Tokyo Olympic organizers are reiterating that the 2020 Games will not be waylaid by the virus spreading from neighboring China.
Organizing committee president Yoshiro Mori says he wants to make it clear again that "we are not considering a cancellation or postponement of the games."
The coronavirus has wiped out track meets, golf tournaments, soccer matches and almost all sports in China. It is also keeping Chinese athletes from traveling to qualify.
In world and national news…
BEIJING (AP) — China has reported another sharp rise in the number of people infected with a new virus, as the death toll neared 1,400. The National Health Commission said Friday that 121 more people had died and there were 5,090 new confirmed cases. The number of reported cases has been rising more quickly after the hardest hit province changed the way it is counting them Thursday. There are now 63,851 confirmed cases in mainland China, of which 1,380 have died. Hubei province is now including cases based on a physician's diagnosis and before they have been confirmed by lab tests. Of the 5,090 new cases, 3,095 fell into that category.
TOKYO (AP) — Tokyo Olympic organizers and the International Olympic Committee say there's "no case for any contingency plans or cancelling" the 2020 Games because of the fast spreading virus that has caused one death in Japan and about 1,400 in mainland China. A full Chinese delegation is expected when the Olympics open in just over five months. But officials were unclear if Chinese athletes will be able to participate in the remaining 19 test events in Japan. The head of the IOC inspection team heading a two-day visit to Tokyo says he believes many of China's Olympic athletes are already training outside the country. That could ease there entry into Japan.
BERLIN (AP) — European Union officials are seeking support from member states to have naval ships enforce the U.N. arms embargo against Libya. A confidential proposal from the EU's diplomatic service obtained on Friday by The Associated Press suggests the bloc's dormant anti-migrant smuggling mission known as Operation Sophia could be renamed "Operation EU Active Surveillance." The proposal, circulated ahead of a meeting of EU foreign ministers on Monday, urges member states to agree on whether gathering information on and upholding the U.N. embargo should become the naval mission's "core task." It suggests monitoring people smuggling would become a "supporting task" carried out from the air.
NEW YORK (AP) — Prosecutors are giving their closing argument Friday at Harvey Weinstein's rape trial. After a lengthy defense closing on Thursday, prosecutors are looking to focus the jury's attention back on the accusers who testified and their harrowing accounts alleging rapes, forced oral sex, groping, masturbation, lewd propositions and casting couch excuses. Prosecutors must also answer some of the defense's knocks on the case. Chief among them: that the two women Weinstein is charged with attacking were opportunists who willingly latched on to the once-powerful Weinstein and acquiesced to sex with him because they thought it would help their careers.
WASHINGTON (AP) — House Democrats frustrated over the Senate's acquittal of President Donald Trump are pushing their oversight efforts toward the Justice Department. Top Democrats plan to investigate what they call Attorney General William Barr's efforts to politicize federal law enforcement. The new oversight comes after Barr overruled prosecutors who recommended that Trump confidant Roger Stone be given 7 to 9 years in prison on his conviction for lying to Congress and other charges. Barr says that the decision to undo the sentencing recommendation was his alone and that the Republican president didn't ask him to intervene. Democrats say the move appears politically motivated. Trump has criticized Stone's prosecution and praised Barr for getting involved.