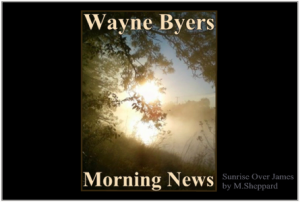 CSi Weather…
.REST OF TODAY…Cloudy with a 40 percent chance of snow. Highs around30. East winds around 5 mph increasing to northeast 10 to 15 mph in the afternoon.
.TONIGHT…Cloudy with a 50 percent chance of snow. Lows around 20. North winds 10 to 15 mph.
.TUESDAY…Chance of flurries in the morning, then decreasing clouds. Highs in the mid 20s. North winds 10 to 15 mph.
.TUESDAY NIGHT…Mostly cloudy. Lows 5 to 10 above. Northwest
winds 5 to 10 mph.
.WEDNESDAY…Partly sunny. Highs 15 to 20. Northwest winds around
5 mph.
.WEDNESDAY NIGHT…Mostly cloudy. Lows zero to 5 above.
.THURSDAY…Partly sunny. Highs 15 to 20.
.THURSDAY NIGHT…Mostly cloudy. Lows 5 to 10 above.
.FRIDAY…Mostly cloudy. Highs in the upper 20s.
.FRIDAY NIGHT…Mostly cloudy in the evening then clearing. Lows
15 to 20.
.SATURDAY…Sunny. Highs in the mid 30s.
.SATURDAY NIGHT…Increasing clouds. Lows around 20.
.SUNDAY…Partly sunny. Highs in the mid 30s.
The extended forecast looks relatively quiet. Temperatures will be below average Tuesday and Wednesday in the wake of the cold front passage as northwest flow continues.
Very small chance of some light snow Wednesday
night into Thursday
For the end of the work week and through the weekend, as high temperatures warm into the 30s central and 40s west.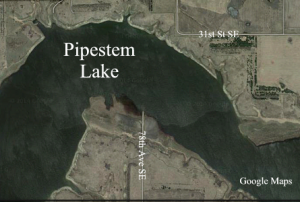 OMAHA, Neb (USACE) –The U.S. Army Corps of Engineers-Omaha District increased releases from Jamestown Dam, North Dakota, Wednesday to 500 cubic feet per second.Meanwhile, Pipestem Dam(Stutsman County, North Dakota)releases have begun to slowly drop this week as lake levels near the target elevation of 1442.5 ft.
As of the Friday news release, Pipestem releases were near 50 cfs. Once Pipestem Dam releases dropped below 100 cfs,releases were increased from Jamestown Dam to lessen the risk of ice-related flooding downstream.
Combined releases from Jamestown and Pipestem Dams are now 550cfs. Updated reservoir forecasts for Jamestown Dam now indicate the reservoir pool wi l reach the target elevatio nof 1429.8 ftby March 1. Pipestem pool elevation will continue to slowly drop until reservoir inflows balance with outflows, likely sometime in the next week.
The Corps of Engineers will continue to operate to minimize the risk of ice-related flooding, and adjust releases as needed.Jamestown Dam pool elevation is 1432.4ft, approximately 2% into the flood pool, and is dropping. The pool elevation peaked on November 12, 2019at 1442.0 ft, which was 31% into the flood pool. Inflows are near 125cfs, and releases are 500cfs. Pipestem Dam pool elevation is 1443.2ft, less than 1% into the flood pool, and is dropping. The pool elevation peaked on October 29, 2019,at 1475.0 ft, which was 43% into the flood pool. Inflows are near 10cfs, and releases are 50cfs.The Corps of Engineers is coordinating with relevant agencies in North and South Dakota.
Jamestown (CSi) Jamestown Police is investigating a two vehicle crash on Friday about 1:23-p.m. at the intersection of 5th street & 7th Avenue SE.
Jamestown Area Ambulance was called to the scene.
No immediate report was available concerning injuries.
Authorities remind motorists that when the weather is nice and driving condition are good, to be extra watchful of other motorists maybe not pay as close attention to their driving as they should.
Also observe the posted speed limit, and buckle up.
Valley City  (VCSU Newsletter)  The VCSU UJ Career and Internship Fair will be held Tues Feb 25, from 11 a.m. to 2 p.m. at the Student Center on the Valley City State University campus.
A cooperative effort of Valley City State University and the University of Jamestown hosted this year by the VCSU Career Services Office, the event will provide students with opportunities to meet with prospective employers in regard to part-time and full-time jobs, internships, and summer jobs. Representatives from area graduate schools will also be in attendance.
Read more at www.vcsu.edu/news/10817/vcsu-uj-career-and-internship-fair-to-be-held-on-campus-on-feb-25
Valley City (VCSU) – Student Health Services at Valley City State University will host the annual VCSU Wellness Fair on Wednesday, March 4, from 11 a.m. to 1 p.m. in the Student Center on the VCSU campus.
Sponsored by Essentia Health, Family Healthcare, and Sanford Health, the Wellness Fair is open to the public free of charge. Participants will have the opportunity to do health screening and fitness testing, see demonstrations and participate in activities, and pick up free samples and information about health and wellness resources on campus, in Valley City and around the region.
Specific opportunities for participants include having their blood pressure checked, learning compression-only CPR, trying DermaScan skin screening, and signing up for free 10-minute reflexology sessions on site. The VCSU Fitness Assessment and Exercise Prescription class will be offering In Body 270 Body Composition Analyzer testing for a discounted price of $5 along with other fitness testing. Participants may also enjoy healthy treats at a wellness snack bar sponsored by Prairie St. John's.
Wellness Fair participants who visit all booths will be entered to win drawings for prizes, including Apple watches and Air Buds, a TRX Home2 training system, Hydro Flasks, and gift cards to Scheels, Leevers Foods, Twin Valley Theatre, Subway, the VCSU Bookstore, Viking Grounds and Tesoro.
30 service providers, vendors and exhibitors will be  participating.
Jamestown  (CSi)  Freedom Resource for Independent Living in Jamestown will hold a program, "Disaster Planning for People with Disabilities,"  on March 19, from 1:30-p.m. to 3:30-p.m., and the LEC Lower Level meeting room.
The Freedom in Action class will discuss risks in your community.
Learn how you prepare for a disaster.
Who is your network of support in time of disaster.
Learn what your disaster resources are.
To register, call Beth at 701-252-4693
Bismarck  (NDHP)  A NDHP Trooper was on patrol on February 23, 2020 at approximately 2:56 PM on US Highway 281 near MM 164 north of Minnewaukan and attempted to stop a vehicle that was traveling at a speed of 83 mph in a 65 mph zone. While in the process of trying to stop the vehicle, the vehicle fled and increased its speed to 110 mph. The vehicle eventually lost control and ran off the roadway near MM 152 on US Highway 281 north of Oberon. The driver and passengers were uninjured. The Trooper found the vehicle and conducted a felony stop on the car and individuals. The individuals were taken into custody and the case was given to BIA for further investigation.
BISMARCK, N.D. (AP) — A North Dakota man has been sentenced to 40 years in federal prison for sexual abuse of children under the age of 12. Thirty-eight-year-old Shayne Mason, of Mandaree, pleaded guilty last year to three counts of aggravated sexual abuse of a child. In addition to the prison sentence, he was ordered to serve a lifetime of supervised release. U.S. Attorney Drew Wrigley says the investigation began in 2017 when one of the three victims in the case told police that Mason had sexually assaulted her on the Spirit Lake Indian Reservation a decade earlier.
BISMARCK, N.D. (AP) — A 20-year-old Bismarck woman charged with felony child neglect following the death of her baby has been sentenced to two years of probation. Ashlynn Seymour pleaded guilty Friday. South Central District Judge James Hill sentenced her to five years in prison with all of it suspended but the 140 days she already had been behind bars. The boy's father, Marcus Reineke, faces a late-March trial on the same charge. Authorities say the parents kept a filthy apartment and missed medical appointments for their son, who was born 3½ months premature and spent three months in neonatal intensive care.
FARGO, N.D. (AP) — Amy Klobuchar is heading to Middle America as soon as the Nevada caucuses wrap up. The Democrat will hope to be coming off a strong performance in the campaign's first western test as she starts a four-state weekend swing. Klobuchar meets volunteers Saturday night in Minneapolis. Then she heads to Fargo, North Dakota, on Sunday, part of a day that will also take her to Oklahoma City and Little Rock. Minnesota, Oklahoma and Arkansas are all in the collection of Super Tuesday states that vote March 3. North Dakota's caucuses come a week later.
BISMARCK, N.D. (AP) — The Bismarck Park Board has voted to keep the name of Custer Park, despite efforts to change it because of the eponym's history with Native Americans. Lt. Col. George Armstrong Custer fought against Native Americans on the Great Plains in the 1860s and 1870s. Two Bismarck women led the effort to change the name. Three Affiliated Tribes member M. Angel Moniz says that to some, Custer is a reminder of violence and genocide. The Bismarck Tribune says commissioners on Thursday adopted a formal process to rename city parks and to install an educational marker at Custer Park. Under the new process, there can't be another proposal to rename Custer Park for 15 years.
In sports
Saturday High School Hockey
BOY'S
Fargo Davies 9, West Fargo 1
Grand Forks Central 4, Fargo North 3, 2OT
Grand Forks Red River 2, Fargo South/Shanley 0
West Region Tournament
State Qualifier
Jamestown 7, Dickinson 3
Minot 3, Mandan 2, OT
Jamestown plays EDC champion Grand Forks Red River in the state quarterfinals on Thursday at 5:30 p.m.
Bismarck Century 5, Bismarck High 2
Saturday
High School Basketball
Girls High School Bball Sat
Watford City 60, Jamestown 56
Bismarck St Mary's 62,  Turtle Mountain 59
BOYS:
Jamestown 87, Watford City 56
Beulah 44, Beach 41
Bowman County 68, New England 64
Central Cass 85, Milnor – North Sargent 43
Central Cass 85, North Sargent 43
Dakota Prairie 66, May Port CG 39
Drake – Anamoose 76, South Prairie 72
Four Winds/Minnewaukan 65, Shiloh Christian 63
Glen Ullin-Hebron 95, Grant County 31
Grafton 68, North Star 61
Harvey-Wells County 57, Towner-Granville-Upham 49
Hatton-Northwood 64, Thompson 58
Heart River 53, Stanley 35
Kindred 65, Oakes 46
Lakota 55, Drayton/Valley-Edinburg 41
Lewis and Clark-Berthold 59, Ray 56
Northern Cass 69, Sargent Central 43
Park River/Fordville Lankin 72, Midway-Minto 57
Powers Lake 71, Parshall 47
St. John 76, Bottineau 35
Strasburg-Zeeland 72, Wilton-Wing 61
Tiospa Zina Tribal, S.D. 75, Richland 60
Turtle Mountain 86, Bismarck St. Mary's 80
Underwood 52, New Salem-Almont 46
High School Wrestling…
Jamestown High School's Noah Braun senior won theNorth Dakota Class A State Individual Wrestling Tournament at 152 pounds, defeating top-seeded Brock Fettig of Bismarck High in an 8-3 decision.
UJ Wrestling
Friday
SIOUX CITY, Iowa  (
uj.edu
) 
— 
Five University of Jamestown men's wrestlers remained in the hunt for individual championships after the first day of the Great Plains Athletic Conference Wrestling Championship at the Hindman-Hobbs Center.
Jesse Murillo (SO/El Paso, Texas) (141), Brandon Aragon (SR/Pueblo, Colo.) (149), Carsen Paynter (SR/Livermore, Calif.) (157), Will Parks (SR/Perham, Minn.) (197), and Josh Goeden (SO/Sitka, Alaska) (197) all advanced to the semifinal round in their weight class.
Murillo won his only match Friday night, an 11-4 decision over Andrew Shea of Briar Cliff (Iowa). Murillo led 6-1 after the first on the strength of a four-point nearfall, then extended his lead to 8-1 with a takedown in the second.
Aragon was a winner by 10-1 major decision over Austin Hendrickson of Northwestern (Iowa). Aragon led 6-1 going into the third, ending the match with a four-point nearfall.
Paynter took a 9-3 decision against Dakota Wesleyan (S.D.)'s Cole Halouska. He scored four points in each of the first two periods and gained an extra point with the riding time advantage.
Parks pinned Devin Brown of Midland (Neb.) in 2:32 to advance to the semifinals.
Goeden never trailed in an 8-3 decision over Dakota Wesleyan's Carter Max. Takedowns in the first and second combined with two more in the third sealed the win.
Antonio Ruiz (JR/West Valley, Utah) (141), Kade Thompson (SR/Idaho Falls, Idaho) (165), Theo Robison (JR/Westminster, Colo.) (174), Ryan Sanchez (SR/DeLand, Fla.) (184), and Chumkaur Dhaliwal (SR/Union City, Calif.) (285) are still alive in the consolation bracket and can place as high as third.
The tournament resumes Saturday morning at 10 a.m.
Saturday
GPAC Championships
Jamestown 6 of 9
SIOUX CITY, Iowa  (uj.edu)— Brandon Aragon (SR/Pueblo, Colo.) qualified for the NAIA Wrestling National Championship and the University of Jamestown men's wrestling team finished sixth at the GPAC Championship, which concluded Saturday at the Hindman-Hobbs Center.
Aragon earned one of three GPAC wild card entries to the national meet and finished third at 149 pounds.
Carsen Paynter (SR/Livermore, Calif.) and Josh Goeden (SO/Sitka, Alaska) placed second at 157 and 197, respectively.
Paynter won a 9-3 decision and a 15-4 major decision to advance to the first-place match against Concordia (Neb.)'s Gabriel Crawford. Crawford won a highly contested match by 7-6 decision. Due to the GPAC having two automatic qualifiers at 157 pounds, Paynter had to wrestle Taygen Smith of Hastings (Neb.) for true second place, and it was Smith coming out on top by decision.
Goeden won by 8-3 decision and then earned a pin in the semifinals. He lost a 10-2 major decision to Morningside's Jacob Wiley in the championship match.
Aragon won his quarterfinal match by 10-1 major decision, then lost a tough tie breaker-2 bout 3-2 to John Diener of Morningside in the semifinals. Aragon then came back with a pin and a 2-0 decision to claim third.
Jesse Murillo (SO/El Paso, Texas) placed fourth at 141 pounds, as did Will Parks (SR/Perham, Minn.) at 197.
Jamestown finished with 67.5 points, 19.5 points ahead of seventh-place Doane (Neb.) and 19 points behind Hastings (Neb.) Concordia won the team title with 163.5 points, followed by Briar Cliff (Iowa) with 122.5, Northwestern (Iowa) with 109, and Morningside with 108.5.
The full list of qualifiers for the NAIA Wrestling National Championship will be announced on February 25 by the national office. Park City, Kan., is the site of the national meet on March 6-7.
Saturday
Jimmie Baseball
At Joplin Missouri
Game 1
Jamestown 6 William Penn 5
Game 2
Jamestown 8,  University of Mary 7 (8 innings)
(Click here for recap when available)
Saturday
UJ Women's Basketball
Concordia 76,  Jamestown 66
(uj.edu))  The University of Jamestown women's basketball team gave No. 2 Concordia (Neb.) University all it could handle Saturday afternoon at Harold Newman Arena.
Trailing by just four entering the final quarter, the Jimmies found themselves down by nine with 5:37 as the Bulldogs pulled away for a 76-66 win in the regular season finale for both teams.
Jamestown (16-14 overall, 9-13 Great Plains Athletic Conference) qualified for the league's postseason tournament as the seventh seed and will travel to second seed Hastings (Neb.) on Wednesday for a 7 p.m. quarterfinal matchup.
UJ was held to only eight shots in the first quarter, but made four of them, including two three-pointers, to trail by just a bucket at 17-15 after one.
Concordia stretched their lead to nine with 3:37 before halftime only to have the Jimmies reel off five straight points to cut the lead to four.
Hannah DeMars (FR/Grand Rapids, MN) opened the third quarter with a three-pointer to make it 39-37. The Bulldogs countered with a 5-0 run of their own and Jamestown held serve, scoring six straight to trail by just one at the 3:54 mark.
The Bulldogs used a 9-0 run to take a ten-point lead with just under a minute before the end of the third. Back-to-back three-pointers by Kia Tower (FR/Bigfork, MN) and Emma Stoehr (JR/Woodbury, MN) made it 57-53 and set the stage for the closing frame.
Macy Nilsen (FR/Edina, MN) led UJ with a career-high 19 points. DeMars and Courtney Mosloski (SR/Fairmont, MN) both finished with 10. Mosloski and Noelle Josephson (SO/Ramsey, MN) grabbed six rebounds each while Tower and Stoehr both dished out three assists.
All five starters for Concordia (28-2, 21-1 GPAC) hit for double figures, led by Philly Lammers' 18 points.
Saturday
Aberdeen UJ Softball at Presentation Dome Classic
Game 1 results:  Jamestown 13,  Dickinson State 5  (5 Innings)
Game 2 results Jamestown 15  Dakota State    4    (5 Innings)
ABERDEEN, S.D.  (uj.edu) — The University of Jamestown softball team made it a clean weekend sweep with a pair of victories Saturday, defeating Dickinson State (N.D.) University 13-5 and Dakota State (S.D.) University 15-4. Both games were ended in the fifth inning due to the eight-run rule.
The Jimmies improve to 7-1 on the season and will be back in action March 8 in Tucson, Ariz.
A seven-run first inning gave UJ a large cushion against the Blue Hawks.
Kassi Ward (JR/Olympia, Wash.) (2 RBI), Mikayla Frost (SR/Melba, Idaho) (2 RBI), and Santina Zito (SO/Boise, Idaho) all had run scoring hits while a ball hit by Steph Cota (SO/Tucson, Ariz.) was misplayed by the DSU defense for two more runs.
Jamestown scored two more runs in each of the second, fourth and fifth innings.
Zito finished 3-for-3 with 3 RBI and a pair of runs scored. Morgan Geizler and Hailey Sandoval (SR/Lake Stevens, Wash.) each recorded two hits.
Katie Merchant (SO/South Haven, Minn.) (4-0) worked three scoreless innings, allowing just two hits and striking out two.
Another seven-run inning proved to be the difference for the Jimmies against Dakota State in Saturday's nightcap.
Leading 8-4 heading into the top of the fifth, the UJ offense plated seven runs in the frame, eventually taking a 15-4 win.
Zito, Frost, and Katie Reisdorfer (JR/Fresno, Calif.) had three hits each. Cota, Mariah Wick (JR/Jamestown, N.D.), and Morgan Neiles all had two hits.
Maggie Wallin (FR/Downey, Wis.) (1-0) earned her first win as a Jimmie, pitching 3 2/3 innings of scoreless relief.
Saturday
Aberdeen
VCSU Softball at Presentation Dome Classic
Game 1:  Morningside College  7,   VCSU 1
Game 2:  VCSU 9 Dakota State 8
ABERDEEN, S.D.  (VCSU) – The Valley City State softball team split a pair of games Saturday as they concluded play at the Presentation College Dome Classic.
The Vikings dropped the first game to No. 22 Morningside College, 7-1.
Valley City State then utilized a strong sixth inning to pick up a comeback win over Dakota State in their final game of the weekend, 9-8.
The Vikings are now 2-6 overall this season.
UP NEXT: Valley City State plays four games next Saturday and Sunday at the Minot State Dome Tournament.
Morningside 7, VCSU 1
Morningside College scored in four different innings to total seven runs in Saturday's win over the Vikings.
Trailing 2-0 in the top of the fourth, Valley City State scored on a two-out double from Autumn Perry, driving in Joelle Aiello to cut the deficit to 2-1.
Morningside's Ellie Cropley responded with a two-out, 2-run home run to extend their lead in the bottom of the inning. The Mustangs added three runs in the bottom of the fifth to lock in the 7-1 victory over the Vikings.
Joelle Lamontagne pitched a complete game and took the loss for Valley City State. She gave up five earned runs on nine hits while walking two and striking out three.
Autumn Perry recorded two hits and an RBI while Aiello added two hits for the Vikings.
VCSU 9, Dakota State 8
Five runs were scored in the first inning Saturday as Dakota State took an early 3-2 lead.
With Valley City State trailing by three in the bottom of the fifth, Sierra Crocker hit a solo home run to cut the Viking deficit to 6-4.
The Vikings struck big in the sixth inning when they scored five runs on four hits to take their first lead of the game, 9-6. Aiello and Autumn Perry each recorded an RBI single while Gronau scored on a sac fly from Jayme Menard. The Trojans also walked in a run and allowed Keana Harmon to score on a wild throw error.
Dakota State's Nicole Stewart hit a 2-run home run in the top of the seventh but the Trojans could not get closer as the Vikings took the win, 9-8.
Starting pitcher Amber Stewart picked up the win for the Vikings while Lamontagne earned the save. Stewart allowed four earned runs on eight hits, walked nine batters and struck out two.
Aiello went 2-for-4 and recorded two RBIs in the game. Menard, Crocker, Perry, Harmon, and Marissa Hawkins each added an RBI for the Vikings.
Jamestown   (CSi)  The Jamestown Civic Center, hosts  the  Region-3,  2020 Girl's Class B State  Basketball Tournament, February 24, 25, & 27, with eight teams participating.
Monday February 24
Game 1, 3-p.m. LaMoure-Litchville/Marion vs. Strausburg/Zeeland
Game 2, 20 minutes after first game, Medina-Pingree/Buchanan vs. Oakes
Game 3, 20 minutes after second game, Kidder County vs. Edgeley/Kulm/Montpelier
Game 4, 20 minutes after game 3, Carrington vs. Linton/HMB
NBA
UNDATED (AP) —  Paul Millsap scored a season-high 25 points on 9-of-11 shooting as the Nuggets knocked off the Timberwolves, 128-116. Nikola Jokic (nih-KOH'-lah YOH'-kihch) hit 11 of his 14 attempts and finished with 24 points to help Denver bounce back from its first loss to a Northwest Division opponent. Jamal Murray added 19 points for the Northwest leaders, who are 2 ½ games ahead of second-place Utah.
The Los Angeles Lakers have gained a split of their two-game season series with the Boston Celtics.
LeBron James poured in 29 points, including a fallaway jumper with 30 seconds remaining in the Lakers' 114-112 triumph over the Boston Celtics. James missed a tying free throw moments before his late bucket point the Lakers ahead to stay.
Anthony Davis had 32 points and 13 rebounds in the fifth straight win overall for the Western Conference leaders.
Jayson Tatum matched his career high with 41 points for the Celtics, who had won 12 of 14 starting with a 32-point rout of the Lakers in Boston last month.
Checking out Sunday's other NBA action:
— Kyle Lowry extend his career-best run of double-doubles to six by delivering 16 points and 11 assists in the Raptors' 127-81 dismantling of the Pacers. Pascal Siakam (see-A'-kam) scored 21 points and Serge Ibaka (ih-BAH'-kah) added 15 with a season-high 15 rebounds as the Atlantic Division leaders moved 2 ½ games ahead of the second-place Celtics. Toronto has won 17 of 18 overall and nine straight at home following their most lopsided victory ever.
— Shai Gilgeous-Alexander and Steven Adams each had double-doubles and Chris Paul almost had a triple-double in the Thunder's 12th win in 15 games, 131-103 against the Spurs. Gilgeous-Alexander had 22 points and 13 rebounds, Steven Adams added 21 points and 14 boards, and Paul finished with 12 points, 10 assists and nine rebounds. Rookie Luguentz Dort scored 15 points on 6-for-6 for Oklahoma City while playing on a two-way contract.
— CJ McCollum had 41 points, a career-high 12 assists and nine rebounds as the Trail Blazers knocked off the Pistons, 107-104. McCollum scored or assisted on 14 consecutive Portland points in the first quarter and finished with 15 points and five assists in the period. Carmelo Anthony scored more than 30 points for the first time since Feb. 25, 2017, finishing with 32.
— The Pelicans continued their playoff push as Zion Williamson had 28 points and seven rebounds in their 115-101 decision over the Warriors. Jrue Holiday furnished 11 of his 23 points while New Orleans was outscoring Golden State, 38-24 in the fourth quarter. Nicolo Melli matched career highs with 20 points and six 3-pointers in the Pelicans' fifth win in six games.
— The Bulls earned a 126-117 win over the Wizards as Coby White scored 33 points to join Michael Jordan as the only Chicago rookie with consecutive 30-point games. The Bulls overcame Bradley Beal's career-high 53 points to snap an eight-game losing streak. Zach LaVine (lah-VEEN') added 32 points and broke the franchise record for 3-pointers in a season.
NBA-GRIZZLIES-JACKSON INJURED
Grizzlies: Jackson out at least 2 weeks with sprained knee
MEMPHIS, Tenn. (AP) — Memphis Grizzlies forward Jaren Jackson Jr. will miss at least two weeks after spraining his left knee during Friday's game against the Lakers.
An MRI exam showed Jackson suffered the injury contesting a shot late in the second quarter. He is the Grizzlies' second-leading scorer, averaging 16.9 points per game.
Men's College basketball…
EVANSTON, Ill. (AP) — Daniel Oturu had 22 points and 12 rebounds and Minnesota beat Northwestern 83-57. Marcus Carr added 18 points and Gabe Kalscheur and Payton Willis had 14 apiece for the Gophers, who snapped a three-game losing streak. Pete Nance led last-place Northwestern with 11 points. Ryan Young added 10 points for the Wildcats, who have lost 11 straight. Oturu, one of the top big men in the Big Ten, blocked three shots and shot 3 for 5 from 3-point range in addition to his 15th double-double.
BROOKINGS, S.D. (AP) — Noah Freidel scored 21 of his 26 points after halftime and South Dakota State stretched its win streak to eight games, defeating South Dakota 85-80. Douglas Wilson added 20 points for the Jackrabbits, who used an 8-0 burst to take the lead in the final seven minutes. Stanley Umude had 15 points, six rebounds and six assists for the Coyotes. Triston Simpson added 14 points and Cody Kelley 13.
T25 MEN'S BASKETBALL…
Ohio State ends Maryland's streak, Indiana knocks off Penn State
UNDATED (AP) — Ohio State and Indiana continue their bids to work themselves into the NCAA men's basketball tournament.
The Buckeyes ended Maryland's nine-game winning streak as Luther Muhammad scored 22 points in a 79-72 victory over the seventh-ranked Terrapins in Columbus. Kaleb Wesson with 15 points and Duane Washington Jr. added 13 for Ohio State, while Andre Wesson and C.J. Jackson each had 12.
Aaron Wiggins had a team-high 20 points for the Terps, but leading scorers Jalen Smith and Anthony Cowan combined for just 18 after entering the game averaging 34.
— No. 16 Seton Hall rolled to an 81-65 win over St. John's behind Myles Powell's 18 points. Sandro Mamukelashvili added 16 points and nine rebounds as the Pirates moved to 12-3 in the Big East with a wire-to-wire victory. Romero Gill had 12 points while going 6 for 6 from the floor to help Seton Hall stay one game ahead of Creighton atop the Big East standings.
— Marcus Zegarowski made all seven of his 3-pointers and finished with 25 points as No. 16 Creighton hammered 21st-rated Butler, 81-59. Christian Bishop had a career-high 19 points to go with seven rebounds and five assists as the Bluejays beat a ranked opponent for the fourth straight time. The Bulldogs dropped their third in a row and played the second half without season scoring leader Kamar Baldwin because of a left ankle injury.
At Bloomington, Al Durham contributed 14 points and Trayce Jackson-Davis added 13 with 10 rebounds as the unranked Hoosiers knocked off No. 9 Penn State, 68-60. Indiana coughed up a 13-point, halftime lead and trailed 48-42 with 12:17 remaining before scoring the next 11 points, capped by a dunk from Jackson-Davis that put his team ahead, 55-48.
Indiana improved to 18-9 overall and 8-8 in the Big Ten.
The Nittany Lions dropped to 20-7 overall and 10-6 in the conference despite Lamar Stevens' game-high 29 points.
NASCAR-LAS VEGAS
Logano wins at Vegas again
LAS VEGAS (AP) — Joey Logano has won at Las Vegas Motor Speedway for the second straight year, pulling it out in a two-lap sprint to the finish that ended under caution.
Logano put his No. 22 Ford for Team Penske in the victory lane by holding off runner-up Matt DiBenedetto, Ricky Stenhouse Jr. and Austin Dillon.
A caution with six laps remaining complicated the race to the finish as all but seven cars on the lead lap headed to pit road for tires.
DiBenedetto finished 0.491 behind Logano in his second race for the Wood Brothers, a Penske partner. Stenhouse was third after taking the pole for the season-opening Daytona 500.
NASCAR-NEWMAN-HEAD INJURY
Newman confirms he suffered head injury in Daytona 500 crash
LAS VEGAS (AP) — Ryan Newman has said through a statement that he suffered a head injury in his crash on the last lap of the Daytona 500 but did not disclose details.
Roush team president Steve Newmark opened a news conference before Sunday's race at Las Vegas Motor Speedway by reading a lengthy statement from Newman.
Newman wrote that he was fortunate to avoid any internal organ damage or broken bones, and that the doctors have been pleased with his progress over the last few days. He said he is looking forward to getting behind the wheel again. However, there's no timetable for his return to competitive racing.
Newmark said it is Newman's intent to race for the 2020 Cup championship this season, and the driver plans to ask NASCAR for an exemption to qualify for the playoffs once he's medically cleared to return.
NHL
UNDATED (AP) —  Jordan Kyrou (KY'-roo) and Brayden Schenn scored 3:40 in the first period to give the Blues a 2-0 lead in their fourth straight win, 4-1 against the Wild. Oskar Sundqvist furnished a goal and an assist as the Western Conference leaders regained a three-point edge over Colorado. Jordan Binnington handled 32 shots for the Blues, who have allowed just two goals in their last four games.
— William Karlsson recorded his third career hat trick before Shea Theodore's overtime goal bailed out the Golden Knights in a 6-5 win at Anaheim. Theodore stretched the Knights' winning streak to a season-high six games after Vegas coughed up a 5-3 lead in the last three minutes of regulation. Alec Martinez had a goal and an assist as the Golden Knights expanded their Pacific Division lead to three points over the Oilers.
The Washington Capitals have regained sole possession of first place in the NHL's Metropolitan Division by knocking off the suddenly-cold Pittsburgh Penguins.
The Caps own a two-point lead over the Pens after T.J. Oshie (OH'-shee) scored the go-ahead goal with 9:20 left in Washington's 5-3 victory against Pittsburgh. Carl Hagelin (HAG'-lihn) tallied twice while the Capitals scored four times in the third period to win for just the second time in eight games.
Evgeni Malkin had a goal and an assist for the Penguins, who have been outscored 14-5 while losing their last three games.
After the game the Capitals acquired winger Ilya Kovalchuk (KOH'-vul-chuhk) from the Canadiens for a 2020 third-round pick. Montreal will retain 50% of Kovalchuk's $700,000 salary and cap hit.
He has six goals and 13 points in 22 games since joining the Canadiens following his contract buyout by the Kings.
— The Islanders are six points off the Metropolitan Division lead after Anders Lee's two goals and one assist led a 4-1 victory against the Sharks. Devon Toews (deh-VAHN tayvz) finished with a goal and an assist, while Mat Barzal and Brock Nelson each set up two scores in the Islanders' fifth consecutive home win. Semyon Varlamov (SEHM'-yuhn vahr-LAH'-mahv) stopped 29 shots for New York, which has scored four goals in its last two games after netting just two during an 0-4 road trip.
— Connor McDavid contributed a goal and an assist as the Oilers doubled up the Kings, 4-2. McDavid set up Leon Draisaitl's (DRY'-sy-tulz) team-high 36th goal late in the first period to put Edmonton ahead to stay. Mike Smith stopped 21 shots in helping the Oilers move past the Canucks for second place in the Pacific Division.
— Johnny Gaudreau and Sean Monahan provided first-period goals and the Flames opened a five-game road trip with a 4-2 win over the Red Wings. Andrew Mangiapane (man-jah-PAH'-nee) scored Calgary's last two goals, one of which came into an empty net at the end. Calgary is tied with Arizona for the first wild card in the Western Conference, one point ahead of Winnipeg.
— Kyle Okposo (ah-POH'-soh) enjoyed his first two-goal game in 23 months to lead the Sabres' 2-1 victory against the Jets. Okposo scored the go-ahead goal 7:37 into the third period of Buffalo's fifth win in six games. The Sabres' surge puts them six points behind third-place Toronto in the Atlantic Division.
— Tyler Seguin's (SAY'-gihnz) second-period goal broke a 1-1 deadlock and sent the Stars past the Blackhawks, 2-1. Seguin has four goals in his last six games after going 17 games without one. Anton Khudobin (koo-DOH'-bihn) stopped 31 shots for Dallas, which remains four points behind St. Louis for the Central Division lead.
NHL-HURRICANES-GOALIE MOVES
Hurricanes recall 2 netminders
RALEIGH, N.C. (AP) — The Carolina Hurricanes have recalled goaltenders Anton Forsberg and Alex Nedeljkovic (nuh-DEHL'-koh-vihch) from their AHL affiliate following injuries to their top two netminders.
James Reimer and Petr Mrazek (muh-RA'-zehk) were hurt during Saturday's 6-3 victory at Toronto, forcing Carolina to use an emergency netminder to close out the victory. 42-year-old Zamboni driver David Ayres entered in the second period and stopped eight of 10 shots to pick up the win.
COLLEGE FOOTBALL-COLORADO-DORRELL
Dorrell hired by Buffs
BOULDER, Colo. (AP) — Karl Dorrell is back in the Pac 12.
Colorado has hired Dorrell as its head football coach, 13 years after he left UCLA. The 56-year-old Dorrell comes to Boulder two weeks after Mel Tucker bolted for Michigan State and 72 hours after Dorrell was named assistant head coach of the Dolphins.
Dorrell was 35-27 as UCLA's head coach before embarking on a 14-season run in the NFL.
PGA-MEXICO CHAMPIONSHIP
Reed wins in Mexico City
MEXICO CITY (AP) — Patrick Reed closed with a 4-under 67 to take the Mexico Championship.
Reed was two shots back with four to play before reeling off three straight birdies to overtake Bryan DeChambeau for his second World Golf Championship title. He recovered from a wild tee shot into the trees on 18 to two-putt from 35 feet to wrap up his eighth PGA title at 18 under.
DeChambeau appeared to seize control with five birdies in a six-hole stretch starting at No. 9. He settled for second after completing a 65.
Jon Rahm and Erik Van Rooyen were three off the pace and one ahead of Rory McIlroy.
MLB-NEWS
Red Sox put former AL MVP Pedroia on 60-day injured list
FORT MYERS, Fla. (AP) — The Boston Red Sox placed second baseman Dustin Pedroia (peh-DROY'-ah) on the 60-day injured list, further putting in doubt whether the former AL MVP will play again.
The 36-year-old Pedroia has played just nine games over the last two seasons. The four-time All-Star has spent the time trying to recover from an injury he sustained when Baltimore's Manny Machado slid spikes-high into his left knee in May 2017.
In other MLB news:
— Yoenis Céspedes (yoh-EHN'-ehs SEHS'-peh-dehs) says he expects to be ready to play by opening day. Out of the lineup since July 2018 with heel problems, Céspedes said Sunday that he plans to play in spring training games by the middle of March. And if all goes well, he intends to be in the lineup on March 26 when the Mets host the World Series champion Washington Nationals in the opener.
ATHLETES SURVEY
Survey finds Olympic, elite athletes struggling financially
UNDATED (AP) — An eye-opening survey finds that the majority of elite and Olympic athletes struggle to make ends meet.
Fifty-eight percent of the 491 respondents from across the globe say they do not consider themselves financially stable.
The survey paints a realistic picture of the sacrifices many athletes make to get to the top in Olympic sports.
Scores of athletes say the funding they receive from sports organizations in their countries is hardly enough to make ends meet.
Majorities say multibillion-dollar organizations like the International Olympic Committee should pay them to compete at their events.
They're looking for changes in rules that restrict their ability to market themselves during the Olympics.
TENNIS-OBIT-JEANNE EVERT
Jeanne Evert dies
DELRAY BEACH, Fla. (AP) — The younger sister of 18-time Grand Slam champion Chris Evert has died.
A funeral home in Delray Beach, Florida, posted an obituary that said Jeanne Evert Dubin died Thursday at age 62 after a 2 1/2-year struggle with ovarian cancer.
Evert Dubin was a world-ranked tennis player in her own right, turning pro at age 15 following a stellar junior career. She and sister Chris played doubles together for two years, ranking No. 4. Evert Dubin reached a career-high ranking of No. 28 in the world in 1978, when she retired from competition.
In world and national news…
NEW DELHI (AP) — As President Donald Trump was being feted by Indian Prime Minister Narendra Modi in the west Indian city of Ahmedabad on Monday, Hindu nationalist and communist groups held pro and anti-U.S. street demonstrations in the capital. A group of Hindu nationalists held a prayer meeting putting a vermilion mark on the forehead of Trump's photograph in a poster and a priest chanted Hindu hymns wishing Trump success in his endeavor for strong ties with India. Also Monday, the police fired tear gas as clashes erupted between hundreds of supporters and opponents of the new citizenship law in the country for a second day just ahead of Trump's maiden visit to the city.
AHMEDABAD, INDIA (AP) — President Donald Trump has opened a whirlwind 36-hour visit to India by basking in the adulation of a massive, colorful crowd at a cricket stadium in the western city of Ahmedabad. Trump and Indian Prime Minister Narendra Modi lavished praised on each other during back-to-back speeches to thousands of revelers packed into the stadium in 80-degree heat. It was the biggest rally crowd of Trump's political career. Trump's visit is meant to reaffirm U.S.-India ties strained by trade disputes. But it's also providing enviable overseas imagery for a president in re-election mode.
DUBAI, United Arab Emirates (AP) — An Iranian lawmaker from the city of Qom says a staggering 50 people have died there from the new coronavirus this month, even as the Health Ministry insisted only 12 deaths have been recorded to date. The official from Qom said more than 250 are in quarantine in the city, which is a popular place of religious study for Shiites from across Iran and other countries. The death toll in Iran from the new coronavirus that originated in China has spread to at least five cities across the country, and by travelers from Iran to five countries. The WHO chef expressed concerns over the rapid spread.
SEOUL, South Korea (AP) — South Korea's Centers for Disease Control and Prevention has reported 231 more cases of the new virus, mostly in the southwestern city of Daegu and nearby areas, bringing the country's total to 833. The spike in infections on Monday came a day after President Moon Jae-in called for "unprecedented, powerful steps" as his government issued its highest alert for infectious diseases. Most of the country's cases have been linked to a church in Daegu and a hospital in the nearby county of Cheongdo. China also reported 409 new cases on Monday, raising the mainland's total to 77,150 after a zigzag pattern of increases in recent days.