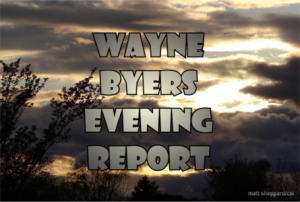 CSi Weather….
TONIGHT…Increasing clouds. Lows in the lower 20s. East winds around 5 mph shifting to the south up to 5 mph after midnight.
.THURSDAY…Partly sunny. Highs in the lower 40s. South winds around 5 mph.
.THURSDAY NIGHT…Partly cloudy. Lows in the mid 20s. Southwest
winds 5 to 10 mph.
.FRIDAY…Mostly sunny. Highs in the upper 40s. Southwest winds
5 to 10 mph.
.FRIDAY NIGHT…Increasing clouds. Lows in the upper 20s.
.SATURDAY…Partly sunny. Highs in the upper 40s.
.SATURDAY NIGHT…Decreasing clouds. Lows in the upper 20s.
.SUNDAY…Sunny. Highs around 50.
.SUNDAY NIGHT…Partly cloudy. Lows in the lower 30s.
.MONDAY…Mostly sunny. Highs in the mid 50s.
.MONDAY NIGHT…Increasing clouds. Lows in the mid 30s.
.TUESDAY…Mostly sunny. Highs in the lower 50s.
Mainly dry and a warming trend is expected through the weekend
with chances for precipitation in the forecast at the end of the
long term forecast period, with highs in the 50s to possibly 60s.
Monday into Tuesday will be the next opportunity for precipitation.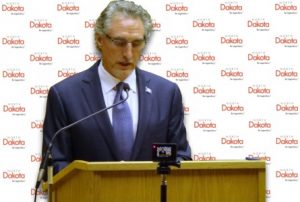 Bismarck  (CSi)  Governor Doug Burgum held his daily News Briefing, Wednesday in Bismarck concerning COVID-19 updates.
He began with updates from the State Health Department with the  coronavirus numbers in North Dakota.
WEDNESDAY P.M. POSITIVE TEST RESULTS | March 25 from 9 a.m. – 3 p.m.
Man in his 50s from Cass County, under investigation
Man in his 50s from Cass County, possible travel
Woman in her 50s from Cass County, under investigation
Woman in her 70s from Ramsey County, community spread
Woman in her 30s from Stark County, community spread
Woman in her 60s from Stark County, community spread
Categories: Travel, Possible Travel, Community Spread, Close Contact, Under Investigation
BY THE NUMBERS
1955 – Total Tested (+353 individuals from yesterday)
1910 – Negative (+344 individuals from yesterday)
45 – Positive (+9 individuals new from yesterday)
8 – Hospitalized (+1 individual new from yesterday)
For the most updated and timely information and updates related to COVID-19, visit the NDDoH website at www.health.nd.gov/coronavirus, follow on Facebook, Twitter and Instagram and visit the CDC website at www.cdc.gov/coronavirus.
Burgum urges North Dakotans not to become complacent on the spread of COVID-19, as witnessed by a large number of U.S. cases, and worldwide positives.  Many tests are still out,
A testing task force has been established in North Dakota.
Burgum has signed an Executive Order, enabling Workers Compensation coverage for First Responders, and healthcare workers who contract COVID-19 while on the job, a total of about 79,000 workers.
Wednesday's executive order also provides up to 14 days of medical and wage replacement benefits if first responders and health care providers are quarantined. No benefits will be paid after the quarantine period has ended unless the employee tests positive for COVID-19. If the virus is contracted on the job, the employee becomes eligible for full workers' compensation benefits just like any other compensable work injury claim.
Coverage is available beginning March 13, 2020, the date that Burgum declared a state of emergency in North Dakota for the COVID-19 public health crisis.
To apply for benefits, workers can visit the WSI website at www.workforcesafety.com.
Burgum has been in contact with governors in South Dakota, Minnesota, along with and Manitoba.
The supply of masks and other protective equipment is being supplemented by a labor halls donations being solicited in North Dakota, this weekend, in Fargo, and Bismarck.
In the last week  11,700 unemployment claims have been filed in North Dakota.  The majority of the new claims are coming from the hospitality industry.
With the Medicaid Waiver, The North Dakota Department of Human Services will hold a second webinar on March 27, from 1 to 2 p.m. Central Time, to provide updated information and answer Medicaid-related questions pertaining to Medicaid services and COVID-19. North Dakota Medicaid providers, advocacy organizations and other stakeholders are invited to participate.
The meeting will be available through Skype video conference at https://bit.ly/2QJtrHW. Attendees can join from any computer or mobile device. The meeting will be recorded and available for later viewing on the department's website at www.nd.gov/dhs/info/covid-19/program-policy.html.
With store supplies, stores can become short on supplies if consumers buy items past the needs at their homes.
On sheltering in place, Burgum said sheltering in place in North Dakota is not being considered at this time, but reduced contact continues to be the goal of spreading the virus.  The current approach will be considered on a case by case basis.  Minnesota has ordered a shelter in place with the goal of keeping 80 percent of their population's physical distance away from each other.
Burgum said there is an existing North Dakota law that penalizes individuals who violate a quarantine order, when it is issued, and at this time there is one outstanding warrant against an individual.
He said businesses closing or reduction of hours remains important on slowing the spread of the virus, while significantly impacting state and local economies, Burgum said the U.S. economic aid package that has been approved by congress should help offset the economic downturn.
He pointed out the North Dakota Industrial Commission meeting was held, Tuesday with in person individuals observing physical distancing, while others were attended by teleconference or on Skype.
Other notes…
Burgum has been in daily contact with lawmakers about the coronavirus and hasn't ruled out the possibility of a special session.   The governor's office continues to evaluate the COVID-19 pandemic on an "hour-by-hour" basis, and is evaluating  the impacts of the oil price crash.
The North Dakota Capitol building in Bismarck will light up Wednesday night as part of the #aworldofhearts Facebook campaign that has developed a worldwide following in the five days since its launch in Bismarck.
Bismarck home childcare provider Mandy Gill created the campaign as a way of bringing people together for support during the novel coronavirus (COVID-19) health crisis. It started with eight members on Friday and has grown to more than 220,000 members and 5,000 posts.
The south side of the Capitol will light up at sunset Wednesday night in the shape of a heart and remain lit until sunrise on Monday, March 30.
Update…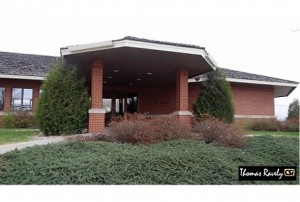 Jamestown  (CSi)  Jamestown City Administrator, Sarah Hellekson, has announced city offices and facilities business due to City Hall being closed to the public due to the coronavirus pandemic:
Street Department – closed to public
Utility Billing – drop-off box only, utilities@jamestownnd.gov
Wastewater Department – closed to public
Water Department – closed to the public
Fire Department– closed to public but can call 252-1441 if need assistance
Recycle ND regular hours:
Sunday and Monday: closed
Tuesday, Thursday, Friday and Saturday: 9 a.m.-1 p.m.
Wednesday: 1-5 p.m.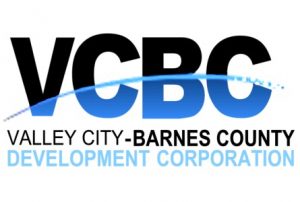 Valley City – The Barnes County Development Corporation strives to assist businesses and community members in these challenging times.
In a news release, Trinity Potts said,  "We have compiled resources for local businesses. Please visit https://valleycitynd.org/pages/resources2020 for more information—we will continue to update this page as more information becomes available.
As always, contact Jennifer Feist at 701-840-7820 or vdg@hellovalley.com for business and funding-related questions and contact Trinity Potts at 701-490-3530 or vdgoffice@hellovalley.com for recruiting-related questions.
To help us gain a better understanding of your needs and make your voice heard on the State level, please complete a quick survey. The survey can be found at: https://form.jotform.com/80254364584157.
Contact us with questions or forward any resources you think may help your fellow businesses."
Valley City – Barnes County Development Corporation
250 West Main Street
Valley City, ND 58072
Phone: (701)490-3530
Email: vdgoffice@hellovalley.com
Website: https://valleycitynd.org/vdg.php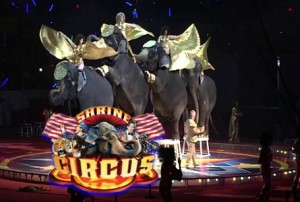 Jamestown  (CSi)  The 2020 El Zagal Shrine Circus set for March 31 the delayed to May 5, in the Jamestown Civic Center has been canceled again, due to concerns with the COVID-19 virus.
Potentate Mike Dow says, "Our Circus Committee of El Zagal has decided to cancel our Shrine Circus for 2020.
This decision was a difficult one, however it makes the most sense to us, our community and our Fraternity. This has been an annual event of ours for over 60 years and will continue to be in the future.
We want to thank all our members, families, volunteers and community for their continued support.
Our Circus Chairmen in our various communities will be reaching out to our venues, sponsors and advertisers.
Again, although this was a tough decision to make, it is for the best given the current situations we all are facing.
Advertisers in the Circus Book, for the ads  you have purchased for the 2020 circus, we will honor that commitment and move it forward to the 2021 Circus . If by chance you would prefer a refund for your ads in Valley City Call (701)320-4941 or (701)840-9894, and in Jamestown (701) 320-5909.
For the people who bought prepaid tickets, Please go back to the vendor where you purchased them for a full refund. Again we apologize for this tragic ordeal, but it is what needs to be. Thank you again for your understanding and will see you next year at the Circus."
FARGO, N.D. (AP) — A federal judge on Wednesday ordered the U.S. Army Corps of Engineers to conduct a full environmental review of the Dakota Access pipeline, nearly three years after it began carrying oil. U.S. District Judge James Boasberg wrote that the easement approval for the pipeline remains "highly controversial" under federal environmental law, and a more extensive review is necessary than the environmental assessment that was done. The judge asked both sides to file briefs on whether the pipeline should continue to operate while the review is carried out.
BISMARCK, N.D. (Bismarck Tribune) — North Dakota regulators plan to revive a policy amid the coronavirus pandemic that allows oil producers to receive waivers so that a well can remain inactive for more than a year. The Bismarck Tribune reports the state Oil and Gas Division will figure out details after regulators directed them Tuesday to resurrect the policy that was in place from 2015 to 2017. North Dakota usually requires companies to permanently plug a well or resume operations if it hasn't generated any oil for a year. Officials anticipate more inactive wells in the months ahead as companies react to low oil prices.
FARGO, N.D. (AP) — A spokesman for North Dakota Gov. Doug Burgum says the governor has been in daily contact with lawmakers about the coronavirus and hasn't ruled out the possibility of a special session. Burgum communications director Mike Nowatzki says that while "it's too early to speculate" about whether to call in lawmakers, the governor's office continues to evaluate the COVID-19 pandemic on an "hour-by-hour" basis. They're also monitoring the impacts of the oil price crash. The state has reported a total of 39 confirmed cases of the virus and eight people are hospitalized. Health officials had tested a total of 1,773 people as of Wednesday morning.
BISMARCK, N.D. (AP) — North Dakota Sen. Kevin Cramer says he's sorry for a late-night tweet in which he used an offensive term to describe House Speaker Nancy Pelosi. Cramer blamed autocorrect for the tweet, which he deleted soon after posting it Tuesday evening. The Republican senator was responding to a video clip on Twitter in which the California Democrat was being interviewed on CNN about the massive COVID-19 relief bill. The tweet read: "She's retarded." Cramer said in an interview that he meant to type, "She's ridiculous." Congressional negotiators finally struck agreement early Wednesday on the $2 trillion package after days of intense negotiations.
In  sports…
Voted  by members of the North Dakota Associated Press Sportscasters and Sportswriters Association.
Class A Boys Basketball
All-State Teams
FIRST TEAM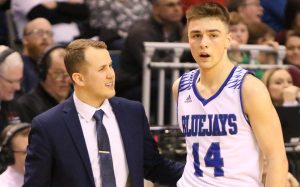 *Boden Skunberg, 6-5 senior guard, Jamestown: 28.4 ppg, 11.1 rpg, 2.8 apg, 1.6 spg. (NDSU BB commit)
*Grant Nelson, 6-9 senior forward, Devils Lake: 24.6 ppg, 18.3 rpg, 2.6 apg, 1.1 spg, 5.7 bpg. (NDSU BB commit)
*Unanimous selections.
Elijah Klein, 6-7 senior forward, Mandan: 19.3 ppg, 10.6 rpg, 2.8 apg, 1.2 spg, 1.4 bpg. (UND FB commit)
Jaxon Gunville, 6-1 senior guard, Minot: 25.3 ppg, 6.0 rpg, 2.3 apg, 1.2 spg. (Minot St. BB commit)
Cameron Van Dam, 6-7 senior forward, Fargo Davies: 14.5 ppg, 7.8 rpg, 3.6 apg, 2.6 spg, 1.7 bpg. (St. John's-Minn. BB commit)
SECOND TEAM
Cade Feeney, 6-0 senior guard, Bismarck Century: 21.0 ppg, 4.6 rpg, 2.6 apg, 2.5 spg.
Kobe Krenz, 5-11 senior guard, Dickinson: 23.1 ppg, 5.7 rpg, 3.0 apg, 2.6 spg.
Cayden Rickard, 6-1 senior guard, Fargo North: 21.5 ppg, 5.9 rpg, 4.3 apg, 3.3 spg.
Blake Berg, 6-4 senior guard, West Fargo Sheyenne: 15.4 ppg, 6.0 rpg, 4.9 apg, 2.3 spg.
Jaiden Wright, 6-1 senior guard, Dickinson: 18.8 ppg, 6.4 rpg, 2.7 apg, 1.5 spg
In world and national news…
NEW YORK (AP) — Just days after New York leaders ordered people to stay home, authorities are mobilizing to head off a potential public health disaster in the big city. New York has emerged as the nation's coronavirus hot spot. A makeshift morgue has been et up outside Bellevue Hospital, and the city's police have been told to patrol nearly empty streets to enforce social distancing. Public health officials are hunting down beds and medical equipment and putting out a call for more doctors and nurses for fear the number of sick will explode in a matter of weeks, overwhelming hospitals the way the virus did in Italy and Spain.
MIAMI (AP) — Florida-based grocery chain Publix says it will begin installing plexiglass barriers at the cash registers to protect its workers and customers from the coronavirus. A company spokeswoman says all of its stores should have the barriers installed within the next two weeks. Publix has joined its competitors Kroger and Walmart in installing the so-called "sneeze guards." Grocery stores are seeing their business soar as authorities urge people only to go out for essentials, prompting them to stay inside and cook more at home. Publix has more than 1,200 locations spread across Florida, Georgia, Alabama, Tennessee, North Carolina, South Carolina and Virginia.
WASHINGTON, DC, Mar 25, 2020 — The Trump Administration has put a timely halt on the ability of the government to garnish Social Security benefits to pay for defaulted student loans for an indefinite period during the COVID crisis, reports the Association of Mature American Citizens [AMAC].
Seniors are the fastest growing segment of the population with outstanding student loan debt. Research conducted by the Consumer Financial Protection Bureau [CFPB] shows that, "In 2018, Americans over the age of 50 owed more than $260 billion in student debt, up from $36 billion in 2004, according to the Federal Reserve. Nearly 40 percent of borrowers aged 65 and older are in default."
NEW YORK (AP) — Stocks Wednesday were leaping to more big gains on Wednesday, as Congress moves closer to approving a $2 trillion rescue plan for the economy. The S&P 500 was up more than 3% in afternoon trading and was on track for its first back-to-back gain since the coronavirus outbreak set off a brutal sell-off five weeks ago. The big gains mean the stock market is now down by about a quarter from its record high set last month after earlier being down by more than a third. For all the optimism, investors still expect markets to remain volatile until the number of new cases peaks.
WASHINGTON (AP) — Democratic presidential candidate Joe Biden says the congressional aid package addressing the coronavirus outbreak "goes a long way." But the former vice president says the agreement requires "meticulous oversight" and isn't all-encompassing. Biden says the agreement doesn't go far enough in some instances. For example, he says he wants to forgive at least $10,000 of student loan debt now. And he's taking issue with the aid package for not making coronavirus treatment free. His remarks came during a video news briefing. Biden has moved his campaign largely online in response to the national move toward social distancing to slow the pandemic's spread.