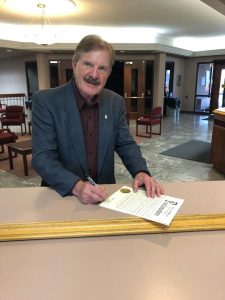 (AAUW)  Jamestown Mayor Dwaine Heinrich proclaimed March 31, 2020 as Equal Pay Day in Jamestown. Equal Pay Day is the day that symbolizes when the typical woman working full time in the United States catches up to what a man was paid the previous year.
<Submitted Photo
According to the most recent U.S. Bureau of Labor Statistics, ND women working full time, year-round in 2018 typically earned 73.9 percent of what men earned, indicating little change or progress in pay equity in the past 50 years.   That ranks North Dakota as 47th in the nation as having the largest pay gap for women.
Nationally, according to the U.S. Census Bureau, the report shows that in 2018, women in the U.S. received just 82 cents for every dollar paid to a man.  Women of color often face a wider gap: Compared to white men, Black women make 62 cents on the dollar, and Latinas make 54 cents on the dollar.
Jamestown AAUW President, Debbie Alber, says, "The Jamestown AAUW organization has been working to try to close that pay gap.  Jamestown AAUW has been involved in educating young women about careers in Science, Technology, Engineering and Math with the annual Tech Savvy event that is held in March at the University of Jamestown. Careers in STEM occupations are typically well paid and male dominated, with the national average salary for these jobs sitting at $87,000.  Tech Savvy is trying to change that demographic."
At the current rate, the gender pay gap will not close until 2106. In 2018, AAUW announced a bold pledge to train 10 million women in salary negotiation by 2022.  Jamestown AAUW had to cancel a Work Smart Salary Negotiation Training in Jamestown that was scheduled for April 2 due to the pandemic, but will reschedule it sometime in the future.
AAUW will not wait for policies and employer culture alone to determine when we reach parity. AAUW members are working to empower women nation-wide with skills to effectively negotiate their salary and benefits and become agents of change in their communities.  Please consider celebrating Jamestown's Equal Pay Day by taking the free online Work Smart course at https://salary.aauw.org/ and continue to urge your legislators to make improvements to ND equal pay laws so that fair pay is an accessible reality for everyone