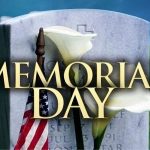 (CSi)  Jamestown The Jamestown Patriotic Council is planning an outdoor Memorial Day observance  on Monday May 25 starting at 9-a.m.
At that time, there will be a wreath lowering and taps at the Nickeus Park bridge.
Following will be flag ceremonies at cemeteries and at Ft. Seward.
At 11:30-a.m., the All Vets Club the will host a light lunch with free-will offering.
The entire  community is invited to join in the day of honoring and remembrance.
The Replay Channel video from 2011.