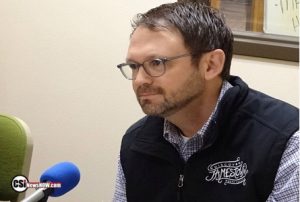 Jamestown  (CSi)  During the May 19 Stutsman COVID-19 Response news briefing, Searle Swedlund updated information on Jamestown, Stutsman County, Valley City, and nearby tourism sites.
Frontier Village opening June 1, 2020, 10-a.m. to 6-p.m., with the same hours at the National Buffalo Museum.  Call ahead to the museum to schedule group tours.  Ft. Seward opens June 1 and will be open through the season from  10-a.m., to 6-p.m.
At Ft. Seward, The "Glamping" camping experience will be opening June 1, call 701-252-1875 for reservations.
The 1883 Stutsman County Courthouse features the new Civics Exhibit, the first of its kind in the nation.
He talked about tour sites in the area:
Two new trails include Island Trails at the Jamestown Reservoir.
The Arctic trial is north of Parkrhurst Campground at Pipestem.
He noted that Sapphire Gallery in Downtown Jamestown features local artists work.
Lazy Fish is at Pelican Point Campground.
The Jim is located for meals at Jamestown Reservoir.
Davoni's Italian/Seafood Restaurant  in Downtown Jamestown is now open.
He pointed out that Whitestone Hill at Kulm highlights battle history.
In Valley City he sited Medicine Wheel Park.
In Cooperstown, the Ronald Reagan Minuteman Missile Site.
More information is in the Jamestown Resource Guide.
Discoverjamestownnd.com