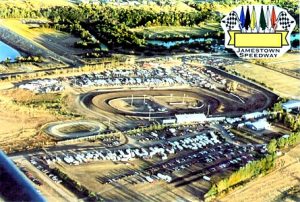 Jamestown  (CSi)  The opening races at Jamestown Speedway for the  2020 season is on June 6 with  a limited number of fans on hand  for both safety and sustainability.
Ticket sales will initially be kept to about 750 fans, who will  be asked to socially distance themselves in family groups throughout the grandstand. Tickets are sold at the gate.
Jamestown Speedway owners Tim and Allison Baldwin point out the track will be operating under what state and local authorities guidelines, and will amend or suspend activities if instructed to do so by the Governor's office or the North Dakota Department of Health.
Fans will have access to hand sanitizer stations, and are encouraged to bring their own sanitizer. Self-serve condiments will not be available at the concessions area and waiting lines will be marked off in six-foot increments to observe social distancing.  If you don't live together, don't sit together.
Due to being a week late in starting due to the COVID-19 pandemic, 13 race dates comprise the reworked schedule.
It includes NOSA sprint cars  on July 25 and the NLRA late models on August 22. The 49th annual Stock Car Stampede is planned for September 25-26 and the first Don Gumke Racers' Memorial is planned for June 13.