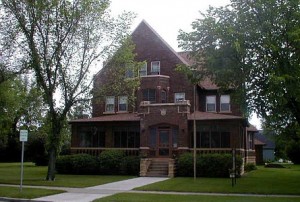 Jamestown  (CSi)  The Stutsman County Memorial Museum, Board of Directors, have decided to delay the 2020 opening of the Jamestown museum.
The news release says, the board concluded that there were too many "touchable," surfaces in the museum to make any attempt to make them safe, impractical.  The board will revisit this decision in late June this year, to decide whether to open in July.
The board also decided that the popular Front Porch Chats would be cancelled for 2020 whether the museum is open, or not.  The close quarters on the porch would make it impossible for any effective social distancing, this coupled with the demographic of many of the attendees made the risks too great to continue the program until there is a new "normal" that would reduce the risks.
During this period the board decided to proceed with a much needed inventory of the museum's collection.  It will be conducted in as safe a manner as possible with only one or two persons at a time doing the inventory process on a room-by-room case-by-case basis.
The news release from Museum President, Don Nelson goes on to say, "The board is sorry if this causes a hardship for any of our loyal members and attendees, but feel  that it is the appropriate path for this period of the pandemic concern.  It is our hope that they will continue to support the museum until we are able to resume our normal visitation."
He says, anyone with questions to contact:
The Stutsman County Memorial Museum
PO Box 1002
Jamestown, ND 58402