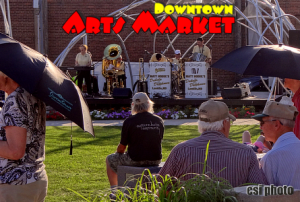 Jamestown  (Arts Center)   A big thanks to those who responded to our survey last week. It was helpful to add your voices to that of CDC, Central Valley Public Health, City Leadership and North Dakota Department of Public Health. With that in mind, our plan is to open June 1 with restrictions and safety protocols in mind. Including, but not limited to:

•. Limited number of people inside the building at once
•  Routine sanitization throughout the day
•. Social distancing measures
•  Strong encouragement to wear masks
•  Staggered shifts for employees
•  Reduced public hours

Again, our primary concern is for the public's safety and for our employees and their families. We want to make sure we open our doors to the community as safely as possible.

For the reopening, the Arts Center has put together a new exhibit for the gallery with art from Frank Sampson. The Arts Center staff also utilized the time during the pandemic to renovate the gallery. The walls have been repaired, painted and carpets have been professionally cleaned.

While visitors will have the opportunities to admire the new art exhibit and the newly updated gallery, The Arts Center is offering spaces for community members to create their own art.

The center's summer camps, designed specifically for grades 3-6 are scheduled to run June 15 through Aug. 15. Each camp is slated to run Monday through Thursday from 10 a.m. to 3 p.m. The center's first class of the summer is entitled "Stop Motion Animation." Students will write, film and produce a short film under the direction of Linda Roesch. A complete list of upcoming classes can be found at https://jamestownarts.com/event/summer-kids-camps/.
JULY 9 DOWNTOWN ARTS MARKET OPENS
The Arts Center is also excited to bring the Downtown Arts Market back to Jamestown this summer beginning July 9 at 5:30 pm in the Hansen Arts Park. We are planning an event for each Thursday evening through August.

Again we want this to be as safe as it is enjoyable. So, things will be different this year. For instance, there will not be vendors or artisans. This prevents the hand-to-contact and allows the street to be opened up for additional seating area (bring your lawn chair). Social distancing will be observed. Masks will be strongly encouraged. We will also Facebook live the performances for those that still prefer / need to stay isolated.

Keep a watch out for more information! And please remember these plans are all subject to change or cancellation is things go awry or Arts Center measures are not respected. The communities efforts to be as safe and responsible as possible when attending is greatly appreciated and will allow this loved summer event to continue. Thank you!