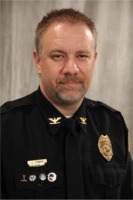 Jamestown  (JPD)  Jamestown Police have received hundreds of calls from concerned citizens of what they believe to be "indications of riots." Jamestown Police Chief Scott Edinger says they have been responding to these calls and addressing them as they come.
Chief Edinger says, "We have patrols all over the city. There are emergency personnel on the highways even. We've had rumors of buses with tinted windows bringing groups of protestors, which have not been true. We've even gotten phone calls about piles of bricks near construction sites."
Chief Edinger says graffiti found at the Island on Jamestown Reservoir Island  referencing other nationwide protests could be the work of someone local.
Chief Edinger says  they have not seen anything at this time indicating protests or riots in Jamestown,adding that law enforcement remains ready if anything happens.