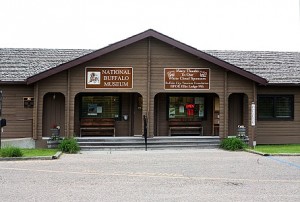 Jamestown (Buffalo Museum)  The National Buffalo Museum has hired Julie Hale as a Collections Assistant for a one year contract, after being awarded a Cultural Heritage Grant from the State Historical Society of ND and the ND Legislature.
Julie will focus solely on inventorying the museum's object collections. The grant funded project will allow the museum to rectify ownership issues of objects in its care, and continue to provide an increased level of care for those objects. "Adding this position is part of the museum's long-term goal of working toward accreditation with the American Alliance of Museums, as well as improving visitor experience and program offerings for the Jamestown community and visitors. Julie began work in mid-May, and has made substantial initial progress in documenting the collection," said Assistant Director/Curator of Collections, Rachel Johnson.
Julie is originally from southwest Ohio. She received her Master's degree in Public History from Wright State University in Dayton, OH. She has worked as a Historic Sites Intern with the Macon County Conservation District in Decatur, IL, which included giving tours of an 1850s homestead and presenting history and natural history programs to the public. Before that, she worked as a Collections Technician for the Dayton Society of Natural History in Dayton, OH. As Collections Technician, she helped with the management and preservation of the Natural History collections. This education and experience have made her a great fit for this work at the National Buffalo Museum.
The National Buffalo Museum's mission is to advocate for the restoration of the North American Bison through education and outreach. For more information, contact Ilana Xinos at 701-252-8648 or director@buffalomuseum.com.