CSi Weather…
HEAT ADVISORY IN EFFECT  MONDAY TO 8 PM CDT /7 PM MDT/
* WHAT…Heat index values between 100 and 104 expected.
* WHERE…Much of central and southeastern North Dakota.
* WHEN… To 8 PM CDT Monday evening.
* IMPACTS…Hot temperatures and high humidity may cause heat
illnesses to occur.
PRECAUTIONARY/PREPAREDNESS ACTIONS…
Take extra precautions if you work or spend time outside. Drink
plenty of fluids, stay in an air-conditioned room, limit your time
outdoors, and check up on relatives and neighbors. Young children
and pets should never be left unattended in vehicles under any
circumstances.
Forecast….
.MONDAY NIGHT…Increasing clouds.  A 20 percent chance of showers and
thunderstorms. Lows in the lower 70s. Southeast
winds 5 to 15 mph. Heat index 90 to 95.
.TUESDAY…Partly sunny. A 20 percent chance of showers and
thunderstorms in the afternoon in the Jamestown area, 50 percent in the Valley City area. Highs in the upper 80s. Southeast winds 10 to 20 mph. Heat index 90 to 95.
.TUESDAY NIGHT…Showers and chance of thunderstorms in the
evening, then showers likely and chance of thunderstorms after
midnight. Locally heavy rainfall possible in the evening. Lows in
the mid 60s. South winds 5 to 15 mph.  Chance of rain 80 percent.
.WEDNESDAY…Mostly sunny with a 40 percent chance of showers and
thunderstorms in the Jamestown area, 60 percent in the Valley City area. Highs in the mid 80s. Southwest winds 5 to 10 mph.
.WEDNESDAY NIGHT…Mostly clear. Lows in the lower 60s.
.THURSDAY…Sunny. Highs around 90.
.THURSDAY NIGHT…Partly cloudy with a 20 percent chance of
showers. Lows in the mid 60s.
.FRIDAY…Mostly sunny. A 20 percent chance of showers in the
afternoon. Highs in the lower 90s.
.FRIDAY NIGHT…Partly cloudy with a 20 percent chance of showers
and thunderstorms. Lows in the upper 60s.
.INDEPENDENCE DAY…Partly sunny. Slight chance of showers in the
morning, then chance of showers and slight chance of
thunderstorms in the afternoon. Highs in the lower 90s. Chance of
precipitation 30 percent.
.SATURDAY NIGHT…Partly cloudy with a 30 percent chance of
showers and thunderstorms. Lows in the upper 60s.
.SUNDAY…Mostly sunny. A 20 percent chance of showers and
thunderstorms in the afternoon. Highs in the upper 80s.
Bismack  (NDDoH)  North Dakota health officials are confirming 37 new cases of the coronavirus, more than half of which were reported in Cass County and put the state's most populous county over 2,000 cases. The update also included the death of a Cass County woman from her 80s with underlying health conditions. The death toll from COVID-19 in North Dakota now stands at 79.
COVID-19 Stats Posted Mon Jun 29
Results listed are from the previous day.
COUNTIES WITH NEW POSITIVE CASES REPORTED MONDAY
Burleigh County – 9
Cass County – 26
Grand Forks County – 2
Morton County – 3
Mountrail County – 2
Oliver County – 1
Sioux County – 3
Ward County – 1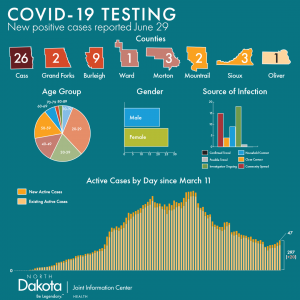 BY THE NUMBERS
180,588 – Total Number of Tests Completed* (+3,368 total tests from yesterday)
105,691 – Total Unique Individuals Tested* (+1,766 unique individuals from yesterday)
102,152 – Total Negative (+1,722 unique individuals from yesterday)
3,539 – Total Positive (+47 unique individuals from yesterday)
After investigation it was discovered that a case in Grand Forks County, Burleigh County and Cass County were from out of state.
1.4% – Daily Positivity Rate**
227 – Total Hospitalized (+1 individual from yesterday)
25 – Currently Hospitalized (+1 individuals from yesterday)
3,163 – Total Recovered (+24 individuals from yesterday)
79 – Total Deaths*** (+0 individual from yesterday)
* Note that this does not include individuals from out of state and has been updated to reflect the most recent information discovered after cases were investigated.
**Because the serial tests completed and added to the total number of tests completed can result in new individuals who test positive, the daily positivity rate will be calculated using the total positives for the day by the daily number of tests completed instead of the daily number of unique individuals tested.
*** Number of individuals who tested positive and died from any cause while infected with COVID-19.
For descriptions of these categories, visit the NDDoH dashboard.
For the most updated and timely information and updates related to COVID-19, visit the NDDoH website at www.health.nd.gov/coronavirus, follow on Facebook, Twitter and Instagram and visit the CDC website at www.cdc.gov/coronavirus.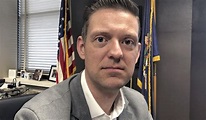 Bismarck   (CSi)  State Auditor Joshua Gallion Monday released an audit of Valley City State University that found the University did not provide documentation showing competitive bidding for two transactions that happened in the July 2017-June 2019 timeframe.
Auditor Gallion says, "Citizens should have confidence that purchases are made in a way that gets the best return on their investment. Moving forward, VCSU should take the necessary steps to comply with the rules."
The audit report states this was also a recommendation from the previous audit done in 2017.
This audit is a result of the State Auditor's Office statutory responsibility to audit or review each state agency once every two years. The complete audit report can be found on our website, https://bit.ly/VCSU19Audit.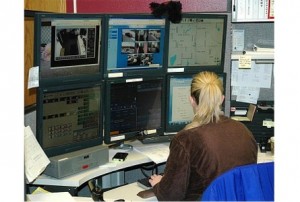 Jamestown  (CSi)  Local law enforcement reports crime statistics in 2019 trended lower from 2018.
Jamestown Police reported 168 assaults in 2019 a decrease from 183 in 2018.
responded to 14,617 calls for service in 2019, less than the 17,049 calls for service in 2018.
Sex offenses reported were lower in 2019 with 20 compared to 25 in 2018.
Drug arrests were down in Jamestown from 347 in 2018, to 176 in 2019.  In Stutsman County, 53 drug offenses were reported in 2019 compared to 32 in 2018.
Jamestown police indicated that calls were down in 2019, due to a short staff and fewer officers on patrol.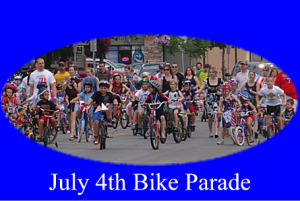 Jamestown  (JDA)  This year's 4th of July Kiddie Bike Parade in Jamestown will have a different look.
Jamestown Downtown Association President, Lynn Lambrect says, on Saturday July 4 at 9:30-am participants will register in the city parking lot, at First Street and First Avenue North that will be blocked off as possible to give them room to distance.  Prizes and awards will be done before the parade starts.
There will be  NO gathering after and root beer floats will be drive-by.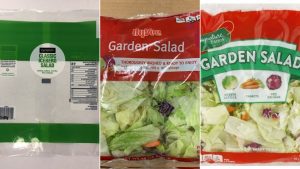 BISMARCK, N.D. (AP) — The North Dakota Department of Health says at least six people in the state have been sickened with an illness associated with bagged salad mixes. The cases are part of a larger outbreak occurring in Midwestern states. All six in North Dakota ate Marketside brand salad. The mixed salads were sold at Hy-Vee, Jewel-Osco and Aldi grocery stores and are contaminated with cyclospora, a parasite that can cause flu-like symptoms. The other brands are Hy-Vee and Little Salad Bar. Consumers in 12 states are affected by a recall of the products which have sickened dozens of people, including some who were hospitalized.
FARGO, N.D. (AP) — The mayor of Fargo says that while North Dakota's most populous city and the state's COVID-19 hotspot is making progress in controlling spread of the coronavirus, the July 4th holiday could be a challenge. Many residents in Cass County, where Fargo is located, spend the holiday congregating in the lakes country of northwestern Minnesota. Fargo Mayor Tim Mahoney says it will be a test of social distancing and other prevention practices. Mahoney says the county is heading in the right direction in terms of active cases, but adds that more people are "getting out and about." He says officials will "find some things out" after the holiday weekend. Cass County saw 26 new COVID-19 cases Monday, more than half of the positive tests statewide in the last day.
MINNEAPOLIS (AP) — A Minnesota judge is warning that he's likely to move the trials of four police officers charged in George Floyd's death out of Minneapolis if public officials and attorneys continue speaking out about the case. Hennepin County Judge Peter Cahill asked a prosecutor during a pretrial hearing on Monday to use his influence to get public officials to stop talking about the case. If they don't, he says he'll have to move the trial or trials, depending on whether the officers are tried together or separtely. Floyd, a Black man in handcuffs, died May 25 after Officer Derek Chauvin held his knee on Floyd's neck for nearly 8 minutes. Some public officials were quick to call Floyd's death "murder."
In sports…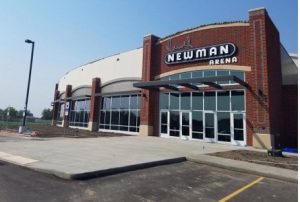 Jamestown (UJ.edu) – The University of Jamestown in conjunction with the Jimmie Booster Club Executive Board has announced the  2020 Athletic Hall of Fame Inductees, plus the  Rollie Greeno Award, and Jim Clark Award recipients.
| | |
| --- | --- |
| Athletic Hall of Fame Inductees: | Lawrie Paulson '77 |
| | 2003-2004 Men's Basketball Team |
| | |
| Rollie Greeno Award | Rick Hack '81 |
| Jim Clark Award | Jordan Gengler '11 |
The ceremony is set for  October 9, 2020 at Harold Newman Arena on the UJ Campus.
All inductees will also be honored during halftime of the homecoming football game vs Doane University on October 10, 2020.
Additional information on the inductees and ticket reservations to the ceremony will be available at uj.edu and JimmieAthletics.com.
In world and national news…
WASHINGTON (AP) — The White House says President Donald Trump wasn't briefed on U.S. intelligence assessments that Russia secretly offered bounties to Taliban-linked militants for killing American troops in Afghanistan. White House press secretary Kayleigh McEnancy says that's because the assessments had not been "verified." She says Trump still has not been briefed on the intelligence, but she confirmed that the White House was briefing select members of Congress on the matter. It is rare for intelligence to be confirmed without a shadow of doubt before it is presented to senior government decision-makers.
SACRAMENTO, Calif. (AP) — A former police officer who terrorized California as a serial burglar and rapist and killed more than a dozen people pleaded guilty to murders attributed to the Golden State Killer. Joseph James DeAngelo Jr. had remained almost silent in court since his 2018 arrest until he uttered the word "guilty" Monday in a hushed and raspy voice. He acknowledged he would plead guilty to 13 murders and admit to dozens of rapes. The plea agreement spares him the death penalty for a life sentence with no chance of parole. Prosecutors say DeAngelo muttered to himself after being arrested about an inner personality that had forced him to commit the crimes.
NEW YORK (AP) — Mayor Bill del Blasio says he's proposing slashing the New York City police budget by $1 billion. With a "defund the police" sit-in protest continuing outside City Hall, de Blasio said Monday that the New York Police Department had found ways to find the cuts from its current $6 billion budget that would open up more funding for youth and other community programs. There was no immediate comment from the NYPD. Hundreds of demonstrators have been camped out in City Hall Park and demanding police defunding following weeks of protests over the death of George Floyd and other Black Americans killed by law enforcement.
(AP)  A group of protesters is suing Pittsburgh city and police officials, saying officers used unnecessary, excessive force to disperse a crowd protesting against police brutality and officials lied about the protesters' behavior to justify that response. They say police officials lied about the events that led to the use of smoke, bean bags and alleged tear gas to disperse the protesters June 1. The protesters allege their constitutional rights were violated. Police have said an officer was threatened, and that bricks and other projectiles were thrown at officers before they used force to disperse people. They've denied they used tear gas when breaking up the protest.
NEW YORK (AP) — The shutdown on Broadway has been extended again — until at least early January. Although an exact date for performances to resume has yet to be determined, Broadway producers are now offering refunds and exchanges for tickets purchased for shows through Jan. 3. Broadway theaters abruptly closed on March 12, knocking out all shows — including 16 that were still scheduled to open — and postponing indefinitely the Tony Award schedule. Producers, citing health and city authorities, previously extended the shutdown to June 7 and then again to Sept. 6. Producers and labor unions are discussing ways theaters can reopen safely.
WASHINGTON (AP) — The Supreme Court has struck down a Louisiana law regulating abortion clinics, reasserting a commitment to abortion rights over fierce opposition from dissenting conservative justices in the first big abortion case of the Trump era. Chief Justice John Roberts joined with his four more liberal colleagues in ruling that the law requiring doctors who perform abortions to have admitting privileges at nearby hospitals violates the abortion right the court first announced in the landmark Roe v. Wade decision in 1973. In two previous abortion cases, Roberts had favored restrictions. The Louisiana law is virtually identical to one in Texas that the court struck down in 2016.