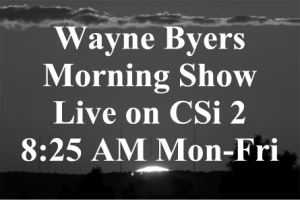 CSi Weather…
REST OF TODAY…Sunny. Highs in the mid 80s. West winds around 5 mph shifting to the south in the afternoon.
.TONIGHT…Mostly clear. Lows in the lower 60s. Southeast winds 5 to 10 mph.
.THURSDAY…Sunny. Highs in the lower 90s. South winds 10 to 20 mph. Heat index 90 to 95.
.THURSDAY NIGHT…Increasing clouds. A 30 percent chance of
showers and thunderstorms. Lows in the upper 60s. South winds
around 5 mph. Gusts up to 25 mph in the evening.
.FRIDAY…Mostly sunny with a 30 percent chance of showers and
thunderstorms. Highs around 90. South winds 5 to 15 mph.
.FRIDAY NIGHT…Increasing clouds. A 50 percent chance of showers
and thunderstorms. Lows in the upper 60s.
.INDEPENDENCE DAY…Partly sunny with a 40 percent chance of
showers and thunderstorms. Highs in the upper 80s.
.SATURDAY NIGHT…Mostly cloudy with showers likely and chance of
thunderstorms in the evening, then partly cloudy with chance of
showers and thunderstorms after midnight. Lows in the mid 60s.
Chance of precipitation 60 percent.
.SUNDAY…Mostly sunny with a 30 percent chance of showers and
thunderstorms. Highs in the upper 80s.
.SUNDAY NIGHT…Mostly cloudy with a 40 percent chance of showers
and thunderstorms. Lows in the mid 60s.
.MONDAY…Partly sunny with a 50 percent chance of showers and
thunderstorms. Highs in the mid 80s.
.MONDAY NIGHT…Partly cloudy with a 50 percent chance of showers
and thunderstorms. Lows in the lower 60s.
.TUESDAY…Mostly sunny with a 30 percent chance of showers and
thunderstorms. Highs in the mid 80s.
Thursday Through Monday…..Thunderstorms are forecast daily through the period Thursday through Tuesday.
Bismarck  (CSi)  North Dakota Governor Doug Burgum has rescheduled his weekly COVId-19 News Briefing to Wednesday July 8, at 3:30 p.m.
COVID-19 Stats
Posted Tues. June 30
11-am
COUNTIES WITH NEW POSITIVE CASES REPORTED TUESDAY
Benson County – 1
Burleigh County – 9
Cass County – 13
Morton County – 10
Mountrail County – 3
Pierce County – 1
Walsh County – 1
BY THE NUMBERS
182,283 – Total Number of Tests Completed* (+1,709 total tests from yesterday)
106,122 – Total Unique Individuals Tested* (+431 unique individuals from yesterday)
102,546 – Total Negative (+394 unique individuals from yesterday)
3,576 – Total Positive (+38 unique individuals from yesterday)
After investigation it was discovered that a case in Cass County was a duplicate.
2.2% – Daily Positivity Rate**
231 – Total Hospitalized (+4 individual from yesterday)
25 – Currently Hospitalized (+1 individuals from yesterday)
3,195 – Total Recovered (+32 individuals from yesterday)
79 – Total Deaths*** (+0 individual from yesterday)
* Note that this does not include individuals from out of state and has been updated to reflect the most recent information discovered after cases were investigated.
**Because the serial tests completed and added to the total number of tests completed can result in new individuals who test positive, the daily positivity rate will be calculated using the total positives for the day by the daily number of tests completed instead of the daily number of unique individuals tested.
*** Number of individuals who tested positive and died from any cause while infected with COVID-19.
In other state COVID-19 News Briefs…
The North Dakota Department of Health (NDDoH) is hosting more free mass testing events this week in partnership with the North Dakota National Guard, local public health units and local community leaders.
The Bismarck event is taking place from 7:30 a.m. – 3 p.m. on Wednesday, July 1, in the northwest corner of the State Capitol parking lot. Both events are open to the public and the testing is free to participants. Interested individuals can fill out the online survey at testreg.nd.gov for faster registration.
Kirby Kruger, director of disease control for the NDDoH, says, "We know that up to 30% of individuals who test positive for COVID-19 are asymptomatic.  Testing is one of the best ways to identify positive cases early so we can immediately investigate and notify friends and family who are close contacts."
In addition to the two large testing events, several local public health units across North Dakota are also hosting free testing for community members. A list of testing events can be found at health.nd.gov/covidtesting.
It may take 24-72 hours to receive a positive test result and up to 72 hours to receive a negative test result. After a positive test result, a public health professional will contact the individual to inform them they should isolate and then a COVID-19 caseworker will follow up to provide additional instructions and start the process of contact tracing. Individuals should limit unnecessary outings until they receive their test results.
North Dakotans should continue to follow #NDSmart guidelines to slow the spread of COVID-19, including staying home when sick or named as a close contact, staying six feet apart, avoiding large gatherings, washing your hands often, avoiding touching your face, wearing a mask and continuing to clean frequently touched surfaces.
Valley City  City/County Health in Valley City announces that a mass COVID-19 testing will be held on July 8   at the North Dakota Winter Show location.
The testing is set from 2-p.m. to 6-p.m. with a drive through event including the south exhibit hall, and the parking lot area will be utilized.
The North Dakota National Guard will be assisting.
Steele, ND  Kidder County District Health Unit iwill hold a community COVID-19 testing event from 11:30 a.m. to 1:30 p.m. Thursday, July 9, at its office, at 422 2nd Ave. NW in Steele.
Individuals age 12 and older who want to be tested must call (701) 475-2582 to schedule an appointment for this testing event. Individuals who are scheduling an appointment will also be asked a series of questions to complete paperwork. Fifty tests are available for this event.
On the day of the event, individuals tested are asked to approach 422 2nd Ave. NW from the west and park in the KCDHU parking lot when directed. Individuals tested will not need to exit their vehicle. Nursing staff will conduct tests to individuals still in their vehicle. Unscheduled walk-ups will not be guaranteed a test.
North Dakota health officials are expanding visitation at long-term care facilities to include residents who are showing symptoms of declining health. Throughout the coronavirus pandemic, the state has allowed people to see patients who are dying. Officials say the rules have been expanded to include residents showing "documented signs and symptoms of sharp psychosocial or medical decline, which is above and beyond normal parameters." Officials say those patients may benefit by social interaction. The guidelines say those situations should only be allowed on a limited basis, must not be considered routine, and may be granted only after careful consideration by a facility's clinical team.
As skilled nursing, basic care and assisted living facilities move through North Dakota's phased-in reopening approach, state agency officials, industry leaders, facility residents, their family members and advocates continue to work together to find a balance between residents' health, safety, well-being and rights.
The expanded definition aligns with new guidance the federal Centers for Medicare and Medicaid Services (CMS) provided to states late last week.
North Dakota Department of Human Services Executive Director Chris Jones, says  "We appreciate the opportunity to work with the Task Force on Reuniting Residents and Families, the North Dakota Long-Term Care Ombudsman and our colleagues in the North Dakota Department of Health to develop common sense guidelines that reflect new information and are responsive to the needs of individuals and their families."
The updated long-term care facility guidance is available online at www.nd.gov/dhs/info/covid-19/provider-resources.html.
For more information on the North Dakota Department of Human Services response to COVID-19 and resources for individuals and families and service providers, visit www.nd.gov/dhs/info/covid19/index.html. For details about the state's COVID-19 response, visit www.ndresponse.gov.
Valley City (CSi) South Central Transit Adult Services in Valley City will resume charging fares on Weds July 1.
Riders will be asked to wear face masks.
The transportation service had eliminated fares, starting last April with federal funding, with the corona virus pandemic.
Call 1-800-471-0031 or 845-4300, with any questions.
Buffalo  (NDHP) The North Dakota Highway Patrol reports, 12year-old boy was killed after an OHV rollover near Buffalo Sunday afternoon.
A Polaris Ranger driven by 12 year-old Owen Steckler was  eastbound on Front Street. He turned southbound on 140th Avenue SE and lost control entering the east ditch.
The Ranger rolled over and the driver was ejected. He died on the scene. He was not wearing a helmet or his seatbelt. The 14 year-old female passenger  Madisyn Steckler was transported to Sanford Hospital in Fargo for her injuries.
Assisting at the scene were:  Cass County SO, Buffalo Fire & Rescue, Casselton Fire and Rescue.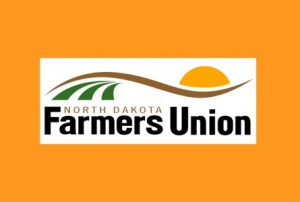 Jamestown  (NDFU)   – North Dakota Farmers Union joined a coalition of ethanol, agriculture and public interest groups today in challenging the Trump Administration's recent fuel efficiency rulemaking for vehicles. The rule fails to recognize the benefits of mid-level ethanol blends for achieving higher octane levels.
NDFU President, Mark Watne says, "During the rulemaking process, EPA asked for ways to increase gasoline octane levels. We told them that mid-level blends were an obvious, market-ready solution. They chose to ignore that advice and instead lowered the bar for fuel efficiency requirements. The decision is bad for the environment and bad for farmers who grow renewable energy, year after year."
The rule in question, known as the Safer Affordable Fuel Efficiency Vehicle Rule (SAFER) establishes vehicle fuel efficiency requirements for manufacturers. The previous rule called for a 5% increase in fuel efficiency for light-duty vehicles, which EPA reduced to 1.5%. Under the Clean Air Act, EPA is required to reduce toxic substances in gasoline to the greatest extent possible when new technologies become available.
Farmers Union provided documentation showing the ability of mid-level ethanol blends, such as E-30, to reduce toxics. The organization believes the rule ignores the efficiency and health benefits of higher ethanol blends, downplays the harm from reduced emission standards, and fails to realize the promise of increased octane in gasoline.
The legal challenge is being led by National Farmers Union and includes other Farmers Union state and regional organizations, including the Governors Biofuel Coalition, the Clean Fuels Development Coalition, the Environment and Energy Study Institute, and Urban Air Initiative. The legal petition asking for a review of the rule was filed in the Superior Court of the District of Columbia.
HORACE, N.D. (AP) — An eastern North Dakota man now faces a manslaughter charge after a weekend bar fight turned fatal. Cass County prosecutors have charged 25-year-old Jordan Pendleton of Horace with manslaughter and three counts of assault. Pendleton is accused of punching 31-year-old Marlin Klatt outside Big Erv's Bar & Grill early Sunday morning. Klatt's head hit the concrete. KFGO-AM reports Klatt died Monday at a Fargo hospital. Investigators have not said what led up to the assault. Cass County Sheriff Jesse Jahner says Pendleton and Klatt knew each other. Pendleton remains in the Cass County jail, with bond set at $500,000.
BISMARCK, N.D. (AP) — The North Dakota Supreme Court has sided with state regulators in a challenge to a proposed oil refinery near Theodore Roosevelt National Park in the western part of the state. In a unanimous opinion, the state's high court upheld a lower court ruling that affirmed permitting decisions by the Department of Environmental Quality. The Bismarck Tribune reported Tuesday that the state Supreme Court ruled that the department "did not act arbitrarily, capriciously, or unreasonably in issuing the permit." William Prentice, the CEO of Meridian Energy Group, called the ruling "very welcome." Opponents called it "a major setback for the preservation of Theodore Roosevelt National Park and all it protects."
FARGO, N.D. (AP) — Police have made an arrest in a stabbing outside a bar in Fargo. Authorities say the 21-year-old female suspect stabbed another woman outside the Empire Tavern Tuesday about 4 p.m. The victim was taken to a local hospital and is expected to be OK. KFGO reports the suspect, a Fargo woman, was booked into the Cass County Jail on possible charges of aggravated assault and giving false information to police.
FARGO, N.D. (AP) — Attorneys in the case of a man accused in the killings of four people at a Mandan business are set to argue whether investigators followed the correct procedures in collecting evidence. The hearing Wednesday at the Morton County Courthouse comes 15 months after the stabbing and shooting deaths of four employees at RJR Maintenance and Management. Investigators say Chad Isaak carefully planned the gruesome killings, then tried to avoid detection by picking up shell casings, changing his clothing, and cleaning a knife and gun with bleach. But Isaak's attorneys say authorities didn't get proper search warrants and made false statements in the applications. They want much of the evidence thrown out.
BISMARCK, N.D. (AP) — The North Dakota Department of Commerce leader and a former agency worker want the state to pay their legal fees for a criminal investigation resulting from a 2019 audit. Commerce Commissioner Michelle Kommer and former senior manager Holly Holt hired lawyers after an audit found that agency officials skirted public bid requirements in developing the new state logo and also mishandled appropriations. The subsequent investigation found no wrongdoing. The Bismarck Tribune reports that Kommer is seeking $9,858 and Holt is asking for $2,220 in legal fees.
BISMARCK, N.D. (AP) — The North Dakota Board of Higher Education has approved a 2.5% pay raise for the university system chancellor, who said he will donate the money. The increase for Mark Hagerott is the maximum amount approved by the state Legislature. It would bump his annual salary of $374,400 by $9,360, which he plans to give to the North Dakota University System Foundation. Hagerott says Board chairman Nick Hacker says Hagerott has met or exceeded eight goals that were laid out by the board a year ago, following a labor complaint that was eventually dropped. Hacker says Hagerott has also done a good job dealing with the COVID-19 pandemic.
In sports….
Tuesday Baseball…
Game 1 Valley City Royals 12 Fargo Jets 4
Game 2 Fargo Jets 10 Valley City Royals  3
MINOR LEAGUE SEASON CANCELED
Baseball's minor leagues cancel 2020 seasons
NEW YORK (AP) — Baseball's minor leagues canceled their seasons Tuesday because of the coronavirus pandemic, and the head of their governing body said more than half of the 160 teams were in danger of failing without government assistance or private equity injections.
The National Association of Professional Baseball Leagues, the minor league governing body, made the long-expected announcement. National Association president Pat O'Conner says the leagues "don't have national TV revenues." O'Conner estimated 85-90% of revenue was related to ticket money, concessions, parking and ballpark advertising. The minors drew 41.5 million fans last year for 176 teams in 15 leagues, averaging 4,044 fans per game. MLB teams are planning for a 60-game regular season and most of their revenue will derive from broadcast money.
In other baseball news:
Major League Baseball says a team will not specifically announce a COVID-19 injured list placement for a player who is removed from the club after testing positive, just an IL trip. MLB's operations manual says a positive test and exhibiting symptoms that require isolation for additional assessment or exposure to someone who has had the virus are cause for placement on the new COVID-19 IL.
— Yankees general manager Brian Cashman is optimistic right fielder Aaron Judge, left-hander James Paxton, center fielder Aaron Hicks and designated hitter Giancarlo Stanton will be ready to play in the time for New York's rescheduled opener at World Series champion Washington on July 23. Judge did not play in any exhibition games due to discomfort in his right pectoral muscle and shoulder that he felt when swinging. Paxton had surgery Feb. 5 to repair a herniated disk in his back.
— Outfielder Heston Kjerstad agreed to a minor league contract with the Baltimore Orioles that includes a $5.2 million signing bonus, well below the slot value of $7,789,900 assigned to the No. 2 overall pick. The 21-year-old joins a rebuilding Orioles team that has lost at least 100 games in two straight seasons and used the No. 1 pick in 2019 to secure catcher Adley Rutschman out of Oregon State.
—The San Diego Padres have acquired infielder Jorge Mateo from the Oakland Athletics in the first trade since baseball resumed after a shutdown of more than three months due to the coronavirus pandemic. The Padres will send either a player or cash to the A's for the 25-year-old Mateo, who will be added to the player pool for the resumption of spring training. The Padres are scheduled to have their first workout Friday at Petco Park.
— Shohei Ohtani (SHOH'-hay oh-TAH'-nee) will resume his two-way career with the Los Angeles Angels when baseball returns. Angels general manager Billy Eppler confirms his Japanese star will pitch and hit in the majors this season. Ohtani was only a designated hitter last season after undergoing Tommy John surgery. He wasn't expected to pitch in 2020 until at least May, and Eppler confirmed that the coronavirus pandemic hasn't altered the Angels' plans. The Angels could have a six-man rotation for the short season.
— Sinkerballing reliever Jared Hughes and the New York Mets agreed to a $700,000, one-year contract, a deal that amounts to $259,259 in prorated pay over the 60-game season. He had a 6.35 ERA over five appearances and 5 2/3 innings during spring training with the Houston Astros and was released March 19. A right-hander who turns 35 on July 4, Hughes was 5-5 with a 4.04 ERA last season for Cincinnati and Philadelphia.
— The Oakland Athletics are selling cardboard cutouts with fans' photos that they will put in the seats at the Coliseum this season. The team also plans to mix in images of former players and celebrities alongside the fan cutouts. Major League Baseball is looking to play a 60-game regular season this summer because of the coronavirus. There will be no fans at ballparks on opening day, but some markets are hoping to play in front of smaller crowds by the end of the season. The cardboard cutouts for A's games range in price from $49 to $129. Proceeds from the sales go to charity.
VIRUS OUTBREAK-NBA-PELICANS
Three New Orleans players test positive
NEW ORLEANS (AP) — Pelicans general manager David Griffin says three New Orleans players have tested positive for COVID-19 and will be in self-isolation until testing shows they can return to team activities without infecting others.
Griffin declined to identify the players, citing medical privacy laws.
The positive tests occurred on June 23, the first day all members of the team were tested as part of the NBA's plan to restart the season, which was suspended in mid-March because of the pandemic. Griffin says the Pelicans have had no players test positive since.
When the Pelicans return to action on July 30 against Utah at Disney's ESPN Wide World of Sports complex outside of Orlando, Florida, they will be 3½ games out of the Western Conference's final playoff spot with eight games left.
VIRUS OUTBREAK-NHL-HURRICANES
Hurricanes
RALEIGH, N.C. (AP) — Members of the Carolina Hurricanes have returned to their home ice at PNC Arena as the team began voluntary training sessions amid the second phase of the NHL's return plan.
In a video conference with reporters, captain Jordan Staal said the players went through safety protocols that included wearing a mask and getting a temperature check when arriving at the arena, as well as "keeping your distance as best you can."
The team had announced last week that roughly 16 players were expected to participate, divided into two groups, with workouts closed to the public and media.
In other developments related to the coronavirus:
— The LPGA Tour lost another tournament when the Canadian Women's Open was canceled because of travel restrictions and quarantine requirements from the COVID-19 pandemic. The CP Women's Open was scheduled for Sept. 3-6 at Shaughnessy Golf and Country Club in Vancouver. The LPGA Tour and Golf Canada say it will return to Shaughnessy the last week in August next year.
— Up to 800 spectators per day will be allowed at a tennis exhibition in Berlin in mid-July. This, even after four players tested positive for the coronavirus after playing in a similar event fronted by Novak Djokovic. Organizers of two tournaments in Berlin say the city health authorities have approved a limited number of spectators. The maximum is set at 800 per day for a July 13-15 outdoor event on grass, and 200 per day for a hard-court event in a hangar at the disused Tempelhof airport from July 17-19.
NBA-RACIAL INJUSTICE-MORANT APOLOGY
Grizzlies' Morant apologizes for anti-police Instagram post
MEMPHIS, Tenn. (AP) — Memphis Grizzlies rookie guard Ja Morant posted and deleted an Instagram photo suggesting he'd replace his name with an expletive on his number 12 jersey in a protest against police.
Morant then apologized, saying the post didn't "accurately convey" what he wanted to share. Morant said he knows "there are good cops" out there.
The league, Nike and the players association are reportedly working on a deal that would allow players to replace the names on the backs of their jerseys with social justice statements.
MLB-RACIAL INJUSTICE-MVP PLAQUES
'A dark past': MVPs say time to pull Landis name off plaques
NEW YORK (AP) — As monuments, statues and memorials around the world come under increased scrutiny, some former Most Valuable Players in Major League Baseball are saying they'd like to see a change in future MVP plaques.
The trophy is engraved with the name of Kenesaw Mountain Landis in large letters. Landis was baseball's first commissioner and there were no Black players in the majors during his reign from 1920 until his death in 1944.
His name has been on every American League and National League MVP plaque since then. Barry Larkin, Terry Pendleton and Mike Schmidt say they'd like to see it pulled off.
Toward the end of his tenure as commissioner, Landis told owners they were free to sign Black players. But there is no evidence he pushed for baseball integration.
FORMULA ONE-PROTESTS
F1 drivers discuss whether to take a knee at season opener
LONDON (AP) — Formula One drivers will discuss taking a knee at the opening race of the delayed season in Austria on Sunday.
McLaren driver Lando Norris says it will be discussed following the drivers' briefing with the Grand Prix Drivers' Association on Friday.
Six-time world champion Lewis Hamilton has been vocal about the Black Lives Matter movement and F1′s diversity issues.
Black Lives Matter has been supported by soccer players in Germany, Italy and England taking a knee before and during games.
BROADCASTS-DISCRIMINATION
Soccer players' union points to racial bias in broadcasts
LONDON (AP) — The soccer players' union in England believes racial bias is evident during broadcasts of matches based on the language used by commentators in European leagues.
The study conducted by Danish research firm RunRepeat in association with the Professional Footballers' Association found 63% of praise regarding a player's intelligence was aimed at those with lighter skin, while 63% of criticism for a player's intelligence was aimed at those with darker skin tones.
The study looked at 80 matches in the Premier League as well as the top divisions in Italy, Spain and France this season.
ENGLAND-LESLIE STATUE
Campaign for Black soccer player denied by England in 1925
LONDON (AP) — A fundraising campaign has been launched to raise money for a statue to honor a man who was denied the chance to play for England's national soccer team in 1925 because he was Black.
Jack Leslie was an attacking player who scored 137 goals in 401 matches with Plymouth Argyle. He was named in England's team for an international match against Ireland 95 years ago. But the campaign website says his name disappeared from the team sheet because Football Association officials discovered he was Black. Viv Anderson eventually became the first Black player to represent England's national team in November 1978.
In world and national news…
BEIJING (AP) — China is demanding staff and business information from four U.S. media companies including The Associated Press in what it calls a necessary response to similar demands by Washington on Chinese state-controlled news outlets. A foreign ministry spokesperson announced Wednesday that the AP, United Press International, CBS and National Public Radio have seven days to file declarations regarding their staff, financial operations, real estate ownership and other matters. The Trump administration last month added four Chinese media outlets to a list of organizations that should be considered "foreign missions" because of their ties to the government and the ruling Communist Party.
LONDON (AP) — Britain's foreign secretary has announced that residence rights for Hong Kongers eligible for British National Overseas passports will be extended to five years.Dominic Raab told the House of Commons on Wednesday that the new rules will allow up to 3 million Hong Kongers the right to live and work in Britain without the current six-month limit. After five years in the U.K., BNO passport holders could apply for settled status and then apply for citizenship 12 months after that.The announcement came after China imposed a sweeping new national security law in Hong Kong that Britain calls a flagrant breach of China's international obligations and a clear and serious violation of the Sino-British Joint Declaration.
DETROIT (AP) — A poll shows white Democrats are far more likely now to believe police brutality is a serious issue, a dramatic shift in public opinion that some say could shape the November presidential election. A majority of white Democrats say police officers are more likely to use deadly force against a Black person than against a white person. That's according to a recent poll from The Associated Press-NORC Center for Public Affairs Research. For the first time, the poll shows significant changes in how white Democrats view police brutality and the consequences.
DENVER (AP) — Businesswoman Lauren Boebert has upset five-term Colorado U.S. Rep. Scott Tipton in the Republican primary for the 3rd Congressional District. Boebert is a pistol-packing businesswoman, an ardent defender of gun rights and border wall supporter who wants to abolish the U.S. Department of Education. She will run in November's general election against Diane Mitsch Bush, who won the Democratic nomination on Tuesday. Boebert accused Tipton of not being sufficiently pro-Donald Trump even though Trump had endorsed Tipton. She made a name for herself after loudly protesting Democratic Gov. Jared Polis' orders to close businesses to fight the coronavirus pandemic.
DENVER (AP) — Former Colorado Gov. John Hickenlooper has won the Democratic Senate primary. Hickenlooper will now face Republican Sen. Cory Gardner in November. Gardner is seen as the most vulnerable Republican in the Senate. Hickenlooper beat former Colorado House Speaker Andrew Romanoff in the Democratic primary. Hickenlooper is a moderate recruited by national Democrats who had a huge financial advantage in the race. But he stumbled in the final month against Romanoff, a former moderate who ran a populist challenge from the left.
NEW YORK (AP) — New York City lawmakers have approved a plan to shift $1 billion from policing to education and social services in the coming year. The spending plan passed by the City Council early Wednesday came as lawmakers struggled to deal with the fallout of the coronavirus pandemic, which has sapped the city of billions of dollars in revenue. The cut to police spending fell short of what activists sought. Mayor Bill de Blasio supports the $88.2 billion spending plan. Council Speaker Corey Johnson called the budget a disappointment, saying he wished he was able to negotiate a bigger police budget cut.