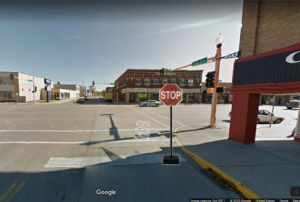 (CSi) Mayor Dwaine Heinrich has received some public comments on the turning off the 5 Traffic signals on First Avenue in Jamestown.
On Monday's Wayne Byers Shown on CSi Cable 2, he said,  comments have included liking to drive through downtown on with fewer traffic red lights on First Avenue. Heinrich said he would have liked to have seen the traffic light still operational at the intersection with at 5th Street and First Avenue North leading to Highway 20.
He also said he wanted to seen temporary striping on the pavement indicated where the Road Diet plans make lane changes including turning lanes.
He reiterated that the Road Diet plans were developed by the North Dakota Department of Transportation, as First Avenue is part of Highway 281/52, under control of the NDDOT, with the City of Jamestown having little if any influence on the project's design or implementation.
He said at this point in the project that it would cost the city more dollars to halt the project than implement it, with NDDOT funding.
POLL:
The City "Road Diet Plan" proposes removing 5 traffic signals on First Ave, keeping only the one at 3rd St S, at the Alfred Dickey Library intersection.  To be removed:
5 St S – ambulance shop
2 St S – US Bank & Arts Park
1 St – Babbs & Grill
3 St N – Civic Center
4 St N – Hwy 20 turn
The traffic lights were made inoperable on June 1, 2020, except at the intersection of First Avenue South, and 3rd Street, for a 90 day period.  After the 90 days the NDDOT will review results of the traffic flows/accidents, and make a final decision on whether to implement the Road Diet project.
A readers poll on the disabling the traffic signals is available at CSiNewsNow.com