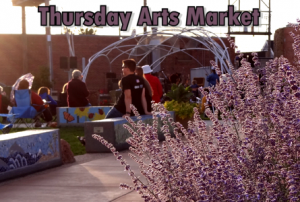 Jamestown   (CSi)  The Arts Center is  excited to hold the Downtown Arts Market in Jamestown this summer at 5:30 pm to 8:30-p.m, in the Hansen Arts Park, each Thursday evening through August.
August 13th:    Jon Wayne
With: Top of the Stairs Dance Studio
A local favorite! Jon Wayne and Weston of Jon Wayne and The Pain are bringing you a new project. This will be sticking more to the reggae and singer/songwriter style that old school JWP fans have been digging since 2007.
Arts Center Director, Mindi Schmitz says,  "We want this to be as safe as it is enjoyable. So, things will be different this year. For instance, there will not be vendors or artisans. This prevents the hand-to-contact and allows the street to be opened up for additional seating area (bring your lawn chair). Social distancing will be observed. Masks will be strongly encouraged. We will also Facebook live the performances for those that still prefer / need to stay isolated.
She adds that the Arts Market plans may have to be adjusted if  Arts Center measures are not respected. The community's  efforts to be as safe and responsible as possible when attending is greatly appreciated and will allow this loved summer event to continue.
Click here to view full summer schedule.