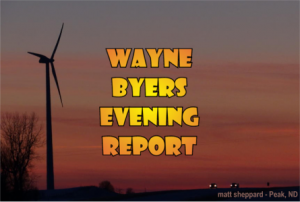 CSi Weather…
.TONIGHT…Partly cloudy with chance of showers and thunderstorms in the evening, then mostly cloudy with showers and thunderstorms likely after midnight. Some thunderstorms may be severe. Lows in the upper 60s. Southeast winds 15 to 20 mph. Chance of precipitation 60 percent in the Jamestown area, 70 percent in the Valley City area.
.WEDNESDAY…Sunny. Highs in the mid 80s. West winds 10 to
15 mph.
.WEDNESDAY NIGHT…Mostly clear. Lows in the lower 60s. West
winds 5 to 10 mph.
.THURSDAY…Sunny. Highs in the mid 80s. West winds 15 to 20 mph.
.THURSDAY NIGHT…Clear. Lows in the upper 50s.
.FRIDAY…Sunny. Highs in the mid 80s.
.FRIDAY NIGHT…Partly cloudy. Chance of showers and
thunderstorms in the evening, then showers and thunderstorms
likely after midnight. Lows in the lower 60s. Chance of
precipitation 60 percent.
.SATURDAY…Mostly sunny with a 30 percent chance of showers and
thunderstorms. Highs in the mid 80s.
.SATURDAY NIGHT…Clear. Lows around 60.
.SUNDAY…Sunny. Highs in the mid 80s.
.SUNDAY NIGHT…Partly cloudy. A 20 percent chance of showers and
thunderstorms after midnight. Lows in the mid 60s.
.MONDAY…Mostly sunny with a 20 percent chance of showers and
thunderstorms. Highs in the upper 80s.
Severe thunderstorms are likely beginning Tuesday evening in western
North Dakota, before moving eastward into central North Dakota
tonight. The main threat with these storms is damaging wind gusts
up to 80 mph, especially if a fast moving line of storms develops
in Montana and moves across western and central North Dakota.
Large hail up to 2 inches in diameter and tornadoes are also
possible with this severe weather event.
.SPOTTER INFORMATION STATEMENT…
Weather spotters will be needed this evening and tonight. Weather
spotters are encouraged to report any hail, damaging winds,
flooding and tornadoes via the NWS Bismarck Facebook page,
@NWSBismarck on Twitter, or by calling 1-800-247-0212.
After storms move out of the area early Wednesday morning a little bit of a break in activity with slightly cooler temperatures Wednesday and Thursday
Thunderstorms Wednesday night and Thursday, but the next chance for more widespread thunderstorms will arrive during the Friday/Saturday time frame.
Another active period possibly kicking off once again towards the end of the weekend and beginning of the work week.
Bismarck
NDDoH Stats
Posted Tues July 7, 2020
11-a.m.
New Positive Cases Reported on Tuesday
INDIVIDUALS WHO DIED WITH COVID-19
Woman in her 90s from Cass County with underlying health conditions.
Man in his 50s from Cass County with underlying health conditions.
Woman in her 70s from Cass County with underlying health conditions.
Woman in her 80s from Stutsman County.
Stutsman Total Deaths 2
COUNTIES WITH NEW POSITIVE CASES REPORTED TUESDAY
Barnes +1
Barnes Total 23
Barnes Recovered 19
Benson County – 1
Burleigh County – 16
Cass County – 8
Cavalier County – 1
Grand Forks County – 3
McKenzie County – 1
Morton County – 6
Sargent County – 1
Sioux County – 1
Stark County – 2
Towner County – 1
Walsh County – 2
Ward County – 1
Williams County – 7

BY THE NUMBERS
204,526 – Total Number of Tests Completed* (+1,989 total tests from yesterday)
114,357 – Total Unique Individuals Tested* (+775 unique individuals from yesterday)
110,459 – Total Negative (+726 unique individuals from yesterday)
3,898 – Total Positive (+52 unique individuals from yesterday)
After investigation it was determined that a previous case from Grand Forks County and Cass County were mismarked in the system and a case from Burleigh County was from out of state. 
2.6% – Daily Positivity Rate**
248 – Total Hospitalized (+3 individual from yesterday)
24 – Currently Hospitalized (+2 individuals from yesterday)
3,413 – Total Recovered (+63 individuals from yesterday)
84 – Total Deaths*** (+4 individual from yesterday)
Upon death record review where COVID-19 is listed as a cause of death, it was determined that these deaths were not previously reported to the state.
* Note that this does not include individuals from out of state and has been updated to reflect the most recent information discovered after cases were investigated.
**Because the serial tests completed and added to the total number of tests completed can result in new individuals who test positive, the daily positivity rate will be calculated using the total positives for the day by the daily number of tests completed instead of the daily number of unique individuals tested.
*** Number of individuals who tested positive and died from any cause while infected with COVID-19.
For descriptions of these categories, visit the NDDoH dashboard.
For the most updated and timely information and updates related to COVID-19, visit the NDDoH website at www.health.nd.gov/coronavirus, follow on Facebook, Twitter and Instagram and visit the CDC website at www.cdc.gov/coronavirus.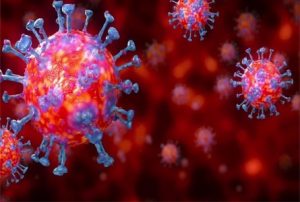 Valley City (CSi) City/County Health in Valley City announces that a mass COVID-19 testing will be held on July 8 at the North Dakota Winter Show location.
The testing is set from 2-p.m. to 6-p.m. with a drive through event including the south exhibit hall, and the parking lot area will be utilized.
The testing process takes approximately 15 minutes (wait time in line may be longer). Testing will be conducted by using an oral swab of the throat.
There is no cost for the test and health insurance is not processed.
Those participants testing positive will be notified by phone within 24-72 hours. Efforts will be made to contact those with a negative result within 3-5 days.
The goal is to test 500 people for the virus.
The North Dakota National Guard will be assisting, in cooperation with CHI Mercy Health, and CCHD staff. Participants will not be asked to provide proof of residency.
Prior to the testing, those who wish to participate are strongly encouraged to fill out the online screening form at www.testreg.nd.gov.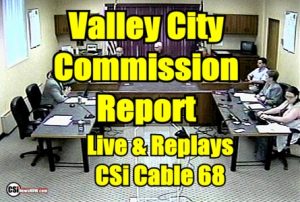 Valley City  (CSi)  The Valley City Commission met Tuesday evening at City Hall.  All members were present.
Ian Jacobson was sworn in as a Valley City Police Officer.
APPROVAL OF CONSENT AGENDA ITEMS INCLUDED:
Approve Monthly Reports from the Fire Chief, Building Inspector, Auditor, Municipal Judge and Public Works Accountant.
Monthly Bills for the City and Public Works in the Amount of $2,458,233.49
Approved a Blocking off the Street Request for On the Move "Let's Walk Valley City" Event on July 20, 2020 from 5:00 PM to 8:00 PM at 4th Ave NE from 9th Street NE to 6th Street NE.
PUBLIC COMMENT:  
During the COVID-19 emergency, members of the public may request to make a public comment regarding city business by contacting City Hall (701) 845-1700 by 12 NOON on the day of the meeting to make arrangements.
Attorney General's "A Citizen's Guide to North Dakota Open Records & Open Meetings Laws" *A member of the public does not have the right to speak to the governing body at an open meeting. The public is only entitled to see and hear what happens at a meeting, and to record or broadcast those observations.
No personal attacks to persons present or not
No inflammatory language used during time that you have the platform
5 minute maximum or as directed by the chair
Thank you for participating in City Government.
The fee schedule with water usage was described by Public Works Manager Gary Jacobson.
Single residence and Multiple dwelling fee differences were explained, including sir charges, along with meter use charges.
ORDINANCE
Approved was second and final reading an Ordinance to amend and reenact Chapter 5 of Title 8 and Section 11-05-18 of the Valley City Municipal Code, relating to mobile vendors and transient merchants.
Approved was a second and final reading of an Ordinance to Adopt and Enact Section 1-01-15 of the Valley City Municipal Code related to Crime Victim Witness Fee.  City Attorney Martineck there was no change from the first reading, regarding the fee for the witness protection provisions.
Approved the  first reading of Ordinance No. 1058, an Ordinance Creating Section 20-04.01 to Extend City Sales, Use & Gross Receipts Tax dedicated to Permanent Flood Protection, as approved by voters in the Jun9 2020 City Elections.
Approved and Ordinance for penalties of striking an unattended vehicle.
NEW BUSINESS
City Commissioners, discussed a job title for City Administrator position. Commissioner Bishop moved that there be no change, which was approved by the City Commission.
Approved was the appointment  of Paige Bjornson to the Visitors Committee (1 opening, 4 year term ending June 30, 2024)
Approved was a Property Tax Exemption for Improvements to Residential Building at 905 9th Avenue SE as recommended by City Assessor Hansen on the improvements, for five years.
Approved was selecting an individual for the Assistant Public Works (Operations) Superintendent Position for Succession Planning.  City Attorney Martineck  said that person when selected will succeed Jeff Differding, when he retires.
CITY ADMINISTRATOR'S REPORT CITY UPDATES &COMMISSION REPORTS
City Administrator, Gwen Crawford said she will be observing a fire department rescue exercise.
She said a banner that was removed in town has been given to the school district.
Clean up week will be moved to September this year.
With alleys, over growth of trees will be addressed for better access for garbage trucks.
City Auditor, Avis Richter said, Brandi Johnson has been hired as the City Administrative Assistant.
Tina Current was also added to the city staff.
KLJ gave an update on projects and progress on the permanent  flood control walls.
Commissioner Dick Gulmon has met with city department and economic development officials.
Mayor Carlsrud welcomed new police officer Ian Jacobson and other newly appointed city staff members.
The meeting was shown live on CSi Cable 68 followed by replays.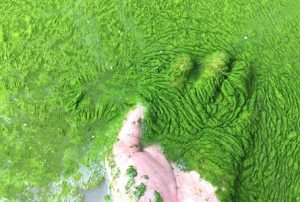 Jamestown  (CSi)  The North Dakota Department of Environmental Quality (NDDEQ) has received a report of a Harmful Algal Bloom (HAB) on Spiritwood Lake.  Staff have visited the lake and analyzed the water using ABRAXIS test strips. The test strips indicated an elevated level of toxins associated with a HAB. Therefore, a water sample was collected and sent to an independent laboratory for confirmation.
As a result of the testing, the NDDEQ is issuing a Harmful Algal Bloom Advisory for the waterbody. Please see the attached HAB Advisory sign and Advisory/Warning comparison. Blue-green algae can produce cyanotoxins which may cause serious health effects in people and animals.
NDDEQ urges the entity responsible for lake management to post a copy of the sign(s) in a conspicuous location (i.e., boat ramp or swimming area). A metal sign(s) will be provided as soon as is practicable.
The NDDEQ will monitor the waterbody every two weeks until test strips indicate the toxin levels are low.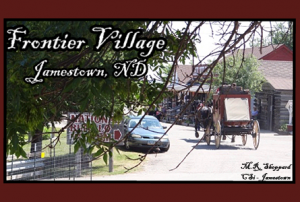 Jamestown  (CSi)  While visitation at Frontier Village is down from a year ago, Tourism Director, Searle Swedlund says, the attendance is not down significantly so far this summer.
On Tuesday's Wayne Byers Show on CSi Cable 2, Searle said the attendance was off by about 35-percent, which he said was not a bad figure, given the COVID-19 pandemic still limiting traveling this summer.
He said more buildings and stores have reopened recently at the Village.  He pointed out that the inventory of items in the buildings is about three-quarters completed, to determine ownership, and those who have donated items the owners still have possession of.
He pointed out that the greeters are now located at the saloon building, which has become the Visitors Center, that also has information for visitors.
He added that the pandemic has had a downturn in restaurant and lodging taxes, but now up to about 50-percent, of anticipated revenue, which has somewhat of an effect on dollars available  to be distributed for grant requests.  He said, about $60,000 remains in the fund for this calendar year.  He added that some of the traditional summer events had been cancelled due to safety issues with the pandemic.
He said the downtown Arts Market at Hansen Arts Park will be back this summer, in July and August beginning July 9 at 5:30 pm to 8:30-p.m., in the Hansen Arts Park, through August.
Searle said the new Tourism web site will be launched within the next week or so, and will contain improvements in the how visitors to the web site will be better informed about the tourism experience in Jamestown.
The Tourism office is operating at normal hours, just outside the entrance to Frontier Village.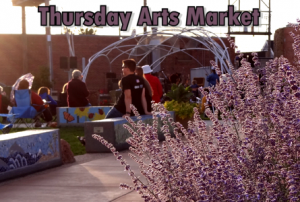 Jamestown   (CSi)  The Arts Center is  excited to bring the Downtown Arts Market back to Jamestown this summer beginning July 9 at 5:30 pm to 8:30-p.m, in the Hansen Arts Park, planning an event for each Thursday evening through August.
Arts Center, Director, Mindi Schmitz says,  "We want this to be as safe as it is enjoyable. So, things will be different this year. For instance, there will not be vendors or artisans. This prevents the hand-to-contact and allows the street to be opened up for additional seating area (bring your lawn chair). Social distancing will be observed. Masks will be strongly encouraged. We will also Facebook live the performances for those that still prefer / need to stay isolated.
She adds that the Arts Market plans may have to be adjusted of  Arts Center measures are not respected. The community's  efforts to be as safe and responsible as possible when attending is greatly appreciated and will allow this loved summer event to continue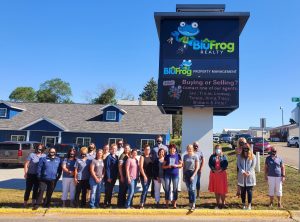 Jamestown  (Chamber)  The Jamestown Area Chamber of Commerce, Young Professionals of Jamestown and the Chamber Ambassadors recently recognized BluFrog Realty with the July Business of the Month Award for their outstanding customer service and continued commitment to the community.
The nomination stated, "Jen Dockter organized the Facebook group Community of Jamestown Supporting our Local Community. The page is huge! And now BluFrog has been doing drawings each week to get people to enjoy even more take out options. They really are helping the local restaurants through this time of unprecedented weirdness."
The Young Professionals of Jamestown honor businesses that provide superior customer service, exhibit community spirit and provide a positive economic impact to the community.  This award provides recognition throughout the month with a plaque and a recognition banner for the month. Monthly award winners will be considered for the Business of the Year to be awarded at the Chamber's Annual Banquet in January of 2021.  Business of the Month award nomination forms are available at the Chamber office and online at www.jamestownchamber.com .  Call 701-252-4830 for more information.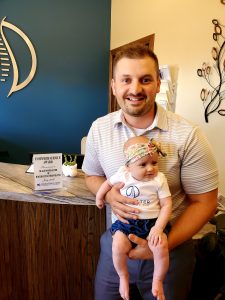 Jamestown  (Chamber)  Members of the Jamestown Area Chamber of Commerce Ambassador Committee and the Young Professionals of Jamestown presented the Customer Service Award for July to Dr. Blake Hochhalter of Hochhalter Chiropractic for his outstanding customer service. The chamber honors individuals who demonstrate a consistent commitment to delivering products or services that satisfy customers by exceeding their requirements or expectations.
His nomination said, "Dr. Blake should be recognized as not only an amazing chiropractor but also as someone who genuinely cares about his patients. I have received great care before but this past weekend was above and beyond what I expected from a provider. He saw me outside of normal hours and has squeezed me into his extremely busy schedule and I never once felt that I was being a burden. He truly is an asset to our community and is destined for great things in our community. Thank you, Dr. Blake for all you have done to help me get back on my feet- literally."
Congratulations to Blake, who along with all the other monthly winners, will be recognized at the Chamber's annual banquet in January 2021.  Customer Service Award nomination forms are available at the Chamber office and on their website at www.jamestownchamber.com or call 701-252-4830.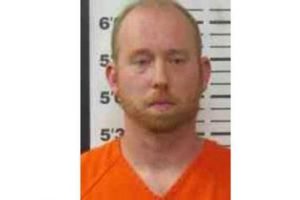 MANDAN, N.D. (AP) — A judge has ruled that the trial of a North Dakota man accused of killing four people can stay in Morton County. But South Central District Judge David Reich's ruling would allow Chad Isaak of Washburn to seek a change of venue later. The Bismarck Tribune reports the judge said in a ruling dated July 1 that pretrial news coverage in Isaak's case has not been unfair or biased. Isaak is charged with four counts of murder in the deaths of RJR Maintenance and Management co-owner Robert Fakler and employees Adam Fuehrer and William Cobb and Lois Cobb, who were married. The victims were found shot and stabbed at the Mandan business April 1, 2019.
OMAHA, Neb. (AP) — The amount of water being released into the Missouri River from a dam on the Nebraska-South Dakota border is being decreased because less water is expected to flow into the river this year. That means the risk of a repeat of last year's massive flooding along the river has been reduced. The reduction is possible because the region received less precipitation than expected this spring and the summer is expected to be drier than normal. The corps estimated Tuesday that 31.2 million acre feet of water will flow down the river this year. That is roughly 1 million acre feet lower than the previous forecast.
FARGO, N.D. (AP) — A federal judge rejected a request for an emergency order to delay the process of shutting down the Dakota Access pipeline while attorneys appeal a ruling to shutter the pipeline during the course of an environmental review. Pipeline attorneys filed the motion — along with a notice of appeal — late Monday after U.S. District Judge James Boasberg ruled to stop the flow of oil by Aug. 5. In denying the request for an expedited ruling, Boasberg said Tuesday he will scheduled a status hearing to discuss scheduling when he receives the Dakota Access motion to keep the pipeline running. Dakota Access attorney William Scherman said in his motion filed Monday that shutting down the pipeline requires a number of time-consuming and expensive steps that would take "well more" than 30 days.
MANDAN, N.D. (AP) — A staff member at a juvenile corrections center in Mandan is charged with sexually assaulting a 16-year-old female inmate. Twenty-seven-year-old Dariouse Gravely is accused of having sexual contact with the girl in late June in a dorm room at the Youth Correctional Center. Gravely is charged with sexual assault and sexual abuse of a ward. The North Dakota Department of Corrections and Rehabilitation says Gravely was a residence specialist and provided care for inmates. The Bismarck Tribune reports he's no longer employed at the center. Court records do not list an attorney for Gravely.
FARGO, N.D. (AP) — A West Fargo man has been sentenced to spend 12 years in prison for driving drunk and causing a crash that killed a passenger in his vehicle last summer. A judge in Cass County on Monday suspended eight years of a 20-year sentence and ordered Daniel Dal Pozzo to serve five years of supervised release. The 35-year-old Dal Pozzo pleaded guilty to criminal vehicular homicide and criminal mischief in the June 2019 crash that killed his friend, 38-year-old Johnny Grey. Dal Pozzo slammed into several parked vehicles. Prosecutors say Dal Pozzo's blood alcohol content was 0.21%, nearly three times the legal limit to drive.
In world and national news…
WASHINGTON (AP) — A pair of the Senate's most senior Republicans are skipping the Republican National Convention in Jacksonville, Florida, where President Donald Trump will be nominated for a second term. Iowa's Charles Grassley, who is 86, and Tennessee's Lamar Alexander, who is 80, are staying away as the coronavirus pandemic spikes in Florida and takes a higher toll on older people. Grassley was explicit, saying he's skipping the gathering "because of the virus." Alexander' was less so. His office acknowledged in a statement that choices must be made and said the senator believes the seats "should be reserved for those who have not had that privilege" of attending the event.
(AP)  Education Secretary Betsy DeVos is assailing plans by some local districts to offer in-person instruction only a few days a week. She says schools must be "fully operational" even amid the pandemic and anything less fails students and taxpayers. DeVos made the comments during a call with governors as the Trump administration launched an all-out effort to get schools and colleges to reopen. Audio of the call was obtained by The Associated Press. President Donald Trump has insisted that schools and colleges return to in-person instruction as soon as possible. He says on Twitter that Democrats want to keep schools closed "for political reasons, not for health reasons."
NEW YORK (AP) — President Donald Trump's niece offers a scathing portrayal of her uncle in a new book. Mary Trump writes that a "perfect storm of catastrophes" have exposed the president at his worst. She writes that the coronavirus pandemic, the possibility of an economic depression and deepening social divides have brought out the "worst effects" of Trump's "pathologies." She says the combination of emergencies are problems that "no one is less equipped than my uncle to manage." In the book, Mary Trump makes several revelations, including alleging that the president paid a friend to take the SATs — a standardized test widely used for college admissions — in his place. Mary Trump is the daughter of Trump's eldest brother Fred Trump Jr., who died in 1981.
(AP)  Authorities are looking for a Missouri man who is accused of punching a 12-year-old street performer in the head in an attack that was captured on Facebook Live and has been viewed hundreds of thousands of times. Cedric Charles Moore Jr., 27, of Cape Girardeau was charged Monday with one count each of first-degree child endangerment and second-degree assault. The arrest warrant sets bond at $50,000 cash-only. Police said in a Facebook post that the Friday night attack in the city's downtown was "completely unprovoked." The post said officers have been to the suspect's home and other places he frequents but that his friends and family aren't cooperating.
WASHINGTON (AP) — Joe Biden is promising to shift production of medical equipment and other key pandemic-fighting products "back to U.S. soil," creating jobs and bolstering a domestic supply chain he says has been exposed as inadequate and vulnerable by the coronavirus outbreak. The presumptive Democratic presidential nominee's campaign released a plan Tuesday to reinforce stockpiles of a "range of critical products on which the U.S. is dangerously dependent on foreign suppliers" like China and Russia. That includes medical equipment and pharmaceuticals. It also includes energy and grid resilience technologies, semiconductors and key electronics as well as telecommunications infrastructure and raw materials. Biden's camp hasn't said how much his plan would cost.