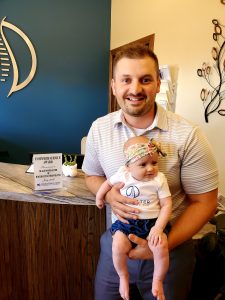 (Chamber)  Members of the Jamestown Area Chamber of Commerce Ambassador Committee and the Young Professionals of Jamestown presented the Customer Service Award for July to Dr. Blake Hochhalter of Hochhalter Chiropractic for his outstanding customer service. The chamber honors individuals who demonstrate a consistent commitment to delivering products or services that satisfy customers by exceeding their requirements or expectations.
His nomination said, "Dr. Blake should be recognized as not only an amazing chiropractor but also as someone who genuinely cares about his patients. I have received great care before but this past weekend was above and beyond what I expected from a provider. He saw me outside of normal hours and has squeezed me into his extremely busy schedule and I never once felt that I was being a burden. He truly is an asset to our community and is destined for great things in our community. Thank you, Dr. Blake for all you have done to help me get back on my feet- literally."
Congratulations to Blake, who along with all the other monthly winners, will be recognized at the Chamber's annual banquet in January 2021.  Customer Service Award nomination forms are available at the Chamber office and on their website at www.jamestownchamber.com or call 701-252-4830.