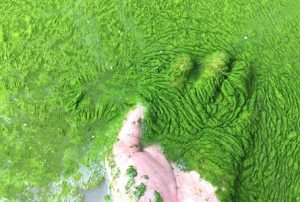 Jamestown  (CSi)  The North Dakota Department of Environmental Quality (NDDEQ) has received a report of a Harmful Algal Bloom (HAB) on Spiritwood Lake.  Staff have visited the lake and analyzed the water using ABRAXIS test strips. The test strips indicated an elevated level of toxins associated with a HAB. Therefore, a water sample was collected and sent to an independent laboratory for confirmation.
As a result of the testing, the NDDEQ is issuing a Harmful Algal Bloom Advisory for the waterbody. Please see the attached HAB Advisory sign and Advisory/Warning comparison. Blue-green algae can produce cyanotoxins which may cause serious health effects in people and animals.
NDDEQ urges the entity responsible for lake management to post a copy of the sign(s) in a conspicuous location (i.e., boat ramp or swimming area). A metal sign(s) will be provided as soon as is practicable.
The NDDEQ will monitor the waterbody every two weeks until test strips indicate the toxin levels are low.