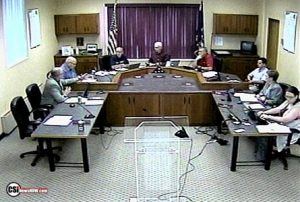 Valley City  (CSi)  The Valley City Commission met Tuesday evening at City Hall.  All members were present.
Ian Jacobson was sworn in as a Valley City Police Officer.  He's a native of San Antonio Texas and attended UND.
APPROVAL OF CONSENT AGENDA ITEMS INCLUDED:
Approve Monthly Reports from the Fire Chief, Building Inspector, Auditor, Municipal Judge and Public Works Accountant.
Monthly Bills for the City and Public Works in the Amount of $2,458,233.49
Approved a Blocking off the Street Request for On the Move "Let's Walk Valley City" Event on July 20, 2020 from 5:00 PM to 8:00 PM at 4th Ave NE from 9th Street NE to 6th Street NE.
PUBLIC COMMENT:  
During the COVID-19 emergency, members of the public may request to make a public comment regarding city business by contacting City Hall (701) 845-1700 by 12 NOON on the day of the meeting to make arrangements.
Attorney General's "A Citizen's Guide to North Dakota Open Records & Open Meetings Laws" *A member of the public does not have the right to speak to the governing body at an open meeting. The public is only entitled to see and hear what happens at a meeting, and to record or broadcast those observations.
No personal attacks to persons present or not
No inflammatory language used during time that you have the platform
5 minute maximum or as directed by the chair
Thank you for participating in City Government.
The fee schedule with water usage was described by Public Works Manager Gary Jacobson.
Single residence and Multiple dwelling fee differences were explained, including sir charges, along with meter use charges.
ORDINANCE
Approved was second and final reading an Ordinance to amend and reenact Chapter 5 of Title 8 and Section 11-05-18 of the Valley City Municipal Code, relating to mobile vendors and transient merchants.
Approved was a second and final reading of an Ordinance to Adopt and Enact Section 1-01-15 of the Valley City Municipal Code related to Crime Victim Witness Fee.  City Attorney Martineck there was no change from the first reading, regarding the fee for the witness protection provisions.
Approved the  first reading of Ordinance No. 1058, an Ordinance Creating Section 20-04.01 to Extend City Sales, Use & Gross Receipts Tax dedicated to Permanent Flood Protection, as approved by voters in the Jun9 2020 City Elections.
Approved and Ordinance for penalties of striking an unattended vehicle.
NEW BUSINESS
City Commissioners, discussed a job title for City Administrator position. Commissioner Bishop moved that there be no change, which was approved by the City Commission.
Approved was the appointment  of Paige Bjornson to the Visitors Committee (1 opening, 4 year term ending June 30, 2024)
Approved was a Property Tax Exemption for Improvements to Residential Building at 905 9th Avenue SE as recommended by City Assessor Hansen on the improvements, for five years.
Approved was selecting an individual for the Assistant Public Works (Operations) Superintendent Position for Succession Planning.  City Attorney Martineck  said that person when selected will succeed Jeff Differding, when he retires.
CITY ADMINISTRATOR'S REPORT CITY UPDATES &COMMISSION REPORTS
City Administrator, Gwen Crawford said she will be observing a fire department rescue exercise.
She said a banner that was removed in town has been given to the school district.
Clean up week will be moved to September this year.
With alleys, over growth of trees will be addressed for better access for garbage trucks.
City Auditor, Avis Richter said, Brandi Johnson has been hired as the City Administrative Assistant.
Tina Current was also added to the city staff.
KLJ gave an update on projects and progress on the permanent  flood control walls.
Commissioner Dick Gulmon has met with city department and economic development officials.
Mayor Carlsrud welcomed new police officer Ian Jacobson and other newly appointed city staff members.
The meeting was shown live on CSi Cable 68 followed by replays.