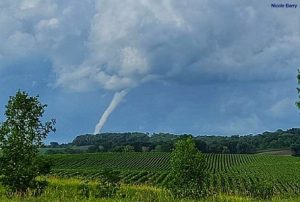 Update..
DALTON, Minn. (AP) — Forecasters have rated a deadly tornado that struck farmland in western Minnesota as a category EF4, with a peak wind conservatively estimated at 170 mph. The National Weather Service said the tornado started as a weak tornado that grew out of a rapidly developing supercell thunderstorm, quickly growing into a violent twister that killed one person and injured two others near Dalton on Wednesday evening. The tornado was on the ground about a half hour, according to the weather service. The tornado ripped a path about 9 miles long, with a maximum width of 650 yards. A 30-year-old man was killed when the tornado destroyed a machine shop. A couple suffered minor injuries when the tornado obliterated their home.
Previously…
DALTON, Minn. (AP) — Authorities say severe storms that swept through parts of the Midwest produced at least one powerful tornado that damaged farms and killed one person and injured two others in Minnesota. The Otter Tail County Sheriff's Office says  30 year old Seth Nelson, of rural Battle Lake, Minn., died when the shop he was working in collapsed during one of the tornadoes that struck southeast Otter Tail County.  Two others were taken to a hospital with injuries that were not considered life-threatening. Authorities did not know where or how the two were injured. Other possible tornado activity was reported Wednesday in Colorado as well as parts of Nebraska and Illinois.
DALTON, Minn. (AP) — The National Weather Service reports a powerful tornado possibly an EF-3 has killed one person, injured at least one person and destroyed farm buildings in western Minnesota, late Wednesday afternoon.
Previously…
The tornado struck at 5:30 p.m. Wednesday near Dalton. The weather service says three farmsteads were hit, and one of those farmhouses was flattened. Otter Tail County Sheriff Barry Fitzgibbons says two people were taken to a hospital. Their conditions were unknown. The tornado crossed Interstate 94 but no vehicles were affected. A National Weather Service staffer is at the scene checking the tornado aftermath, but the tornado is believed to be at least in the EF-3 category, with winds of 136-165 mph.