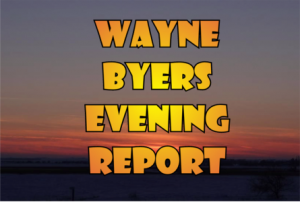 CSi Weather…
TONIGHT…Clear. Lows in the mid 50s. West winds around 5 mph. Gusts up to 25 mph in the evening.
.FRIDAY…Sunny. Highs in the mid 80s. Northwest winds around 5 mph shifting to the south around 5 mph in the afternoon.
.FRIDAY NIGHT…Showers and thunderstorms likely. Lows in the
lower 60s. Southeast winds 5 to 10 mph shifting to the west after
midnight. Chance of precipitation 60 percent in the Jamestown area, 80 percent in the Valley City area.
.SATURDAY…Mostly sunny with a 30 percent chance of showers and
thunderstorms in the Jamestown area, 20 percent in the Valley City area. Highs in the lower 80s. Northwest winds 5 to 10 mph.
.SATURDAY NIGHT…Mostly clear. Lows in the upper 50s.
.SUNDAY…Sunny. Highs in the mid 80s.
.SUNDAY NIGHT…Mostly clear in the evening, then mostly cloudy
with a 30 percent chance of showers and thunderstorms after
midnight. Lows in the mid 60s.
.MONDAY…Showers likely and chance of thunderstorms. Highs in
the lower 80s. Chance of precipitation 60 percent.
.MONDAY NIGHT…Partly cloudy. A 20 percent chance of showers and
thunderstorms in the evening. Lows in the upper 50s.
.TUESDAY…Partly sunny with a 20 percent chance of showers and
thunderstorms. Highs in the upper 70s.
.TUESDAY NIGHT…Partly cloudy with a 30 percent chance of rain
showers and thunderstorms. Lows in the upper 50s.
.WEDNESDAY…Mostly sunny with a 20 percent chance of rain
showers and thunderstorms. Highs in the lower 80s.
The chance of thunderstorms begins Friday afternoon in the west pushing through central North Dakota in the evening and overnight hours.
The far south central, will see the highest threat for large hail.
Damaging winds would also be a threat.
After storms end in the eastern part of the forecast area early
Saturday morning, should be a pleasant summer day as surface high
pressure settles in.
Sunday currently looking like the warmest day of the extended period.
Chance for thunderstorms returns to the west Sunday  with temperatures near to slightly below average.
NDDoH
COVID-19 Stats
Posted Thurs. July 9, 2020
Results listed are from the previous day.
COUNTIES WITH NEW POSITIVE CASES REPORTED THURSDAY
Benson County – 2
Burleigh County – 23
Cass County – 29
Cavalier County – 4
Dickey County – 1
Dunn County – 3
Grand Forks County – 1
McKenzie County – 2
Morton County – 5
Mountrail County – 1
Pembina County – 1
Ransom County – 2
Richland County – 1
Sioux County – 3
Stark County – 2
Stutsman County – 1
Stutsman Total 66
Stutsman Recovered 62
Walsh County – 10
Ward County – 2
Williams County – 6

BY THE NUMBERS
214,167 – Total Number of Tests Completed* (+5,980 total tests from yesterday)
117,849 – Total Unique Individuals Tested* (+2,010 unique individuals from yesterday)
113,779 – Total Negative (+1,911 unique individuals from yesterday)
4,070 – Total Positive (+99 unique individuals from yesterday)
1.7% – Daily Positivity Rate**
257 – Total Hospitalized (+5 individual from yesterday)
30 – Currently Hospitalized (+4 individuals from yesterday)
3,464 – Total Recovered (+17 individuals from yesterday)
85 – Total Deaths*** (+0 individual from yesterday)
* Note that this does not include individuals from out of state and has been updated to reflect the most recent information discovered after cases were investigated.
**Because the serial tests completed and added to the total number of tests completed can result in new individuals who test positive, the daily positivity rate will be calculated using the total positives for the day by the daily number of tests completed instead of the daily number of unique individuals tested.
*** Number of individuals who tested positive and died from any cause while infected with COVID-19.
For descriptions of these categories, visit the NDDoH dashboard.
For the most updated and timely information and updates related to COVID-19, visit the NDDoH website at www.health.nd.gov/coronavirus, follow on Facebook, Twitter and Instagram and visit the CDC website at www.cdc.gov/coronavirus.
Jamestown  (JPD)  A news release from Jamestown Police Major, Assistant Chief, Justin Blinsky said,  on July 8, 2020  at 6:56-p.m., the Jamestown Police Department responded to a report of an injury accident at the intersection of 4 Ave SE and 4 St SE. The reporting party indicated one of the drivers was trapped inside his vehicle and in immediate need of medical treatment. Due to the information provided by the caller, the Jamestown Fire Department and Jamestown Area Ambulance also responded.
Upon arrival, Officers determined the trapped driver was able to get out of the vehicle, so the Jamestown Fire Department Rescue Squad was not needed. Jamestown Area Ambulance arrived and began to provide medical aid to the individuals at the scene.
During the investigation into the accident, it was determined that 24-year-old Wesley Possen of Jamestown was driving a 1999 Honda Civic westbound on 4 St SE, crossing over the 4 Ave SE intersection. 54-year-old Monica Moore of Jamestown was driving a 2015 Jeep Wrangler southbound on 4 Ave SE, crossing through the 4 St SE intersection. There was a 1998 Honda Accord driven by 17-year-old Elijah Tweeton of Jamestown, which had stopped at the yield sign, while traveling eastbound on 4 St SE, at the 4 Ave SE intersection. The intersection is controlled by yield signs for 4 St SE traffic.
Prior to impact, the southbound Jeep Wrangler driven by Moore attempted to swerve to avoid the accident. However, the Jeep Wrangler did strike the westbound Honda Civic in the front-passenger corner. The Jeep continued and struck the 1998 Honda Accord, which was stopped at the yield sign, before coming to rest.
Mr. Possen was transported by ambulance to Jamestown Regional Medical Center and was later life-flighted to a Fargo Hospital, for serious injuries. All 3 vehicles were towed from the scene. The investigation is on-going at this time and a report will be forwarded for review by the City Attorney's Office for possible charges.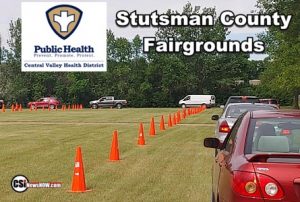 Jamestown  (CVHD)  The next drive thru COVID-19 mass testing in Jamestown is planned for Thursday, July  23, 2020 from 2-p.m., to 6-p.m., at the Stutsman County Fairgrounds.
Central Valley Health District, Unit Administrator, Robin Iszler says the date is somewhat tentative pending on the availability of the North Dakota National Guard for assistance on that date. If a change in date occurs she will update the information.
She says 500 tests are planned to be available for the second mass testing event in Stutsman County.
Jamestown  (CSi)  Jamestown Vector Control will be AERIAL spraying for elevated mosquito nuisance in the City on Saturday July 11th, 2020 starting at 7:45 P.M. for two (2) to four (4) hours, with Monday July 13th, 2020 as the contingent date.
Parents are advised to keep children out of the streets and indoors during above times.
The active ingredient in the ULV (Ultra Low Volume) spray is permethrin. This insecticide is labeled for use in residential areas and are found to be non-toxic to humans and pets.
Motorist's should use extreme caution in the area.
All AERIAL spraying operations are contingent upon weather conditions.
For more information visit jamestownnd.org, click on Departments/ Vector Control or call 701-320-5503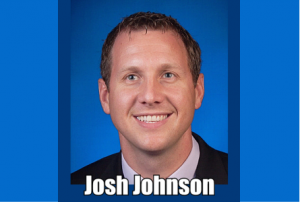 Valley City  (VCPS)  Valley City Public School District by Superintendent Josh Johnson, has posted information through a newsletter posted at the school district website.
It says, "Our school district is planning and preparing for the reopening of schools this fall. We have been working very hard to research, listen, and learn from the professionals in the medical field to better understand COVID-19 and the Health and Safety needs of our students and staff. We have evaluated the feedback from our families and believe that there is a Strong Desire to SAFELY return students back to face-to-face learning this fall.
Guidance from North Dakota and Local Health Partnerships
As of today, ND PK-12 Schools have not been issued guidance from the Department of Public Instruction or Governor Burgum regarding the reopening of schools this fall. We are hopeful that new guidance will be provided soon. We will share our reopening plans with all parents, guardians, and families after the state has issued us their guidance.
Please know that we will continue to prepare our plans for school reopening with a strong focus of partnership and relationship with City-County Health and Essentia Health.
Educating All Students in Any and All Learning Environments
Most likely this school year, our students and staff will be required to move between learning environments due to COVID-19. Our staff will be prepared to engage students in these learning environments, including face-to-face and Virtual (Distance) Learning. Our reopening plans will further detail these learning environments and how/when we will be required to transition between them.
Families Choosing Virtual (Distance) Learning in '20-21
If you WILL NOT be sending your child to school in 2020-2021 (regardless of safety precautions), we would greatly appreciate you completing a survey on the website. We need to be able to plan for developing a Virtual Learning plan for these students. Please complete survey by Friday, July 17th.
We understand that we continue to provide a lot of information to you. After we receive the state guidance, we will be prepared to share our preliminary reopening plans."
Josh Johnson
Superintendent
Valley City Public Schools
(701) 845-0483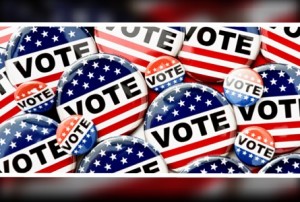 Valley City  (CSi)  A District 24 Candidate Forum is planned for Friday July 10 at 6:30-p.m. at Valley City's Pioneer Park Amphitheater, at 800 4th Street Northwest.
Listen to the candidates and bring your questions.  To be answered via response cards.
Democratic Candidates:
State Senate:  Larry Robinson
State House:  Naomi Muscha
State House:  Bradley Edin
Republican Candidates:
State Senate: Mike Wobbema
State House:  Dwight Kiefert
State House:  Cole Christensen
Appropriate Social Distancing
Attendees are encouraged to wear face masks
Sponsored by the Valley City Chapter of, North Dakota Women's Network.
BISMARCK, N.D. (AP) — Gov. Doug Burgum's real estate development firm was among hundreds of thousands of businesses nationwide to get loans from the Treasury Department's Payroll Protection Program. In North Dakota, more than 19,700 businesses got more than $1.7 billion in federal aid designed to soften job losses due to the coronavirus. Among the more notable applicants was the Kilbourne Group that Burgum founded in 1996. The company says it used $558,000 to temporarily cover payroll for 27 employees. Democratic gubernatorial candidate Shelley Lenz says she received $180,000 that helped that her business through the pandemic without laying off any of her 20 employees.
Bismarck  (NDDEQ)   Wednesday, July 8,  the North Dakota Department of Environmental Quality (NDDEQ) was notified of an emulsion spill on a well pad in McKenzie County, about three miles west of Watford City. The well pad is operated by Newfield Production Company. Emulsion is a mix of crude oil, produced water and natural gas as it comes out of the well.
The spill occurred in the flowline connecting the wellhead to the treater unit. The cause of the spill is still under investigation.
Newfield Production Company estimates 413 barrels of emulsion were released on the well pad.  An undetermined quantity of emulsion was windblown off the well pad, impacting pastureland.
Personnel from the NDDEQ are inspecting the site and will continue to monitor the investigation and remediation.
Update
DALTON, Minn. (AP) — Authorities say severe storms that swept through parts of the Midwest produced at least one powerful tornado that damaged farms and killed one person and injured two others in Minnesota. The Otter Tail County Sheriff's Office says  30 year old Seth Nelson, of rural Battle Lake, Minn., died when the shop he was working in collapsed during one of the tornadoes that struck southeast Otter Tail County.  Two others were taken to a hospital with injuries that were not considered life-threatening. Authorities did not know where or how the two were injured. Other possible tornado activity was reported Wednesday in Colorado as well as parts of Nebraska and Illinois.
SANTA FE, N.M. (AP) — A North Dakota man has been ordered to pay $74,000 in restitution for poaching a trophy mule deer buck in northwestern New Mexico. The state Department of Game and Fish says Cody Davis also was ordered to make a $3,000 donation to the Operation Game Thief program. Authorities say Davis killed a mule deer out of season and didn't have a license. The investigation started in 2015 when game officers found a large headless buck near Lindrith. They put up surveillance at the site and caught Davis four months later when he returned to retrieve the severed head that was stashed nearby.
BISMARCK, N.D. (AP) — The owner of the Dakota Access Pipeline is continuing to fill it with North Dakota crude oil and has no immediate plans to shut down the line, despite a federal judge's order that it be stopped within 30 days for additional environmental review. Pipeline owner Energy Transfer asked the court Wednesday to halt the order, and is seeking an expedited appeal. Pipeline spokeswoman Vicki Granado says the company is not defying the judge's order but the line isn't being shut down for now. She says the company is still taking orders to move oil in August.
In world and national news…
WASHINGTON (AP) — The Supreme Court has rejected President Donald Trump's complaints that he's being harassed and ruled in favor of a New York prosecutor's demands for the billionaire president's tax records. But in good political news for Trump, his taxes and other financial records that he has fought hard to keep private almost certainly will be kept out of the public eye at least until after the November election. In a separate case Thursday, the justices kept a hold on banking and other documents about Trump, family members and his businesses that Congress has been seeking for more than a year. The court said that while Congress has significant power to demand the president's personal information, it is not limitless.
WASHINGTON (AP) — The ousted U.S. attorney leading investigations into President Donald Trump's allies has told the House Judiciary Committee that Attorney General William Barr pressured him to resign. Geoffrey Berman, the former federal prosecutor for the Southern District of New York, is providing the panel in a close-door interview with a detailed account of extraordinary standoff of his June departure, according to his opening statement obtained by The Associated Press. Berman said Barr "repeatedly urged" him to take on another position at the Justice Department. Berman says he responded he wasn't interested. The Committee is probing politicization of the Justice Department. Berman spoke to the panel behind closed doors Thursday.
NEW YORK (AP) — New York City Mayor Bill de Blasio grabbed a roller Thursday to paint "Black Lives Matter" in front of the namesake Manhattan tower of President Donald Trump. De Blasio was flanked by his wife, Chirlane McCray, and the Rev. Al Sharpton as he helped paint the racial justice rallying cry in giant yellow letters on Fifth Avenue in front of Trump Tower. The mayor announced the plan to paint "Black Lives Matter" in front of Trump Tower last month after earlier announcing that the slogan would be painted on streets at several locations. Trump responded via Twitter that the mural would denigrate "this luxury Avenue."
EL PASO, Texas (AP) — The 21-year-old man accused of shooting scores of people in a Texas Walmart last summer is facing new federal hate crime and gun charges following the death of another person injured in the attack. A grand jury on Thursday returned a new indictment against Patrick Wood Crusius. He was already charged with 90 counts under hate crime and firearms laws for the shooting in El Paso. Authorities say was aimed at scaring Hispanics into leaving the United State. Crusius has plead not guilty to state capital murder charges, but does not have a trial date in either case.
LOS ANGELES (AP) — Authorities believe rising rapper Pop Smoke was shot and killed during a Los Angeles home-invasion robbery in February after his social media posts led five suspects to the house he was renting. Police arrested the suspects Thursday morning in Los Angeles. Pop Smoke's legal name is Bashar Barakah Jackson. Police had initially discounted a robbery theory in the days after the 20-year-old New York rapper's death Feb. 19 at a home in the Hollywood Hills. Now, authorities say the group likely went to the home because they knew Pop Smoke was there from the social media posts.
LITTLE ROCK, Ark. (AP) — Federal officials were so worried that Jeffrey Epstein's longtime confidante Ghislaine Maxwell might take her own life after her arrest that they took away her clothes and sheets and made her wear paper attire. That's according to an official familiar with the matter who spoke to The Associated Press. The steps to ensure Maxwell's safety while she's locked up at a federal jail in New York City extend far beyond the measures federal officials took when they first arrested her in New Hampshire last week. The concern comes in part because Epstein, 66, killed himself in a federal jail in Manhattan last summer while in custody on sex trafficking charges
SEOUL, South Korea (AP) — Police say the body of the missing mayor of South Korea's capital, Seoul, has been found. They say Park Won-soon's body was located in hills in northern Seoul early Friday, more than seven hours after they launched a massive search for him. Park's daughter had called police to report him missing, saying he had given her a "will-like" message before leaving home. News reports say one of Park's secretaries had lodged a complaint with police on Wednesday night over alleged sexual harassment. Park, a longtime civic activist and human rights lawyer, was elected mayor in 2011 and had been considered a potential presidential candidate in 2022 elections.
LOS ANGELES (AP) — Authorities say they are searching for a second day for "Glee" star Naya Rivera, whose 4-year-old son was found alone on a boat they had rented together on a reservoir near Los Angeles. The Ventura County Sheriff's Department said divers, drones and helicopters were being used to search Thursday for the 33-year-old Rivera on Lake Piru. Authorities say Rivera and her son rented a pontoon boat at about 1 p.m. Wednesday and her son was found about three hours later. Rivera played Santana Lopez, a singing cheerleader in the musical-comedy "Glee" that aired on Fox from 2009 until 2015.