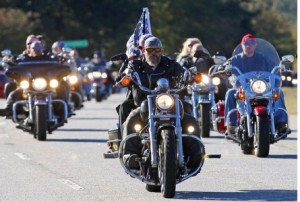 Jamestown  (CSi)  The annual North Dakota Patriot Guard (NDPG) Ride takes place on Saturday August 1.
Unlike the way the event was held in the past, this year due to thrCOVID-19 pandemic,  there will not be a rally, Just the ride, followed by a dinner for participants at the All Vets Club in Jamestown.
Ride registration at the Jamestown Civic Center is at 9:30-a.m., with the cost of $20 per motorcycle.   Kickstands up at 11-a.m.
The ride is open to the public.
The Ride procession will go from Jamestown to Lisbon where a lunch will be served,  then back to Jamestown for the All Vets Club, supper.
The North Dakota Patriot Guard regularly attends funeral services to honor fallen American heroes, invited by the family, supporting them and their communities.
In the past, and when appropriate, the Patriot Guard also acts as a legal, non-violent barrier, or shields the mourning family and friends from protesters.