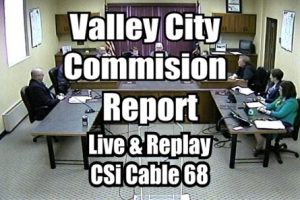 Valley City  (CSi)  The Valley City Commission met in Regular Session Tuesday evening at City Hall.
All members were present.
OATH OF OFFICE FOR POLICE OFFICER JOSHUA SAMPSON GIVEN BY MAYOR CARLSRUD. 
APPROVAL OF CONSENT AGENDA
Monthly Reports from the Fire Chief, Building Inspector, Auditor, Municipal Judge and Public Works Accountant.
Monthly Bills for the City and Public Works in the Amount of $2,154,951.80.
Approved an Application for Raffle Permit for the Hi-Liner Booster Club for the activity dates of 07/01/2020 to 06/30/2021.
Approved an Application for use of Veterans City Parking lot for the Shine Dance Team Hi-Lites car wash on the dates of August 20th and 27th from 4-9 pm during the Summer Nights activities. Back up dates of August 22nd & Sept 5th.
PUBLIC COMMENTS   No One Spoke
During the COVID-19 emergency, members of the public may request to make a public comment regarding city business by contacting City Hall (701) 845-1700 by 12 NOON on the day of the meeting to make arrangements.
Attorney General's "A Citizen's Guide to North Dakota Open Records & Open Meetings Laws" *A member of the public does not have the right to speak to the governing body at an open meeting. The public is only entitled to see and hear what happens at a meeting, and to record or broadcast those observations.
No personal attacks to persons present or not
No inflammatory language used during time that you have the platform
5 minute maximum or as directed by the chair
Thank you for participating in City Government.
ORDINANCE
Approved was the first reading of Ordinance No. 1063, an Ordinance to amend Title 9 (Fire Protection) re fire extinguisher inspections.
NEW BUSINESS
Approved was a Gaming Site Authorization Application for North Dakota Wildlife Federation for raffles to be held in the VC Eagles on the date of 04/10/2021. Finance Director Richter said the event is held annually.
No action was taken, on advertising for bids for sale of vacant lot at 14th St SW, Parcel 63-0880017. City Administrator Crawford said a resident came in and requested purchasing the lot.
The value of the lot will be determined pending additional information, typically set at $2,000.  There are no back taxes owed, and no special assessment payments due.
The issue will be coming back to committee for consideration.
Approved a recommendation from Visitors Committee for Image Enhancement Grant for Valley Gallery of Photography up to the amount of $5,000. Bobby Koepplin said the Visitors Committee recommended approval.
Approved was a recommendation from Visitors Committee for Image Enhancement Grant for Bridgetown Storage and Properties LLP in an amount up to $5,000.  Bobby Koepplin said the business is expanding, and external improvements are planned.  About $56,000 is currently in the fund.
Approved was the recommendation from Visitors Committee for Food and Beverage Grant to the Valley City Eagles Aerie 2192 up to $41,861. Bobby Koepplin said the Eagles is recognized at the Valley City conference center.  He said the building's roof has failed and needs replacement. The committee recommends approval, when funds become available about the second half of 2021.  He said the Eagles is planning fundraisers.
City Commissioners, approved an Application for Property Tax Exemption for Rocking DD Properties. City Assessor Hansen has indicated recommendation, fitting the requirements.
Approve was an Amendment to Agreement for Permanent Flood Protection Phase III – Construction Engineering. KLJ reported and additional amount of $20,500 stems from additional time and effort in the phase, with the City's share $16,400.
Approved was appointing City Administrator, Gwen Crawford as an interim building official.
CITY ADMINISTRATOR'S REPORT:
Gwen Crawford explained enforcement of two hour parking is taking place.  She also outlined where new stop signs have be erected.
She said city resident have 10 days, to have indicated trees removed, unless otherwise agreed upon.
Alley property owners are reminded to keep tree trimmed up for the passage of garbage trucks.
CITY UPDATES &COMMISSION REPORTS
City Attorney Martineck said one candidate for City Engineer will be given a second interview.
City Finance Director, Richter reviewed the passed 2021 city budget numbers.
Scott Magnuson said door to door census takers are visiting addresses, if the census form is not already submitted.
Police Chief Hatcher said the city Ordinance will be enforced concerning removal of  abandoned vehicles on properties.
Commissioner Gulmon thanked City Finance Officer Avis Richter and her staff on their work on the city budget.
Commisioner Erickson reported that city sites are being reviewed for possibly two sites for recycling materials to be collected.
The meeting was shown live on CSi Cable 68, followed by replays.