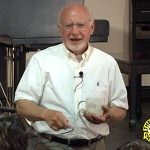 Jamestown Tourism News Release:  Elmer Peterson passed away on August 5, 2020 at the age of 91. Elmer is most known in Jamestown for sculpting the World's Largest Buffalo in 1959, his first large sculpture. He also sculpted the Eagle outside the All Veteran's Building and the Anne Carlsen Statue outside the Anne Carlsen Center.    See Video Below:
Elmer was a talented artist who constructed the Jamestown "Buffalo City" namesake. This initial sculpture moved him to pursue the professional name of Sculptor. The monument is and will continue to be Elmer's largest project and legacy as it has and will always be the icon for anyone in the region.
He has created over 20 sculptures displayed in cities across the Midwest, many of them in La Crosse, Wisconsin.   Elmer passed away peacefully in Wisconsin.
From 2016: (CSi) The creator of the World's Largest Buffalo and the VFW Club "Eagle " facade in Jamestown, Elmer Petersen, was at the Jamestown Arts Center's gallery for a lunch program titled "Whatever Happened to Elmer Petersen?" July 20, 2016.  Petersen is still active as a sculptor.  The entire presentation was recorded by The Replay Channel and airs exclusively on CSi.
CSi Video
Whatever happened to Elmer Petersen? from The Replay Channel on Vimeo
Photos from September 2016 painting project   2016 Repainting NewsStory
Story from 2007 on Hampton Hotels Save-A-Landmark Program
June 19-20, 2007, nearly 15 Save-A-Landmark program volunteers worked closely with the Buffalo's original artist and sculptor, Elmer P. Petersen, to refurbish this giant. Volunteers scaled ladders and balanced high on a mechanical lift to refresh and make cosmetic changes to the 26-foot-tall beast – donating an estimated 100 hours of man-power. The Buffalo's mane was enhanced, its horns were lengthened and its paint job was upgraded – incorporating shading techniques and giving texture to the Buffalo's furry coat.
As part of the restoration, Hampton  Hotels launched ―Save-A-Landmark,‖ a campaign dedicated to refurbishing historical, fun and cultural landmarks that reside along North America's highways.
It contributed more than $16,000 to the Buffalo's ongoing care, ensuring that future generations of visitors will have the chance to stand in the shadow of this gigantic piece of Americana.