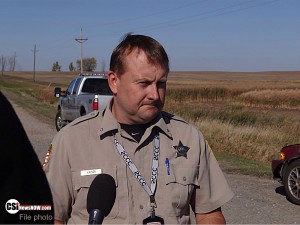 Update: Jamestown  (CSi) The Stutsman County Sheriff's Office has released the name of the man whose body was found Thursday south of Medina  He's identified as 50 year old Benjamin Fay, of La Mesa, California.  An autopsy is been performed to determine his cause of death.
Sheriff Chad Kaiser says that no foul play is suspected.
Previously
Medina  (CSi)  The discovery of a male's body Thursday morning south of Medina, has initiated an  investigation by the Stutsman County Sheriff's Office.
(File Photo,Sheriff Kaiser)
Authorities were notified at 9:07 a.m. Thursday, of a body on the pavement, about a mile south of the Medina Exit on 53rd Avenue Southeast.  The Medina Ambulance  was called  by the sheriff's office to the location, where the man was deceased.
Further investigation led authorities to a  lone vehicle, about a mile or so south, in a ditch.
A theory being looked into is that the man may have been thrown or jumped from the vehicle.
The identity of the man was yet to be determined on Thursday, as the investigation continues.  He may be from out of state.
CSi file photo