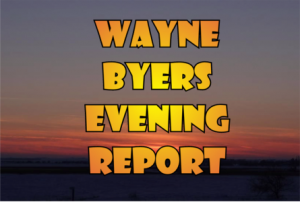 CSi Weather…
.FRIDAY NIGHT…Mostly clear. A 30 percent chance of showers and thunderstorms in the evening in the Jamestown area, 20 percent in the Valley City.  Some thunderstorms may be severe.  Lows in the mid 60s. South winds 5 to 10 mph shifting to the northwest 10 to 15 mph after midnight.
.SATURDAY…Mostly sunny. Highs in the lower 80s. North winds
5 to 10 mph shifting to the east in the afternoon.
.SATURDAY NIGHT…Partly cloudy. A 30 percent chance of showers
and thunderstorms after midnight in the Jamestown area, 40 percent in the Valley City area. Lows in the lower 60s. Southeast winds around 5 mph.
.SUNDAY…Partly sunny. Showers likely and chance of
thunderstorms in the morning, then chance of showers and
thunderstorms in the afternoon. Highs around 80. South winds 5 to
10 mph shifting to the northwest 10 to 15 mph in the afternoon.
Chance of precipitation 50 percent in the Jamestown area, 60 percent in the Valley City area.
.SUNDAY NIGHT…Clear. Lows in the mid 50s.
.MONDAY…Sunny. Highs around 80.
.MONDAY NIGHT…Clear. Lows in the upper 50s.
.TUESDAY…Sunny. Highs in the mid 80s.
.TUESDAY NIGHT…Mostly clear. Lows in the lower 60s.
.WEDNESDAY…Sunny. Highs in the mid 80s.
.WEDNESDAY NIGHT…Increasing clouds. A 30 percent chance of
showers and thunderstorms. Lows in the lower 60s.
.THURSDAY…Mostly sunny. A 20 percent chance of showers and
thunderstorms in the afternoon. Highs in the mid 80s.
Severe weather may be possible across the James River valley, Friday evening with an eastward moving cold front.
Some of these storms could be strong, with small hail and gusty winds.
Thunderstorms are possible Saturday night and Sunday. Some of
these storms could be strong across the James River Valley, with
small hail and gusty winds.
FARGO, N.D. (AP) — North Dakota Indian Affairs Commissioner Scott Davis says the state's tribes are "back to square one" after recent coronavirus outbreaks linked to July Fourth gatherings. The primary counties where the state's five federally recognized tribes are located are all ranked in the state's top 20 for virus cases per capita in the last two weeks. Davis says tribal leaders are taking the virus seriously and that he has warned the pandemic will probably last a long time. Spirit Lake Nation Chairman Douglas Yankton, whose tribe has suffered an outbreak in recent weeks, says dealing with the virus has been "really challenging."
NDDoH
COVID-19 Stats
Posted Fri. Aug. 7, 2020
11-a.m.
INDIVIDUALS WHO DIED WITH COVID-19
Man in his 40s from Benson County with underlying health conditions.
COUNTIES WITH NEW POSITIVE CASES REPORTED FRIDAY
Benson County – 2
Burleigh County – 25
Cass County – 27
Divide County – 1
Foster County – 2
Grand Forks County – 5
Griggs County – 1
McKenzie County – 1
McLean County – 5
Mercer County – 2
Morton County – 19
Nelson County – 2
Ramsey County – 1
Ransom County – 1
Renville County – 1
Richland County – 3
Rolette County – 4
Sargent County – 1
Sheridan County – 2
Sioux County – 3
Stark County – 19
Steele County – 1
Stutsman County  2
Stutsman Total 126
Stutsman Active 25
Stutsman Recovered 99
Traill County – 2
Ward County – 5
Williams County – 13

BY THE NUMBERS
346,669 – Total Number of Tests Completed* (+5,773 total tests from yesterday)
165,701 – Total Unique Individuals Tested* (+1,982 unique individuals from yesterday)
158,374 – Total Negative (+1,832 unique individuals from yesterday)
7,327 – Total Positive (+150 unique individuals from yesterday)
1,766 – Total Positives from Serial (Repeat) Testing**** (+46 unique individuals from yesterday)
2.6% – Daily Positivity Rate**
408 – Total Hospitalized (+8 individual from yesterday)
48 – Currently Hospitalized (+2 individuals from yesterday)
6,164 – Total Recovered (+215 individuals from yesterday)
110 – Total Deaths*** (+1 individual from yesterday)
* Note that this does not include individuals from out of state and has been updated to reflect the most recent information discovered after cases were investigated.
**Because the serial tests completed and added to the total number of tests completed can result in new individuals who test positive, the daily positivity rate will be calculated using the total positives for the day by the daily number of tests completed instead of the daily number of unique individuals tested.
*** Number of individuals who tested positive and died from any cause while infected with COVID-19.
**** This number includes individuals who tested positive for COVID-19 after they had previously had a negative test.
For descriptions of these categories, visit the NDDoH dashboard.
For the most updated and timely information and updates related to COVID-19, visit the NDDoH website at www.health.nd.gov/coronavirus, follow on Facebook, Twitter and Instagram and visit the CDC website at www.cdc.gov/coronavirus.
Jamestown  (CSi)  The Jamestown City Fire Department was called out to a report of smoke in a basement at 1303block of 5th Avenue Northwest, Friday morning, at 8:12.
Unattended cooking was causing the smoke.  No fire was reported.
Just smoke damage reported, no injuries.
Five City Fire Units and 17 firefighters were on the scene until 9:15 a.m.
Jamestown  (CSi)  The James River Humane Society in Jamestown continues to be accessible to the public for visits by appointment.
On Friday's Wayne Byers Show on CSi Cable 2, Jay Nitschke said, call 701-252-0747 to make an appointment, and to volunteer at the shelter
She added that the shelter is not able to host public fundraisers due to COVID-19 issues, so donations are needed more than ever to support the James River Humane Society, including purchasing a new lawnmower, the present unit, no longer functioning.
Send donations to PO Box 636, Jamestown, ND or visit www.jamesriverhumanesociety.org
Memberships are still available at various levels of giving.
Jay said when making a purchase at amazon.com customers can indicate on the Amazon Smile feature to designate a contribution to the James River Humane Society.
She pointed out that a good number of cats and dogs are available for adoption, and that during the pandemic there still have been several adoptions occurring.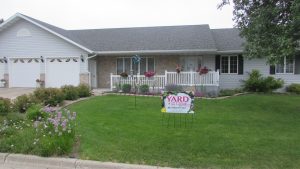 Jamestown  (Chamber)  The Jamestown Area Chamber of Commerce Beautification Committee is pleased to announce the 11th winner of Yard of the Week Program for 2020.  John & Judy Hatlewick of 300 15th St. SW in Jamestown, have received this award.  Congratulations to them on this beautiful yard and thank you to them for their efforts to help beautify Jamestown. Congratulations for a job well done! John & Judy will receive a gift certificate from our award aponsor Menards in Jamestown.
The Yard of the Week program has been established to recognize those within the community that take pride in the appearance of their yard and do their part to beautify the community. The program began June 1st and ends August 28th. Yards will be selected each week from nominations received. Nominated yards must be visible from the street.
BISMARCK, N.D. (AP) — A Bismarck man will serve life in prison without parole after being convicted of killing his infant daughter. Twenty-three-year-old Jose Rivera-Rieffel was sentenced Friday after being convicted in March on felony charges of murder and child abuse. Rivera-Rieffel's daughter died in April 2018, eight days after emergency workers took her to a hospital for treatment of multiple head injuries. The Bismarck Tribune reports Burleigh County State's Attorney Julie Lawyer recommended a life sentence due to the young age of the victim, Rivera-Rieffel's lack of remorse and the similarity to an earlier offense. Rivera-Rieffel pleaded guilty in 2017 to child abuse after his other infant daughter was brought to a hospital with injuries. The defense attorney says he plans to appeal.
STURGIS, S.D. (AP) — Thousands of bikers are pouring into the small South Dakota city of Sturgis as the 80th Sturgis Motorcycle Rally rumbles to life despite fears it could lead to a massive coronavirus outbreak. The bike rally could become one of the largest public gatherings since the pandemic began. Event organizers expect 250,000 people from all over the country to make their way through Sturgis during the 10-day rally. Local residents — and a few bikers — worry it could create a "super-spreader" event. But many who rode their bikes into Sturgis on Friday expressed defiance at the uncomfortable regulations that have marked life during a pandemic.
Bismarck  (CSi)  North Dakota Chief Information Security Officer Kevin Ford announced Friday that anti-malware software is available to all K-12 schools in North Dakota at no cost. NDIT is able to provide installation, licenses and self-service access for schools due to enhanced capabilities and a unified, statewide approach to cybersecurity strategy. Previously a small fee was required per device; however, that requirement is being removed due to increased threats tied to the pandemic and more widespread virtual learning.
K-12 Information System Security Officer Steve Palmer from the Governance, Risk, and Compliance Office (GRC) within NDIT said, "This software provides crucial end point protection for electronic, school-owned devices that are susceptible to malware attacks that are flourishing in the pandemic environment." Palmer added, "Schools are encouraged to contact us so we can work with them to schedule installation of the software on devices prior to teachers and students receiving them."
Key features include:
Proactive anti-malware that prevents unknown software from running until verified as "good," a huge upgrade from the traditional signature-based anti-virus software which allowed malicious or infected software to run, compromising and destroying data, until eventually detected.
Cutting-edge technology that delivers a unified experience for prevention, detection, investigation and response.
Capable of operating on Windows, Mac, Linux and Chromebook devices and easy to install.
The software provides continuous protection regardless of whether students take devices home or are on their school district network.
Schools interested in obtaining the free software can make requests through their IT Coordinators or by contacting the NDIT Service Desk at 800-774-1091. The software is also available to cities and counties; however, schools are being given priority due to the potential of classes being offered virtually or in a hybrid model this fall.
"With the use of these advanced security tools, we're disrupting industry norms," said Ford. "Government organizations are often 'soft targets' for attackers. We are offering state-of-the- art capabilities to protect students and teachers in anticipation of the increased use of virtual environments this fall."
This effort also builds on an ongoing statewide cybersecurity awareness campaign. NDIT has published numerous tips and timely alerts on the Cybersecurity and Fraud Resources page at NDResponse.gov. Additionally, four PSAs have been published on NDIT's Facebook page to provide practical tips for all North Dakotans to be #NDSmart and #CyberSmart.
About GRC:
The GRC Office is responsible for managing cyber risk on the state-wide STAGEnet network, and helps organizations align their business needs with their cybersecurity and IT compliance requirements.
Bismarck  (NDDOT)  Construction work on North Dakota Highway 127 from the Junction of North Dakota Highway 11 near Fairmount to the Junction of North Dakota Highway 13 near Wahpeton is scheduled to begin on Monday, August 10. The construction consists of a ship seal.
During the projects:
Speeds will be reduced.
Flaggers and pilot cars will be in place in areas where workers are present.
Traffic may be delayed up to 15 minutes in areas.
Fresh oil and loose chips will be in work zone
The chip seal project is expected to be complete mid-August.
The North Dakota Department of Transportation would like to remind motorists to slow down and use caution throughout the work zone.
For more information about construction projects and road conditions throughout North Dakota, call 511 or visit the ND Roads map at http://www.dot.nd.gov/travel-info-v2/
In world and national news…
(AP) California has surpassed 10,000 deaths from the coronavirus, making it the U.S. state with the third-highest deaths since the start of the pandemic. The figure was reported Friday by Johns Hopkins University, with 10,024 dead since the outbreak began in California in February. New York has the highest number of deaths in the U.S. at more than 32,000, followed by New Jersey with nearly 16,000. Nearly half of California's deaths are in hard-hit Los Angeles County, where more than 4,800 of its 10 million residents have died. California is the nation's most populous state with 40 million people. Gov. Gavin Newsom was the first in the nation to issue a stay-home order in mid-March, but the virus began to surge after the Memorial Day holiday.
WASHINGTON (AP) — The Ohio governor's positive-then-negative test results for the coronavirus serve as a reminder that no test is definitive. Gov. Mike DeWine tested positive using a rapid test Thursday, before testing negative later in the day using a more sensitive laboratory-developed test. He got the first test because he was going to meet with President Donald Trump during his visit to the state. No test for coronavirus infection is perfect, and test results can be affected by a variety of factors, including the type of test used, the quality of the sample and when it was taken during the course of any infection.
WASHINGTON (AP) — Trump administration negotiators are heading back to the Capitol for last-ditch talks on vital COVID-19 rescue money. Democratic leaders summoned them for another try with the negotiations teetering on the brink of collapse. Friday is an informal deadline to reach the broad outlines of an agreement with deadlocks on aid to states and local governments and renewing supplemental unemployment benefits blocking the way. Friday's new report on jobs shows the U.S. added 1.8 million last month, but that's a much lower increase than in May and June. Democrats say the rescue package needs to be huge to meet the moment.
WASHINGTON (AP) — Financial losses are mounting at the U.S. Postal Service during the coronavirus pandemic. The agency said Friday it lost $2.2 billion in the three months ending in June. Officials warn the losses could top $20 billion over two years. Postmaster General Louis DeJoy calls the agency's financial position "dire.″ But he disputes reports his agency is slowing down mail and says it has "ample capacity to deliver all election mail securely and on time." The Postal Service is seeking at least $10 billion to cover operating losses as well as changes to how it funds retiree health benefits. Lawmakers want the Postal Service to reverse operational changes that are causing delivery delays.
NEW DELHI (AP) — An Air India Express flight with 190 people on board skidded off a runway and split in two while landing Friday in heavy rain in southern India. Police say at least 16 people were killed and 123 others injured. They say the dead included one pilot, and at least 15 of the injured are in critical condition. A spokesman for the Civil Aviation Ministry says no fire was reported on the Boeing 737 aircraft after it landed and broke into pieces. It was a repatriation flight carrying Indian citizens back to the country. Regular commercial flights have been halted in India because of the coronavirus outbreak.
BEIRUT (AP) — Lebanon's president says he was told nearly three weeks ago about the massive stockpile of explosive chemicals stored at Beirut's port and immediately ordered action taken. But he says he has no authority over the facility. President Michel Aoun said several governments in charge since 2013 received repeated warning about the material. Aoun's comments were the most senior confirmation that top leaders and security officials in Lebanon where aware of the 2,750 tons of highly explosive ammonium nitrate that had been stored at a waterfront warehouse at the port since it was confiscated from an impounded cargo ship in 2013.