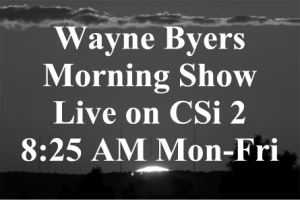 CSi Weather….
REST OF TODAY…Sunny. A 20 percent chance of rain showers and thunderstorms in the afternoon in the Jamestown area. Highs in the mid 80s. Southeast winds 5 to 10 mph.
.TONIGHT…Increasing clouds. A 20 percent chance of showers and thunderstorms in the Jamestown area, 40 percent in the Valley City area. Lows in the lower 60s. Southeast winds 5 to 10 mph.
.WEDNESDAY…Sunny. Highs in the mid 80s. Southeast winds 5 to
15 mph.
.WEDNESDAY NIGHT…Increasing clouds. A 50 percent chance of
showers and thunderstorms. Lows in the upper 60s. Southeast winds
10 to 15 mph.
.THURSDAY…Partly sunny with a 40 percent chance of showers and
thunderstorm in the Jamestown area, 50 percent in the Valley City area. Highs in the mid 80s. South winds 10 to 15 mph.
.THURSDAY NIGHT…Increasing clouds. A 40 percent chance of
showers and thunderstorms. Lows in the mid 60s.
.FRIDAY…Partly sunny with a 40 percent chance of showers and
thunderstorms. Highs in the upper 70s.
.FRIDAY NIGHT…Mostly clear with a 40 percent chance of rain
showers and thunderstorms. Lows in the upper 50s.
.SATURDAY…Sunny. Highs in the upper 70s.
.SATURDAY NIGHT…Partly cloudy. Lows in the mid 50s.
.SUNDAY…Sunny. Highs in the mid 70s.
.SUNDAY NIGHT…Clear. Lows in the lower 50s.
.MONDAY…Sunny. Highs in the upper 70s.
Thunderstorm chances return on Wednesday, and storm chances will
continue on and off through Saturday. Strong to severe storms will
be possible.
Jamestown  (CSi)  The Stutsman County Sheriff's Office has arrested a man and a woman in connection with the pursuit that began Sunday afternoon.
Located and arrested early Monday afternoon were, 38 year old  Jake Baumann,  and 35 year old Jennifer Wahl,  both of Fargo.  Baumann was initially charged with Eluding a Peace Officer, Possession with Intent to Deliver-Meth, Reckless Driving, Reckless Endangerment.
Wahl faces charges of Possession with Intent to Deliver-Meth.
Baumann and Wahl are in custody at the Stutsman County Correctional Center.
Stutsman County Sheriff Chad Kaiser reports that on Sunday afternoon, a deputy was attempting to stop a vehicle south of Jamestown on Highway 281, and that was followed by a pursuit, joined by Jamestown Police, and the North Dakota Highway Patrol.
At Jamestown Country Club the vehicle got stuck, and when the pursuit ended, the pair fled on foot.
Authorities consisting of the Sheriff's Office, Jamestown Police and the Highway Patrol, along with State Game and Fish set up a perimeter.
The search continued with the aid of a drone, and a K-9 Unit without success of finding the pair.
Kaiser says public calls led authorities  to the Bloom area where the two individuals were attempting to steal a car near the James River Humane Society, off the I-94 Bloom Exit.  After establishing a second perimeter the subjects were found in a tree row, and taken into custody.
At 1:38pm on Monday the Stutsman County Sheriff department reported that both suspects had been capture.
Through the alert system at around 11:19 Sunday evening, the Stutsman County Sheriff's office said was looking for two people, a male and female, that fled from law enforcement, following a traffic stop, and were on foot, in the area south of I 94,  east of Jamestown.
At that time residents were advised to stay inside and lock doors until the situation was resolved.
At about 5:15-a.m. Monday the public notification to shelter in place was lifted by the Sheriff's department, saying the subjects has left the area.
Later Monday, the public through the alert system was further given a description of the subjects, and to be on the lookout for a shoe less male 6 foot 220 pounds brown hair and eyes , with a female 5 foot 3 inches 130 pounds red hair green eyes, both are in their mid thirties. Both wanted for fleeing law enforcement.
The Sheriff's Office thanks the public for the information that helped authorities capture and arrest the two individuals.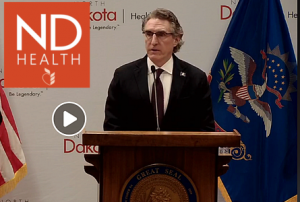 Bismarck  (CSi)   Governor Doug Burgum held his weekly COVID-19 News Briefing, Monday afternoon at the State Capital.
 He was joined by State School Superintendent Kirsten Baesler and interim State Health Officer Dr. Andrew Stahl.
Burgum said the vaccine development will lead the way toward meeting the challenges of finding a COVID-19 cure.
With long term care he said visitors to those facilities are able to be tested for COVID-19, under point of care.
He added the Burleigh Morton county COVID-19 Task Force met of the first time last Friday. Tuesday and Wednesday there will be another public walk up testing, with more information from those public health offices.
With Tuesday COVID-19 Statistics:
NDDoH COVID-19 stats
Posted Mon Aug 10, 2020
11-a.m.
COVID-19 Test Results
Results listed are from the previous day.
INDIVIDUALS WHO DIED WITH COVID-19
Woman in her 70s from Stutsman County with underlying health conditions. 
Stutsman total death toll, at 2.

COUNTIES WITH NEW POSITIVE CASES REPORTED MONDAY
Adams County – 1
Barnes County +2
Barnes Total Positives 39
Benson County – 1
Bowman County – 2
Burleigh County – 30
Cass County – 7
Foster County – 1
Golden Valley County – 1
Grand Forks County – 6
Kidder County – 4
McHenry County – 1
McIntosh County – 7
McKenzie County – 1
McLean County – 11
Morton County – 16
Mountrail County – 5
Nelson County – 1
Ramsey County – 1
Rolette County – 1
Sheridan County – 1
Stark County – 3
Ward County – 12
Williams County – 2

BY THE NUMBERS
362,730 – Total Number of Tests Completed* (+4,590 total tests from yesterday)
169,839 – Total Unique Individuals Tested* (+1,167 unique individuals from yesterday)
162,126 Total Negative (+1,050 unique individuals from yesterday)
7,713 – Total Positive (+117 unique individuals from yesterday)
1,923 – Total Positives from Serial (Repeat) Testing (+47 from yesterday †)****
2.5% – Daily Positivity Rate**
417 – Total Hospitalized (+2 individual from yesterday)
48 – Currently Hospitalized (+1 individuals from yesterday)
6,434 – Total Recovered (+79 individuals from yesterday)
113 – Total Deaths*** (+1 individual from yesterday)
* Note that this does not include individuals from out of state and has been updated to reflect the most recent information discovered after cases were investigated.
**Because the serial tests completed and added to the total number of tests completed can result in new individuals who test positive, the daily positivity rate will be calculated using the total positives for the day by the daily number of tests completed instead of the daily number of unique individuals tested.
*** Number of individuals who tested positive and died from any cause while infected with COVID-19.
**** This number includes individuals who tested positive for COVID-19 after they had previously had a negative test.
† 63 new positives from serial testing were reported Saturday, August 8; 46 were reported Sunday, August 9.
For descriptions of these categories, visit the NDDoH dashboard.
For the most updated and timely information and updates related to COVID-19, visit the NDDoH website at www.health.nd.gov/coronavirus, follow on Facebook, Twitter and Instagram and visit the CDC website at www.cdc.gov/coronavirus.
Burgum said local school districts will set their guidance for wearing face masks.
Interim State Health Officer Dr. Andrew Stahl, talked about the Mask-up North Dakota campaign.
He said masks are one of the most powerful weapons to slow the spread to COVID-19.
He added that the virus spreads by coughs, sneezes and by talking, with droplets emitted into the air.  He said to wash hands before putting on the masks, and make sure it sealed around the face and nose.  He said children learn from example from parents.  Children under the age of two should, not, wear facemasks.
North Dakota State Health Department has more information/www.health.nd.gov/coronavirus/maskup.nd
Burgum has not issued a mask mandate, even though he has regularly supported the face coverings. He says he doesn't plan on joining 34 states in requiring masks, instead emphasizing individual responsibility and a "light touch" by government.
With Distance Learning, Superintendent Baseler said, a high quality education is the goal while keeping students safe. She said the DPI has announced two resources.  A learning program will be available for lessons in math, reading and writing.
North Dakota Exact Path funding will be covered by the federal CARES Act.
School districts will, not, be required to use the program.
In person, hybrid, and distance learning, will be able to access the program.
Baesler added that innovative programs for Special Education will be addressed through the CARES Act through Minot State University offering scholarships to paraprofessionals  to earn an education degree.
The North Dakota Department of Commerce announced that the Economic Resiliency Grant (ERG) Program application process is scheduled to open Wednesday, Aug. 12 at 10 a.m. CDT.
The ERG is a grant opportunity designed by Commerce to enhance revenue in both the immediate and long-term future by growing consumer confidence. The grant will provide funding to private companies operating in North Dakota for costs associated with the business improvements to reduce the spread of infection and instill consumer confidence in the marketplace.
Eligible applicants may qualify to receive grant funding up to $50,000 per business and up to $100,000 per business with multiple locations for direct investments that help create a safe environment for both employees and consumers.
Applications will be considered on a first-come, first-served basis. Funding will be approved if the application meets all criteria and funding is available. Additional information can be found at belegendary.link/ERG.
Burgum has signed an Executive Order.  All renewals for driver licenses, which expired March 1 or later, have been extended and will follow a phased schedule. The deadline for vehicle registrations remains August 31.
This new executive order takes the place of Executive Order 2020-36 which extended expiration dates for vehicle registration and driver licenses to August 31.
North Dakota law enforcement agencies and private sector businesses operating in this state are directed to recognize any North Dakota driver's license that expired after March 1, 2020, or a license that will expire by December 31, 2020 as valid, based upon the renewal schedule below.
Licenses which expired in March, April or May 2020 must be renewed no later than September 30, 2020.
Licenses which expired in June 2020 must be renewed no later than October 31, 2020.
Licenses which expired, or will expire, in July, August, September or October 2020 must be renewed no later than November 30, 2020.
Licenses which expire in November and December 2020 must be renewed no later than December 31, 2020.
Robin Rehborg, NDDOT Deputy Director for Driver Safety, says, "The latest extension is necessary for the Department of Transportation to meet customer demand and allow citizens of North Dakota to legally operate their vehicles. We ask for your patience as we continue to work through this backlog while providing the safest possible experience for our customers."
NDDOT will continue to serve the citizens by appointment only. To schedule an appointment, visit our website at dot.nd.gov or call 1-855-633-6835.
NDDOT is focused on serving customers with driver's licenses that expired March 1 – December 31, 2020 and will continue to schedule appointments based on immediate need. Currently there are 22,911 expired driver's licenses that need to be renewed during the COVID emergency.
The U.S. Transportation Security Administration also has extended the REAL ID deadline to October 2021. Only customers renewing a North Dakota driver license at this time will be able to obtain a REAL ID during their scheduled appointment.
In addition to appointments, many driver's license services such as change of address, renewals, replacements, and more are available online.
Please continue to watch the NDDOT website for the most up-to-date information at www.dot.nd.gov.
He said the extension is based on a backlog of applications.  The extensions were granted due to DMV offices closed for an extended period of time during the early weeks of the pandemic.
The North Dakota Department of Health (NDDoH) announced Monday that North Dakota has been selected by the Centers for Disease Control and Prevention (CDC) as one of four states to be part of a pilot project to plan for a COVID-19 vaccination program.
NDDoH Immunization Program Manager Molly Howell says,  "North Dakota was selected because of the strength of our immunization program. Our teams have been working for weeks on a plan and we're thrilled to supplement that work with this partnership with the CDC and the Department of Defense to plan and prepare for the COVID-19 vaccination response in North Dakota."
In addition, the CDC is interested in exploring strategies to reach American Indian populations and help determine opportunities as it relates to vaccine planning and distribution.
When a vaccine becomes available, the federal government will provide general guidance on how to prioritize and distribute the vaccine. Howell said her team and other partners will take that broad guidance and implement it in North Dakota.
Howell adds, "Planning with North Dakota and other pilot sites will inform and support other states planning for coronavirus vaccine."
Meetings kick off this week in Bismarck. For more information on COVID-19, visit health.nd.gov/coronavirus.
The next Burgum news briefing is planned for Wednesday, August 19, 2020, at 3:30-p.m.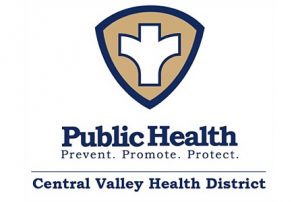 Jamestown  (CVHD)  A (COVID-19) small-scale weekly drive-up testing was Friday August 7 at the Reiland Fine Arts Center parking lot on the University of Jamestown campus.
Central Valley Health District Unit Administrator Robin Iszler says 190 tests were given of the 200 test kits available.
Testing will be offered again August 14, from 10 a.m. to 12 p.m. at the Reiland Fine Arts Center parking lot on the University of Jamestown campus.  There will be a total of 200 tests available (100 for college students, 100 for the general public); and testing will be first come, first serve.
While this testing is open to the general public; the target populations of the event will include college students, COVID-19 close contacts, and/or those exhibiting symptoms.
Appointments are not required but those who wish to receive a test are strongly encouraged to complete the online screening questionnaire in advance, which can be found here: https://testreg.nd.gov/. Completing the online screening questionnaire does not guarantee you a test.
Additional details:
There is no cost for the test and health insurance is not processed.
Proof of residency will not be required.
The testing process itself takes approximately 15 minutes. Wait time in line may be longer.
Those with a positive result will be notified by phone within 24 – 72 hours.
Those with a negative result will be notified by the state notification system within 5 – 7 days.
Testing will be conducted using oral swabs. Antibody testing will not be conducted at this event.
Drive-up testing only. Stay in your vehicle to be tested.
Location of event is subject to change. Follow Central Valley Health on Facebook for event updates.
Robin says around 250-300 test kits, will be available on August 21 and 22 for college students as they are welcomed on campus at the University of Jamestown. This testing will be strictly for UJ Students.
She adds, "We will no longer be offering large-scale testing events and will be moving towards smaller weekly events to ensure availability of testing for those who are close contact or symptomatic."
Valley City  (VCSU)  A free COVID-19 testing event for VCSU students and employees will be held Thursday, Aug. 13, from 10-11 a.m. on campus at the West Fieldhouse Parking Lot. Walk-ups are welcome, but preregistration at testreg.nd.gov is strongly encouraged.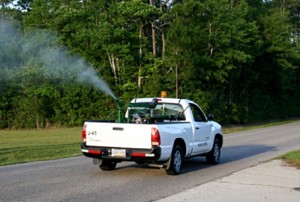 Valley City  (CSi)  The next mosquito spraying in Valley City is planned the evening of  Wednesday, August 12 and the morning of Thursday, August 13 weather permitting.
Parents are advised to keep children and pets out of the streets and away from the spray machines. Motorists are urged to use caution when traveling in the area of the operation.  Call Public Works at 845-0380 with any questions.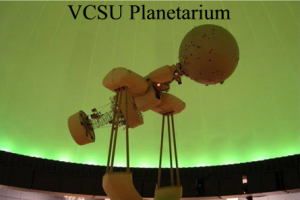 Valley City  (VCSU)  VCSU informs the community with regret, that VCSU will not be able to host planetarium shows this fall due to capacity restrictions in our facility related to the coronavirus.
The information says,  "The health and safety of our patrons and campus community is of utmost importance to us, and we will continue to monitor the situation and update our services based on university guidelines."
Please check back in the spring, as we are hoping to be open and serving our community "under the stars" again! Thank you for you continued interest and support in our planetarium.
WILLISTON, N.D. (AP) — The body of an unidentified person who was buried in Williams County 38 years ago is being exhumed in hopes of bringing closure to family that may still be living. The body of a male was found in the Missouri River near the mouth of the Little Muddy River east of Williston on June 22, 1982. Sheriff's officials say that despite a thorough investigation at the time, he was not identified and was buried in an unmarked grave in Riverview Cemetery in Williston. The body will be exhumed and DNA samples which will be sent to Othram Labs in Texas for analysis and to a national database and genealogical studies will be done.
HARWOOD, N.D. (AP) — Veterans who weren't given military funeral rights when they were buried during the coronavirus pandemic have been given a final salute at the Fargo National Cemetery. United Patriotic Bodies and Fargo Honor Guard volunteers were at the cemetery Saturday when three rifle volleys were fired and taps were played individually for 14 different families of veterans. United Patriotic Bodies Cmdr. Jason Hicks says the salute is an honor and a duty to those who sacrificed for their country. Gary Varberg came to the cemetery to honor his brother, Roger Nelson. They served in Iraq together and decades in the National Guard. Varberg says the military honor provides a sense of closure.
(Valley News Live, Bailey Hurley)  – Family and friends confirm the body of the 24-year-old Moorhead man who drowned just after four Saturday afternoon on Little Detroit Lake has been recovered.
Family members confirm the man's name is Abdulmajid Osman.
Osman was kayaking when officials say his kayak flipped and Osman did not come back up.
Search and rescue teams from throughout the area recovered Osman just after 1 p.m. Monday afternoon.
In sports…
UNDATED (AP) — Will there be any college football this season?
The Mountain West has become the second FBS conference to postpone its football season, punting on the fall with an eye toward playing in the spring.
A person involved in the decision told The Associated Press the Mountain West would not play any sports in the fall.
The 12-team Mountain West joins the Mid-American Conference as leagues from the highest tier of NCAA Division I football to bail on the fall season and hope to make a go of it in the spring. The Mountain West features Boise State, Air Force and San Diego State, each of which were ranked at some point last year.
A Big Ten spokesman said no votes on fall sports had been taken by its presidents and chancellors as of Monday afternoon, and the powerful Southeastern Conference made clear it was not yet ready to shutter its fall season. However, SEC commissioner Greg Sankey posted on Twitter that he doesn't know if college football can be played during the COVID-19 pandemic.
In other college sports developments:
— President Donald Trump has joined Nebraska Republican Sen. Ben Sasse (sas) and a number of coaches in the push to save the college football season from a pandemic-forced shutdown. A growing number of athletes have spoken out in support of saving the season. Michigan coach Jim Harbaugh says the Wolverines have shown players can be safe after they return to school. Sasse wrote a letter to Big Ten school presidents and chancellors saying that players will likely be safer with football than without, because of the "structure and discipline of football programs."
— Old Dominion is canceling its fall sports season because of the coronavirus pandemic. President John Broderick said he knows student-athletes and fans will be disappointed, but playing "posed too great a risk."
MLB
— Eddie Rosario belted a grand slam in the third inning and the Twins stopped a four-game skid by downing the Brewers, 4-2. Randy Dobnak allowed a run and four hits over five innings to move to 3-1.
— Didi Gregorius (greh-GOHR'-ee-uhs) launched a grand slam and Bryce Harper blasted a three-run shot in the Phillies' 13-8 pounding of the Braves. Aaon Nola allowed one run and two hits while striking out 10 in eight innings of his first victory since last August.
— Lance McCullers carried a no-hitter into the seventh inning of the Astros' 6-4 win over the Giants. The no-hit bid ended when Donovan Solano hit a two-out double to run his hitting streak to 15 games. Michael Brantley laced a two-run double, Carlos Correa drove in a pair and Martin Maldonado (mahr-TEEN' mal-doh-NAH'-doh) smacked a solo homer for Houston.
UNDATED (AP) — The Washington Nationals entered Monday's action with a .236 batting average and were ranked next-to-last in the majors with 10 home runs. The defending World Series champs broke out in a big way by pummeling Steven Matz and the New York Mets.
Asdrubal (as-DROO'-bul) Cabrera homered twice as part of the Nats' 17-hit attack in a 16-4 thrashing of the Mets. Cabrera was 4-for-4 with five RBIs and three runs scored for the Nationals, who had scored just four runs in dropping their previous three completed games.
Trea Turner and Juan Soto also homered for Washington.
Matz was reached for eight runs over 4 1/3 innings, six days after the Nats tagged him for five runs in just three innings.
Winning pitcher Patrick Corbin held New York to one earned run over six innings.
Mets infielder Luis Guillorme (gee-OHR'-may) worked a perfect ninth.
Elsewhere around the majors:
— The Angels ended the Athletics' nine-game winning streak as Mike Trout ripped a solo homer in the eighth inning to lead Los Angeles to a 10-9 victory. Trout homered twice for the Angels, who also received two-run blasts from Anthony Rendon (rehn-DOHN') and Shohei Ohtani (SHOH'-hay oh-TAH'-nee).
— Six pitchers combined on a four-hitter to carry the Padres past the Dodgers, 2-1. Austin Hedges tied it with a fifth-inning homer and Eric Hosmer singled home the go-ahead run in the sixth.
— Kole Calhoun cracked a solo homer and had three RBIs as part of the Diamondbacks' 12-8 pounding of the Rockies. Ketel (keh-TEHL') Marte and David Peralta (peh-RAHL'-tah) each had four of Arizona's 18 hits.
— Nico Goodrum was 4-for-4 with a solo homer and two runs scored in the Tigers' fourth consecutive win, 5-1 against the White Sox. JaCoby Jones smacked a two-run, inside-the-park homer in the seventh to cap the scoring.
— Kevin Kiermaier hit a tiebreaking, two-run double in the seventh inning and Manuel Margot (mahn-WEHL' mahr-GOH') had four of the Rays' 16 hits in an 8-7 decision over the Red Sox. Kiermaier had three RBIs as Tampa Bay won for the fourth time in five games.
— The Mariners rolled to a 10-2 win at Texas as Kyle Seager crushed a grand slam and Kyle Lewis added a three-run shot. Dylan Moore added a solo shot and three RBIs to back winning pitcher Justin Dunn, who gave up two runs over six innings.
MLB-CARDINALS POSTPONEMENTS
More cancellations for the Cardinals
ST. LOUIS (AP) — The St. Louis Cardinals continue to have their schedule altered after eight players tested positive for the coronavirus.
Major League Baseball has announced that the Cardinals' scheduled Thursday doubleheader against the Detroit Tigers has been postponed. MLB and the Cards believe it is prudent to continue additional testing while players and staff are quarantined before the team returns to play.
MLB has seen 29 games postponed by the coronavirus, 15 involving the Cardinals. All-Star catcher Yadier (YAH'-dee-ehr) Molina is among the Redbirds who have tested positive for COVID-19.
UNDATED (AP) — Cleveland Indians manager Terry Francona will return to the team Tuesday against the Cubs after missing more than a week so he could deal with a gastrointestinal condition.
Francona has missed Cleveland's past eight games with the gastrointestinal issue, which has bothered him since spring training. The 61-year-old skipped the Indians' weekend trip to Chicago to get extra rest.
In other MLB news:
— Athletics outfielder Ramon Laureano says Astros hitting coach Álex Cintrón made a crude remark about his mother that prompted a benches-clearing incident Sunday. Laureano said Cintrón began jawing at him when Laureano reacted angrily after being hit by a pitch from Houston rookie Humberto Castellanos. Athletics manager Bob Melvin wants Cintrón punished harshly by Major League Baseball.
— Diamondbacks ace Madison Bumgarner has been placed on the 10-day injured list with a mid-back strain. The left-hander allowed six runs on five hits in two innings against the Padres on Sunday to remain winless since signing a five-year, $85 million deal. The four-time All-Star has a 9.35 ERA after Sunday's start.
— Indians starter Mike Clevinger will be quarantined and undergo testing after violating COVID-19 protocols during the team's weekend trip to Chicago. On Sunday, Indians right-hander Zach Plesac (PLEE'-sak) was sent home from Chicago in a rental car after he went out with friends following his start on Saturday, a violation of the team's code of conduct.
— The Rays have placed right-hander Charlie Morton on the 10-day injured list due to inflammation in his pitching shoulder. The move comes one day after Morton was removed from a start against the New York Yankees in the third inning. Morton is 1-1 with a 5.40 ERA in four starts this season.
— Mets hurler Marcus Stroman has opted out of the rest of the season due to concerns over the pandemic. Stroman was recovering from a torn calf muscle and was in line to possibly make his season debut next week against the Marlins in Miami. He is scheduled to become a free agent after the season and is the second Met to opt out of the season, joining outfielder Yoenis Cespedes (yoh-EH'-nehs SEHS'-peh-dehs).
— Dodgers reliever Joe Kelly has been placed on the 10-day injured list with right shoulder inflammation. Kelly hasn't allowed a run over 6 1/3 innings in seven games this season, allowing five hits and five walks. Lefty Adam Kolarek was recalled from the alternate training site to replace Kelly.
NBA…
— Chris Boucher scored a career-high 25 points and grabbed 11 rebounds to help the Raptors defeat the Bucks, 114-106. Rookie Matt Thomas scored a season-high 22 points and Norman Powell added 21 for Toronto. Bucks forward and reigning MVP Giannis Antetokounmpo (YAH'-nihs an-teh-toh-KOON'-poh) missed the game after undergoing oral surgery.
LAKE BUENA VISTA, Fla. (AP) — The Phoenix Suns have continued their stunning winning streak since the NBA restart.
The Suns are 6-0 at Lake Buena Vista following a convincing 128-101 thumping of the Oklahoma City Thunder. Devin Booker dropped in 35 points and Phoenix center Deandre Ayton finished with 10 points and six rebounds in just over 17 minutes.
Ayton sat out the first quarter after missing his coronavirus test on Sunday. He tested negative on Monday and helped the Suns dominate after they carried a 37-23 deficit into the second quarter.
Phoenix was 26-39 when the season was halted by the coronavirus pandemic. The Suns now find themselves within 1 1/2 games of a Western Conference playoff berth.
In Monday's other NBA action:
— The Lakers' three-game losing streak is over after Kyle Kuzma (KOOZ'-muh) drained a 3-pointer with 0.4 seconds in a 124-121 thriller over the Nuggets. LeBron James pumped in 29 points, dished out 12 assists and hit two 3-pointers in the fourth quarter. Anthony Davis had 27 points and Kuzma 25 for Los Angeles.
— Jimmy Butler returned from a foot injury and contributed 19 points, 11 rebounds, five assists and four steals in guiding the Heat to a 114-92 romp over the Pacers. Derrick Jones scored 18 off the Miami bench and the Heat kept T.J. Warren to 12 points on 5 for 14 shooting in 29 minutes.
—The short-handed Mavericks rallied from a 22-point deficit in the second half to stun the Jazz 122-114. Tim Hardaway Jr. led the Mavericks with 27 points and Seth Curry added 22. The Mavericks' biggest comeback since 2016 means they still have a slim shot at earning the No. 5 seed in the Western Conference playoffs.
NHL..
UNDATED (AP) — The Florida Panthers will have a new general manager next season, making the announcement that Dale Tallon is leaving the franchise after 10 years.
Tallon's contract as president of hockey operations and general manager expired July 1. It was extended by Panthers owner Vincent Viola to get through the remainder of a season that was stretched out by the coronavirus pandemic.
The Panthers were eliminated from the playoffs on Friday, falling to the New York Islanders in four games.
In other NHL news:
— The Rangers won the second phase of the NHL draft lottery and will have the first overall pick, giving them a shot at selecting Alexis Lafreniere. The Rangers were among eight teams that lost in the qualifying round of the playoffs with a chance to claim quite a consolation prize. The league's bottom seven teams ended up not winning the first phase of the lottery in June.
— The Hockey Hall of Fame has postponed its 2020 induction because of the pandemic. The ceremony was to have taken place Nov. 16 in Toronto. The 2020 class was announced in June and featured forward Jarome Iginla, winger Marian Hossa (HOH'-sah), defensemen Kevin Lowe and Doug Wilson, Canadian women's goaltender Kim St. Pierre and longtime general manager Ken Holland.
TENNIS-US OPEN WITHDRAWALS
NEW YORK (AP) — 2004 U.S. Open champion Svetlana Kuznetsova is adding her name to the growing group of players withdrawing from the Grand Slam tennis tournament because of the coronavirus pandemic.
Three of the top seven women in the rankings, including No. 1 Ash Barty, have pulled out of the U.S. Open. So has defending men's champion Rafael Nadal.
PRESIDENTS CUP
MONTREAL (AP) — The oldest golf club in North America will host the 2024 Presidents Cup.
Royal Montreal Golf Club was founded in 1873 and held the Presidents Cup in 2007. The U.S. won that edition in which Canada's Mike Weir beat Tiger Woods in a Sunday singles match.
Royal Montreal will become the second international venue to host the Presidents Cup more than once, joining The Royal Melbourne Golf Club in Australia.
In world and national news…
IOWA CITY, Iowa (AP) — A rare wind storm with power similar to an inland hurricane swept across the Midwest, blowing over trees, flipping vehicles, causing widespread property damage and leaving tens of thousands of homes without power. The storm known as a derecho lasted several hours Monday as it tore across eastern Nebraska, Iowa and parts of Wisconsin and Illinois. A scientist at the National Weather Service's Storm Prediction Center says the storm had the wind speed of a major hurricane, and likely caused more widespread damage than a normal tornado. Officials in the Iowa cities of Des Moines, Cedar Rapids and Marshalltown say the damage is extensive.
MOSCOW (AP) — Russian President Vladimir Putin says that a coronavirus vaccine developed in his country has been cleared for use and one of his daughters has already been inoculated, even as international experts have questioned its safety. Speaking at a government meeting Tuesday, Putin said that the vaccine has proven efficient during tests, offering a lasting immunity from the coronavirus. Putin added that the vaccine underwent the necessary tests. He added that one of his two adult daughters has received two shots of the vaccine. Russian authorities have said that medical workers, teachers and other risk groups will be the first to be inoculated.
(AP) New Zealand Prime Minister Jacinda Ardern says that authorities have found four cases of the coronavirus in one Auckland household from an unknown source, the first cases of local transmission in the country in 102 days. Ardern said Auckland, the nation's largest city, will be moved to Alert Level 3 from midday Wednesday, meaning that people will be asked to stay at home and bars and many other businesses will be closed. Director-General of Health Ashley Bloomfield said the infections were confirmed after a person in their 50s went to their doctor on Monday with symptoms and was swabbed twice, testing positive both times. Six other people in the person's household were then tested, with three more positive results.
CHICAGO (AP) — Hundreds of people descended on downtown Chicago after a police shooting on the city's South Side. Police say the vandals smashed the windows of dozens of businesses early Monday and made off with merchandise, cash machines and anything else they could carry. Police Superintendent David Brown says when police shot a man who opened fire on officers Sunday, the incident apparently prompted a social media post urging people to converge on the business district. Over several hours, police made more than 100 arrests, and 13 officers were injured, including one who was struck in the head with a bottle.
Shares have opened higher in Europe after a day of gains for most Asian markets. The advance extended another Wall Street rally that took the S&P 500 to within striking distance of its all-time high set in February. Shares rose in Paris, Tokyo and Hong Kong even as confirmed coronavirus cases worldwide topped 20 million, according to a tally by Johns Hopkins University. The gains followed President Donald Trump's announcement that he plans to cut taxes on capital gains and income. Investors stepped up buying after Trump ordered stopgap measures following the collapse of talks on Capitol Hill for a bigger economic rescue package.