Jamestown  (CSi)  The Jamestown Patriot Council sponsored the Annual Freedom Walk,  Friday 9-11, 2020, in  remembrance of those who perished  on Sept 11, 2001, and in the global war on terrorism.
Community patriots, military, and first responders were present at the Patriots Day event, along families all were welcome.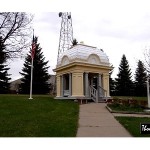 The walk began at 5:30-p.m., at Zonta Park, with a short presentation by JFD Chief Jim Ruether, and ended at the All Vets Club with a light meal for participants with a free will offering.
For more information, please contact The All Vets Club at 701-252-8994.