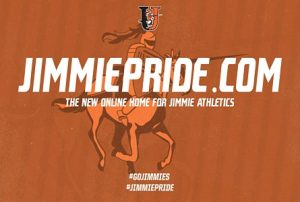 University of Jamestown Home Game Attendance Protocols
In an effort to create the safest environment possible for spectators, game management personnel, officials, and student-athletes, the University of Jamestown is committed to the following protocols to achieve those goals.
Any questions regarding Jimmie Athletics home events can be directed to Sean Johnson, Director of Athletics at sean.johnson@uj.edu
These protocols are subject to change at any time.
Spectator Responsibilities, Limitations, and Services
When possible, we would encourage all fans to watch home events on the UJ Athletics website at www.jimmiepride.com or listen to games on the radio.
Spectators are also encouraged to purchase tickets before an event online at www.jimmiepride.com/tickets
In person ticket purchases are still permitted, but we encourage pregame ticket purchases to minimize contact between spectators and ticket office personnel.
Spectators will be able to either print tickets at home or use mobile entry tickets for safe, no-touch redemption at the gate.
Gates will open 60 minutes prior to start of contest.
All spectators are expected to follow CDC guidelines and self-screen before deciding to attend a Jimmie home event.  Those guidelines can be found at www.cdc.gov/screening
If you feel ill in any way, please do not attend.
If you decide to attend a Jimmie home game, you must wear a face mask.  This is a requirement of the Great Plains Athletic Conference.  If you leave your mask in your vehicle, we will ask that you to return to your vehicle in order to retrieve it.  If you come to a game without a mask, UJ Athletics will provide you with a disposable mask.
Entrances to UJ athletic facilities will feature hand sanitizing stations.
All spectators are expected to practice physical distancing at Jimmie athletic events at all times.
Family groups may sit together but are expected to practice physical distancing between other spectators or family groups.
Seating at UJ home facilities will be limited to no more than 50% capacity which includes UJ students, faculty, staff, Jimmie Booster Club members, student-athlete parents, home general public and visiting spectators.
UJ home facilities will be marked to indicate where spectators may not sit.  Any seat covered by yellow caution tape indicates that seat is not available.
Spectators will not be allowed to watch games from standing room areas in UJ Athletics facilities.
Spectators will be expected to honor physical distancing and other protocols listed above for Jimmie home events hosted at Jamestown Park and Recreation facilities (Jack Brown Stadium, Trapper Field, Wilson Arena).
Concessions will be open at home events, but fans will be expected to adhere to physical distancing when in concession stand lines and must consume food and beverage in seating areas.  This is the only time masks are permitted to be removed.
There will be no tailgating prior to any home event on the University of Jamestown campus.
Spectators will not be allowed on to fields and courts at any time unless in an emergency situation.
Postgame gatherings in concourses, on courts and fields and in proximity to locker rooms are prohibited.
Parents are encouraged to meet with their student-athletes at locations outside of UJ Athletics facilities.
Information For Media and Game Management Personnel
All members of the media and home game management personnel (PA announcers, clock operators, etc.) are expected to adhere to same requirements as spectators which include self-screening and mask wearing.
Additional plexiglass dividers will be provided at scorer's and media tables and press box facilities to ensure increased safety measures.
All game management personnel will be screened by UJ Athletics personnel.
All media should communicate to UJ Sports Information Director Ryan Mikkelson at 701-252-3467, extension 5222 or via email at rmikkels@uj.edu to confirm attendance at UJ home events.
All pregame interviews with UJ student-athletes and coaches should be conducted via Zoom or on the phone if possible.
Postgame interviews must take place with both media member and UJ coaches and student-athletes wearing masks and remaining physically distanced.
Harold Newman Arena
Signage will display which doors spectators should enter based on entrance status – purchasing tickets, pre-purchased tickets, Jimmie Booster Club or Parent Pass.
Total seating in the arena will be limited to approximately 712 fans with no seating in bleacher seating areas behind the baskets and no standing room spectating in the concourse areas.
Taylor Stadium
Total seating at Taylor Stadium will be restricted to approximately 1,000 fans.  Bleacher seats will be marked with yellow caution tape to indicated where spectators may not sit.
No standing room viewing will be allowed on the concourse area.
UJ Turf Field Complex
Seating will be limited to 90 spectators, physically distanced, in the stands.  Fans are encouraged to bring their own lawn chairs to the game and sit at least 6 feet apart.  All seating is restricted to the south side of the facility, opposite of the player benches.  When using indoor restroom facilities, masks must remain in place at all times.