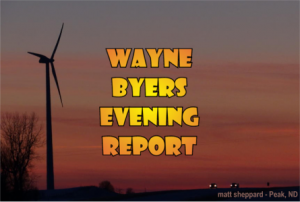 CSi Weather…
.WEDNESDAY…Sunny. Highs around 60. North winds 10 to 15 mph.
.WEDNESDAY NIGHT…Increasing clouds. Lows in the lower 40s.
Northeast winds around 5 mph shifting to the southeast after midnight.
.THURSDAY…Partly sunny. Highs in the upper 50s. Southeast winds 5 to 10 mph.
.THURSDAY NIGHT…Partly cloudy. Lows around 40.
.FRIDAY…Mostly sunny. Highs in the lower 60s.
.FRIDAY NIGHT…Increasing clouds. Lows in the mid 40s.
.SATURDAY…Partly sunny. Highs in the upper 60s.
.SATURDAY NIGHT…Mostly cloudy. Chance of rain showers and
slight chance of thunderstorms after midnight. Lows in the mid
50s. Chance of precipitation 30 percent.
.SUNDAY…Mostly sunny with a 20 percent chance of rain showers
and thunderstorms. Highs in the mid 70s.
.SUNDAY NIGHT…Partly cloudy. Lows in the lower 50s.
.MONDAY…Mostly sunny. Highs in the lower 70s.
Widespread rain chances to the forecast area late on Saturday and through Sunday. Seasonable temperatures and mostly dry conditions return for the start of next work week.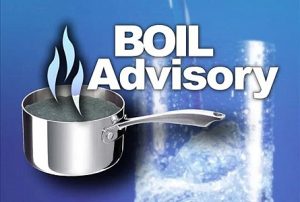 Valley City  (CSi)  Valley City Administrator  Gwen Craford informs the public that The City of Valley City recently learned about potential imminent health risks to the City's water supply that was  posed by loss of pressure to the water distribution system.
The  public notice reads:
What should you do?
• DO NOT DRINK THE WATER WITHOUT BOILING IT FIRST. Bring all water to a boil, let it boil for one minute, and let it cool before using. Boiling kills bacteria and other organisms that may be in the water. Only bottled water should be used for preparing infant formula. Boiled water, bottled water or water from another approved source should be used for drinking, making ice, brushing teeth, washing dishes, and food preparation until further notice.
• Due to loss of pressure to the drinking water distribution system, the potential exists for contamination of the drinking water with disease-causing microorganisms which can cause diarrhea, cramps, nausea, headaches, or other symptoms. If you experience one or more of these symptoms and they persist, contact your doctor. People with severely compromised immune systems, infants, and some elderly may be at increased risk. These people should seek advice about drinking water from their health care provider. However, the symptoms above are not caused only by organisms in drinking water. Other illnesses may cause similar symptoms.
What happened? What is being done?
Loss of pressure to the water distribution system has occurred; therefore, there is a potential for waterborne disease. The City will continue to monitor the condition of the distribution system and will collect samples to test for disease-causing organisms once water flow is restored.
We will inform you when you no longer need to boil your water.
General guidelines on ways to lessen the risk of infection by microbes are available from the EPA Safe Drinking Water Hotline at 1-800-426-4791.
If you have questions about boiling your water, etc., there is additional information regarding boil orders located on the North Dakota Department of Environmental Quality website: https://deq.nd.gov/Publications/MF/BoilOrders.pdf
For further information contact the City of Valley City: 701-845-1700 Date: 9/15/2020
Gwen Crawford
City Administrator
PO Box 390, Valley City, ND 58072
Office Phone # 701-845-8120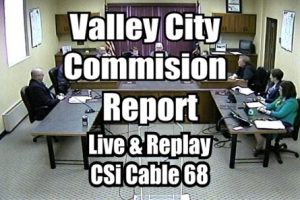 Valley City  (CSi)  The Valley City Commission met in Regular Session Tuesday evening at City Hall.  All members were present.
All present were wearing face masks and social distancing.
Approval of Consent Agenda:
Approved was a  raffle permit for Sheyenne Valley Friends of Animals held on 12/11/2020 at Duttons Valley Gallery.
Public Comments:  No One Spoke
Attorney General's "A Citizen's Guide to North Dakota Open Records & Open Meetings Laws" *A member of the public does not have the right to speak to the governing body at an open meeting.  The public is only entitled to see and hear what happens at a meeting, and to record or broadcast those observations.
No personal attacks to persons present or not
No inflammatory language used during time that you have the platform
5 minute maximum or as directed by the chair
Thank you for participating in City Government.

Public Hearing
A  Public Hearing was held for 2021 City Budget.
Finance Director, Avis Richter said no correspondence was received from the public.
She said the Preliminary budget has been submitted to the County.
$1.7 million was levied, and one mill equals $18,300, no mill levy increase for 2021.
Following the Public Hearing, the City Commission approved the  first reading of Ordinance No. 1065, Adopting the 2021 City Budget.
Resolution
The City Commission tabled action on a Resolution to advertise for bids for farm lease. City Attorney Martineck said, bids can be rejected if they come in too low.  Production of the land will be reviewed.  City Assessor Sandy Hansen will research.
Approved was a Resolution authorizing the issuance and sale of $300,000 water treatment assessment warrant for the 5th Ave NW Project.
Approved   was a  Resolution authorizing the issuance and sale of $675,000 wastewater treatment assessment warrant for the 5th Ave NW Project. Finance Director Richter only the amount needed for the project will be drawn on the warrant.
New Business
Considered were options for Building Inspector and City Engineer.  City Administrator Crawford said, there was a lack of qualified candidates applying for the city Engineer's position.  Options for the City Engineer's position include seeking an individual, or hiring and engineering firm.   The engineering firm would submit an invoice to the city for work performed.
The Commission opted to put out an RFQ, for a City Engineer, and for an engineering firm, to handle the responsibilities.
Commissioner Bishop favors advertising for an individual for the position.
Commissioners voted to advertise for a City Engineer, and establish a job description for the Building Inspectors position, which will be included in the RFQ.  Commissioner Bishop voted opposed.
Commissioners approved  RFPs on 6th St NW Reconstruction.
City Administrator's Report:
Gwen Crawford reported several water mains bust at the same  time on Tuesday, that requires a boil water mandate, with potential imminent health risks to the City's water supply that was posed by loss of pressure to the water distribution system, with information to schools, nursing homes and residents, due to a loss of pressure.  City officials do not believe the water is contaminated, but the state mandates a notice.   The water sample will be taken and sent to Bismarck.  Notification was sent to residents via EverBridge.
If it has been deemed safe the boil water mandate will be lifted, if not the mandate will be continued.
Residents are encouraged to limit water usage until further notice and refrain from washing cloths and dishes or taking showers until the water main breaks are fixed and water pressure returns to it's normal setting for residents and commercial businesses.
Crawford said the city was in the process of flushing several fire hydrants following these water main breaks.
City Updates & Commission Reports
Scott Magnuson reminded citizens that the deadline to file the 2020 census form needs to be submitted by September 30.
He added the Battle of Badges Blood Drive will be held, with the dates to be announced.
KLJ reported updates on projects.
Mayor Carlsrud reminded residents to stay vigilent in slowing the spread of the COVID-19 virus.  He encourages the wearing of face masks, social distance and frequent hand washing with soap and water.
He said City Wide Clean up will likely be slowed somewhat do to attention on the water main repairs and other issues, with that.
The meeting was shown live on CSi Cable 68, followed by replays.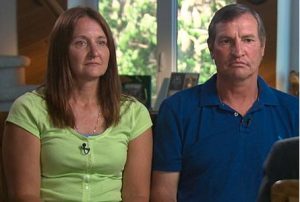 BISMARCK, N.D. (AP) — The North Dakota Supreme Court has denied an appeal by the parents of a North Dakota college student found dead after becoming an informant to drug investigators. Justices in an opinion released Tuesday upheld Judge Jay Schmitz's dismissal last year of the wrongful death lawsuit. The Sadeks sued the Richland County Sheriff's Department, one of its deputies and the county, alleging their son, Andrew Sadek, was killed because he was coerced into becoming a drug informant. The judge ruled there was no evidence that the sheriff's deputy directly caused Sadek's death or that the county acted negligently .
NDDoH
COVID-19 Stats
Tues. Sept 15, 2020
Posted 11-a.m.
A small batch of new tests
Barnes
New Positives  0
Total Positives  197, (Reconfigured)
Active Cases  57
Recovered  140
Stutsman
Reconfigured
New Positives  1
Total Positives  465
Active Cases  145
Recovered 317
COVID-19 Test Results
The results listed are from the previous day. Additional data can be found on the NDDoH website.
BY THE NUMBERS
2,038 – Total Tests from Yesterday*
547,945 – Total tests completed since pandemic began
235 – Positive Individuals from Yesterday*****
16,064 – Total positive individuals since pandemic began
12.18% – Daily Positivity Rate**
2,564 – Total Active Cases
-194 Individuals from yesterday
425 – Individuals Recovered from Yesterday (250 with a recovery date of yesterday****)
13,328 – Total recovered since pandemic began
62 – Currently Hospitalized
-3 – Individuals from yesterday

2 – New Deaths*** (172 total deaths since the pandemic began)

INDIVIDUALS WHO DIED WITH COVID-19
Man in his 80s from Burleigh County with underlying health conditions.
Man in his 80s from Morton County with underlying health conditions.

COUNTIES WITH NEW POSITIVE CASES REPORTED TUESDAY
Benson County – 1
Bottineau County – 1
Bowman County – 1
Burke County – 1
Burleigh County – 79
Cass County – 27
Cavalier County – 2
Dickey County – 1
Eddy County – 1
Emmons County – 3
Foster County – 1
Grand Forks County – 10
Grant County – 2
LaMoure County – 1
Logan County – 1
McKenzie County – 2
McLean County – 3
Mercer County – 5
Morton County – 30
Mountrail County – 1
Nelson County – 1
Oliver County – 2
Pembina County – 1
Ramsey County – 1
Renville County – 2
Richland County – 1
Rolette County – 1
Sargent County – 4
Sioux County – 2
Stark County – 6
Stutsman County – 1
Traill County – 1
Walsh County – 1
Ward County – 13
Wells County – 2
Williams County – 23
* Note that this does not include individuals from out of state and has been updated to reflect the most recent information discovered after cases were investigated.
**Individuals who tested positive divided by the total number of people tested who have not previously tested positive (susceptible encounters).
*** Number of individuals who tested positive and died from any cause while infected with COVID-19.
**** The actual date individuals are officially out of isolation and no longer contagious.
******Totals may be adjusted as individuals are found to live out of state, in another county, or as other information is found during investigation.
For descriptions of these categories, visit the NDDoH dashboard.
For the most updated and timely information and updates related to COVID-19, visit the NDDoH website at www.health.nd.gov/coronavirus, follow on Facebook, Twitter and Instagram and visit the CDC website at www.cdc.gov/coronavirus.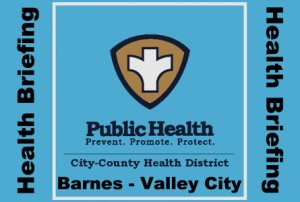 Valley City  (CCHD)  City-County Health District will offer another COVID-19 free testing drive thru event at the VCSU Lokken Stadium parking lot on Wednesday September 16, 2020 from 4pm to 5pm.  Pre-register on line at testreg.nd.gov
For updates related to COVID-19 in North Dakota visit the North Dakota Department of Health website. Or follow the City County Health District FaceBook page for Barnes County updates.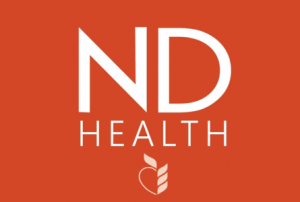 BISMARCK, N.D. (AP) — An education campaign aimed at persuading North Dakotans to wear masks and practice social distancing still has not begun more than a month after $1.8 million in federal coronavirus aid was approved for the effort. The campaign had been set to start Monday, the same day North Dakota set a record for active COVID-19 cases statewide. A Health Department spokeswoman said three of the 10 private firms that submitted bids for education effort had equal proposals under the state's scoring system, which has delayed the effort for at least another week.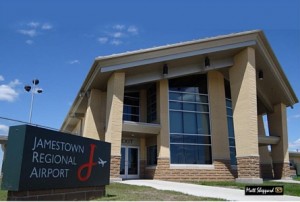 Bismarck  (CSi)  The North Dakota Aeronautics Commission reports that North Dakota's eight commercial service airports during the month of August posted a total of 43,559 passengers boardings.   This is higher than the statewide passenger volume that was seen in each of the last four months and amounts to a 43% retention rate of the passengers that North Dakota experienced during the same month last year.
The recovery in passengers continues its positive trend for North Dakota as well as many other airports throughout the country, though the numbers still remain far below pre COVID-19 levels.  North Dakota's airline passenger demand has also been recovering faster than the national average which is currently estimated to be at 29% of pre-pandemic levels.
At the same time, August 2020 Jamestown boardings were 465, compared to 1127 in August of 2019, a decrease of 58 percent.  For the year to date, through August 2020, Jamestown boardings were 3838 compared to 7471 through August of 2019, a decrease of 48-percent.
North Dakota Aeronautics Commission , Executive Director, Kyle Wanner says, "When comparing current passenger numbers to pre-pandemic levels, North Dakota's airline passenger retention is an estimated 14% higher than the national rate.  The higher airline passenger retention in our rural state reflects North Dakota's resilience and shows the importance that air service has to our communities.  Our state's ongoing recovery in air travel demand also shows that the travelling public is trusting the safety enhancements that our airports and airlines have put into place to accommodate COVID-19 concerns."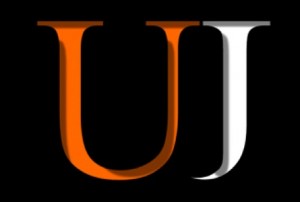 Jamestown  (uj.edu)  University of Jamestown Homecoming, which was originally scheduled for October 9-11, will now feature a hybrid of virtual and in-person events throughout the month of October, ending with a home football game versus Hastings College on October 31.

VP of Development and Alumni Relations, Brett Moser says, "While we know homecoming is something our students, alumni, and the community of Jamestown look forward to every year, it's just not possible to safely have the same celebration this year. We are, however, planning virtual events throughout the month of October to keep our Jimmie community connected, as well as various in-person, socially distanced gatherings."

With this change to the Homecoming celebration, the Jimmie Athletic Hall of Fame Banquet has been moved to the fall of 2021, and the President's Banquet, which is usually a live event celebrating graduating classes 50th reunion, will be held virtually. A Booster Club luncheon will be held in-person on October 30 at the Harold Newman Arena.

The Homecoming Football game versus Hastings College will be held October 31 at 1 p.m. at Taylor Stadium. Due to COVID-19, Taylor Stadium will only be filled to 50% capacity, and masks will be required to attend the game.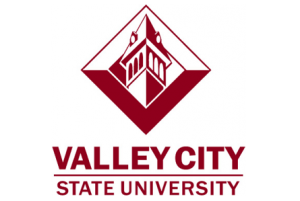 (VCSU) – Valley City State University has been ranked fourth among public regional colleges in the Midwest by U.S. News and World Report in its "2021 U.S. News Best Colleges" guidebook.
VCSU has now appeared in the U.S. News "Best College" rankings for 23 consecutive years, and the university has been ranked in the top five Midwest public regional colleges each year since 2010.
President Alan LaFave, says, "We're very proud of the students, faculty, staff and alumni of Valley City State University who have maintained a standard of excellence over time matched by few others.  Rankings such as these provide credence and credibility to the notion we hold in our hearts and minds that VCSU is an exceptional place with extraordinary people."
The U.S. News rankings are based on data including retention and six-year graduation rates, graduation rates for low-income students (based on federal Pell Grant recipients), measures of student excellence (high school class standing and ACT/SAT scores), the alumni giving rate and educational expenditure per student. A peer assessment by college and university officers also factors into the rankings.
The Midwest region comprises 12 states: North Dakota, South Dakota, Minnesota, Wisconsin, Michigan, Ohio, Indiana, Illinois, Iowa, Missouri, Kansas and Nebraska.
Jamestown  (CSi)  The City of Jamestown is accepting applications for one open position on the Fire Code Board of Appeals, for a three year term to November of 2023.
Anyone interested in serving on the above committees/boards should complete an "Application for Appointment". The application may be obtained in person at City Hall, 102 3rd Ave SE, Jamestown, ND, by calling 701-252-5900 or online at jamestownnd.org and select government tab/city committees to download the form.
The application should be returned by October 16, 2020 to:
City of Jamestown
Attn: Appointments
102 3rd Avenue SE
Jamestown, ND 58401-4205
MANDAN, N.D. (AP) — The remains of a Navy sailor who was killed during the 1941 Japanese attack on Pearl Harbor have been identified and will be returned to his home state of North Dakota. Navy Fireman 2nd Class Albert Renner was assigned to the battleship USS West Virginia that was hit by two bombs and at least seven torpedoes from Japanese airplanes on Dec. 7, 1941. The 24-year-old was killed along with 105 other crewmen. The Bismarck Tribune reported the sailor's remains are expected to arrive in North Dakota next week under a full military escort. The military is covering nearly all costs associated with the funeral.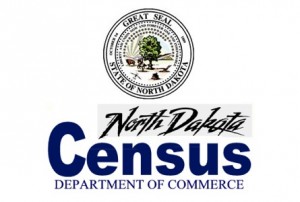 Fargo, ND – As Nonresponse Followup (NRFU) continues, North Dakota's census response rate is approaching 95%. The U.S. Census Bureau began visiting North Dakota households that have not responded to the 2020 census on July 30.
As of September 15, North Dakota's census response includes: • A self-response rate of 64.5 percent and has been steadily rising. • Nonresponse Follow-up has visited 85 percent of households that had not responded. • A total response rate of 92.8 percent. "Missing just 1 percent of all households in North Dakota could cost the state $155,000,000 in lost federal funding.
As of now, about 10 percent of households have not been counted. This group represents a potential loss to the state of more than a billion and a half dollars – if not counted by September 30th. Census workers, or enumerators, are physically visiting non-response households with the intent of getting them to fill out the census. The 2020 census interviews take approximately10 minutes to complete.
All census takers are trained on social distancing protocols. Some important points about safety:
• The U.S. Census Bureau provides masks and requires all census takers to wear them while conducting their work. 2020 Census interviews are quick and can be done 6 feet apart.
• The following steps should be taken to verify the identity of a census worker.
o First, check to make sure that they have a valid ID badge, with their photograph, a U.S. Department of Commerce watermark and an expiration date.
o If someone has questions about an enumerator's identity, they can contact the North Dakota state operations office to speak with a Census Bureau representative. That phone number is 701-561-5508.
Census takers will attempt to contact those living in North Dakota up to six times by knocking on their door before going to your neighbor's house to find out how many people live in your house. The Census Bureau continues to ask for assistance with gaining access to apartment buildings. These units can be difficult to count because of restricted access. It is very helpful if apartment managers work with census employees to allow them access to the buildings so they can visit the units that have not yet self-responded.
MADISON, Wis. (AP) — Election clerks in Wisconsin are rushing to mail absentee ballots less than 24 hours after the state Supreme Court lifted its temporary freeze on sending them while it considered a legal challenge. The Town of Greenville clerk who also serves as president of the Wisconsin Municipal Clerks Association says clerks across the state are "busy." More than 1,850 clerks in municipalities big and small are working to meet a Thursday deadline in state law to mail ballots to the more than 1 million voters who've requested them so far. Clerks also face a Saturday deadline in federal law to send ballots to military and overseas voters.
BISMARCK, N.D. (AP) — Federal officials have denied extending protections under the Endangered Species Act to a subspecies of moose that historically appeared in four upper Midwestern states. The U.S. Fish and Wildlife Service on Tuesday ruled the population "the northwestern subspecies" of moose historically found in North Dakota, Minnesota, Wisconsin and Michigan is stable. The agency also said there were no notable differences with similar moose across the border in Canada, where the population is healthy. Two environmental groups filed a petition in 2016 asking for the designation after moose in Minnesota _ which has the region's largest moose population _ suffered a decline in the decade prior.
In world and national news…
(AP)  Alabama Gov. Kay Ivey is urging residents near Mobile Bay and low-lying areas near rivers to evacuate if conditions still permit a safe escape from Hurricane Sally. The National Hurricane Center has predicted storm surge along Alabama's coast, including Mobile Bay, could reach 7 feet (2.1 meters) above ground. During a news conference Tuesday, Ivey urged residents to flee the low-lying areas and not risk their lives by staying behind. Forecasters have said Sally should reach land near the Alabama-Mississippi state line by late Tuesday or early Wednesday. A storm surge warning is in effect from the mouth of the Mississippi River to the Okaloosa/Walton County Line in Florida.
WASHINGTON (AP) — Speaker Nancy Pelosi says the House will remain in session until lawmakers deliver another round of COVID-19 relief. Pelosi told her Democratic colleagues on a Tuesday morning conference call that "we have to stay here until we have a bill." The California Democrat's comments came as moderate Democrats signed on to a $1.5 trillion rescue package endorsed by the bipartisan Problem Solvers Caucus, a group of about 50 lawmakers who seek common solutions to issues. The plan contains many elements of rescue packages devised by both House Democrats and Republicans controlling the Senate, including aid to schools, funding for state and local governments, and renewal of lapsed COVID-related jobless benefits.
TAMPA, Fla. (AP) — Joe Biden is making his first trip to Florida as the Democratic presidential nominee, while his campaign is acknowledging concerns about his appeal with Latinos. That voting bloc could be key to victory in a close race against President Donald Trump in a pivotal battleground state. On Tuesday, Biden will hold a roundtable with veterans in Tampa before marking Hispanic Heritage Month with an event in Kissimmee near Orlando. The visit comes as some Democrats worry that Biden's standing among Latinos is slipping in Florida, where Latinos make up one-fifth of eligible voters.
WASHINGTON (AP) — President Donald Trump is presiding over the signing of historic diplomatic deals between Israel and the United Arab Emirates and Bahrain that could herald a dramatic shift in Middle East power dynamics. Tuesday's ceremony attracted hundreds to the South Lawn of the White House. Trump hopes it will depict him as a peacemaker at the height of his reelection campaign. The agreements formalize the normalization of the Jewish state's already warming relations with the two countries — and could pave the way for a broader Arab-Israeli rapprochement after decades of enmity.
MINNEAPOLIS (AP) — A new, in-depth analysis on wrongful convictions is putting a spotlight on "alarming" rates of police and prosecutor misconduct. The National Registry of Exonerations spent more than six years examining the cases of 2,400 innocent people who were later exonerated. The group's report was released Tuesday. It found that 54% were sent to prison because of intentional or negligent mistakes by police, prosecutors and other law enforcement officials. The report found that in general, the more severe the crime, the higher the rate of wrongdoing. The most common form of misconduct involved concealing evidence that could have cleared the defendant. That occurred in 44% of cases.
LOUISVILLE, Ky. (AP) — The city of Louisville will pay millions to the mother of Breonna Taylor and reform police practices as part of a lawsuit settlement months after Taylor's slaying by police thrust the Black woman's name to the forefront of a national reckoning on race. A person who has seen the settlement told The Associated Press it's the largest sum paid by the city for a police misconduct case. The source asked not to be identified because the settlement hasn't been announced publicly. Taylor's death sparked months of protests in Louisville and calls nationwide for the officers to be criminally charged. The state's attorney general is investigating police actions in the March 13 fatal shooting.