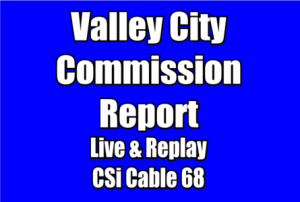 Valley City  (CSi)  The Valley City Commission met in Regular Session Tuesday evening at City Hall.  All members were present.
All present were wearing face masks and social distancing.
Approval of Consent Agenda:
Approved was a  raffle permit for Sheyenne Valley Friends of Animals held on 12/11/2020 at Duttons Valley Gallery.
Public Comments:  No One Spoke
Attorney General's "A Citizen's Guide to North Dakota Open Records & Open Meetings Laws" *A member of the public does not have the right to speak to the governing body at an open meeting.  The public is only entitled to see and hear what happens at a meeting, and to record or broadcast those observations.
No personal attacks to persons present or not
No inflammatory language used during time that you have the platform
5 minute maximum or as directed by the chair
Thank you for participating in City Government.

Public Hearing
A  Public Hearing was held for 2021 City Budget.
Finance Director, Avis Richter said no correspondence was received from the public.
She said the Preliminary budget has been submitted to the County.
$1.7 million was levied, and one mill equals $18,300, no mill levy increase for 2021.
Following the Public Hearing, the City Commission approved the  first reading of Ordinance No. 1065, Adopting the 2021 City Budget.
Resolution
The City Commission tabled action on a Resolution to advertise for bids for farm lease. City Attorney Martineck said, bids can be rejected if they come in too low.  Production of the land will be reviewed.  City Assessor Sandy Hansen will research.
Approved was a Resolution authorizing the issuance and sale of $300,000 water treatment assessment warrant for the 5th Ave NW Project.
Approved   was a  Resolution authorizing the issuance and sale of $675,000 wastewater treatment assessment warrant for the 5th Ave NW Project. Finance Director Richter only the amount needed for the project will be drawn on the warrant.
New Business
Considered were options for Building Inspector and City Engineer.  City Administrator Crawford said, there was a lack of qualified candidates applying for the city Engineer's position.  Options for the City Engineer's position include seeking an individual, or hiring and engineering firm.   The engineering firm would submit an invoice to the city for work performed.
The Commission opted to put out an RFQ, for a City Engineer, and for an engineering firm, to handle the responsibilities.
Commissioner Bishop favors advertising for an individual for the position.
Commissioners voted to advertise for a City Engineer, and establish a job description for the Building Inspectors position, which will be included in the RFQ.  Commissioner Bishop voted opposed.
Commissioners approved  RFPs on 6th St NW Reconstruction.
City Administrator's Report:
Gwen Crawford reported many water main breaks, that occurred at the same time, on Tuesday, that requires a boil water mandate. …  with information sent to schools, nursing homes and residents, due to a loss of pressure.  City officials do not believe the water is contaminated, but the state mandates a notice.   The water sample will be taken and sent to Bismarck.  Notification was sent to residents,  schools, nursing homes, the hospital, and VCSU,  via the EverBridge  emergency phone  system.
Residents  are encouraged to limit water usage until further notice and refrain from washing cloths and dishes or taking showers until the water main breaks are fixed and water pressure returns to it's normal setting for residents and commercial businesses.
Crawford said the city was in the process of flushing several fire hydrants following these water main breaks.
If it has been deemed safe the boil water mandate will be lifted, if not the mandate will be continued.
City Updates & Commission Reports
Scott Magnuson reminded citizens that the deadline to file the 2020 census form needs to be submitted by September 30.
He added the Battle of Badges Blood Drive will be held, with the dates to be announced.
KLJ reported updates on projects.
Mayor Carlsrud reminded residents to stay vigilent in slowing the spread of the COVID-19 virus.  He encourages the wearing of face masks, social distance and frequent hand washing with soap and water.
He said City Wide Clean up will likely be slowed somewhat do to attention on the water main repairs and other issues, with that.
The meeting was shown live on CSi Cable 68, followed by replays.