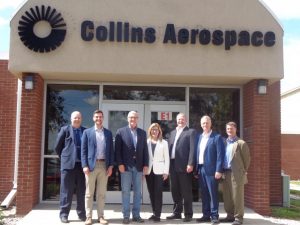 Jamestown  (Collins Aerospace)  – Collins Aerospace Systems, a unit of Raytheon Technologies Corp. (NYSE: RTX), this week, celebrated the 50th anniversary of its Cargo Systems business in Jamestown.  And while much has changed since the plant first opened its doors a half-century ago, one thing has remained the same—the facility's commitment to its employees, its customers and the Jamestown community.
From what began with a single building and some 50 employees in 1970, Collins Aerospace's Jamestown operations have grown to include a complex of manufacturing and office facilities that employ more than 400 workers—making the company the largest private employer in town and one of the largest in the state. In addition to its headquarters in Jamestown, Collins Aerospace's Cargo Systems business also maintains an engineering and manufacturing center in Bengaluru, India, to support the design and manufacture of many of its products.
Originally an office of the Western Gear Corporation, the Jamestown facility has been part of several different companies since its establishment, ultimately becoming part of Collins Aerospace in 2018. Over the course of its history, the site has produced a number of key systems for military and commercial aircraft, from weapons rails for the Grumman F-14 Tomcat to the cargo system for the Boeing 747. Today, the business continues to provide innovative solutions for the U.S. military, such as its COOLS (Cargo On-Off Loading System) for the Boeing CH-47 Chinook helicopter, and it remains a leading supplier of powered cargo systems for wide-body aircraft, like the Boeing 777.
Wayne Jones, general manager, Cargo Systems, at Collins Aerospace, says, "Our Cargo Systems business couldn't be happier to call Jamestown home and to celebrate 50 years in this community," said  "Our heritage was built on our ability to provide technologically advanced solutions for our military and commercial customers, and we look forward to continuing that tradition in the years to come."
Governor Doug Brugm adds, "From Carl Ben Eielson's historic flight across the Arctic Ocean in 1928 to today's cutting-edge Grand Sky UAS park, North Dakota has a rich heritage of aviation and aerospace, and we're deeply grateful to Collins Aerospace for its significant contribution and continuing role in that tradition. As a major employer, technology innovator and good corporate citizen in North Dakota for half a century, Collins Aerospace's Cargo Systems business continues to substantially benefit the economy and workforce of the Jamestown region and our entire state. Congratulations to Collins Aerospace on this milestone anniversary, and thank you for continuing to call North Dakota home!"
Senator John Hoeven says, The Cargo Systems business at Collins Aerospace is one of the state's largest private employers and a staple in the Jamestown community.  Technology continues to serve as the third wave in North Dakota's economic growth and year after year, the site has produced a number of key systems for aircrafts worldwide. The past five decades have brought innovative advancements and have laid a strong foundation to steward the company for many generations to come."
About Collins Aerospace
Collins Aerospace Systems is a leader in technologically advanced and intelligent solutions for the global aerospace and defense industry. Collins Aerospace has the capabilities, comprehensive portfolio and expertise to solve customers' toughest challenges and to meet the demands of a rapidly evolving global market. With 2019 net sales of approximately $26 billion, the business has 78,000 employees across more than 300 locations globally. It is one of the four businesses that form Raytheon Technologies. For more information, visit CollinsAerospace.com.
About Raytheon Technologies
Raytheon Technologies Corporation is an aerospace and defense company that provides advanced systems and services for commercial, military and government customers worldwide. With 195,000 employees and four industry-leading businesses ― Collins Aerospace Systems, Pratt & Whitney, Raytheon Intelligence & Space and Raytheon Missiles & Defense ― the company delivers solutions that push the boundaries in avionics, cybersecurity, directed energy, electric
propulsion, hypersonics, and quantum physics. The company, formed in 2020 through the combination of Raytheon Company and the United Technologies Corporation aerospace businesses, is headquartered in Waltham, Massachusetts.