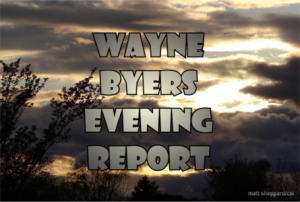 CSi Weather…
TONIGHT…Mostly clear. Lows in the lower 40s. North winds around 5 mph shifting to the southeast after midnight.
.THURSDAY…Partly sunny. Highs in the lower 60s. Southeast winds 5 to 10 mph.
.THURSDAY NIGHT…Partly cloudy. Lows around 40. East winds 5 to
10 mph.
.FRIDAY…Mostly sunny. Highs in the mid 60s. Southeast winds
5 to 15 mph.
.FRIDAY NIGHT…Partly cloudy. Lows in the mid 40s.
.SATURDAY…Sunny. Highs in the lower 70s.
.SATURDAY NIGHT…Mostly cloudy. A 20 percent chance of rain
showers and thunderstorms after midnight. Lows in the upper 50s.
.SUNDAY…Decreasing clouds. Chance of rain showers and slight
chance of thunderstorms. Highs in the upper 70s. Chance of
precipitation 30 percent.
.SUNDAY NIGHT…Mostly clear. A 20 percent chance of rain showers
and thunderstorms in the evening. Lows in the mid 50s.
.MONDAY…Sunny. Highs in the mid 70s.
.MONDAY NIGHT…Mostly clear. Lows in the lower 50s.
.TUESDAY…Sunny. Highs in the upper 70s.
Highs warming into the 70s on Saturday and Sunday, along with breezy
southeasterly winds Saturday that then transition to southwesterly
on Sunday.
The highest chance of precipitation in the west on
Saturday evening and overnight, then transition to the north on Sunday, with slight chances elsewhere.
Some embedded/isolated thunderstorms possible.
Temperatures looking to stay near to above average for most of next week.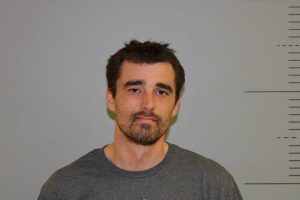 Jamestown  (JPD, Justin Blinsky)  Jamestown Police reports that on  Wednesday September 16, 2020 at 3:56-a.m., a Jamestown Police Officer conducted a traffic stop on a 1994 GMC pickup in the 200 block of 5 St NW for an equipment violation. The vehicle was owned and registered to a business in the Kensal, ND area. The driver of the vehicle was identified as 30-year-old Michael Jay Grager of Jamestown. Grager made claims he was a current employee of the business, at the time of the stop. Grager was arrested on suspicion of Driving while his Operators License was suspended and two active Arrest Warrants from Foster County, ND.
At approximately 8:04 a.m., the Stutsman County Sheriff's Office took a report from a Kensal business of their pickup being stolen overnight. It was determined the 1994 GMC Sierra pickup, which had been stopped by the Jamestown Police Department hours earlier, was the vehicle stolen overnight, but had not been reported missing until after the business opened.
At approximately 8:18-a.m., a Jamestown resident who owns a 1987 Ford pickup reported his vehicle was stolen overnight from his residence in Jamestown and had already been located by an acquaintance in Kensal, ND, who notified him of his vehicle's location. The Jamestown Police Department requested assistance from the Stutsman County Sheriff's Office, to conduct a joint investigation, since the stolen vehicle from Jamestown was abandoned in Kensal, ND and the stolen vehicle from Kensal, ND was recovered in Jamestown.
The investigation by both departments determined the vehicle stolen from Jamestown overnight was taken to Kensal, ND, where it was left abandoned at the same business which then had their vehicle stolen. Based on the information learned during the investigation, it is alleged the same individual stole both vehicles, which are now currently being returned to their owners.
Michael Jay Grager has been arrested on 2 additional charges of suspicion of theft of motor vehicles. He remains in the Stutsman County Correctional Center, awaiting formal charges.
The investigation into this incident continues. Anyone with any information is asked to contact the Jamestown Police Department or Stutsman County Sheriff's Office at 701-252-1000.
North Dakota health officials are reporting 269 new COVID-19 cases and five more deaths related to the coronavirus, including two in Burleigh County and two in Eddy County. The other death was in McLean County. The state has recorded 172 deaths since the pandemic began, which is 46th highest in the country overall and the 37th highest per capita, according to the COVID Tracking Project. The volunteer organization ranks North Dakota No. 1 overall in the number of cases per capita in the last two weeks. Officials confirmed cases in 35 counties in the last day. The number of active cases in the state dropped by 36, to 2,528. The hospitalizations remained unchanged at 62.
NDDoH
COVID-19 Stats
Wed. Sept 16, 2020
Posted 11-a.m.
Barnes
New Positives  1
Total Positives  197
Active Cases  48
Recovered  149
Stutsman
New Positives  2
Total Positives  467
Active Cases  123
Recovered 341
COVID-19 Test Results
The results listed are from the previous day. Additional data can be found on the NDDoH website.
BY THE NUMBERS
5,209 – Total Tests from Yesterday*
553,163 – Total tests completed since pandemic began
269 – Positive Individuals from Yesterday*****
16,333 – Total positive individuals since pandemic began
5.35% – Daily Positivity Rate**
2,528 – Total Active Cases
-36 Individuals from yesterday
300 – Individuals Recovered from Yesterday (177 with a recovery date of yesterday****)
13,628 – Total recovered since pandemic began
62 – Currently Hospitalized
+0 – Individuals from yesterday

5 – New Deaths*** (177 total deaths since the pandemic began)

INDIVIDUALS WHO DIED WITH COVID-19
Woman in her 70s from Burleigh County with underlying health conditions.
Man in his 80s from Burleigh County with underlying health conditions.
Woman in her 80s from Eddy County with underlying health conditions.
Man in his 80s from Eddy County with underlying health conditions.
Man in his 60s from McLean County with underlying health conditions.

COUNTIES WITH NEW POSITIVE CASES REPORTED TODAY
Adams County – 1
Barnes County – 1
Benson County – 3
Bottineau County – 3
Burleigh County – 17
Cass County – 80
Cavalier County – 6
Dickey County – 1
Dunn County – 6
Emmons County – 8
Grand Forks County – 4
Hettinger County – 4
LaMoure County – 2
Logan County – 4
McIntosh County – 1
McKenzie County – 6
McLean County – 1
Mercer County – 8
Morton County – 6
Mountrail County – 3
Oliver County – 1
Pembina County – 1
Pierce County – 1
Ransom County – 2
Renville County – 2
Richland County – 4
Rolette County – 4
Sargent County – 4
Sioux County – 3
Stark County – 9
Stutsman County – 2
Traill County – 5
Walsh County – 4
Ward County – 13
Williams County – 49
* Note that this does not include individuals from out of state and has been updated to reflect the most recent information discovered after cases were investigated.
**Individuals who tested positive divided by the total number of people tested who have not previously tested positive (susceptible encounters).
*** Number of individuals who tested positive and died from any cause while infected with COVID-19.
**** The actual date individuals are officially out of isolation and no longer contagious.
******Totals may be adjusted as individuals are found to live out of state, in another county, or as other information is found during investigation.
For descriptions of these categories, visit the NDDoH dashboard.
For the most updated and timely information and updates related to COVID-19, visit the NDDoH website at www.health.nd.gov/coronavirus, follow on Facebook, Twitter and Instagram and visit the CDC website at www.cdc.gov/coronavirus.
BISMARCK, N.D. (AP) — An education campaign aimed at persuading North Dakotans to wear masks and practice social distancing still has not begun more than a month after $1.8 million in federal coronavirus aid was approved for the effort. The campaign had been set to start Monday, the same day North Dakota set a record for active COVID-19 cases statewide. A Health Department spokeswoman said three of the 10 private firms that submitted bids for education effort had equal proposals under the state's scoring system, which has delayed the effort for at least another week.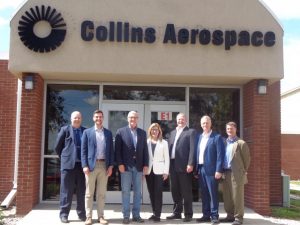 Jamestown  (Collins Aerospace)  – Collins Aerospace Systems, a unit of Raytheon Technologies Corp. (NYSE: RTX), this week, celebrated the 50th anniversary of its Cargo Systems business in Jamestown.  And while much has changed since the plant first opened its doors a half-century ago, one thing has remained the same—the facility's commitment to its employees, its customers and the Jamestown community.
From what began with a single building and some 50 employees in 1970, Collins Aerospace's Jamestown operations have grown to include a complex of manufacturing and office facilities that employ more than 400 workers—making the company the largest private employer in town and one of the largest in the state. In addition to its headquarters in Jamestown, Collins Aerospace's Cargo Systems business also maintains an engineering and manufacturing center in Bengaluru, India, to support the design and manufacture of many of its products.
Originally an office of the Western Gear Corporation, the Jamestown facility has been part of several different companies since its establishment, ultimately becoming part of Collins Aerospace in 2018. Over the course of its history, the site has produced a number of key systems for military and commercial aircraft, from weapons rails for the Grumman F-14 Tomcat to the cargo system for the Boeing 747. Today, the business continues to provide innovative solutions for the U.S. military, such as its COOLS (Cargo On-Off Loading System) for the Boeing CH-47 Chinook helicopter, and it remains a leading supplier of powered cargo systems for wide-body aircraft, like the Boeing 777.
Wayne Jones, general manager, Cargo Systems, at Collins Aerospace, says, "Our Cargo Systems business couldn't be happier to call Jamestown home and to celebrate 50 years in this community," said  "Our heritage was built on our ability to provide technologically advanced solutions for our military and commercial customers, and we look forward to continuing that tradition in the years to come."
Governor Doug Brugm adds, "From Carl Ben Eielson's historic flight across the Arctic Ocean in 1928 to today's cutting-edge Grand Sky UAS park, North Dakota has a rich heritage of aviation and aerospace, and we're deeply grateful to Collins Aerospace for its significant contribution and continuing role in that tradition. As a major employer, technology innovator and good corporate citizen in North Dakota for half a century, Collins Aerospace's Cargo Systems business continues to substantially benefit the economy and workforce of the Jamestown region and our entire state. Congratulations to Collins Aerospace on this milestone anniversary, and thank you for continuing to call North Dakota home!"
Senator John Hoeven says, The Cargo Systems business at Collins Aerospace is one of the state's largest private employers and a staple in the Jamestown community.  Technology continues to serve as the third wave in North Dakota's economic growth and year after year, the site has produced a number of key systems for aircrafts worldwide. The past five decades have brought innovative advancements and have laid a strong foundation to steward the company for many generations to come."
About Collins Aerospace
Collins Aerospace Systems is a leader in technologically advanced and intelligent solutions for the global aerospace and defense industry. Collins Aerospace has the capabilities, comprehensive portfolio and expertise to solve customers' toughest challenges and to meet the demands of a rapidly evolving global market. With 2019 net sales of approximately $26 billion, the business has 78,000 employees across more than 300 locations globally. It is one of the four businesses that form Raytheon Technologies. For more information, visit CollinsAerospace.com.
About Raytheon Technologies
Raytheon Technologies Corporation is an aerospace and defense company that provides advanced systems and services for commercial, military and government customers worldwide. With 195,000 employees and four industry-leading businesses ― Collins Aerospace Systems, Pratt & Whitney, Raytheon Intelligence & Space and Raytheon Missiles & Defense ― the company delivers solutions that push the boundaries in avionics, cybersecurity, directed energy, electric
propulsion, hypersonics, and quantum physics. The company, formed in 2020 through the combination of Raytheon Company and the United Technologies Corporation aerospace businesses, is headquartered in Waltham, Massachusetts.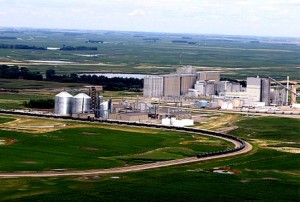 Jamestown  (CSi)  The Jamestown Stutsman Development Corporation (JSDC) Board of Directors has voted to send a letter of support to the EDA, as part of the grant process for the recently announced greenhouse project at the Spiritwood Energy Park.
On Wednesday's Wayne Byers Show on CSi Cable 2, JSDC Business Development Director, Corry Shevlin said the Stutsman County Commission has also announced their support of the project, and the City of Jamestown will also be asked for a letter to forward.
Glass Investments Projects Inc. to develop, construct and operate a large-scale commercial greenhouse that could employ approximently100 full-time positions. Construction is planned to start next spring.
In other business the JSDC Board approved two Flex PACE projects at their meeting.
Reister Meats & Catering of Streeter will be using Flex PACE funds to purchase an incinerator for the business. Reister Meats and Catering is a family run business with a butcher shop in Streeter, ND and a bakery/retail store in Medina, ND. They also cater for many different events. Homemade brats and sausage, sticks and many more products are offered.
Kramlich-Deede Meats of Medina plans to expand the north and east side of their facility to increase efficiencies and offer additional services. Kramlich-Deede Meats offers meat processing as well as bakery and homemade items.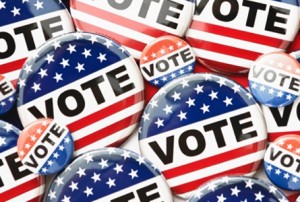 Jamestown  (CSi)  Voters for the November 3, 2020 General Election, have several options available to cast their ballots.
Prior to the June 2020 primary election, those who marked on the application that you wanted to receive an absentee (mail) ballot for the General Election will receive a ballot., with the information already in their system.
Absentee ballots to those who have requested them will be mailed on September 24th, 2020.  Send the ballot by mail on or before November 2nd, 2020.  Absentee ballots will begin to be processed November 2nd but results and tabulation will not occur until November 3rd, 2020.
Instead of mailing the ballot to the courthouse, voters have the option to bring the ballot to the Stutsman County Courthouse drop box, located inside the main doors, week days from 8-a.m., to 5-p.m.
Another drop box will be located at the Law Enforcement Center, available to November 2 at 5-p.m.
Early Voting at the Courthouse begins weekdays October 19th and running through October 30th. Doors are open from 8:00 AM – 5:00 PM, including over the Noon hour. Masks are not required but are strongly encouraged in order to keep both the public and our election workers safe.
On election day, November 3, the County-wide Vote Center Precinct, held at the Jamestown Civic Center, will be open from 7:00 AM – 7:00 PM. Keep in mind that with the ongoing pandemic certain procedures have changed and will most likely increase wait times and lines. Masks are not required, but are encouraged for the safety of the public as well as our election workers.
More voting information on the Stutsman County web site. Click here.
KENOSHA, Wis. (AP) — Kenosha's fire chief says damage from the unrest over the police shooting of Jacob Blake has now topped $11 million. Fire Chief Charles Leipzig told the Police and Fire Commission Tuesday that the record fire loss came in the days following the Aug. 23 shooting of Blake. The 29-year-old Black man was left partially paralyzed after a white police officer shot him seven times in the back. The shooting sparked protests and violence in Kenosha, where roughly two dozen fires were set and numerous businesses were destroyed. Prosecutors say 17-year-old Kyle Rittenhouse of Antioch, Illinois, shot three demonstrators, killing two of them, during a chaotic protest Aug. 25.
In sports…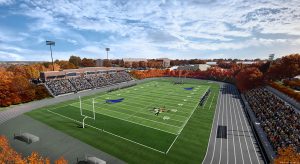 Jamestown (CSi)  The Jamestown Blue Jays football game on Friday September 18, 2020, will be played at UJ's Taylor Stadium, Rollie Greeno Field.
The Jays host Bismarck Legacy, with kickoff at 4-p.m.
The game was moved from Ernie Gates Field, stemming still unsafe field conditions created by last October's removal of heavy wet snow, when the field surface was badly dug up, and repairs to the turf this past summer were unsuccessful.
The field is hoped to be ready for use when Jamestown hosts, the Valley City Hi-Liners on Friday September 25 in the Homecoming game.
(AP)  The Big Ten is going to give fall football a shot after all. Less than five weeks after postponing fall sports to spring because of the pandemic, the conference changed course. The Big Ten says its Council of Presidents and Chancellors voted unanimously to restart sports. The Big Ten plans to begin its season on Oct. 23 with an eight-game schedule for each team. The development of rapid daily testing for the coronavirus was a major factor in the decision.
In world and national news..
WASHINGTON (AP) — The federal government is outlining a sweeping plan to make COVID-19 vaccines available for free to all Americans. But a top health official cautioned that widespread vaccination is unlikely until well into 2021. The director of the Centers for Disease Control and Prevention told Senate lawmakers that any vaccine available this year will be reserved for the most critical populations. The Trump administration has continued to push its own timeline that a vaccine could be broadly available within weeks. Public skepticism of the vaccine effort continues after recent revelations that a Trump official tried to gain control over a key CDC publication.
(AP) A fire incident report found that at least 13 new fires in Oregon were sparked by downed power lines during a period of high winds between two communities east of Salem. The daily report from the Northwest Interagency Fire Coordination Center, written Thursday, says the new fire starts were located between Mehama and Detroit during peak winds on Sept. 7. It doesn't say to what extent those fire starts impacted a larger, separate blaze that started on Aug. 16. The Oregon Public Utility Commission told local media Tuesday that it had no information attributing a "specific wildfire to any specific Oregon utility."
AUSTIN, Texas (AP) — Authorities say two cranes collided at a construction site in Austin, Texas, causing one to partially collapse and injuring at least 22 workers. The cranes collided Wednesday and got tangled several stories above a building under construction a few miles north of downtown in a rapidly growing neighborhood. Authorities say 16 of the injured workers were taken to hospitals with non-life-threatening injuries. They say most of the injuries were caused when workers scrambled away from the accident scene. The cause is under investigation. One of the crane operators remained in its cabin more than an hour after the accident, but authorities say he's safe and helping to stabilize the crane.
MACOMB, Ill. (AP) — Classes at Western Illinois University in Macomb have been canceled and all the buildings on campus have been locked as police search for a student who fled after allegedly shooting his roommate. School officials say the shooting happened Tuesday night in the dormitory room where the suspect and victim lived. They have identified the suspect as 18-year-old Kavion Poplous. They say an arrest warrant has been issued for Poplous. Officials have not released the name of the student who was shot. They say he is out of surgery, but they do not know his condition.
FORT LAUDERDALE, Fla. (AP) — A Florida sheriff's deputy who was fired for his inaction during a school shooting that left 17 dead has been reinstated with back pay by an arbitrator. The arbitrator ruled this week that Broward County Sheriff Gregory Tony acted 13 days too late when he fired deputy Josh Stambaugh last year for his conduct during the 2018 Marjory Stoneman Douglas High massacre. State law says discipline against law enforcement officers must happen within 180 days of an investigation's completion. Investigators say Stambaugh got out of his truck, put on his bulletproof vest and took cover for five minutes after hearing shots. He then drove away.