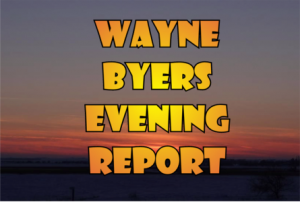 CSi Weather…
.TONIGHT…Partly cloudy. Lows in the mid 40s. South winds 5 to 10 mph.
.SATURDAY…Mostly sunny. Haze. Highs in the lower 70s. Southeast winds 5 to 15 mph.
.SATURDAY NIGHT…Increasing clouds. Lows in the upper 50s. Southeast winds around 15 mph.
.SUNDAY…Mostly cloudy with a 20 percent chance of showers and
thunderstorms in the morning, then sunny in the afternoon. Highs
around 80. Southwest winds 10 to 15 mph.
.SUNDAY NIGHT…Clear. Lows in the mid 50s.
.MONDAY…Sunny. Highs in the upper 70s.
.MONDAY NIGHT…Clear. Lows around 50.
.TUESDAY…Sunny. Highs around 80.
.TUESDAY NIGHT…Mostly clear. A 20 percent chance of rain
showers after midnight. Lows in the mid 50s.
.WEDNESDAY…Mostly sunny. Highs in the mid 70s.
.WEDNESDAY NIGHT…Partly cloudy. Lows in the upper 40s.
.THURSDAY…Mostly sunny. Highs in the mid 70s.
Expect breezy/windy conditions on Sunday. Sustained winds expected to be in the 15-25 range.
With respect to smoke, hazy skies continuing across the entire area with the
likely thickest haze on Saturday.
A slight chance of showers Tuesday night and early Wednesday. Warmer temps on Mon/Tue in the 70s and 80s will also see a slight cooldown behind the trough on Wednesday/Thursday, but still warm in the 70s.
Valley City  (Gwen Crawford)  News release by City Administrator Gwen Crawford, with Background information, on the water main breaks. leading to boil water order.
"There was a planned shut down for the 5th Ave Construction for replacement of an old pipe and valve for our Main Feeder to the North Water Towers and ground storage tank. (On Tuesday)
One of the High-Pressure Pumps turned on dumping high pressure into our Zone 1 which is about 85% of the town causing over pressure on pipes and exposing weaknesses in the old cast iron pipes. Anything that was PVC pipe held up.
An example is the pipe on 3rd Street in front of the Post Office had a baseball size hole. It's a cast iron pipe that was put in in 1921 and is scheduled to be replaced in 2023.
The important thing to know is that our Public Works was on top of things and as soon as any break was discovered the break was isolated therefore assuring no contamination.
Required testing was done by the State confirming that there was no chemical or bacterial contamination and that everything was safe.
The Public Works and Water Plant staff need to be commended on their hard work and to see them in action and work as a Team over the different departments is something to see."
5 main breaks.
4th Ave 4th St NE
3rd Street NE (next to Post Office)
2nd Street NW (West side of Wells Fargo)
700 block of 3rd Street NW
8th Ave near Petro Serve USA
Previously….
Valley City  (CSi)   On Thursday afternoon, the Boil Water Order, was lifted in Valley City.
The boil water advisory is now cancelled and is no longer necessary
After sampling and testing of the water from multiple areas throughout town, no contamination was found.
The precautionary boil water advisory was issued on Tuesday this week  stemming from a drop in water pressure when multiple water main breaks were reported in Valley City.
Daily coronavirus data in North Dakota set four records on Friday, as active cases of COVID-19 neared 3,000, deaths continued to mount in Burleigh County, and the state issued an emergency call for volunteer staffing at long-term care facilities that are seeing a surge in cases. The Bismarck Tribune reported that newly confirmed COVID-19 cases in the general population statewide totaled 508, active cases reached 2,986, hospitalizations totaled 77 and daily tests hit 10,006. All were daily highs.
NDDoH
COVID-19 Stats
Fri. Sept 18, 2020
Posted 11-a.m.
Barnes
New Positives  2
Total Positives  208
Active Cases 51
Recovered 157
Stutsman
New Positives  3
Total Positives 472
Active Cases 105
Recovered 364
COVID-19 Test Results
The results listed are from the previous day. Additional data can be found on the NDDoH website.
BY THE NUMBERS
10,006 – Total Tests from Yesterday*
569,913 – Total tests completed since pandemic began
508 – Positive Individuals from Yesterday*****
17,230 – Total positive individuals since pandemic began
5.22% – Daily Positivity Rate**
2,986 – Total Active Cases
+273 Individuals from yesterday
232 – Individuals Recovered from Yesterday (149 with a recovery date of yesterday****)
14,060 – Total recovered since pandemic began
77 – Currently Hospitalized
+8 – Individuals from yesterday

2 – New Deaths*** (184 total deaths since the pandemic began)

INDIVIDUALS WHO DIED WITH COVID-19
Woman in her 90s from Burleigh County with underlying health conditions.
Man in his 90s from Burleigh County with underlying health conditions.

COUNTIES WITH NEW POSITIVE CASES REPORTED FRIDAY
Barnes County – 2
Benson County – 27
Billings County – 5
Bottineau County – 2
Burke County – 1
Burleigh County – 84
Cass County – 77
Dickey County – 4
Dunn County – 6
Eddy County – 2
Emmons County – 3
Foster County – 2
Grand Forks County – 66
Griggs County – 3
Kidder County – 1
LaMoure County – 1
McHenry County – 1
McKenzie County – 5
McLean County – 8
Mercer County – 5
Morton County – 33
Nelson County – 1
Oliver County – 1
Pembina County – 2
Pierce County – 1
Ramsey County – 5
Ransom County – 3
Renville County – 5
Richland County – 4
Rolette County – 6
Sargent County – 4
Stark County – 57
Stutsman County – 3
Towner County – 1
Traill County – 3
Walsh County – 2
Ward County – 52
Williams County – 20
* Note that this does not include individuals from out of state and has been updated to reflect the most recent information discovered after cases were investigated.
**Individuals who tested positive divided by the total number of people tested who have not previously tested positive (susceptible encounters).
*** Number of individuals who tested positive and died from any cause while infected with COVID-19.
**** The actual date individuals are officially out of isolation and no longer contagious.
******Totals may be adjusted as individuals are found to live out of state, in another county, or as other information is found during investigation.
For descriptions of these categories, visit the NDDoH dashboard.
For the most updated and timely information and updates related to COVID-19, visit the NDDoH website at www.health.nd.gov/coronavirus, follow on Facebook, Twitter and Instagram and visit the CDC website at www.cdc.gov/coronavirus.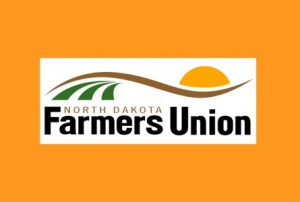 Jamestown  (NDFU)   – North Dakota Farmers Union applauded Friday's announcement by the United States Department of Agriculture that a second round of farm aid will provide $14 billion to producers who have experienced market disruptions caused by COVID-19. Sign up for the Coronavirus Food Assistance Program (CFAP 2) begins Monday, Sept. 21.
North Dakota Farmers Union President Mark Watne, says,  "This is much needed funding to fill in the gaps the first CFAP program missed.  It will cover more commodities, provide a minimum payment of $15 per acre for crop farmers, and offer additional support to livestock producers."
Watne said trade disputes, weather challenges, and the pandemic have created significant challenges for family farmers and ranchers. He praised Sen. John Hoeven for his leadership and action in securing the funding as chairman of the Senate Agriculture Appropriations Committee.
Watne add, "This funding will help farmers keep afloat, there's no question about it, but our growing reliance on ad hoc support is not a sustainable solution.  In the long term, we need to restore competition in the marketplace, address chronic overproduction, and create a strong and stable farm safety net."
Jamestown (NDFU)– N­orth Dakota Farmers Union (NDFU) broke ground Friday on a new youth camp facility that will be built on 19 acres of land at the Jamestown Reservoir.
NDFU President Mark Watne said the new facility will allow the organization to expand its camping program. "It's going to be a great opportunity for us, not only in the Jamestown area but in eastern North Dakota. We'll be able to reach more kids."
In a typical year, the organization has 1,200 youths attend Farmers Union Camp. Watne said he expects that number to continue to grow to 2,000.
In sharing the features of the camp, Watne emphasized the construction of a state-of-the-art education room that will be built to further STEM (Science, Technology, Engineering, Mathematics) curriculum. "We're going to really expand in that area, so we can teach kids that come to camp about the future of technology," he said. The facility will have a separate dormitory building, along with an indoor gymnasium and outdoor recreation.
One of the pillars of any Farmers Union Camp is the co-op store, which will have a permanent home inside the facility's lodge. "We do a lot of training on the cooperative business model and on leadership development," Watne said. "We're looking for folks to be board members or future leaders of their community."
Watne also noted Farmers Union's investment in communities and throughout North Dakota. "We've spent years investing back into the state of North Dakota, and we're really proud of that."
The camp's construction is targeted for completion by midsummer of 2021.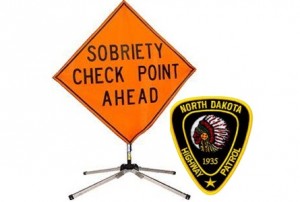 Jamestown   (NDHP)  On Friday, Sept. 25, 2020, the North Dakota Highway Patrol and Stutsman County Sheriff's Office will conduct a DUI checkpoint at a predetermined location in Stutsman County. Following the checkpoint on Friday and continuing Saturday, Sept. 26, the North Dakota Highway Patrol will conduct saturation patrols in the county.
Impaired driving and impaired driving related motor vehicle crashes are a major threat to the safety of those traveling on North Dakota's roadways. Through Sept. 14 of this year, there have been 64 fatal crashes on North Dakota roads resulting in 66 fatalities. Twenty-one of these fatalities, or 31.8%, involved a driver who tested positive for blood alcohol content.
The weekend's sobriety checkpoint and saturation events are part of the NDHP's ongoing efforts to maintain roadway safety by targeting specific times and locations to have a greater impact at reducing impaired driving.
Sgt. Evan Savageau stated, "These enforcement efforts influence drivers to not drink and drive or at least plan ahead and arrange for a safe ride home. Making the responsible choice saves not only your life but the lives of others on the road."
The North Dakota Highway Patrol is committed to the Vision Zero strategy which aims to establish a culture of personal responsibility where motor vehicle fatalities and serious injuries are recognized as preventable. The strategy encourages all motorists to take personal responsibility for their safety and the safety of others on the road by driving sober, wearing seatbelts, and driving distraction-free.
Results from these planned enforcements will be released early next week.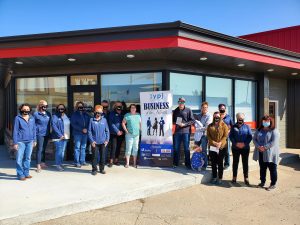 Jamestown  (Chamber)  The chamber Young Professionals of Jamestown and the Chamber Ambassadors recently recognized Nick Bruns Nodak Insurance Agency as the September Business of the Month Award for their outstanding customer service and continued commitment to the community.
The nomination stated, "Nick Bruns not only provides another insurance service options for the community of Jamestown, but he did the community a service by completely remodeling a former business on main street and replacing it with a beautiful, progressive new business. Something very important for communities like Jamestown is the focus to growth and to revitalize old buildings. In the rawest of terms, he made an eye sore on main street become a stand out business that services numerous people. Great work, Nick Bruns! Rather than tearing down, you brought life back to a staple main street building in Jamestown. Innovative!"
The Young Professionals of Jamestown honor businesses that provide superior customer service, exhibit community spirit and provide a positive economic impact to the community.  This award provides recognition throughout the month with a plaque and a recognition banner for the month. Monthly award winners will be considered for the Business of the Year to be awarded at the Chamber's Annual Banquet in January of 2021.  Business of the Month award nomination forms are available at the Chamber office and online at www.jamestownchamber.com .  Call 701-252-4830 for more information.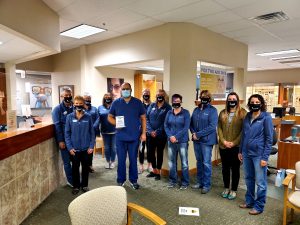 Jamestown  (Chamber)  Members of the Jamestown Area Chamber of Commerce Ambassador Committee and the Young Professionals of Jamestown presented the Customer Service Award for September to Brad Kahler of Lifetime Vision 20/20 for his outstanding customer service.  The chamber honors individuals who demonstrate a consistent commitment to delivering products or services that satisfy customers by exceeding their requirements or expectations.
His nominations said, "We have a student, who was born with severe eye issues that impairs his vision. His family struggles financially and lacks transportation. The mother was able to get him to see an eye specialist. She tried to get him glasses online but due to the prescription and strength needed, this was difficult. When the glasses came in, we did not see a change in how this student could see and function in the classroom that we had anticipated would happen. We took this little boy to Lifetime to see Brad and check the prescription. Unfortunately, they were incorrect. The family could not afford another pair. Our student was nervous and shy at first. Brad had him smiling and laughing in no time. Brad and Dr. Motacek were so very gracious and kind to our little boy. Brad let him choose a new pair of glasses. Shortly after we left the store, Brad called me. He and Dr. Motacek decided they wanted to gift him not one, but two pairs of glasses!!!! One we could keep at school and one for home to ensure he would be able to see at his best while at school and home!! This brought tears to my eyes!! Thank you does not seem like enough to say for the gift of sight Brad and Dr. Motacek at Lifetime gave our little boy!! Bless you!"
Congratulations to Brad, who along with all the other monthly winners, will be recognized at the Chamber's annual banquet in January 2021.  Customer Service Award nomination forms are available at the Chamber office and on their website at www.jamestownchamber.com or call 701-252-4830.
MINOT, N.D. (AP) — A defendant accused of fatally stabbing a man at a Minot hotel has pleaded not guilty to felony murder. Fifty-seven-year-old Milo Whitetail entered the plea Thursday in Ward County to felony murder in the death of Eric Patterson. Prosecutors say the 43-year-old victim was stabbed 20 times in the head, neck, chest and side last May after the two men argued over batteries that were missing from a remote control in a room at the Economy Motel. The maximum sentence for felony murder is life without parole.
BISMARCK, N.D. (AP) — A freshman Democratic House member from eastern North Dakota has announced he's resigning. Matt Eidson of Grand Forks notified legislative leaders on Thursday that he has moved back to his hometown of Kansas City, Missouri. The 32-year-old Eidson served in the Marine Corps in Iraq and Afghanistan from 2008-2015. Eidson posted a video on Facebook Thursday night and said he is struggling with post-traumatic stress disorder, depression and anxiety. Eidson said in his video that he is now with his family. North Dakota law allows local party district organizations to choose a successor for an incumbent legislator who dies or resigns.
BISMARCK, N.D. (AP) — A former Democratic North Dakota House minority leader who lost his legislative seat to a Republican newcomer four years ago is asking the state Supreme Court to remove the lawmaker from the November ballot. Kenton Onstad, filed a petition with the state's high court on Wednesday, alleging that Terry Jones is a resident of Wyoming and can't hold office in North Dakota. Jones owns a farming, ranching and construction business in Wyoming. But he says two of his sons now run that business. Jones says he owns a home in New Town, and leads a church congregation there every Sunday.
In world and national news…
DES MOINES, Iowa (AP) — The federal government says it will give farmers an additional $14 billion to compensate them for the difficulties they've experienced selling their crops, milk and meat because of the coronavirus pandemic. The U.S. Department of Agriculture released details of its plan Friday, saying it will provide "financial assistance that gives producers the ability to absorb increased marketing costs associated with the COVID-19 pandemic." President Donald Trump first mentioned the aid in a speech Thursday night in Wisconsin, a state that is considered vital for his chances to win a second term. The additional payments also illustrate the importance of farmers as a voting block to Trump's reelection.
NEW YORK (AP) — U.S. health officials are dropping a controversial piece of coronavirus guidance and telling all those who have been in close contact with infected people to get tested. The Centers for Disease Control and Prevention essentially returned to its previous guidance about such tests. In doing so, it got rid of language posted last month that said people who didn't feel sick didn't need to get tested. That August change set off a rash of criticism from health experts who couldn't fathom why the nation's top public health agency would say such a thing amid a pandemic that has been difficult to control.
(AP)  The coronavirus pandemic has led Europe's largest security organization to drastically scale back plans to send as many as 500 observers to the U.S. to monitor the Nov. 3 presidential election. The Organization for Security and Cooperation in Europe told The Associated Press on Friday that it now will deploy just 30 observers. The Vienna-based organization is better known for monitoring elections in countries such as Belarus or Kyrgyzstan. But it has spent months trying to figure out how to safely keep tabs on the U.S. election. The organization says it's worried the election will be "the most challenging in recent decades" as Americans pick a president during a pandemic.
MADRID (AP) — Many residents in Madrid will need a reason to leave their neighborhoods and will face limitations on group gatherings even stricter than the ones in place. Authorities moved Friday to try to rein in Europe's fastest-spreading second coronavirus wave. The long-awaited restrictions affect around 860,000 people, or 13% of the region's 6.6 million residents. The Spanish capital's rate of transmission is more than double the national average, which already leads European contagion charts. As yet another sign of how hospitals are slowly but steadily filling up, a line of green tents have been installed at the gates of a Madrid military hospital to triage any incoming coronavirus patients.
JERUSALEM (AP) — Israel went back into a full lockdown to try to contain a coronavirus outbreak that has steadily worsened for months as its government has been plagued by infighting. The three-week lockdown began in the early afternoon on Friday. It will include the closure of many businesses, strict limits on public gatherings, and will largely confine people to within 1 kilometer — about half a mile — of their homes. The closures coincide with the Jewish High Holidays, when people typically visit their families and gather for large prayer services. Prime Minister Benjamin Netanyahu has warned that even stricter measures may be needed to prevent hospitals from being overwhelmed.