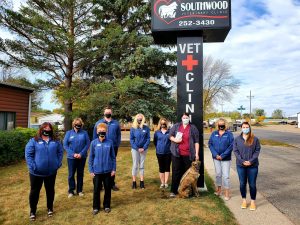 (Chamber)  Members of the Jamestown Area Chamber of Commerce Ambassador Committee and the Young Professionals of Jamestown presented the Customer Service Award for October to Anna Stansbery of Southwood Veterinary Clinic for her outstanding customer service.  The chamber honors individuals who demonstrate a consistent commitment to delivering products or services that satisfy customers by exceeding their requirements or expectations.
Her nominations said, "On Saturday, June 13th I went to my dad's house in Edgeley to visit. When I got to his house the feed shed had been left open and his three horses had been in there eating. When a horse eats too much grain, it can overload and can get colic and laminitis. Dad's horses mean the world to him. He uses two of them as a team to pull the grandkids, and many other kids in Edgeley, in his buggy. When I discovered my dad's horses, I called Southwood Emergency after-hours number. Anna Stansbery answered and said she was up getting ready for work and asked if she could call me back. When she called back, she said that if I could bring them in right away, she'd find a way to fit them into her schedule, so she could get them started on mineral oil and charcoal right away to stop the feed absorption. She explained that the timing of this was critical. Anna could have easily declined to take on the additional work and turned us away. She did this despite the fact that I am far from the most valuable customer at the clinic. The horses would have suffered permanent injury if she hadn't taken the time to treat them that day. She treated me like the most valuable customer. As of now, dad's horses are healthy and happy and he'll be able to give the grandkids rides for years to come. Thank you, Anna."
Congratulations to Anna, who along with all the other monthly winners, will be recognized at the Chamber's annual banquet in January 2021.  Customer Service Award nomination forms are available at the Chamber office and on their website at www.jamestownchamber.com or call 701-252-4830.