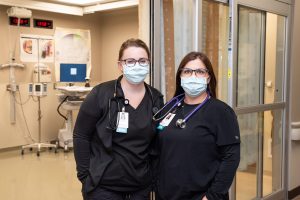 Jamestown  (JRMC)  —  Jamestown Regional Medical Center has ranked No. 56 in the Provider/Insurer category of Modern Healthcare's Best Places to Work for 2020.
This is the fourth year JRMC has made the list of Best Places to Work in healthcare nationwide.
The Best Places to Work distinction is given to 150 organizations based on how well they "empower employees to provide patients and customers with the best possible care, products and services." This year, Modern Healthcare also scored organizations on pandemic response in addition to more traditional measures, such as benefits and internal communication.
Ricki Ramlo, Chief Operating Officer, says The Best Places to Work designation honors organizations who create a value-based culture of high-performing and resilient teams. At JRMC, it reinforces the medical center's vision to be the best rural hospital in the country for patients to receive care, providers to practice and employees to work.
JRMC President & CEO, Mike Delfs says, "While the work we do is not for awards or praise, we are grateful for the recognition.  It's simply one more example of why JRMC remains a destination for care in the state of North Dakota."
This award benefits the community because satisfied and engaged employees offer superior patient-centered care.
Ms Ramlo adds, "Each JRMC employee is a critical stakeholder and prides themselves in the patient experience. The BPW designation highlights that commitment to our patients and community. The legendary teams at JRMC are caring on for this community."
Aurora Aguilar, Modern Healthcare's editor., says,  making the Best Places to Work list is rewarding in a normal year, said Being one of the Best Places to Work in 2020 is extraordinary.
"It has been an especially trying year for the world, and healthcare in particular as COVID-19 ravages our communities and workplaces.  "The organizations recognized on this year's list rose to the top and continued to be a source of strength for their teammates. They have seen their colleagues fall ill to the virus and struggled with the economic impact of the pandemic. The loyalty and trust between employers and their workers is being put to the test now more than ever. We congratulate the Best Places to Work in Healthcare for continuing to serve their workforce and communities during such an unprecedented time."