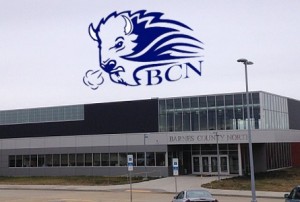 Bismarck  (NDDHS)   – The North Dakota Department of Human Services' Behavioral Health Division announced Wednesday that it has awarded funding for the expansion of a children's behavioral health prevention and early intervention pilot grant to Dunseith Public School and Barnes County North Public School near Wimbledon, N.D.
The two school districts will share up to $150,00 to build a comprehensive strategy to improve children's behavioral health in school settings by using a fully-integrated continuum of support that includes health promotion, primary prevention, treatment and recovery that can be shared with other North Dakota schools in the future.
Barnes County North Elementary School Principal Danielle Bosse said, "We are excited to develop a comprehensive behavior plan to enforce consistency throughout our building and enhance relationships to be proactive in our fight against the mental health issues in children."
The children's prevention and early intervention pilot grant is part of an effort to enhance the state's behavioral health system. It supports recommendations included in a North Dakota Behavioral Health Study to invest in prevention and early intervention, expand community-based services, and enhance and streamline the system of care for children and youths.