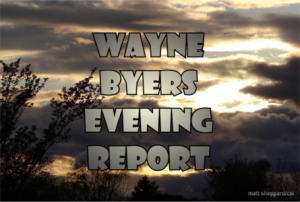 CSi Weather…
.FRIDAY  NIGHT….Snow likely possibly mixed with rain in the evening, then snow possibly mixed with rain after midnight. Snow accumulation around 1 inch in the Jamestown area, up to 3 inches in the Valley City area.  Lows in the lower 30s. South winds 5 to 10 mph shifting to the east after midnight.  Chance of precipitation 90 percent.
.SATURDAY…Mostly cloudy with light snow, possibly mixed with rain and freezing rain in the morning, then mostly sunny in the afternoon. Patchy blowing and drifting snow through the day. Snow accumulation up to 2 inches. Total snow accumulation up to 5 inches, in the Valley City area.  Highs in the mid 30s. Breezy. Northwest winds 15 to 25 mph. Chance of precipitation 60 percent in the Jamestown area, 90 percent in the Valley City area.
.SATURDAY NIGHT…Partly cloudy. Lows 15 to 20. Northwest winds
10 to 15 mph.
.SUNDAY…Mostly sunny. Highs in the lower 30s. Northwest winds
10 to 15 mph with gusts to around 30 mph.
.SUNDAY NIGHT…Partly cloudy. Lows 15 to 20.
.MONDAY…Mostly sunny. A 20 percent chance of snow in the
afternoon. Highs in the mid 30s.
.MONDAY NIGHT…Increasing clouds. A 20 percent chance of snow.
Lows 15 to 20.
.TUESDAY…Partly sunny. Highs in the upper 30s.
.TUESDAY NIGHT…Decreasing clouds. Lows in the mid 20s.
.WEDNESDAY…Mostly sunny. Highs in the mid 40s.
.WEDNESDAY NIGHT…Mostly cloudy. A 20 percent chance of snow
after midnight. Lows in the upper 20s.
.THURSDAY…Partly sunny. Highs in the upper 30s.
A band of snow is expected to move into eastern North Dakota after
midnight Friday night and move into northwest Minnesota by Saturday morning.
Accumulations of up to 1 or 2 inches is expected in most areas.
Higher amounts are expected along the US Highway 2 corridor.
However, the location of the expected band may shift as the system
approaches. Travel may be impacted by winter weather late Friday night
and Saturday morning. Motorists are advised to check road
conditions late tonight and Saturday morning.
Snow will come to an end on Saturday morning in eastern North
Dakota and during the afternoon in northwest Minnesota.
North Dakota remains among the nation's hot spots for the coronavirus spread, with health officials reporting a new daily high of new cases. Health officials confirmed 877 new cases of the virus on Friday and 18 additional deaths. Since the pandemic began, the state of fewer than 800,000 people has seen a total of 388 deaths and more than 30,000 total cases. The surge in cases and deaths statewide spurred Gov. Doug Burgum to raise the coronavirus risk level in several North Dakota counties this week. But he issued no mandated restrictions. The new deaths include 10 women and eight men, all in their 60s or older. All had underlying health conditions.
NDDoH COVID-19 Stats
Fri. Oct, 16, 2020
Posted 10 a.m.
Barnes
New Positives   4
Total Positives 280
Active Cases 26
Recovered 253
Stutsman
New Positives 21
Total Positives 668
Active Cases  108
Recovered  556
More information as it becomes available
COVID-19 Test Results
The results listed are from the previous day. Additional data can be found on the NDDoH website.
BY THE NUMBERS
9,226 – Total Tests from Yesterday*
747,239 – Total tests completed since the pandemic began
877 – Positive Individuals from Yesterday*****
30,517 – Total positive individuals since the pandemic began
10.01% – Daily Positivity Rate**
5,247 Total Active Cases
+300 Individuals from yesterday
546 – Individuals Recovered from Yesterday (465 with a recovery date of yesterday****)
24,882 – Total recovered since the pandemic began
148 – Curren­tly Hospitalized
+10 – Individuals from yesterday
18 – New Deaths*** (388 total deaths since the pandemic began)

INDIVIDUALS WHO DIED WITH COVID-19
Woman in her 80s from Bottineau County with underlying health conditions.
Woman in her 90s from Bottineau County with underlying health conditions.
Man in his 80s from Burleigh County with underlying health conditions.
Woman in her 90s from Burleigh County with underlying health conditions.
Woman in her 70s from Burleigh County with underlying health conditions.
Man in his 60s from Burleigh County with underlying health conditions.
Man in his 70s from Cass County with underlying health conditions.
Man in his 80s from Grand Forks County with underlying health conditions.
Man in his 90s from McHenry County with underlying health conditions.
Man in his 90s from McHenry County with underlying health conditions.
Woman in her 90s from McLean County with underlying health conditions.
Man in his 90s from Morton County with underlying health conditions.
Man in his 90s from Stark County with underlying health conditions.
Woman in her 70s from Stark County with underlying health conditions.
Woman in her 80s from Stark County with underlying health conditions.
Women in her 60s from Towner County with underlying health conditions.
Woman in her 90s from Ward County with underlying health conditions.
 Woman in her 80s from Williams County with underlying health conditions.

COUNTIES WITH NEW POSITIVE CASES REPORTED FRIDAY
Barnes County – 4
Benson County – 15
Billings County – 1
Bottineau County – 3
Bowman County – 2
Burleigh County – 108
Cass County – 223
Divide County – 3
Dunn County – 3
Eddy County – 3
Foster County – 3
Grand Forks County – 113
Grant County – 1
Griggs County – 1
Hettinger County – 2
Kidder County – 1
LaMoure County – 2
Logan County – 1
McHenry County – 8
McKenzie County – 12
McLean County – 13
Mercer County – 16
Morton County – 29
Mountrail County – 13
Nelson County – 2
Oliver County – 4
Pembina County – 6
Pierce County – 1
Ramsey County – 22
Ransom County – 5
Richland County – 12
Rolette County – 6
Sargent County – 2
Sheridan County – 3
Sioux County – 7
Slope County – 1
Stark County – 26
Stutsman County – 21
Towner County – 3
Traill County – 12
Walsh County – 10
Ward County – 116
Wells County – 3
Williams County – 35
* Note that this does not include individuals from out of state and has been updated to reflect the most recent information discovered after cases were investigated.
**Individuals who tested positive divided by the total number of people tested who have not previously tested positive (susceptible encounters).
*** Number of individuals who tested positive and died from any cause while infected with COVID-19. There is a lag in the time deaths are reported to the NDDoH.
**** The actual date individuals are officially out of isolation and no longer contagious.
*****Totals may be adjusted as individuals are found to live out of state, in another county, or as other information is found during investigation.
For descriptions of these categories, visit the NDDoH dashboard.
For the most updated and timely information and updates related to COVID-19, visit the NDDoH website at www.health.nd.gov/coronavirus, follow on Facebook, Twitter and Instagram and visit the CDC website at www.cdc.gov/coronavirus.
Valley City (CSi)   City County Health in Valley City announces a change in the days, and location of the FREE COVID-19 testing.  Administrator, Terresa Will says testings have moved to Mondays and new location:
Where:  ND Winter Show    700 7th St SE  When:  Monday Oct 19,   1pm-2pm
Pre-register on line at testreg.nd.gov
CSi Photos from the Monday Oct 12 testing
For updates related to COVID-19 in North Dakota visit the North Dakota Department of Health website. Or follow the City County Health District FaceBook page for Barnes County updates.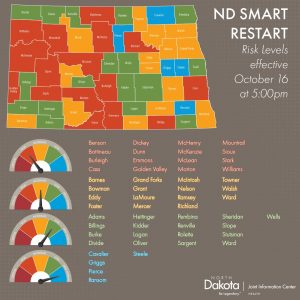 Bismarck (NDDoH)  The State Health Department's  county COVID-19 Risk Levels, as of October 15, 2020  at 5-p.m.
Bismarck  (CSi) – Gov. Doug Burgum, in conjunction with the North Dakota Department of Health (NDDoH), announced Friday that North Dakota has submitted its COVID-19 vaccination plan to the Centers for Disease Control and Prevention (CDC). The plan can be found at health.nd.gov/covidvaccine.
"We're deeply grateful to all of the agencies and partners involved in this collaborative effort to develop a comprehensive COVID-19 vaccination plan," Governor Burgum said. "North Dakota is ready to take action as soon as a safe and effective vaccine becomes available."
North Dakota's planning efforts are based on CDC guidance to anticipate a phased availability of vaccines within the state. This COVID-19 vaccine plan outlines how a future COVID-19 vaccine will be prioritized, equitably allocated, distributed and administered in North Dakota.
"We have been planning for months to ensure we have a detailed plan ready to be able to distribute and administer the COVID-19 vaccine as successfully as possible when it becomes available," said NDDoH Immunization Program Manager Molly Howell. "We're appreciative for our partners who continue to assist us in this process. Preparations and planning will continue while awaiting an approved vaccine."
Key areas addressed in this plan include enrollment of health care providers to administer vaccine, storage and handling, prioritization, allocation, distribution, and data reporting. The plan will be updated as additional information about the COVID-19 vaccine becomes available. It is still unknown who will be prioritized for COVID-19 vaccine and when a vaccine will be available.
North Dakota included pharmacies, long-term care facilities, corrections, universities, health care providers, local public health, tribal entities and other key stakeholders in the planning process.
"In North Dakota, we have a close connection with health care, nonprofits, community groups and others that has strengthened our response to COVID-19," said Kylie Hall with the NDSU Center for Immunization Research and Education and member of the vaccine planning team. "Our partners are continuing to prepare for the day when a safe and effective vaccine is available so we can distribute it equitably and efficiently."
In August, North Dakota was selected by the Centers for Disease Control and Prevention (CDC) as one of four states to be part of a pilot project to plan for the distribution of a future COVID-19 vaccine.
For more information on COVID-19 vaccine, visit health.nd.gov/covidvaccine.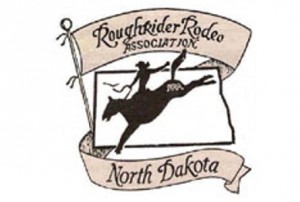 Jamestown (CSi) The annual Roughrider Rodeo finals in Jamestown will be held outdoors at the Stutsman County Fairgrounds. It has been moved from the Civic Center to allow for social distancing.
Events include, bareback riding, bull riding, tie-down roping, breakaway, team roping, steer wrestling along with some junior events. The state champion will be crowned.
The rodeo will be October 16th through the 18th at the Stutsman County Fairgrounds. For more information, contact Mary Carlson at 701-624-5226 or email mdcarlson@srt.com.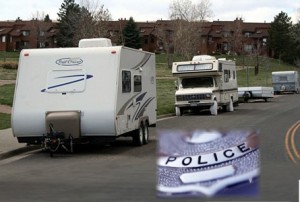 Jamestown  (JPD)  Jamestown Police Chief Scott Edinger reminds residents that trailers  and RV's and campers must be removed from city streets by the end of October.
Trailers would include motorhomes, camper trailers, RV's, boats or any other form of trailer must be removed from city streets by October 31st.  Failure to adhere by the deadline will result in the trailer being tagged and impounded.  Trailers can create hazards for city crews when snow needs to be plowed as winter quickly approaches.
The city appreciates everyone's cooperation.
 Jamestown  (CSi)  The City of Jamestown is currently accepting applications for the following:
• 1 open position on the Regional Airport Authority—5-year term to December 2025.
Anyone interested in serving on the above committees/boards should complete an "Application for Appointment". The application may be obtained in person at City Hall, 102 3rd Ave SE, Jamestown, ND, by calling 701-252-5900 or online at jamestownnd.org and select government tab/city committees to download the form.
The application should be returned by November 16, 2020 to:
City of Jamestown
Attn: Appointments
102 3rd Avenue SE
Jamestown, ND 58401-4205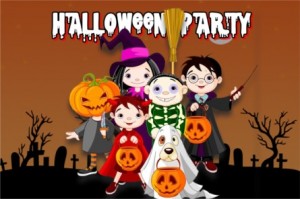 Jamestown  (CSi)  Victory Lutheran Church will host its annual Trunk or Treat event, Saturday, October 31.  Children, ages 0 – 12, and their parents and grandparents are invited to experience this evening of safe Halloween fun.
Unfortunately due to COVID 19 the church will not host indoor carnival games this year but beginning at 5:30 pm  the parking lot at Victory Lutheran Church will be filled with cars with open trunks filled with treats to handout to all kids and by the end of the evening their sacks are full.
The local fire department, police department, ambulance and new this year – Alfred Dickey Library Bookmobile have been invited to hand out treats as well. Victory Lutheran Church is located at 510 9th Avenue SW.  For more information, please call the office at 251-1570.
Bismarck  (CSi)  – Routine surveillance testing conducted this week by the North Dakota Department of Corrections and Rehabilitation (ND DOCR) has revealed an increase among staff and residents who are currently positive for COVID-19. As of October 16, 2020, active positive cases totaled 80 (37 staff, 43 residents). This represents a net increase in positive cases of 54 (12 staff, 42 residents) from the last week. No staff or residents are currently hospitalized due to COVID-19.
The largest number of infections at the ND DOCR are located at the North Dakota State Penitentiary (NDSP) where 19 staff members and 39 residents are currently positive. All residents testing positive for the virus are immediately placed in a medical isolation unit. The medical condition of each resident in isolation is monitored at least twice daily by ND DOCR medical staff. Staff who have tested positive or who have been determined to be a close contact of a positive are notified and required to immediately leave the workplace.
MADISON, Wis. (AP) — Rising coronavirus cases in key presidential battleground states are the latest worry for election officials and voters a little more than two weeks before Election Day. The prospect of poll workers backing out at the last minute because they are infected, quarantined or scared of getting sick has local election officials in Midwest states such as Iowa and Wisconsin opening more early voting locations, recruiting backup workers and encouraging voters to plan for long lines. Wisconsin's governor plans to activate the Wisconsin National Guard to fill any staffing shortages at election sites. The pandemic's recent trajectory has led people who have always voted in person on Election Day to reconsider a lifetime tradition.
BISMARCK, N.D. (AP) — North Dakota's oil production increased slightly in August from the month prior. The Department of Mineral Resources says the state produced an average of 1.16 million barrels of oil daily in August. That's up from 1.04 million barrels a day in July. North Dakota also produced 2.6 billion cubic feet of natural gas per day in August, up from 2.3 billion cubic feet in July. There were 15,144 wells producing in August, up from 14,416 in July. There were 16 drill rigs operating Friday, an increase of four from the August average.
In sports
UJ  The University of Jamestown women's volleyball team is home for a pair of Great Plains Athletic Conference matches this weekend at Harold Newman Arena. UJ hosts Concordia (Neb.) University Friday at 7:30 p.m. and Midland (Neb.) Saturday at 5 p.m.
COVERAGE LINKS:
FRIDAY:   LIVE VIDEO | LIVE AUDIO | LIVE STATS
SATURDAY: LIVE VIDEO | LIVE STATS
Jamestown (8-0 overall, 6-0 GPAC) defeated College of Saint Mary (Neb.) 3-0 last Saturday in their most recent match. It was the fourth sweep in the Jimmies' last five matches. UJ has dropped just four sets so far this season.
Concordia comes to town at 7-1 overall and in the conference. The Bulldogs' only loss came October 10 at Northwestern (Iowa), and since then have won their last two matches.
The Jimmies have won six straight over the Bulldogs dating back to the 2009 season.
Midland is riding a two-match winning streak, having swept Dordt (Iowa) and College of Saint Mary last week. The Warriors are 4-5 overall and 3-4 in the GPAC. Midland opened the season losing three of their first four but have won three of their last five since September 19.
UJ snapped a four-match losing streak to the Warriors on November 1 of last year and are 3-4 against Midland since August 31, 2007.
Jamestown is on the road the weekend of October 23-24 but will play the first of three straight home matches on October 29 against Mayville State (N.D.) University.
(UJ) The University of Jamestown women's soccer team looks to snap a two-match losing streak Saturday when they travel to Sioux Center, Iowa, to face the Dordt University Defenders in Great Plains Athletic Conference action. Match time is set for 2:15 p.m.
COVERAGE LINKS: LIVE VIDEO | LIVE STATS
The Jimmies (4-3-0 overall, 2-3-0 GPAC) have lost their last two matches by identical 2-1 scorelines, including a loss in overtime to Concordia (Neb.) University last Saturday.
Kirstyn Aldridge (SR/Williamsburg, Va.) and Kamryn Fiscus (SO/Yakima, Wash.) are tied for the team lead in goals with three each, while Claire Struble (JR/Murrieta, Calif.) is next with two goals. Fiscus has a team-high three assists.
Dordt (5-4-1, 4-3-1 GPAC) is coming off of a 1-0 win at Midland (Neb.) on Wednesday and have four wins in their last five matches. The only goals the Defenders have conceded over their last 450 minutes of play came in a 3-0 loss to Morningside (Iowa) on October 10.
Alaina VanZalen leads Dordt in scoring with team highs in both goals (6) and assists (2). After going five matches without a goal, VanZalen has found the back of the next twice in her last three contests.
UJ is at Dakota Wesleyan (S.D.) University on October 21 before returning home to host College of Saint Mary (Neb.) on October 24.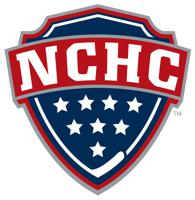 COLORADO SPRINGS, Colo. (NCHC) – After thorough discussion and thoughtful planning over the past few months, the National Collegiate Hockey Conference (NCHC) has finalized its plans for the 2020-21 season. The 26-game conference schedule and two-part format, which includes utilizing a centralized location ("Pod") for all NCHC games to start the season, was unanimously approved by the NCHC's Board of Directors on Thursday, Oct. 15.
With the focus on the health and safety of student-athletes, coaches, staff, and officials, the Conference has intentionally attempted to limit team travel. Because of this, NCHC teams have been divided into two divisions based on geography for 2020-21 scheduling purposes: East and West. The East Division consists of Miami, Minnesota Duluth, St. Cloud State and Western Michigan. The West Division consists of Colorado College, Denver, North Dakota and Omaha. Teams will play each of their divisional opponents six times (18 games total) and each cross-division opponent twice (8 games total), with all cross-division games taking place in the Pod to alleviate travel. The second portion of the season will then take place January through March, with all divisional foes playing each other at home and on the road.
The Conference will commence the pursuit of the Penrose Cup on Tuesday, Dec. 1 in the Pod, which will take place in Omaha, Nebraska, where the University of Nebraska Omaha's Baxter Arena will host all eight NCHC teams. Competition in the Pod will include 10 games per team (40 games total) and run through the first three weeks of December, with games held throughout each week. In addition to the cross-division games at Baxter Arena, each team will also play two games against one divisional foe in the Pod.
Overall medical support and COVID-19 testing for all participating student-athletes, staff and officials in the Pod will be conducted through the University of Nebraska Medical Center (UNMC), located in Omaha. Medical protocols and testing strategies for the entire season are currently being developed with top medical professionals from UNMC and the Global Center for Health Security.
In world and national news…
WASHINGTON (AP) — Federal health officials are unveiling a plan to get approved coronavirus shots to nursing home residents free of cost, with the aid of two national pharmacy chains. No vaccine has yet been approved by the Food and Drug Administration, and the distribution program is contingent on that happening first. Trained staff from CVS and Walgreens will deliver the vaccines to each nursing home and administer shots. Assisted-living facilities and residential group homes can also participate in the voluntary program. Nursing home staffers can be vaccinated too, if they haven't gotten their shots already. Needles, syringes and other necessary equipment will be included.
GRAND RAPIDS, Mich. (AP) — A federal judge says prosecutors have enough evidence to move toward trial for five Michigan men accused of plotting to kidnap Democratic Gov. Gretchen Whitmer. U.S. Magistrate Judge Sally Berens said the five men's cases can go to a grand jury, which will determine whether to issue indictments. That is required for them to face trial. Berens also decided that all five men will remain held without bond. A sixth man, Barry Croft, was separately ordered on Tuesday to be transferred to Michigan from his home state of Delaware.
WASHINGTON (AP) — The federal budget deficit hit an all-time high of $3.1 trillion in the 2020 budget year, more than double the previous record, as the coronavirus pandemic cut revenues and sent spending soaring. The Trump administration reported Friday that the deficit for the budget year that ended Sept. 30 was three times the size of last year's deficit of $984 billion. It was also $2 trillion higher than the administration had estimated in February before the pandemic hit. It surpassed the previous record of $1.4 trillion set in 2009 when the Obama administration was spending heavily to shore up the nation's banking system and limit the economic damage from the 2008 financial crisis.
WASHINGTON (AP) — The White House and the Kremlin are rejecting each other's ideas on extending the last major treaty governing their nuclear arsenals. President Vladimir Putin said Friday he could accept a short-term extension of the New START treaty, as was recently proposed by Washington, but he rejected the U.S. insistence that this be coupled with a broader limit on nuclear warheads. Hours later, the White House called Putin's idea for an unconditional extension a "non starter." Adding an edginess to the exchange, National security adviser Robert O'Brien said Putin should reevaluate his stance "before a costly arms race ensues."
LOS ANGELES (AP) — U.S. authorities allege that Mexico's former defense minister helped smuggle thousands of kilograms of cocaine, heroin, methamphetamine and marijuana into the United States in exchange for bribes. Court documents unsealed Friday in New York alleged that Gen. Salvador Cienfuegos Zepeda acted on behalf of the H-2 cartel while defense secretary from 2012 to 2018 under former President Enrique Pena Nieto. The post positioned Cienfuegos as a critical figure in efforts by Mexico and its allies to combat drug trafficking. He was arrested Thursday as he arrived at Los Angeles International Airport.