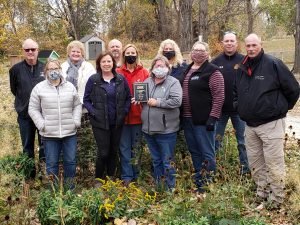 The Accessibility Award went to the Sensory Gardens located in Solien Denault Park, Jamestown ND.
The Accessibility Award recognizes people and organizations who have made significant contributions to accessibility by constructing barrier-free environments and/or removing physical barriers.
This award recognizes the collaborative effort between the Jamestown Park and Recreation Dept., Chamber Beautification Committee, Anne Carlson Center, Freedom Resource Center, Master Gardener, and City of Jamestown Forestry Dept. The Garden is designed to be accessible for wheelchairs, walkers, and for visually impaired. The walking area meets ADA width requirements to accommodate wheelchairs traveling in both directions.  The two bridges have lower plate guards to help guide those who are visually impaired, and to prevent the wheels from adaptive equipment from slipping off the edge.  The planters are at varying heights, picnic tables are accessible, and benches are placed to accommodate wheelchair parking. To enjoy the water, a walkway to the deck is accessible.  Planters have readers for people who have visual impairments to place their phone up to a reader card and learn about the various plants through their phones.  The park has been listed on a national visually impaired registry. The goal is to ensure people with all disabilities are be able to enjoy the peace and serenity of the park. Sensory Gardens will be featured on Freedom's Facebook page during the month of November.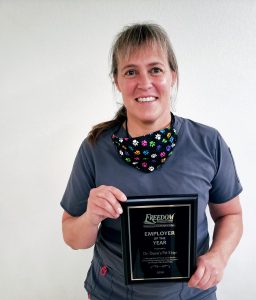 This year Freedom Resource Center is proud to announce the Employer of the Year: Dr. Dawn's Pet Stop.
In 2019 the U.S. Bureau of Labor Statistics reported that only 19.3 percent of persons with a disability were employed.  In contrast, persons without a disability were 66 percent employed. The Employer of the Year Award is given in recognition of employers in the private and public sectors for outstanding achievements in improving employment opportunities for people with disabilities.
Dr. Dawn's Pet Stop recognizes and demonstrates exemplary employment practices for people with disabilities. Dr. Dawn has been providing animal health care since 1998. They have customized the clinic to accommodate people with disabilities, and they focus on employees' strengths and skills. For instance, one of the positions the clinic has established focuses on the employee's ability to perform the job while being part of a team. One of the responsibilities is to assist on routine surgeries and provide comfort to animals while they are in pre- and post-care. Dr. Dawn's Pet Stop gives people with disabilities the opportunity to provide a valuable service to their patients. Dr. Dawn's Pet Stop will be featured on Freedom's Facebook page during the month of November.
Freedom Resource Center for Independent Living, Inc. is a non-profit disability rights organization that has been serving people with disabilities for over 30 years.
Our mission is to provide services that increase independence for people with disabilities. Our vision is that people with disabilities are equal and valued participants in society.