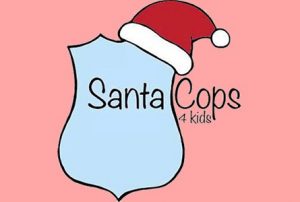 Valley City  (CSi) Valley City Police Chief Phil Hatcher has informed the community that  this year there will not be the annual Santa Cops and Kids event due to concerns with the COVID-19 pandemic due to safety issues.  He thanks to the generous donations from businesses and individuals in the past who have made this program possible every year.
The Fraternal Order of Police, Lodge Number 4, is considering other ways to conduct the event in a different format, to cheer up some kids.
They look forward to hosting the event again next year.
If any individual or business would still like to donate to Santa, Cops & Kids program, mail the donation to the Valley City Police Department or drop it off at the Police Department Office in Valley City. If donating with a check, make checks payable to James/Valley Lodge #4.
Santa-Cops-Kids-News-Release from the ND Fraternal Order of Police, James River Valley Region lodge Number 4, in Jamestown.