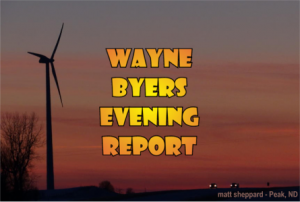 CSi Weather…
.TONIGHT…Mostly clear. Lows 15 to 20. South winds around 5 mph.
.SATURDAY…Increasing clouds. Not as cool. Highs in the mid 40s. Southwest winds 5 to 15 mph with gusts to around 30 mph.
.SATURDAY NIGHT…Mostly cloudy in the evening. A 20 percent chance of light rain and snow in the evening, then clearing.
Lows in the mid 20s. South winds around 10 mph shifting to the
west after midnight.
.SUNDAY…Sunny. Highs in the mid 30s. Northwest winds 10 to
15 mph.
.SUNDAY NIGHT…Partly cloudy. Lows 15 to 20.
.MONDAY…Increasing clouds. Highs around 40.
.MONDAY NIGHT…Mostly cloudy. Lows in the mid 20s.
.TUESDAY…Mostly sunny. Highs in the mid 30s.
.TUESDAY NIGHT…Mostly clear. Lows in the lower 20s.
.WEDNESDAY…Mostly sunny. Highs in the mid 40s.
.WEDNESDAY NIGHT…Partly cloudy. Lows in the lower 20s.
.THANKSGIVING DAY…Mostly sunny. Highs in the mid 30s.
Valley City  (CSi)  The North Dakota Highway Patrol joined the Valley City Police Department, and the Barnes County Sheriff's Office on Friday in a vehicle pursuit along I-94 and then in Valley City.
A brief lockdown of Valley City schools was put into effect, stemming from the circumstances of the chase.
Jefferson elementary principal Troy Miller the School Resource Officer notified him just  before noon that authorities were in pursuit of an automobile considered a possible community safety concern.
The schools  kept the students locked in their classrooms until school officials were notified about 12:15-p.m., that the driver was arrested by law enforcement and no longer posed a risk to the community.
The North Dakota Highway Patrol was assisted by Barnes County Sheriff's deputies and Valley City Police Department officers.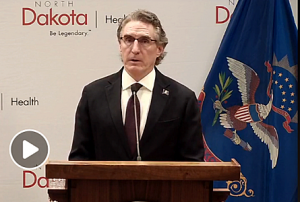 Bismarck (CSi)  Governor Doug Burgum held his weekly COVID-19 News Briefing, on Friday at noon at the State Capital in Bismarck.  Joining Burgum were, North Dakota House Majority Leader Chet Pollert and Senate Majority Leader Rich Wardner,  Dr. Bill Heegaard, president of Essentia Health's West Market, Dr. Josh Ranum of West River Health Services in Hettinger, Valley City Public Schools Superintendent Josh Johnson and Williston Public School District No. 1 Superintendent Jeff Thake.
The legislators also joined the governor, when Burgum issued on Wednesday November 18, an amended order that will allow practices to resume for high school winter sports and association, community and club sports for youth and adults starting Nov. 30. Competitions will remain suspended until Dec. 14, 2020. Burgum has said the state wants to preserve the winter sports season.
 The change comes after daily consultation and collaboration between the governor and legislative leaders, constructive input from the North Dakota High School Activities Association and athletic associations, and feedback from numerous legislators, parents, school administrators, students, coaches, mental health professionals, and others concerned about the impacts of suspended activities on students' well-being.
Burgum said this briefing is the last at the Brynhild Haugland Room, as the State Legislature will meet there.  The news briefings will be held at another location at the capital.
ND COVID-19 Stats
Fri. Nov. 20,  2020
8:47-a.m.
Barnes County:
New Deaths 3
Man in his 70s
Man in his 70s
Man in his 60s
Total Deaths 8
New Positives   23
Total Positives  865
Active Cases 220
Recovered  637
Stutsman
3 new deaths
Woman in her 90s
Woman in her 80s
Man in his 60s
Total deaths 38
New Positives  43
Active Cases 436
Recovered 1820
COVID-19 Test Results 
The results listed are from the previous day. Additional data can be found on the NDDoH website.

BY THE NUMBERS
10,185 – Total Tests from Yesterday*
1,054,136 – Total tests completed since the pandemic began
1,408 – Positive Individuals from Yesterday*****
70,016 – Total positive individuals since the pandemic began
25,000 in November so far.
14.99% – Daily Positivity Rate**
9,915 – Total Active Cases
-216 Individuals from Yesterday
1,597 – Individuals Recovered from Yesterday (1,253 with a recovery date of yesterday****)
59,283 – Total recovered since the pandemic began
289 – Currently Hospitalized
+13 – Individuals from yesterday
23 – New Deaths*** (818 total deaths since the pandemic began) 
INDIVIDUALS WHO DIED WITH COVID-19
Man in his 70s from Barnes County.
Man in his 70s from Barnes County.
Man in his 60s from Barnes County.
Man in his 90s from Cass County.
Man in his 50s from Cass County.
Man in his 80s from Grand Forks County.
Man in his 70s from Grand Forks County.
Man in his 80s from Grand Forks County.
Man in his 80s from Grand Forks County.
Woman in her 90s from Hettinger County.
Man in his 80s from McLean County.
Woman in her 80s from Ramsey County.
Woman in her 100s from Ramsey County.
Man in his 100s from Richland County.
Man in his 80s from Stark County.
Woman in her 90s from Stutsman County.
Woman in her 80s from Stutsman County.
Man in his 60s from Stutsman County.
Woman in her 100s from Ward County.
Woman in her 90s from Ward County.
Woman in her 50s from Ward County.
Man in his 80s from Ward County.
Man in his 70s from Ward County.
COUNTIES WITH NEW POSITIVE CASES REPORTED FRIDAY
Adams County – 3
Barnes County – 23
Benson County – 10
Billings County – 1
Bottineau County – 9
Bowman County – 3
Burke County – 7
Burleigh County – 185
Cass County – 219
Cavalier County – 2
Dickey County – 1
Dunn County – 7
Eddy County – 4
Emmons County – 1
Foster County – 5
Golden Valley County – 2
Grand Forks County – 153
Grant County – 7
Griggs County – 3
Hettinger County – 11
Kidder County – 2
LaMoure County – 7
Logan County – 2
McHenry County – 12
McIntosh County – 6
McKenzie County – 12
McLean County – 13
Mercer County – 36
Morton County – 56
Mountrail County – 34
Nelson County – 9
Oliver County – 5
Pembina County – 6
Pierce County – 3
Ramsey County – 33
Ransom County – 2
Renville County – 15
Richland County – 17
Rolette County – 31
Sargent County – 9
Sheridan County – 1
Sioux County – 9
Stark County – 52
Steele County – 5
Stutsman County – 43
Towner County – 2
Traill County – 16
Walsh County – 35
Ward County – 240
Wells County – 3
Williams County – 36
* Note that this does not include individuals from out of state and has been updated to reflect the most recent information discovered after cases were investigated.
**Individuals who tested positive divided by the total number of people tested who have not previously tested positive (susceptible encounters).
*** Number of individuals who tested positive and died from any cause while infected with COVID-19. There is a lag in the time deaths are reported to the NDDoH.
**** The actual date individuals are officially out of isolation and no longer contagious.
*****Totals may be adjusted as individuals are found to live out of state, in another county, or as other information is found during investigation.
For descriptions of these categories, visit the NDDoH dashboard.
For the most updated and timely information and updates related to COVID-19, visit the NDDoH website at www.health.nd.gov/coronavirus, follow on Facebook, Twitter and Instagram and visit the CDC website at www.cdc.gov/coronavirus.
Burgum added that all North Dakota counties have at least two active positive cases.
He says, 25,000 positive case have been recorded so far in November, and if the trend continues hospital capacity will be further stressed.
He added that the entire upper Midwest continues in "COVID Storm," with a high rate of positive cases and deaths from the virus.
Dr. Bill Heegaard, president of Essentia Health's West Market, said North Dakota currently has hospital beds available, but it's getting tight.
He said staffing is the greatest bottleneck, if the staff has an increase in positives, then that's a game changer, with those people quarantining, or sick at home or in the hospital as patients.
He said masking is effective, against the spread of the virus, as is physical distancing, along with frequent hand washing with soap and water.  He said Thanksgiving gatherings staying small is about not infecting people others, and increasing the spread.  He said the virus stays alive by spreading from person to person, especially in indoors settings.  The CDC is also advising against traveling for Thanksgiving, anywhere.
Dr. Josh Ranum of West River Health Services in Hettinger, said, the COVID Unit at that hospital has been filled with COVID positive patients.  He added if a critical patient needs to be transferred elsewhere, multiple phone calls need to made to find another hospital with room, one transferred as far away as Iowa.
Staffing issues there is also at issue, being engaged due to the number of positive cases in community.  Traveling spreads the virus, as a person can be asymptomatic and give COVID to someone unknowingly.  Wearing a mask keeps businesses open and students in school.
Burgum said his  announcement, late last Friday was timed in order to let the public know about the added mitigation measures in a timely fashion, when they were to take affect this past Saturday.
North Dakota will receive approximately 60 U.S. Air Force medical personnel to assist in the state's COVID-19 response after the Federal Emergency Management Agency (FEMA) granted the state's request for federal assistance, Gov. Doug Burgum announced today.
The personnel, part of a Department of Defense COVID-19 response operation, are primarily nurses, including critical care nurses. They will split up into multiple specialty teams to support at least six hospitals in four cities: Trinity Hospital in Minot, CHI St. Alexius Health in Bismarck, Sanford Medical Center in Bismarck, Essential Health in Fargo, Sanford Medical Center in Fargo and Altru Health System in Grand Forks.
The teams will deploy Saturday and are expected to start work at the hospitals next week in coordination with the North Dakota Department of Health (NDDoH). The Air Force nurses will join the 167 nurses who are part of the NDDoH COVID Response Team.
"These dedicated Air Force personnel will help relieve the stress on North Dakota's more than 20,000 nurses who continue to work tirelessly to provide exceptional care for patients under incredibly challenging conditions," Burgum said. "With hospitals projecting a surge in COVID-19 patients in the coming weeks, we're deeply grateful to the Department of Defense and FEMA for granting our request for additional resources to help save lives and alleviate the immense pressure on North Dakota's hospitals and long-term care facilities."
North Dakota Senate Majority Leader Rich Wardner, said recreation and physical health is an important aspect in the academic success and retention of students, along with good mental health.
North Dakota House Majority Leader Chet Pollert of Carrington said, when last Friday's announcement was released the a legislative phone meeting was held each of the next several days, addressing issues the public has.  With his wife a school teacher, he is aware of school concerns.    The goal is to keep kids in school, and protest the elderly population.
Valley City Public Schools Superintendent Josh Johnson addressed items in K-12 education.
He said last spring and then forward challenges mouted.
Friday was the 55th consecutive day of continuous in-person classes have been held at VCPS.  He said a fair amount of students have been absent due to COVID-19 or being close contacts.  The majority of VCPS students last week told administrators that they are in favor of in class learning.   A number of students have indicated concerns about mental health issues stemming from the pandemic. Johnson said mental health issues at Valley City Public School is of concern and continue to be addressed. He presented a drawing by a VCPS first grader, to Governor Burgum, indicating the student's feelings about school and the pandemic.
Williston Public School District No. 1 Superintendent Jeff Thake, said the school district masked  up in September and is now mandated in line with state requirements to slow the spread of COVID-19.  He said, mitigation guidelines are not popular, but necessary.  He said a pause of activities are critical in the pandemic fight.
Burgum said the NDDoH has a public Healthline available at 1-866-207-2880.  On line for more information and service availability on line:  Health.nd.gov.
Behavioral Health
The North Dakota Department of Human Services' Behavioral Health Division has launched a new program to help eligible North Dakotans access community-based substance use disorder treatment services and care coordination services.
Also available is support for parents whose children maybe be depressed concerning various pandemic issues, with school, at home and elsewhere.
BISMARCK, N.D. (AP) — North Dakota's Supreme Court is considering who should fill a state House seat that was won by a Republican candidate who died before the election. The state's high court heard arguments Friday. North Dakota Gov. Doug Burgum's attorney argued that the Republican governor has the right to appoint someone to the seat and that there is northing in state law that allows the Legislature to do so. Attorney General Wayne Stenehjem argued Burgum's appointment of a coal executive to the seat won by David Andahl is executive branch overreach. Andahl died Oct. 5 from coronavirus complications.
MINNEAPOLIS (AP) — The head of one of the largest health systems in the Midwest has told employees he's recovered from COVID-19 and is back in the office, without a mask. Sanford Health's CEO, Kelby Krabbenhoft, said in an email Wednesday that he believes he's now immune for "at least seven months." And he says he isn't a threat to transmit it, so wearing a mask would be merely for show. Krabbenhoft's email comes as hospitals throughout the region are struggling. Other Sanford Health executives tried to walk his statement back, saying in an email Friday that his words don't reflect the views of the system as a whole.
BISMARCK, N.D. (AP) — An online news organization is suing North Dakota regulators over documents the state holds related to the developer of the Dakota Access Pipeline and the company that handled security during construction. The lawsuit filed this week by First Look Media Works, Inc., the nonprofit publisher of The Intercept, is the second legal action over the documents. Pipeline developer Energy Transfer and its subsidiary Dakota Access LLC sued the board last month, seeking the return of some 16,000 documents that it said are "confidential, proprietary, and privileged documents." The lawsuit said the disclosure of the records could present a security risk.
KENOSHA, Wis. (AP) — An Illinois 17-year-old charged with killing two people during a protest in Wisconsin has posted bail and been released from custody. Kyle Rittenhouse posted a $2 million cash bond in Kenosha on Friday. Prosecutors accuse Rittenhouse of fatally shooting two people and wounding a third during an Aug. 25 protest against police racism and brutality in Kenosha. Rittenhouse's attorneys insist he was acting in self-defense. Some conservatives have portrayed Rittenhouse as a patriot who was exercising his right to bear arms to protect property. A legal defense fund for him has attracted millions of dollars in donations.
In sports…
Friday
Fargo  (CSi) At State Volleyball Tournament in the Fargodome
Mandan def Valley City 3-1.
Saturday morning, at 10-a.m., the Hi-Liners  play West Fargo Sheyenne for 7th place in the tournament.
In world and national news…
ATLANTA (AP) — Georgia's top elections official has certified results showing Democrat Joe Biden won the presidential race in the state. Secretary of State Brad Raffensperger certified the results Friday after a hand count of ballots affirmed Biden's lead over Republican President Donald Trump. Raffensperger said during a news conference Friday that he believes the numbers his office has presented are correct. He says he's a proud Trump supporter but he's also an engineer who lives by the motto that "numbers don't lie." Now, Republican Gov. Brian Kemp has until 5 p.m. Saturday to certify the state's slate of 16 presidential electors. Kemp has called a news conference for 5 p.m. Friday.
WASHINGTON (AP) — Senate Majority Leader Mitch McConnell is proposing that Congress funnel $455 billion of unspent small business lending funds toward a new COVID-19 aid package. His offer Friday comes after a morning meeting with Treasury Secretary Steven Mnuchin and White House Chief of Staff Mark Meadows. They are trying to restart stalled negotiations with Democrats on a year-end virus aid package in the lame-duck Congress. Congress has been at a standstill as House Speaker Nancy Pelosi is pushing for $2 trillion in new coronavirus aid, but McConnell insists on a more narrow $500 billion package. The availability of new funds could raise the pricetag closer to a compromise.
WILMINGTON, Del. (AP) — President-elect Joe Biden is calling on Congress to enact billions of dollars in emergency COVID-19 assistance before year's end. Biden transition aide Jen Psaki warned Friday that "there's no more room for delay." Biden and Vice President-elect Kamala Harris met in Delaware with House Speaker Nancy Pelosi and Senate Democratic leader Chuck Schumer. Biden told the top congressional Democrats: "In my Oval Office, mi casa, you casa." Pelosi said at an earlier news conference that she and Schumer would be talking with Biden about "the urgency of crushing the virus," as well as how to use the lame-duck session of Congress, legislation on keeping the government funded and COVID-19 relief.
Pfizer has asked U.S. regulators to allow emergency use of its COVID-19 vaccine, starting a process that could bring first shots as early as next month. Friday's step comes days after Pfizer and its German partner BioNTech announced its vaccine appears 95% protective in a large but not yet finished study. Over the next few weeks, the Food and Drug Administration and its scientific advisers will have to decide if there's really enough evidence to allow emergency vaccinations. If so, first supplies will be scarce and rationed. Experts warn it likely will be spring before there's enough for everyone.
Four Democratic mayors called on Republican Gov. Doug Ducey on Friday to institute a statewide requirement for Arizona residents to wear masks in public, a move that came as state health officials reported over 4,000 additional known COVID-19 cases for the second consecutive day. They accused the governor of failing to provide leadership in the state's battle against a new surge of the coronavirus. Ducey Chief of Staff Daniel Scarpinato pushed back on the request, noting that the mayors were doing little to enforce their own mask ordinances or ensure that existing safety measures put in place by the governor are being enforced.
NEW YORK (AP) — This summer's huge motorcycle rally in South Dakota led to dozens of coronavirus cases in neighboring Minnesota. That's the finding of a report Friday from the Centers for Disease Control and Prevention. The study was mainly conducted by Minnesota health officials. They counted 86 cases that they said were related to the rally in Sturgis — 51 people who went to the event and 35 who came into contact with those people later. Most did not suffer serious illnesses, but four were hospitalized and one died. The rally has been a source of contention between the governors of the two states.