CSi Weather…
.TONIGHT…Decreasing clouds. Lows in the mid 20s. South winds around 10 mph shifting to the west after midnight.
.THANKSGIVING DAY…Mostly sunny. Highs in the upper 30s. West winds around 15 mph with gusts to around 30 mph.
.THURSDAY NIGHT…Mostly clear. Lows around 20. West winds 10 to
15 mph.
.FRIDAY…Sunny. Highs in the lower 40s. West winds 10 to 15 mph.
.FRIDAY NIGHT…Mostly clear. Lows in the mid 20s.
.SATURDAY…Sunny. Highs in the upper 40s.
.SATURDAY NIGHT…Partly cloudy. Lows in the lower 20s.
.SUNDAY…Sunny. Highs in the upper 20s.
.SUNDAY NIGHT…Mostly clear. Lows around 10.
.MONDAY…Sunny. Highs around 30.
.MONDAY NIGHT…Mostly clear. Lows 15 to 20.
.TUESDAY…Mostly sunny. Highs in the mid 30s.
A warming trend is expected Friday and Saturday ahead of a stronger clipper bringing low 50's into much of the  southwest and south central, Saturday.
The Clipper and a front moves through late Saturday night and Sunday with a shot of snow possible, with just light snow accumulations if any.
Colder temperatures expected on Sunday behind the front with highs in the 20s/30s
ND COVID Stats
Wed. Nov. 25, 2020
11-a.m.
Barnes County
New Positives: 14
Total Positives:  953
Active: 173
Recovered: 766
Stutsman County
New Positives: 50
Total Positives: 2517
Active: 367
Recovered:  2109
COVID-19 Test Results 
The results listed are from the previous day. Additional data can be found on the NDDoH website.

BY THE NUMBERS
9,586 – Total Tests from Yesterday*
1,102,420 – Total tests completed since the pandemic began
1,096 – Positive Individuals from Yesterday*****
75,478 – Total positive individuals since the pandemic began
12.31% – Daily Positivity Rate**
8,615 – Total Active Cases
-292 Individuals from Yesterday
1,366 – Individuals Recovered from Yesterday (1,102 with a recovery date of yesterday****)
65,976 – Total recovered since the pandemic began
297 – Currently Hospitalized
+8 – Individuals from yesterday
6 – New Deaths*** (887 total deaths since the pandemic began)
Please note that the death of a woman in her 60s from Richland County and a woman in her 60s from Rolette County were misreported yesterday.
INDIVIDUALS WHO DIED WITH COVID-19
Man in his 70s from Cass County.
Woman in her 70s from Cass County.
Man in his 60s from Richland County.
Woman in her 50s from Ward County.
Man in his 90s from Ward County.
Man in his 70s from Williams County.
COUNTIES WITH NEW POSITIVE CASES REPORTED WEDNESDAY
Adams County – 2
Barnes County – 14
Benson County – 4
Bottineau County – 8
Bowman County – 1
Burleigh County – 205
Cass County – 276
Cavalier County – 3
Dickey County – 2
Divide County – 2
Dunn County – 5
Emmons County – 4
Foster County – 8
Golden Valley County – 1
Grand Forks County – 99
Grant County – 2
Griggs County – 6
Hettinger County – 2
Kidder County – 1
LaMoure County – 11
Logan County – 1
McHenry County – 3
McIntosh County – 3
McKenzie County – 12
McLean County – 16
Mercer County – 11
Morton County – 63
Mountrail County – 11
Nelson County – 3
Pembina County – 16
Pierce County – 1
Ramsey County – 10
Ransom County – 14
Renville County – 1
Richland County – 6
Rolette County – 10
Sargent County – 9
Sioux County – 16
Stark County – 19
Steele County – 2
Stutsman County – 50
Traill County – 10
Walsh County – 17
Ward County – 113
Williams County – 23
* Note that this does not include individuals from out of state and has been updated to reflect the most recent information discovered after cases were investigated.
**Individuals who tested positive divided by the total number of people tested who have not previously tested positive (susceptible encounters).
*** Number of individuals who tested positive and died from any cause while infected with COVID-19. There is a lag in the time deaths are reported to the NDDoH.
**** The actual date individuals are officially out of isolation and no longer contagious.
*****Totals may be adjusted as individuals are found to live out of state, in another county, or as other information is found during investigation.
For descriptions of these categories, visit the NDDoH dashboard.
For the most updated and timely information and updates related to COVID-19, visit the NDDoH website at www.health.nd.gov/coronavirus, follow on Facebook, Twitter and Instagram and visit the CDC website at www.cdc.gov/coronavirus.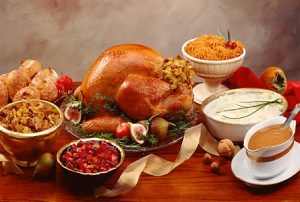 Jamestown  (CSi)  The Community Thanksgiving Day dinner held at Concordia church is Cancelled.
The Committee comprised of community people feels it is in the best interest of the community (in light of the COVID-19 pandemic).
The committee appreciated the volunteers who make this dinner possible each year.
They wish  that everyone stays healthy and safe during this pandemic, in the community.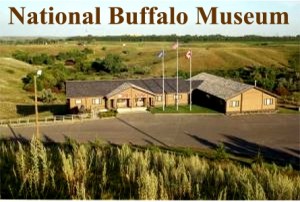 Jamestown (CSi)   Thanksgiving weekend will brings something new to Jamestown! A debut art installation by Virginia-based artist Patty Swygert opens at the National Buffalo Museum on Friday, November 27th, with a virtual opening reception and artist talk on December 4th.
The Museum's Curator of Collections, Rachel Johnson, on Wednesday's Wayne Byers Show on CSi Cable 2, said, Swygert is a conceptual and visual sculptor and fiber artist. Her installation, I AM BISON, uses paint, ink, earth pigments, soil, dyes, thread and yarn on paper, fabric, and found objects, to offer glimpses of the iconic National Mammal, from prehistory through present day. The installation features nearly 30 two- and three-dimensional works created by Swygert specifically for the National Buffalo Museum's space.
Rachel added, "When Patty contacted us after she participated in our juried art show, Bison in Art 2019, to propose creating this immersive exhibit, we were thrilled. It is exciting to have an artist of this caliber creating work for the museum and bringing attention to the story of the bison's ongoing restoration."
Asked what inspired her about this project, Swygert said, "I love stories, especially those which feature an underdog and involve numbers. The story of the bison has both of those characteristics. From the first animals which crossed into North America from Asia, bison flourished until millions roamed the continent for perhaps millions of years before being reduced to fewer than 1,000 animals in just a few decades and then brought back from the brink of extinction."
Swygert's work has been exhibited locally, nationally, and internationally. Individual pieces range in size from micro sculptures less than 2 inches to room-sized installations. She works in various media including concrete, led lights, paper, fabric, fiber, metal, wood, stone, glass, and repurposed and found objects. Often experiential and interactive, tactile and touchable, some of her pieces capture light, texture, and color while others address more controversial social issues, global crises, and the fate of humans and animals as they navigate a changing world.
The National Buffalo Museum will be open from 10am to 5pm Friday through Sunday of the Thanksgiving holiday weekend. I AM BISON will be on view from November 27, 2020 to September 11, 2021.
The National Buffalo Museum's mission is to advocate for the restoration of the North American Bison through education and outreach. For more information, contact Rachel Johnson at 701-252-8648 or collections@buffalomuseum.com.
On Sunday, November 29, 2020, for the fourth consecutive year, more than 1,400 museum stores representing all 50 states and the District of Columbia, 22 countries, and five continents will offer inspired shopping at museums and cultural institutions during Museum Store Sunday.
The Museum Store at the National Buffalo Museum is thrilled to participate in this signature annual initiative and join museum stores worldwide by offering quality gifts filled with inspiration and educational value to consumers, with all purchases supporting its parent institution and the artisans and craftspeople who create many of the gifts found in museum stores.  The Museum Store will be open 10 a.m. to 5 p.m.
"We have been participating in Museum Store Sunday since 2018," said Executive Director, Ilana Xinos. "It is a great event and we will be offering some amazing one-day-only discounts in our Museum and Online Stores. This is a great opportunity for Jamestown residents to find unique, quality items while shopping locally. If you can't make it into the store, we have an online store that provides local pickup or shipping, as well as gift-wrapping options. Proceeds from our store sales are used to help further our mission of advocating for the restoration of the North American bison through education and outreach."
Blue Anderson, President of the Museum Store Association Board of Directors and Director of Visitor Services for the Columbia River Maritime Museum, says, "This year it's more important than ever to support local cultural institutions—many of which have been closed for months due to COVID-19 restrictions. On Museum Store Sunday, we encourage shoppers to 'Be a Patron' at their favorite museum stores to not only find inspiring, creative, and educational gifts for friends and family, but to also lend much needed support to these important venues. Whether online or in person, Museum Store Sunday is a wonderful opportunity for consumers around the world to shop local, support artisans and small suppliers, give back to the community, and find unique gifts for loved ones."
During these uncertain times, shoppers can look forward to Museum Store Sunday as the global annual day to Be a Patron– and shop conscientiously and support museum stores and their missions worldwide. While there is only one Museum Store Sunday each year, everyone is encouraged to Be a Patron of museums and museum stores all year round.
For up-to-date information on Museum Store Sunday and a list of global museum store participants, visit www.museumstoresunday.org and: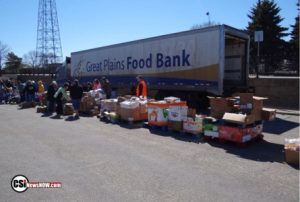 Valley City (CSi)  Great Plains Food Bank will visit Valley City on Thursday December 3,  from 1-p.m., to 3-p.m. through Epworth United Methodist Church, at 680 8th Avenue, Southwest.
Line up in the gravel parking lot at Lokken Stadium and drive through the distribution line.
Anyone in need of food assistance is welcome.
Sports…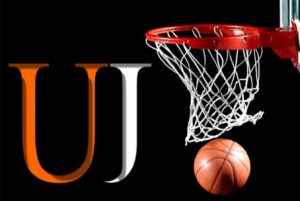 UJ Basketball…
Men
CRETE, Neb. (UJ) –– Mason Walters (SO/Jamestown, ND) and Brock Schrom (SR/Grand Rapids, MN) each recorded double-doubles as the University of Jamestown men's basketball team defeated Doane University 79-64 Wednesday afternoon.
Walters scored 20 points and grabbed 12 rebounds while Schrom came off the bench to add 16 points and 10 rebounds as the Jimmies improved to 6-2 overall and 3-1 in the GPAC.
With a 28-25 lead and 3:00 left in the first half, Marc Kjos (SO/Lake City, MN) knocked down back-to-back three-pointers to put UJ ahead by nine, then a Walters free throw gave the Jimmies their first double-digit lead of the game. Jamestown led 37-30 at the break.
A 20-7 run to open the second half saw Jamestown's lead grow to 20 after a Walters dunk with 13:45 remaining.
Doane got as close as 61-46 after a Matt Hagedorn three-pointer with 10:51 to play. Back-to-back buckets by Walters and another Kjos three-pointer made it a 22-point game just 1:40 later and essentially put the game away.
Kjos finished with 18 points on 6-of-11 shooting from three, both career highs. Allante' Pickens (SR/Chicago, IL) was also in double figures with 12 points and added eight assists and three steals.
Jamestown outrebounded the Tigers 44-24 and had a 12-7 edge on the offensive glass. UJ overcame 45 percent shooting at the free-throw line by shooting 54.7 percent from the field, compared to Doane's 40.3 percent.
Next up for the Jimmies is a non-conference matchup at Presentation (S.D.) College on December 2. Jamestown returns to GPAC play on December 5 at Mount Marty (S.D.) University.
Women…
CRETE, Neb.-  (UJ)   Hannah DeMars (SO/Grand Rapids, MN) scored a career-high 39 points and the University of Jamestown women's basketball team withstood a valiant Doane University comeback, defeating the Tigers 90-81 in overtime.
DeMars' 39 points is the second-most by a Jimmie, trailing only Kathi Fischer's 49 set back in 1979-80, and the most scored in a game since Taylor Hammer's 36 on March 17, 2017.
UJ led by 20 points following a Kia Tower (SO/Bigfork, MN) three-pointer with 4:28 left in the third quarter. The Tigers finished the quarter on a 10-3 run, cutting the lead to 13 entering the fourth.
DeMars put the Jimmies up by 16 with a basket at the 7:56 mark of the fourth. Doane then went on a 22-4 run over the next 6:02 to take a 74-72 lead.
Emma Stoehr (SR/Woodbury, MN) snapped a Jamestown scoreless streak of 3:11 with a jumper to tie the game at 74, then DeMars put UJ ahead on the next Jimmie possession.
Down 77-75, the Tigers sent the game to overtime on a Sydney Roth layup with five seconds left.
The overtime period was all Jamestown, as the Jimmies outscored Doane 13-4 in the extra session. A 9-0 run proved to be the difference for the Jimmies, who avenged a 70-68 loss at Hastings (Neb.) on Monday.
DeMars finished with a double-double, pulling down 12 rebounds and also dishing out six assists, both career highs. Tower added 17 while Macy Savela (SO/Mountain Iron, MN) (12 points) and Audrey Rodakowski (FR/Dickinson, ND) (10) were also in double figures.
Jamestown, now 4-2 overall and 2-2 in the GPAC, is back in action on December 2 with an exhibition game at Presentation (S.D.) College.
In world and national news…
(AP)  Millions of Americans are taking to the skies and hitting the road ahead of Thanksgiving at the risk of pouring gasoline on the coronavirus fire. They are disregarding increasingly dire warnings that they stay home and limit their holiday gatherings to members of their own household. Those who are flying are witnessing a distinctly 2020 landscape at the nation's airports: plexiglass barriers in front of the ID stations, rapid virus testing sites inside terminals and paperwork asking them to quarantine upon arrival.
Wilmington Del  (AP)   A big Biden family Thanksgiving is off the table for President-elect Joe Biden because of the pandemic.
In remarks billed as a Thanksgiving address to the nation, the Democrat urged Americans to "hang on" and not "surrender to the fatigue" after months of coping with the virus.
He noted that public health officials have asked Americans to give up many of the traditions that make Thanksgiving special, like big indoor family get-togethers.
Biden said he knows how hard it is to give up family traditions but that it's very important this year given the spike in virus cases, averaging about 160,000 a day.
He urged everyone to wear masks, practice social distancing and limit the size of groups, calling it a "patriotic duty" until a vaccine is approved.
WASHINGTON  (AP)  President Donald Trump uttered one falsehood after another as he baselessly claimed that he won the 2020 election instead of President-elect Joe Biden as he called into an event organized by Pennsylvania Republicans in Gettysburg.
Trump's election lawyer, Rudy Giuliani, attended the event to continue his quixotic and dangerous quest to try to overturn the results of the democratic election.
Trump had been expected to appear in person, but did not after another member of his legal team tested positive for the coronavirus. He was placed on speakerphone to address the group.
Trump is refusing to concede, even though Pennsylvania on Tuesday certified Biden as the winner in the state and as the formal transition process has begun.
State election officials and international observers have insisted that there is no evidence of widespread voter fraud. Trump's legal team repeatedly has lost its cases in court.
WASHINGTON (AP) — President Donald Trump has pardoned former national security adviser Michael Flynn, taking direct aim in the final days of his administration at a Russia investigation that he has long insisted was motivated by political bias. Trump announced the pardon on Wednesday, calling it his "Great Honor." Flynn is the second Trump associate convicted in the Russia probe to be granted clemency by the president. Trump commuted the sentence of longtime confidant Roger Stone just days before he was to report to prison. It is part of a broader effort to undo the results of an investigation that has shadowed his administration and yielded criminal charges against a half dozen associates.
NEW YORK (AP) — New York City prosecutors are seeking to have the state's highest court revive state mortgage fraud charges against President Donald Trump's former campaign chairman Paul Manafort after striking out twice before in lower courts. The Manhattan district attorney's office sent a letter Tuesday to the state's chief judge asking permission to challenge an intermediate appeals court's ruling last month, which upheld a judge's decision to dismiss the case on double jeopardy grounds. A four-judge panel in the intermediate court ruled Oct. 22 that the DA's office failed to demonstrate that the state charges warranted an exception to state double jeopardy protections. A message seeking comment was left with Manafort's lawyer.
ANCHORAGE, Alaka (AP) — The Trump administration on Wednesday denied a permit to build a controversial gold and copper mine near the headwaters of the world's largest sockeye salmon fishery in southwest Alaska. The Army Corps of Engineers said in a statement Wednesday that the permit application for the Pebble Mine was denied under both the Clean Water Act and the Rivers and Harbors Act. The statement says the corps "concluded that the proposed project is contrary to the public interest." The Pebble partnership said it was dismayed, especially after the corps had indicated in an environmental impact statement in July that the mine and fishery could coexist.
HOUSTON (AP) — The U.S. Border Patrol is temporarily closing a converted warehouse used to detain immigrants in South Texas for renovation. The McAllen facility garnered international attention when images emerged of children separated from their parents detained in chain-link cages inside. The agency said in a statement Wednesday that the facility, known as the central processing center, will reopen in 2022 with a smaller capacity and "modern detention areas." It will also have a recreation area for children. The Border Patrol says it is using funds from Congress to renovate the facility. The renovation was first reported by The Washington Post.
ARLINGTON, Texas (AP) — The National Weather Service is surveying damage in the Texas city of Arlington to determine whether a tornado struck Tuesday night. Officials say the storms caused damage to buildings in the Arlington area but there have been no reports of injuries or fatalities. Large hail and strong winds were also reported in Oklahoma, but there were no widespread reports of damage. The Storm Prediction Center in Norman, Oklahoma, says more severe thunderstorms are possible throughout the week in parts of the South and Midwest.