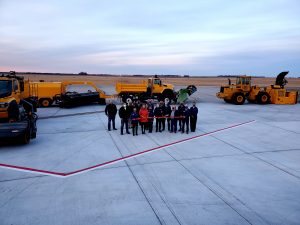 Jamestown  (Chamber)  The Chamber held a ribbon cutting ceremony for Jamestown Regional Airport for the completion of the Terminal Apron Rehabilitation Project.
The $1.3 million project was federally funded. Both the prime contractor and sub-contractor for the project are locally owned and operated. Therefore, the impact of this project does not just improve the terminal apron infrastructure of the airport, but it also brought $1.3 million of construction business into the community were the economic impact will be multiplied. Congratulations to the Jamestown Regional Airport on this amazing project that will benefit our community for years to come.
The airport also purchased $997, 000 of new snow removal equipment, which well help clear the airfield as soon as possible after a winter weather event to keep departures and arrivals on schedule.
Businesses qualify for a ribbon-cutting ceremony if they open, move, remodel, are under new ownership or change their name.  For more information, contact Emily Bivens by emailing: director@jamestownchamber.com or call the chamber at 701-252-4830.